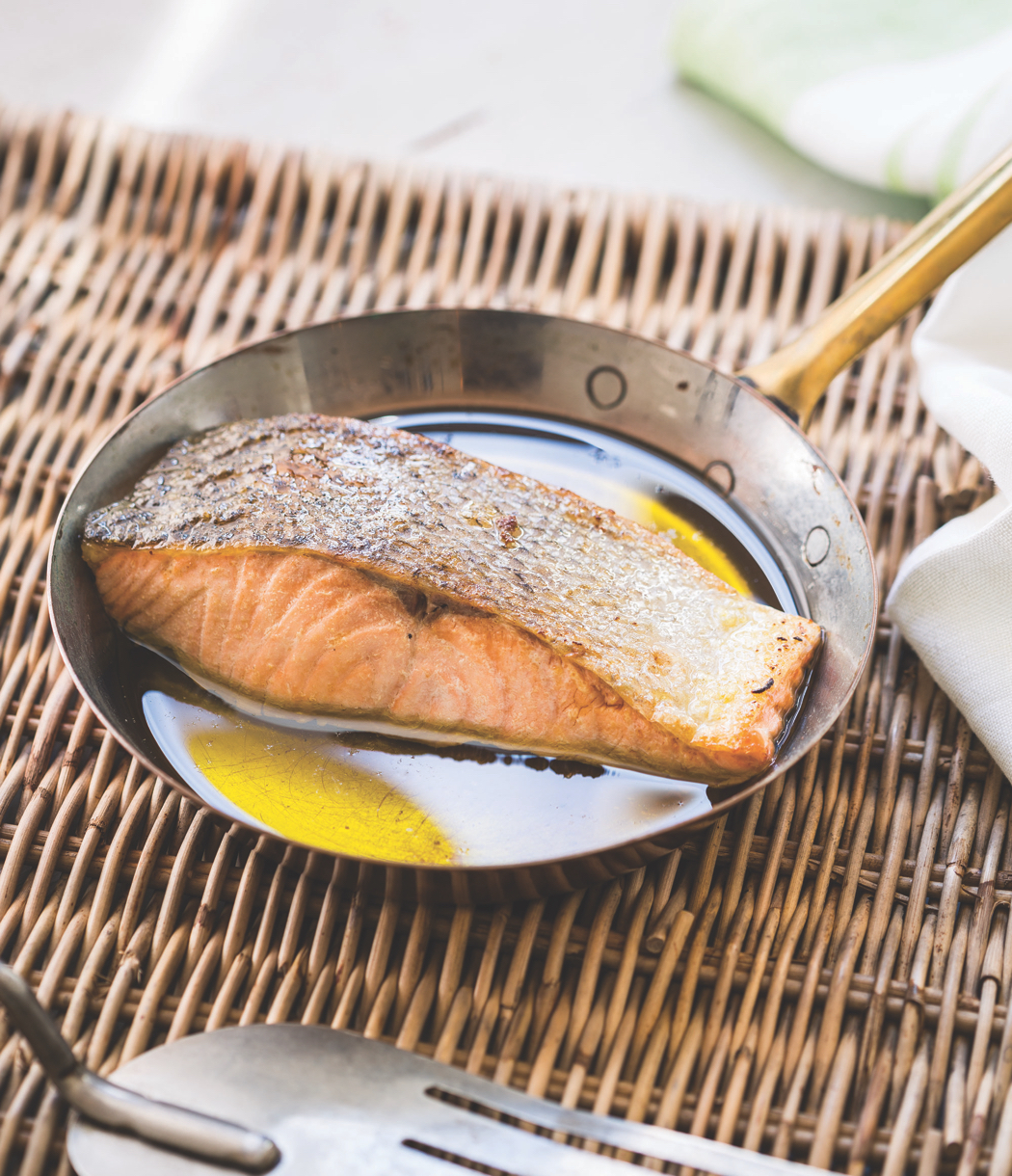 "For me, Mediterranean ingredients speak for themselves, always use the best seasonal produce you can get your hands on and prepare simply… glorious," writes Mary Valle in her introduction to Everyday Mediterranean, published by New Holland.
Born into a Greek-Australian family, Valle is a teacher in Mediterranean-style cooking in Melbourne and a regular traveller to Greece. She previously wrote the best-selling cookbook, My Greek Kitchen.
Whenever she goes to Greece, she never fails to be surprised by the intensity of flavours in every piece of fruit or vegetable: "Tomatoes so sweet, all they need is to be cut in half, drizzled with olive oil and sprinkled with a pinch of salt; salads accompanying every meal with the simplest of dressings, a drizzle of olive oil, a squeeze of lemon and a pinch of salt; bowls of sweet cherries for dessert, or refreshing slices of watermelon."
Can't you just taste the deliciousness as she writes? The recipes in Everyday Mediterranean are presented with this simplicity and freshness in mind.
Health benefits of the Mediterranean diet
Drawn not just from Greece but from around the Mediterranean, they are great for your wellbeing as well. The Mediterranean diet has proven health benefits: research has shown that people in the region live longer, healthier lives, and that can all be put down to a diet that is rich in olive oil, grains, seafood, seasonal fruit and vegetables, and small amounts of meat, cheese and yoghurt.
Valle infuses the book with her own personal experiences, noting that it is not only the diet but also the lifestyle that is good for people's wellbeing. What she particularly loves about mealtimes in Greece is the sense of community.
"I love the simplicity of life in the village, mealtimes not only being a time to eat, but to spend together, creating a strong bond between family and friends, young and old."
The recipes here are the perfect expression of simple, healthy and delicious, but it was a hard choice to settle on these two as all the dishes in the book look so luscious and appealing. Interspersed amongst the photos are glorious scenes of flower-bedecked white villages, colourful ceramics and shimmering blue seas. Dream on.
Buy this book from Book Depository.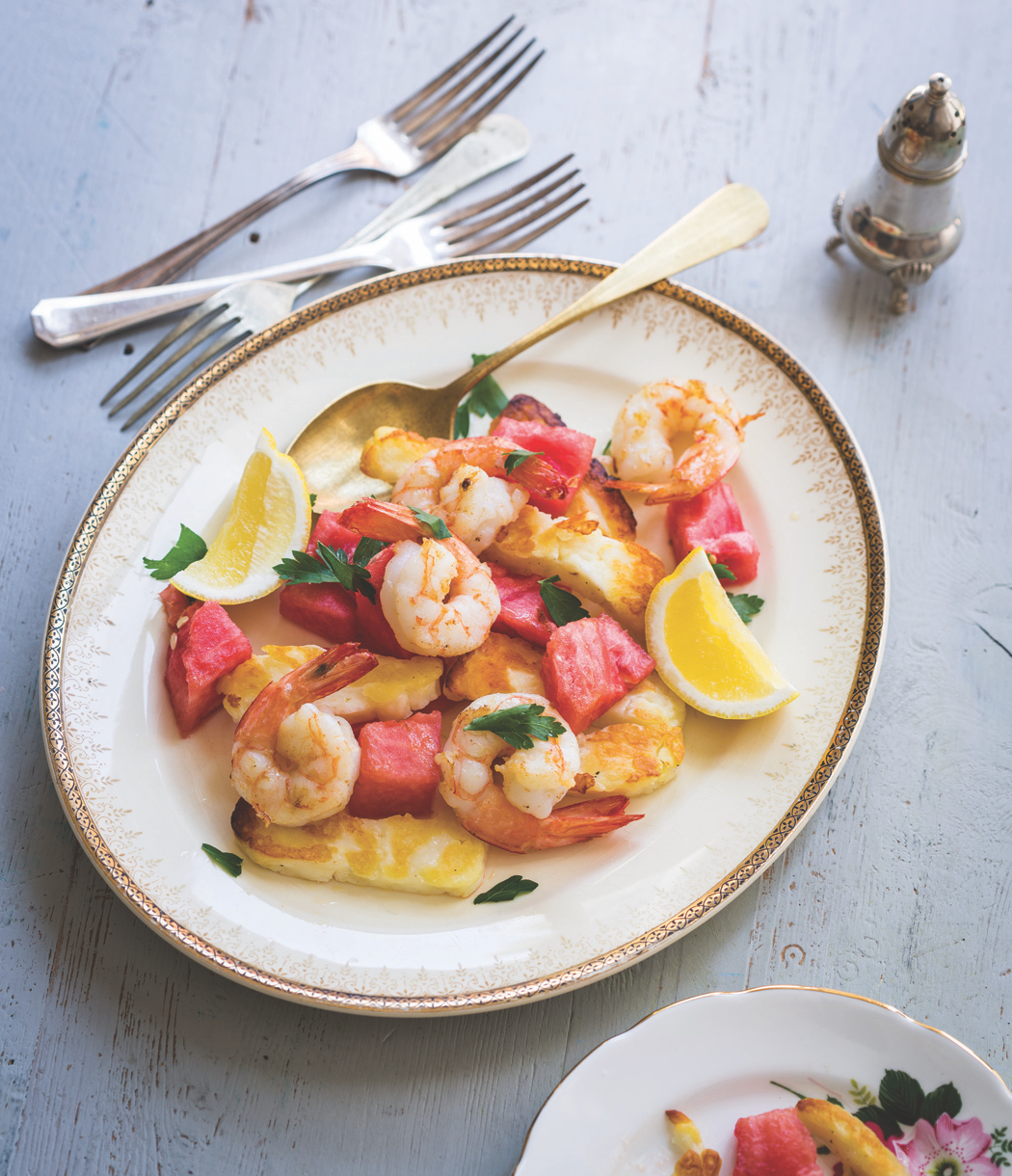 WATERMELON AND HALOUMI SALAD
Serves 4 to 6
1 fl oz / 30ml olive oil
32oz / 1kg watermelon, cut into chunks
9oz / 250g haloumi cheese, sliced ½ inch / 1 cm thickness
½ Spanish onion, finely sliced (optional)
½ oz / 10g fresh mint leaves
2 tablespoons parsley, finely chopped
1 lemon
Fry or grill the haloumi on a medium/high heat for 2-3 minutes on each side until golden brown. Place the watermelon chunks into a large serving bowl, drizzle with the olive oil and a good squeeze of lemon and add the herbs and onion (if using). Add the haloumi and using your hands, combine gently.
Variations: You could add either prawns or cooked chicken and some baby spinach to the dish.
SALMON POACHED IN OLIVE OIL
Serves 4 to 6
4–6 pieces of salmon
1¾ pint/1 litre olive oil
Salt, to taste
Freshly ground black pepper, to taste
Fresh parsley, chopped roughly
Place salmon in a large deep frying pan and pour over the olive oil until it covers the salmon.
Poach on a low heat for approximately 20–30 minutes or until salmon is cooked. Carefully remove salmon from the oil and drain on some paper towelling.
Season with salt, freshly ground black pepper and sprinkle with parsley.
Serve with potato or green salad.
Recipe and images from Everyday Mediterranean. By Mary Valle. Published by New Holland Publishers and reproduced with permission of New Holland Publishers Australia.
This post was originally published in PS News online.