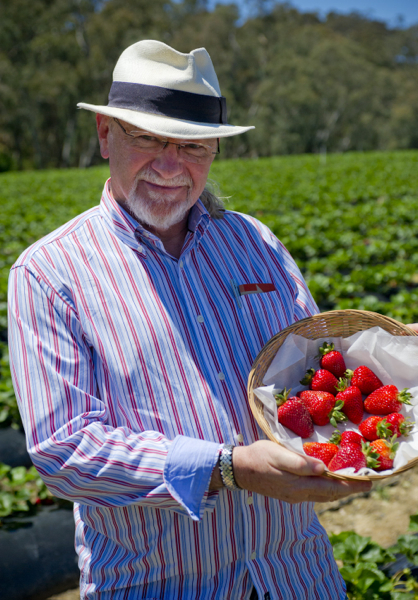 From the air, the Beerenberg Family Farm looked picture perfect and as we descended on a glorious Adelaide Hills morning, the Paech family were standing in their strawberry patch waving at us. When our helicopter landed, the welcome was as warm as those beautiful sun-kissed strawberries that we were soon piling into our baskets.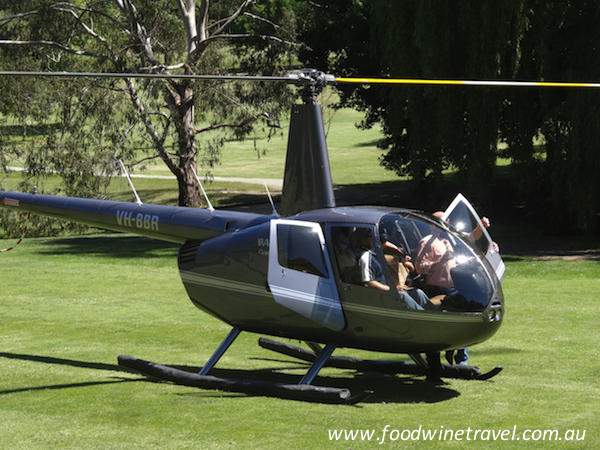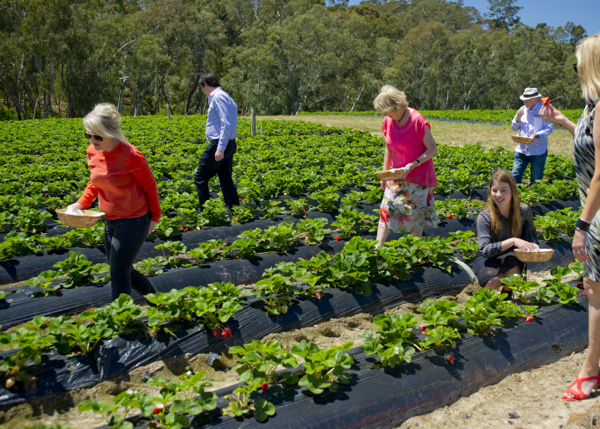 One of the attractions of the farm is that you can pick your own strawberries and between November and April each year, lots of people take the opportunity to fill their baskets with some of the biggest, juiciest and sweetest strawberries I've ever tasted.
Beerenberg is a family owned and operated business that has gone from strength to strength since the early 1970s when the Paech family, after six generations of farming in the district, went into full commercial production of jams, sauces, chutneys and relishes. Now an Australian institution, their brand has acquired a new look and some innovative new products have been added to their already extensive range.
For anyone travelling through the Adelaide Hills, the Beerenberg Family Farm shop is an absolute must stop. Here you can see production taking place and sample some of the more than 70 products they make.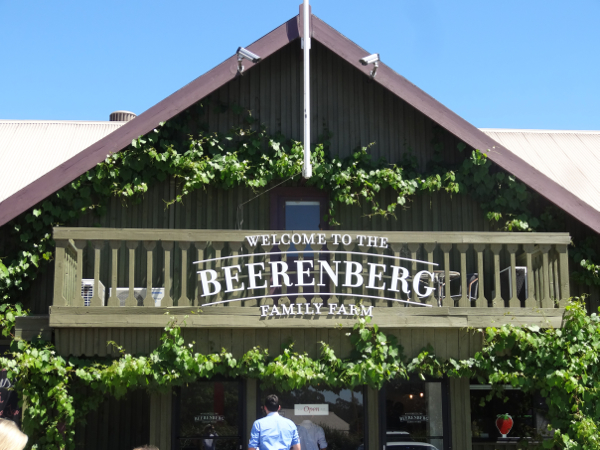 Beerenberg's marketing manager, Sally Paech, was our enchanting guide for the day and as we joined Carol, Robert, Anthony and Greg under a shady tree tasting the jams and jellies in the exquisite new Botanical range, I could see that there was a lot more than commercial expertise going into their products. There was pride, tradition and a real appreciation of the value of everyone who works in the company.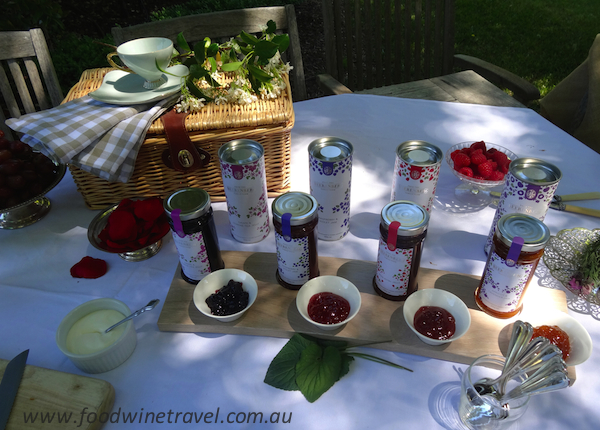 The day started with a visit to Bird in Hand Winery (below), a masterclass with chief winemaker Kym Milne and a fabulous brunch in the winery's Gallery restaurant.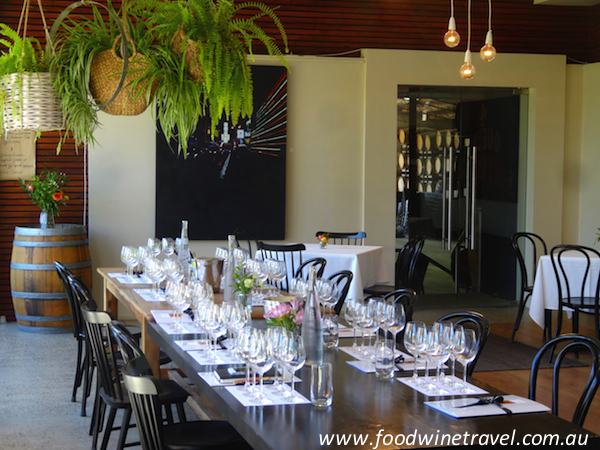 It culminated in the official launch of the Botanical range at the Beerenberg Highest Tea in the Piccadilly Restaurant at Mount Lofty House (below). This was an unforgettable high tea featuring Beerenberg products, Haigh's chocolates (another South Australian institution) and a creative menu by Kate Hobby of Taylor & Holmes Fine Food Catering. The high tea began in sparkling fashion with a glass of Bird in Hand's award-winning Sparkling Pinot.
The other wines in the Bird in Hand range were also available and if you haven't tried their Nest Egg Chardonnay then it should definitely be on your list. The afternoon ended with a tour of the beautiful Mount Lofty gardens, first planted by the original owner, Thomas Hardy, of the Hardy winemaking family.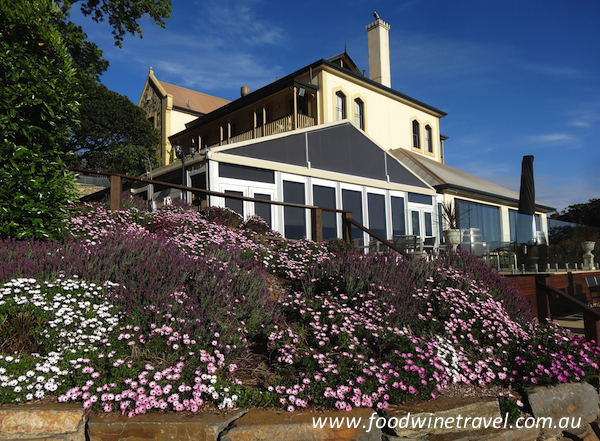 The new Botanical range combines what Beerenberg calls "botanical aromas and the fresh flavours of South Australia". They include a rose petal jelly, a grape and jasmine tea jelly, a raspberry and violet jam, and an apricot and lavender jam. The flavours are beautifully balanced and complementary. I particularly liked the grape and jasmine tea jelly with a soft cheese and the strong lavender flavour in the apricot and lavender jam.
The concept for the range was inspired by a tour of selected locations around the world, one of which was Istanbul. Having just visited that city and sampled some of the delicious sweets on offer, I would suggest that Beerenberg's rose petal jam would be right at home there.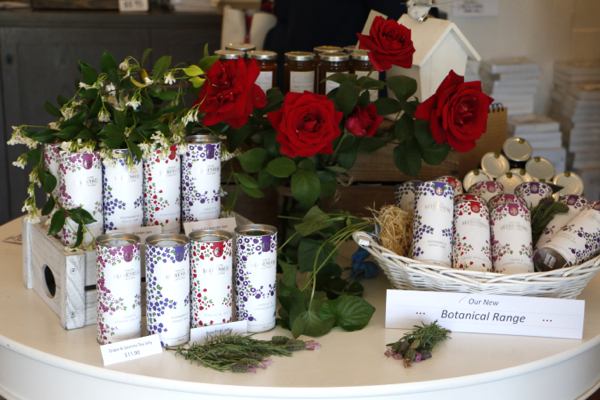 Fact File:
Beerenberg Farm
Mount Barker Road
Hahndorf SA 5245
Australia
Tel: +61 8 8388 7272
www.beerenberg.com.au
Open 7 days a week, 9am-5pm (except Christmas Day)
Maurie travelled to the Adelaide Hills as a guest of Beerenberg. This was one of the most beautiful invitations Food Wine Travel has ever received. It came in the form of a 12-page booklet with beautiful photography of ingredients in the Botanical range. Take a peek at the invitation here.
Photos not watermarked are courtesy of Mike Annese Photography.
Related Posts: Beerenberg Botanical range; Berry Hill and a recipe for Strawberries in Rosé Jelly; Mount Lofty House.