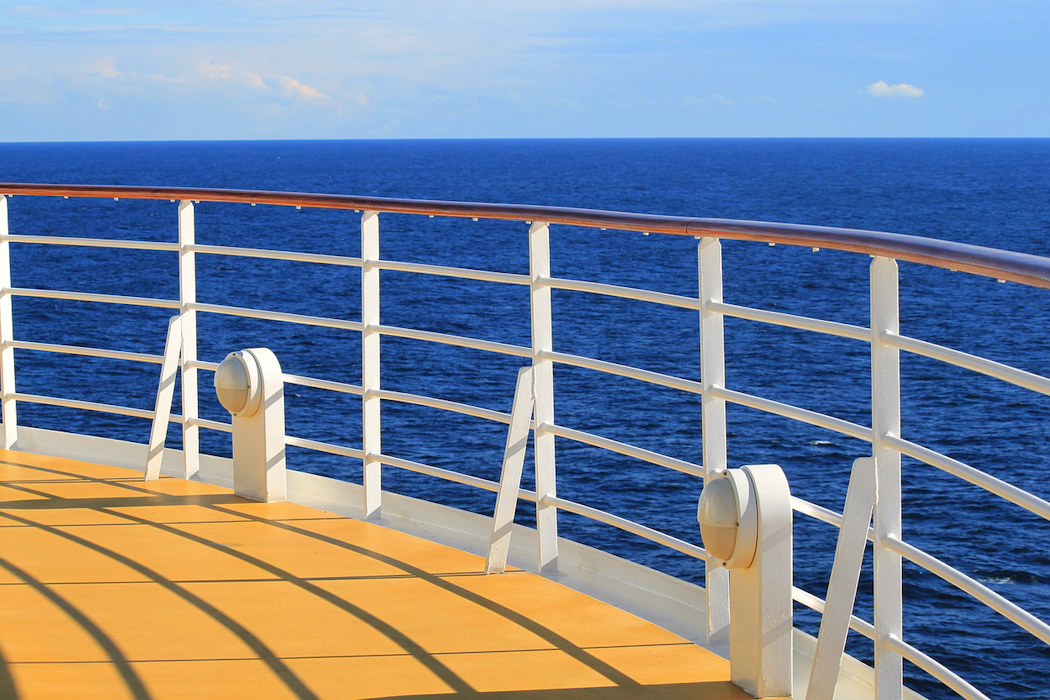 London 30.1.53
Dear Mum,
I'm feeling rather thrilled at the moment. I've just managed to get hold of a passage home from Marseilles, going to Algiers, French & Dutch West Indies, Panama Canal, Tahiti, New Hebrides & New Caledonia, finishing up in Sydney. It is a French ship, a new one making its first voyage in April (I sail 22nd September – the 2nd voyage). There are 9 ports of call with 2 days in each except Panama where we only have 1 day. It gets to Sydney about the 11th of November. Doesn't it sound interesting? …..
Love to all, Joyce.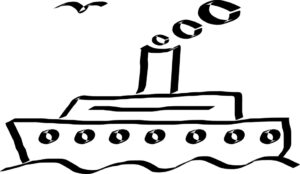 My mother was just shy of 30 years old when she wrote those words in 1953 about the MV Tahitien. According to a description on midshipcentury.com, the passenger liner had lustrous dark woodwork, Art Deco-inspired fittings, and was "modest in most every respect, save for some stunning paintings by noted French artists".
Two years earlier, on the Easter weekend of 1951, Mum had set sail for England on the MV Mooltan. A huge family contingent travelled 300 kilometres from Chinchilla, Queensland, to farewell her at Brisbane's Hamilton Wharf. A fading snapshot gives some idea of what a momentous occasion it was.
The men are wearing suits, the women are wearing their finest hats, and my mother is smiling broadly – perhaps even a tad nervously — about the adventure she is about to begin. Mum had landed herself a job in the London office of the Bank of New South Wales, a big deal for a girl from a family of humble means, raised on the land with few opportunities.
Mum aced the job, so much so that she was set to take a job in the bank's Fiji branch if life hadn't taken an unexpected turn on the voyage home. In her two years in England, she saw so much of Great Britain and the Continent that it makes a Contiki tour seem like an aged person's holiday.
Remarkably, the MV Tahitien continued in service for 50 years, albeit under the name Atalante and cruising around the Mediterranean after it was sold in 1972. But it was such a novelty in 1953 that Mum was asked to do a report on it for the bank's Travel Department. In her letter home, she writes of seeking the assistant accountant's advice on whether it was worth paying more to go via Panama. "He thinks I should take it, seeing I came over by Suez."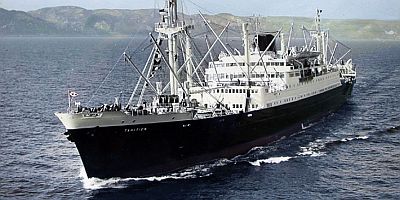 From there, Mum's story becomes my story, for she met my father on the voyage. My Dutch father boarded the ship in Curaçao, in the Netherlands Antilles, where he had moved for work in 1950. Their romance and the subsequent marriage of two people from opposite ends of the world shaped my life, not least because it instilled a curiosity for far-flung places that will never truly be satisfied.
Inevitably, when we have more years behind us than ahead, we spend a lot of time reflecting on the past. Re-tracing the steps of our forebears becomes an obsession. And so it was that my husband and I found ourselves on Holland America's MS Zuiderdam cruising to Curaçao and the Panama Canal. Despite having lost my parents many years earlier, it's fair to say that they were with me every step of the way on this extraordinary journey.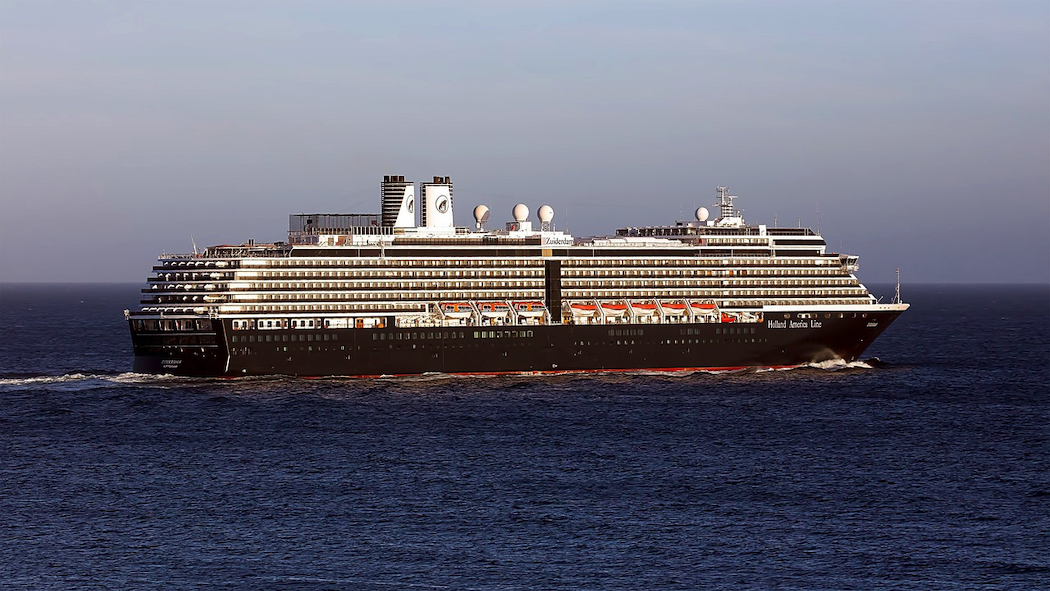 The first stop on our 11-day round-trip from Fort Lauderdale, Half Moon Cay in the Bahamas offers the first pinch-me-is-this-real moment of our voyage on the Zuiderdam. A crescent-shaped turquoise lagoon with several kilometers of pristine white sandy beach, it is breathtakingly beautiful, exactly what you'd expect of an island in the Caribbean. Privately owned by the Carnival Corporation, it offers little beyond activities on the water, but we relax over a barbecue lunch and enjoy a short bushwalk followed by a refreshing dip.
By the time we reach Aruba, I'm channelling my Dutch heritage. Did my father ever go here? I'll never know but the island is only about 100 kilometers west of Curaçao. Dutch is one of the official languages along with Papiamento, a creole of colonial-era Portuguese/Spanish with some Dutch thrown in.
The capital, Oranjestad, retains a small-town charm as, unlike the wealthier Curaçao, Aruba had no large plantations and wasn't a major trading post. Oranjestad is a lovely city for walking in with colourful buildings, many of them with Dutch gables and fairytale façades, like the ornate pink and white Royal Plaza Mall, often called "the wedding cake".
With some of the most pristine white beaches in the Caribbean, Aruba is not surprisingly a popular resort destination, so we earmark this as one to return to. It's also renowned for its glorious sunsets; thankfully the ship's late-night departure allows us to enjoy sundowners as the sun sets over the water.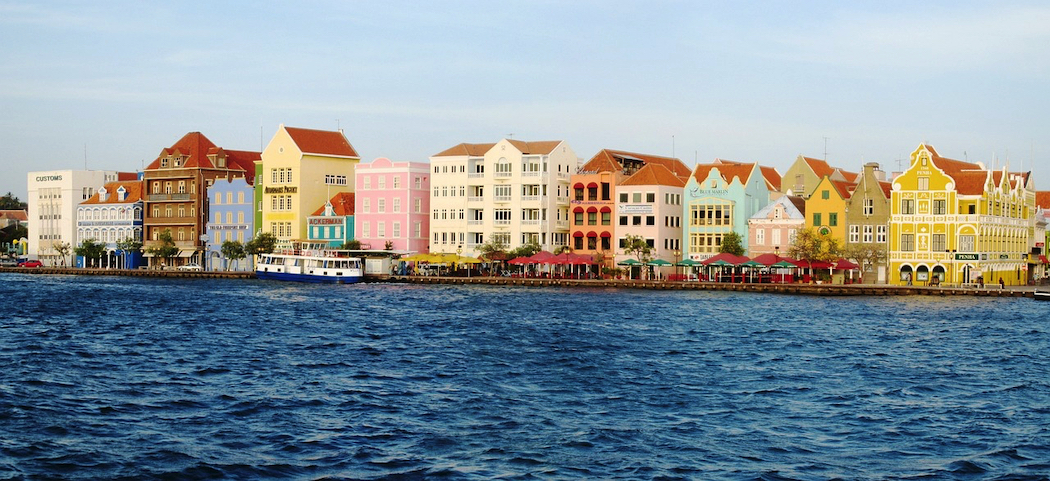 Waking up in Curaçao is an emotionally charged moment. It's a name I heard so often during my childhood and now here I am, finally seeing if this tropical island bears any resemblance to the images I have created in my mind. First impressions of the capital, Willemstad, are even more striking than I imagined. The famous row of multi-coloured buildings lining the harbour – Dutch in their architecture, Caribbean in their iteration – is a sight you don't easily forget.
The eclectic city, a UNESCO World Heritage site, is divided in two by the Queen Emma Bridge, better known as the Swinging Old Lady. The world's only floating swing bridge, built on 16 pontoons and these days only accessible to pedestrians, it swings open to allow container ships and sail boats to enter and exit the harbour.
The Zuiderdam docks in Otrabanda, the residential side of Willemstad, with twisting streets and brightly coloured homes where I picture my father hanging out, though sadly I can't pinpoint the location. On the opposite side is Punda, a grid of narrow streets with cafés, shops and museums.
It's a quiet day today, being a Sunday, but we make sure to have a Blue Curaçao cocktail. When in Curaçao, you must have Curaçao, right? We learn that the liqueur was created by a local distiller to make use of Laraha oranges, a bitter fruit from Spain that didn't do well in the Caribbean climate. The brilliant blue colour was a marketing ploy to distinguish it from other liqueurs, which it most certainly does.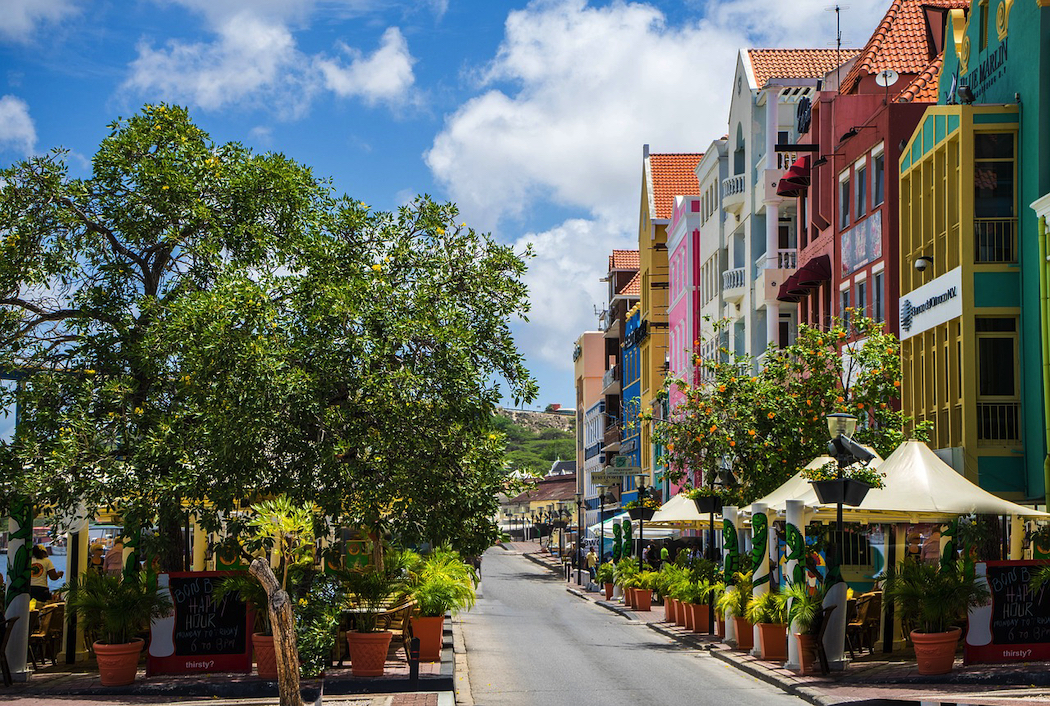 On a quest to see beyond the city, we set off on a ship-organized 3½ hour Country Drive. The tour takes us over the four-lane Queen Juliana bridge and past the oil refinery where my father worked – a blight on the landscape but a maelstrom of memories for me. A few days before Dad died, he told me a story about having come up with a special technique that was highly praised by his superiors at the refinery. So grief-stricken was I that I forgot the finer details. Now I'm tormented by my failure to memorize it.
But there are happier thoughts too. Our guide, Heliana, tells us that 109 nationalities came to work in the refinery, which must have made a colourful impression on an island of 160,000 people. I know my father would have been in his element with that, living amongst such a vibrant mix of cultures.
We stop for a panoramic view at Grote Knip, a stunningly beautiful beach in the island's north, where I picture my dad swimming on his days off. "Once you live here you don't want to leave," says Heliana. "We have sunshine here every day, we have beaches, why would you want to leave?"
Yet for my father, Curaçao was only ever going to be a pit stop. Writing in 1988, he tells of how he came to Australia when he had originally intended to go to South Africa: "One day, I met a British Consul and told him of my plans. He said, 'with your papers and a quid, I can give you a visa for Australia."
The MV Tahitien sailed directly to the Panama Canal from Curaçao but we had a day in Cartagena, Colombia, wandering the walled Old Town with its cobblestone streets and charming colonial buildings with flowers spilling from the balconies.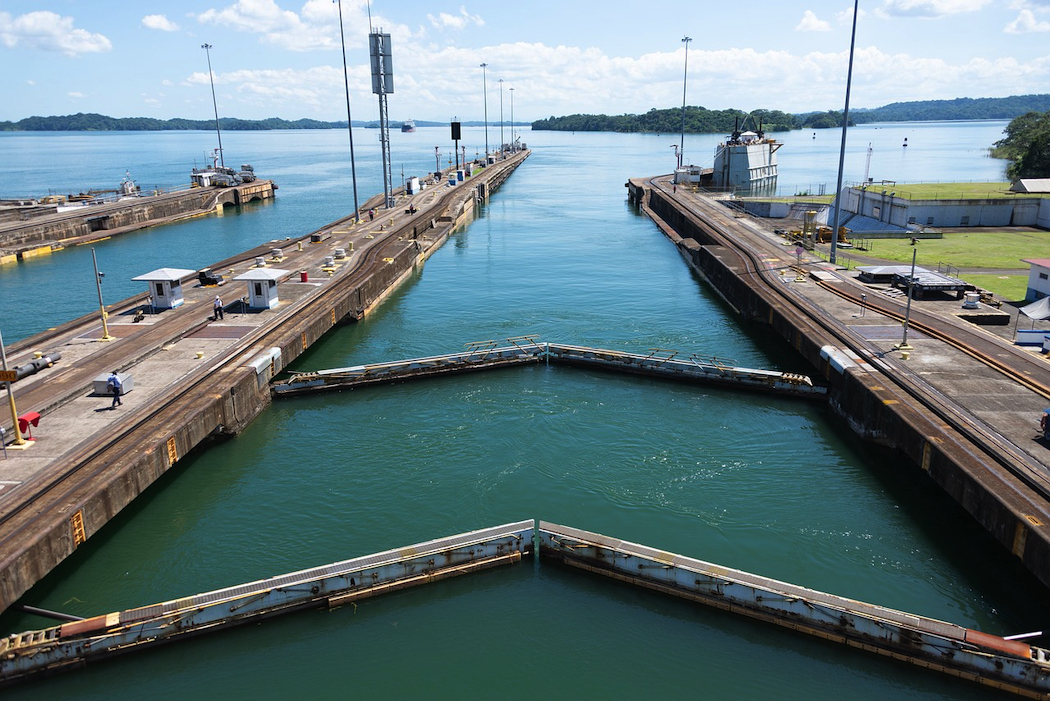 By this time, our anticipation for sailing through the canal was immense. There are not a lot of experiences I'll get up for at the crack of dawn but this was one I wasn't going to miss. As the Zuiderdam passengers jostled for space on the open decks, we heard quite a few Americans say that it was the second or third time they had 'done' the canal.
My own experience of going through locks is that it's fun the first time you do it and, after that, it's about as exciting as watching grass grow. Now, however, I can relate to the canal groupies (mostly fellas) – indeed, I'd say that sailing through the Panama Canal is one of my all-time greatest travel experiences.
That's partly to do with the family memories but it's also because of the sheer scale of the operation – seeing a huge ship practically nudging the walls of the lock while being raised more than 25 metres in height is mind-blowing. To think that man's ingenuity allows all these ships to take a shortcut from the Atlantic to the Pacific with only inches to spare…
The story about the canal's construction is endlessly fascinating and it's told many times over on board the ship, in lectures and in documentaries screened in the onboard cinema. The entertainment is themed around the voyage too, with John Boorman's 2001 film, The Tailor of Panama, one of the movies dusted off for viewing.
With no allegiance to any one cruise line, we chose the Zuiderdam purely for its itinerary, but it was a bonus that the ship has some Dutch touches. Along with highlights of orange in the staff uniforms, there are prints of old Dutch paintings on the walls, and gorgeous displays of blue and white china in the dining room.
The entertainment on board is outstanding, from the Lincoln Centre musicians who play to packed houses, to the Island Magic Steel Band from Trinidad who attract standing ovations for their classical music and Broadway hits played on the steel drums. Another special show is Planet Earth II in Concert, with the Zuiderdam musicians playing against a backdrop of breathtaking footage from BBC Earth.
The ship has a great library of high-quality books – both fiction and reference titles – and we love some of the special touches around the ship, like the fresh flowers on the dining room tables. The food is super impressive too – much like dining in an elegant restaurant every night. Tangerine glazed duck breast, salmon with cucumber relish, and surf and turf (beef with lobster) are among the menu highlights.
Unlike the passengers on the MV Tahitien, we didn't complete the journey through the canal to the Pacific. Instead, the Zuiderdam passes through the Gatun locks, on the Atlantic side of the canal, before anchoring in Gatun Lake. Here, passengers either stay on board and return through the Gatun locks, or do as we did and take an excursion, re-joining the ship in the Caribbean port city of Colón later in the evening.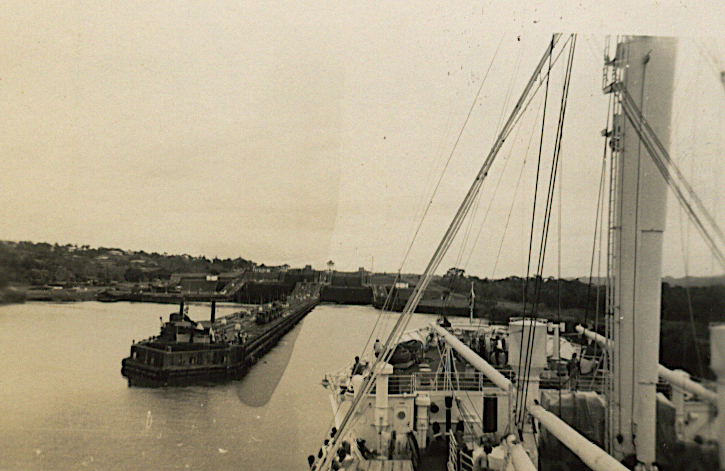 Gatun Lake is a key part of the whole engineering marvel of the Panama Canal. When it was built in 1913, it was the largest man-made lake in the world. Carrying ships 33 kilometres across the isthmus joining North and South America, it's a big holding bay for ships moving between the Atlantic and the Pacific.
It's as busy as a city parking lot, so nothing happens in a hurry and it's quite some time before we are taken ashore in tenders and put on a bus for a tour of Panama City. The bus takes us right over the top of the new Agua Clara locks, which opened on the Atlantic side in 2016, allowing even more (and bigger) ships to navigate the canal.
A stop at the Miraflores Visitor Centre allows us to watch the operation on the Pacific side of the canal. It has great exhibits on the canal's history, operation and international importance. If you can't get your head around how the whole thing works, this place will put you straight.
The Miraflores locks raise or lower the ships in two steps to a total of 13 to 20 metres, depending on the tide. (The Gatun locks, in comparison, are in three steps to a total of almost 26 metres.) It's a totally different and even more thrilling perspective to view the ships from land rather than from the deck, and we watch enthralled from the deck of the visitor centre as one ship after another passes through.
As the ships emerge from the locks and sail away on the Pacific Ocean, I picture my parents on the MV Tahitien and I imagine the excitement they must have felt, my father heading off to a new life in a foreign land, my mother returning to her family with stories to last a lifetime.
It was another few weeks before they hit landfall in Tahiti and then Port Vila, but we have more of the Caribbean to explore before returning to Fort Lauderdale.
After viewing the locks, we spend a happy afternoon exploring Panama City, a sprawling cosmopolitan city where gentrification of the historic Casco Viejo is transforming an area that was once a no-go zone into a cultural precinct filled with hip, boutique hotels and pastel-coloured mansions.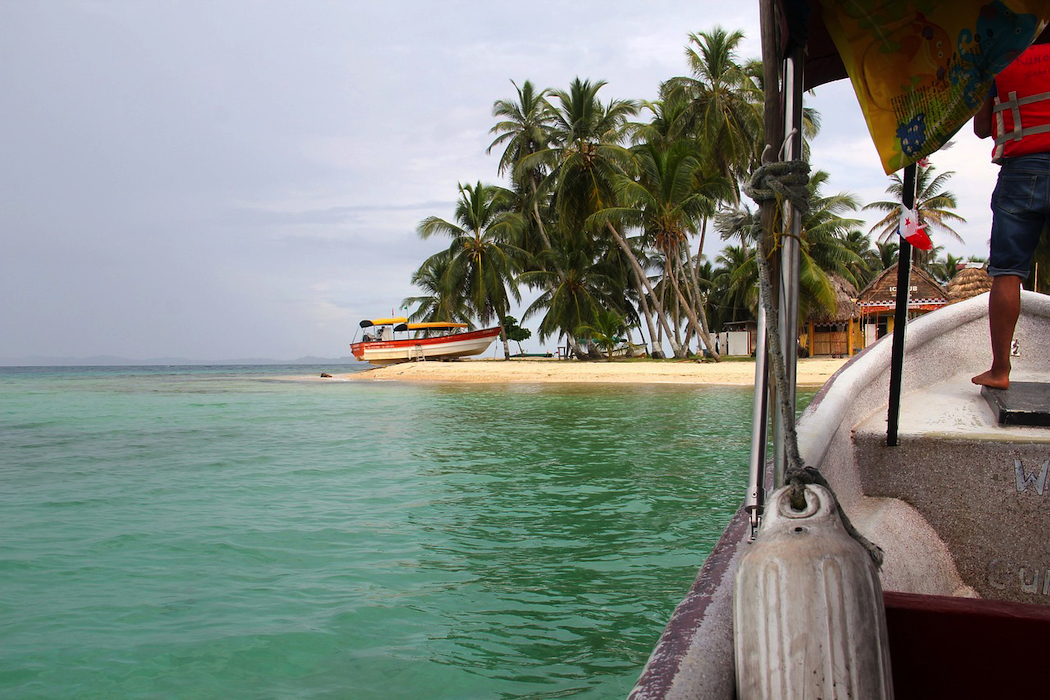 Rejoining the ship in Colón, we sail on to Puerto Limon in Costa Rica, where there's time to ride a quaint old (1861) railroad, built to transport coffee, before doing some wildlife spotting. We see sloths, birds, a Jesus lizard (so named because it walks on water), and howler monkeys.
The monkeys' moniker is not surprising – in unison, they sound like the traffic on a busy motorway. "The monkeys don't digest their food, they ferment it," says our tour guide. "They are very lazy animals. They just eat and sleep, very similar to the people in our government."
Modern cruising is far removed from the days of the ocean-going liners when ships like the MV Tahitien transported passengers, cargo and military personnel to France's colonies in the Pacific. But it has brought me closer to my parents, filled my heart with gratitude, and given me an opportunity to reflect on their beautiful romance.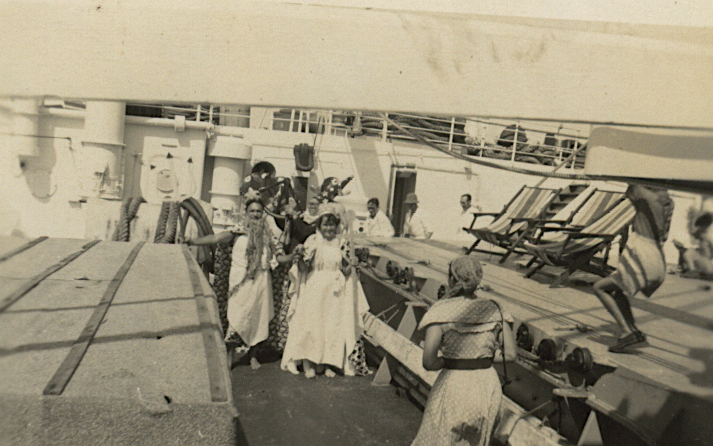 Had they already met by the time they sailed through the Panama Canal? Stories from their travels were often told when I was growing up, but when they actually laid eyes on each other is something I'll never know. What I do have is a photo of my very happy-looking mother captioned 'Our campsite in Tahiti', and a postcard home dated 28 October 1953.
Dear Mum,
This is a wonderful place. Garden of Eden without any snakes but plenty of mosquitoes. We've had 4 days here & it has been very interesting. Lots to tell you but no space on a postcard. Arrive Sydney 15/11/53 so won't be long now.
Love to all
Joyce
My father's notes say the MV Tahitien arrived at No.1 Walsh Bay in Sydney on 13 November 1953. "On this ship I met Joyce who became the greatest woman in my life. Joyce and I were married in Chinchilla, Queensland, in 1955."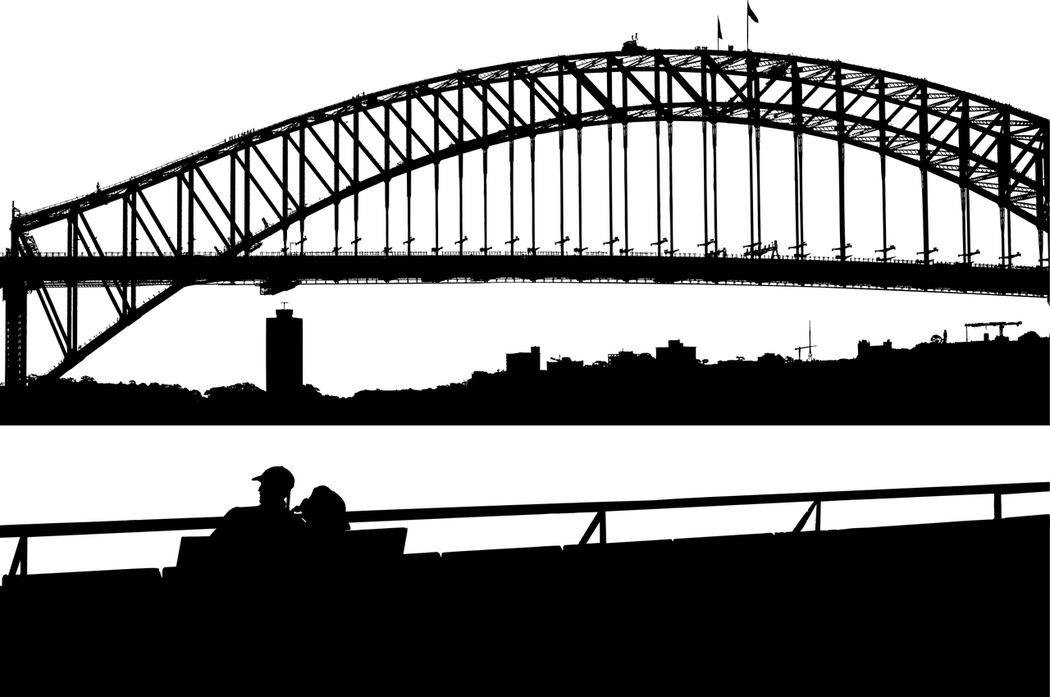 Maurie and I sailed on Holland America's MS Zuiderdam at our own expense. Our 11-day Panama Canal Sunfarer cruise was a return trip from Fort Lauderdale, USA.
If you enjoyed this post, you might also be interested in our post with Mum's account of witnessing Queen Elizabeth II's Coronation in 1953.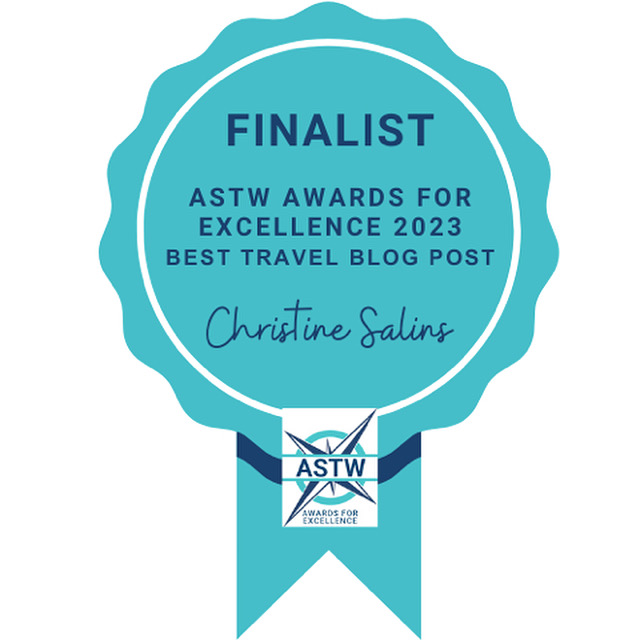 It's a great honour to have been named a Finalist for Best Travel Blog Post in the 2023 Australian Society of Travel Writers Awards for this post.