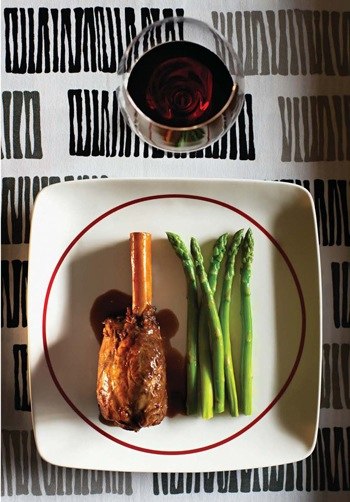 I love my slow cooker. It's a dream to be able to throw a handful of ingredients into the pot in the morning and allow them to cook slowly all day. On winter days, with darkness arriving early, delicious smells waft through the house and you can have a dish on the table in no time at all.
The recipe for these Slow Cooked Garlic and Rosemary Lamb Shanks comes from Leanne De Bortoli, of De Bortoli Wines, and naturally she suggests pairing it with a De Bortoli red.
Leanne recommends Windy Peak Cabernet Merlot, a fragrant, earthy wine with plum and blueberry notes and hints of dark chocolate. It's quite soft but has plenty of character – in short, just a nice easy-drinking drop that is good value for the price (under $15).
The Windy Peak range has been around for about 20 years but it's had a facelift of late, and along with the new packaging comes a greater emphasis on regionality. The Cabernet Merlot comes from the Yarra Valley, where De Bortoli has a lovely cellar door and restaurant.
I'm going to add to Leanne's recommendation and suggest that you pour yourself a wee glass of De Bortoli Black Noble to finish with. Reminiscent of a Spanish black sherry, it is rich and seductive and the perfect means to get through a winter evening.
SLOW COOKED GARLIC AND ROSEMARY LAMB SHANKS
Serves 2
1 large onion, chopped into wedges
3 garlic cloves, chopped coarsely
1 carrot, chopped into rounds
2 lamb shanks
2 cups beef stock
2/3 cup red wine
1 cup passata
2 large sprigs of rosemary
salt and pepper
Place chopped onion, garlic and carrot into a slow cooker. Heat oil in a fry pan and sear lamb shanks. Cook for about 30 seconds on each side. Remove shanks from pan and place into the slow cooker. Add wine, stock and passata, along with the rosemary. Season with salt and pepper. Leave in the cooker on a low heat for at least 4 hours or until cooked.
If you have the time, leave it for 8 hours and the meat will just fall off the bone. In the last hour of cooking, put heat up to high. Serve with sweet potato mash and grilled asparagus. If you do not have a slow cooker you can cook covered in the oven at 180 degrees C for 2 to 2½ hours.
Hints: If you would like the juices to thicken up a little, place some cornflour into the slow cooker and stir until all clumps are gone. In the last 20 minutes add 2 teaspoons of traditional gravox for a little bit of extra flavour and to help thicken the juices a little more.
This dish can be prepared a day early: reserve second cup parsley and include just before serving.
Enjoy with Windy Peak Cabernet Merlot.
Recipe courtesy of De Bortoli Wines.