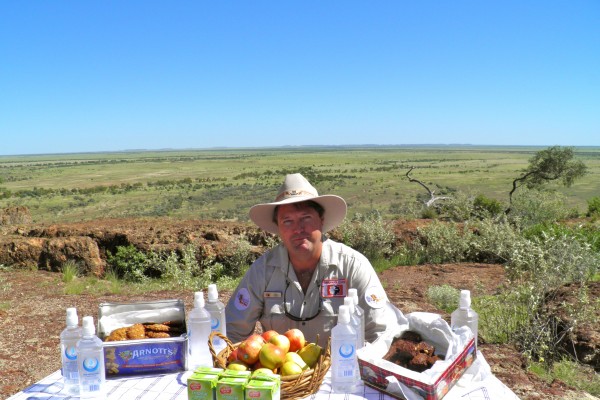 Some recipes are so good you want to keep them all to yourself. This recipe is definitely one to hang on to tightly.
When I tasted these Chocolate Brownies, I thought I'd died and gone to heaven.
Now, if I wanted to take all the kudos, I could sit back and bask in the glory that would inevitably come to me when I bake these delectable treats.
But if Queensland woman Sue Smith was kind enough to share her wonderful recipe with me, I'm obliged to pass it on and keep the recipe circle going, aren't I?
Sue's husband, Alan Smith (above), runs Outback Aussie Tours out of Longreach in Queensland, and I first tasted her Chocolate Brownies and Anzac biscuits when Alan ("Smithy") served them for morning tea at the Age of Dinosaurs near Winton.
Sue gives her Brownies a Queensland touch by adding glace ginger, produced at Buderim on the Sunshine Coast, and currants that have been soaked in Queensland's Bundaberg Rum for two weeks.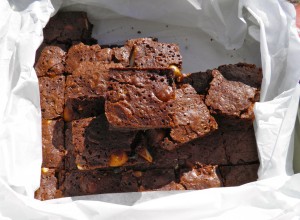 SUE'S CHOCOLATE BROWNIES
4 large tablespoons butter
1 packet of choc melts
2 tablespoons cocoa
2 tablespoons self-raising flour
¾ cup of plain flour
1¾ cups sugar
Vanilla
4 eggs (beaten)
1 packet of choc bits
Pre-heat oven to 160 degrees C. Melt butter and choc melts together over low heat.
Mix together dry ingredients. Pour the butter/melted chocolate mix into the dry ingredients. Mix well then add the beaten eggs and vanilla. Beat well. Add the choc bits and then pour into a well-greased tin (a silicone baking tray or an oiled and lined spring-form baking tray works well). Bake for about 45 minutes.
Cut when cool. Suitable to freeze and very versatile.
To make a Queensland Brownie: (Outback Aussie Tours special)
Exactly the same as above but add the following ingredients: A couple of handfuls of macadamia nuts, a small packet of Buderim glace ginger and a few good handfuls of currants soaked in Bundaberg Rum for at least 24 hours.
Other ideas:
*Poke a jaffa into the top of each slice for colour.
*Swirl any of the following through the mixture just before popping into the oven: Peanut paste, melted white chocolate, additional lollies, fruit/chocolate, or even add a couple of spoonfuls of instant coffee to boiling water and add to the mixture.
*This is also nice hot with custard as a dessert.