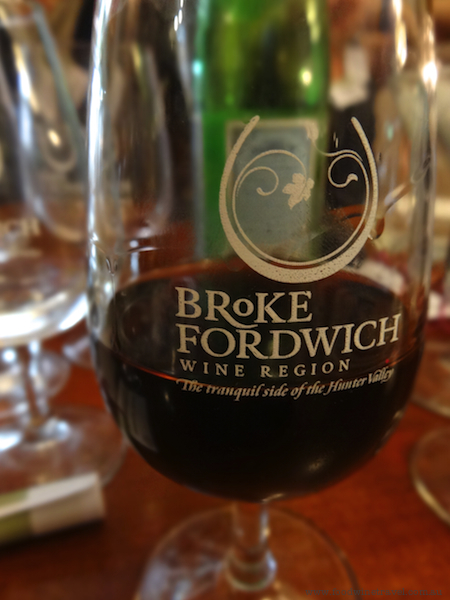 If there were a prize for the neatest wine-growing region, Broke Fordwich would surely win it. The lush green grass lining the roadsides is so neatly manicured there's hardly a blade out of place. With roses in bloom at the end of tidy rows of vines and the Brokenback Ranges looming over a bucolic landscape, this sub-region of the Hunter Valley is exceptionally pretty.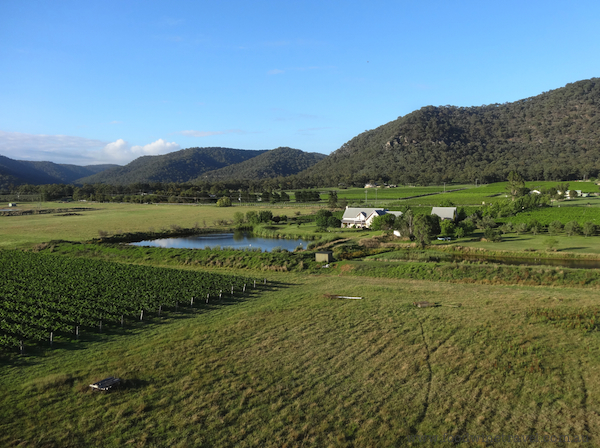 Broke Fordwich is somewhat removed from the rest of the Hunter – it's about 15 kilometres from the wineries concentrated around Pokolbin – and as such, is something of a hidden gem. I've been happily drinking wines from producers such as Margan and Krinklewood for many years, and have been visiting the area for longer still, but I'm always happy to go back for another look.
Last month we had the chance to do just that, arriving just on dusk after negotiating the twists and turns of Putty Road (if you've never done this scenic drive, I can recommend it – but beware the motorcyclists who love this stretch of road). As Darryl Kerrigan would have said, there was "so much serenity" about our accommodation.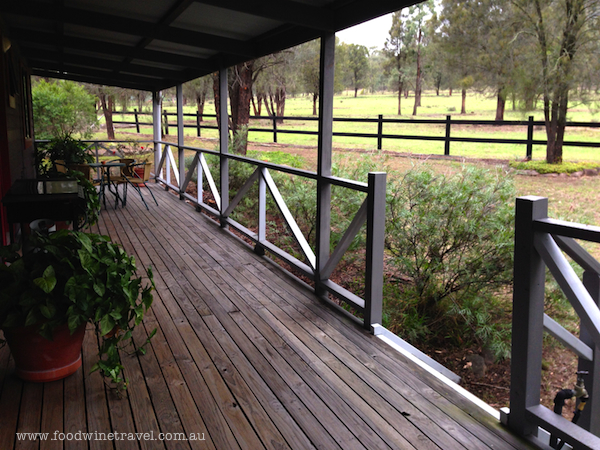 Backing onto Yango National Park, Serenity Grove consists of a couple of self-contained cottages surrounded by an olive grove, grazing cattle, kangaroos and native bird life. We had just enough time to settle in before we were whisked off to dinner at Margan Wines, whose owners Andrew and Lisa Margan run a sophisticated cellar door and restaurant inspired by their trips abroad.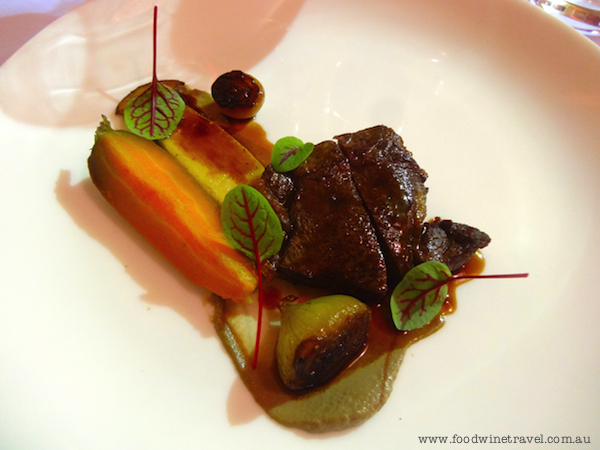 They have a flourishing kitchen garden whose produce featured heavily in a beautiful meal matched with an amazing selection of local wines. There were numerous highlights, too many to rattle off, but just to name a couple: 2005 Elysium Verdelho, 2001 Margan White Label Barbera and 2005 Margan Aged Release Shiraz.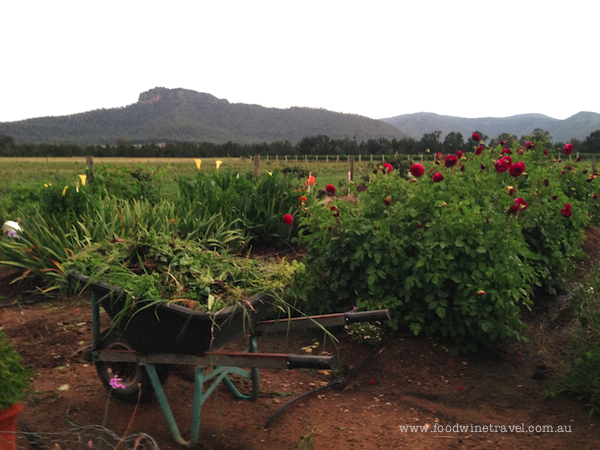 The next day we were off and running to Krinklewood, where Rod Windrim is passionate about biodynamic winemaking, which he describes as "one step past organics". Chooks scratch happily around and the vines look a picture of health as Rod explains how biodynamic farming is practised in accordance with the phases of the moon. He has visited biodynamic vineyards in France and South America and has learnt much of what he knows from other winemaking folk.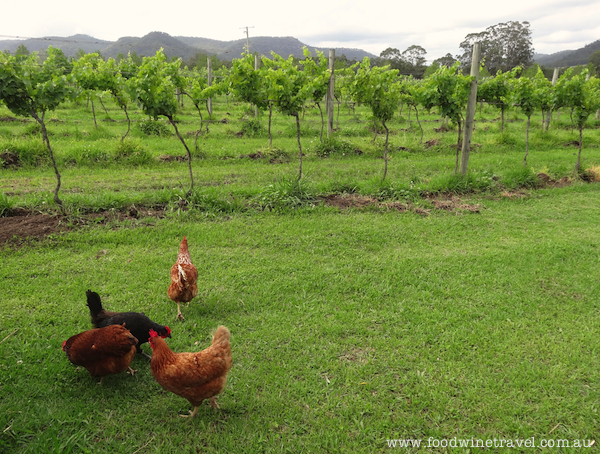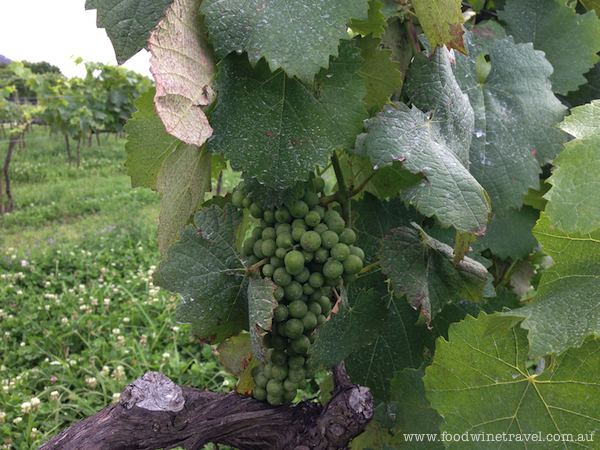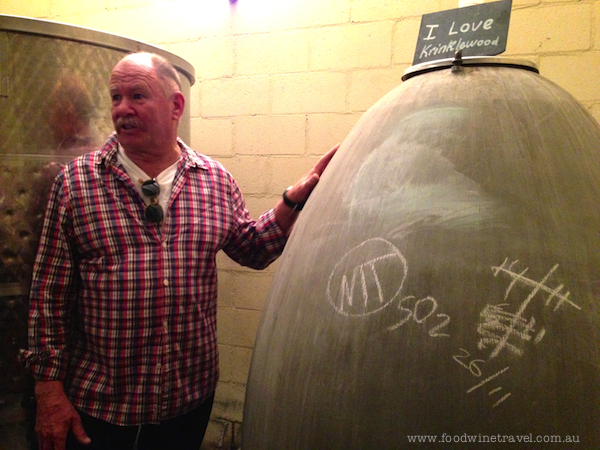 "When you're interested you just meet up with a lot of other kooky guys, and the kookier they are, the more I like them," he says. Rod is mad about the 2-metre tall cement egg fermenter that he uses to make his basket-pressed Chardonnay. He made his delicious Rosé from the Mourvèdre grape because he wanted to make it "the most French way (he) could". "I pictured myself in a café listening to Edith Piaf," he says. We can picture ourselves there too, as the Krinklewood cellar door and gardens have a charming French ambience.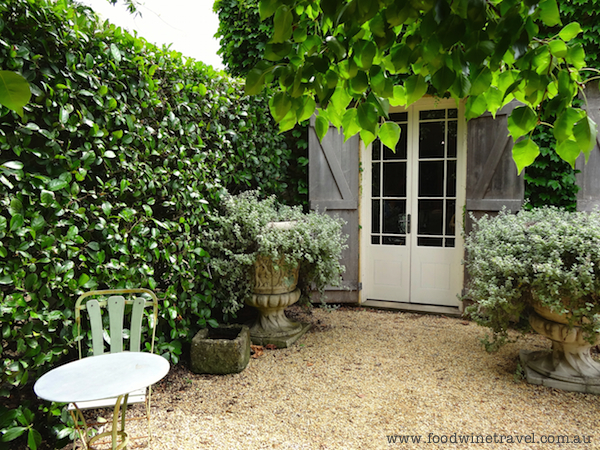 "Welcome to Broke, the best kept secret in the Hunter Valley, and welcome to Whispering Brook, the best kept secret in Broke," says Adam Bell, whose olive grove and vineyard produces olive oil, table olives, table wines and what is believed to be the Hunter Valley's only Touriga Nacional (a Portuguese wine variety). We loved their Lemon & Lime, Chilli & Garlic and especially their Lemon Myrtle infused oils, and after working our way through the oils and the olives, were treated to yummy chocolate biscuits made with brown sugar, olive oil, wholemeal flour and – wait for it – diet chocolate. Who would have guessed?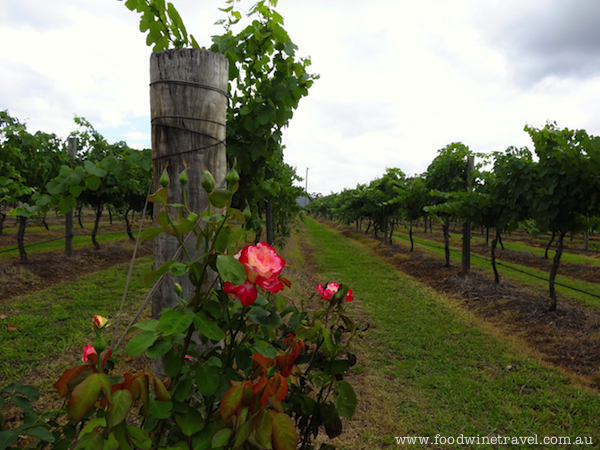 Charcuterie and a simple but elegant salmon dish were on the menu for lunch at the lovely Mt Broke Estate, whose cellar door has recently been renovated. It now boasts a fabulous bar made from a gorgeous piece of timber that came from an old bridge in Broke.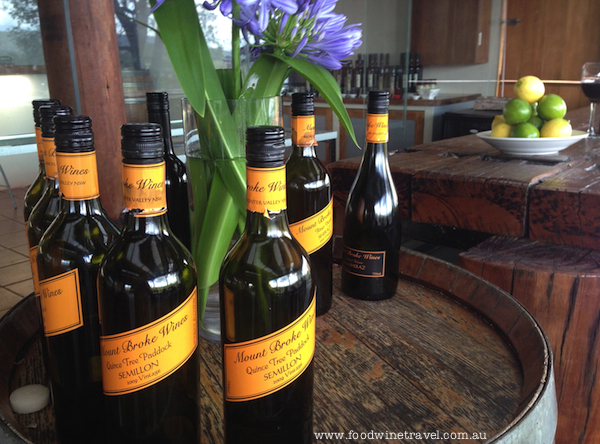 There was shopping time at Broke's Promise Estate where the cellar door is complemented by a gallery selling Aboriginal paintings and handcrafted items, including these cute-as-a-button wombats.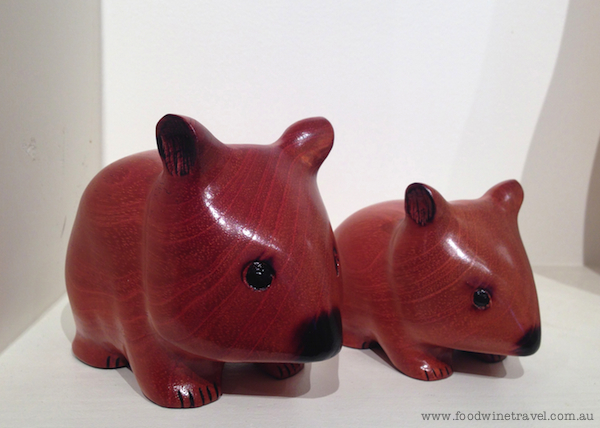 Then it was on to Catherine Vale for a game of bocce and some more treats, including fresh spring rolls and an incredibly more-ish egg and caviar pie that was heavenly with a glass of Bill and Wendy Lawson's 10-year-old Madeira.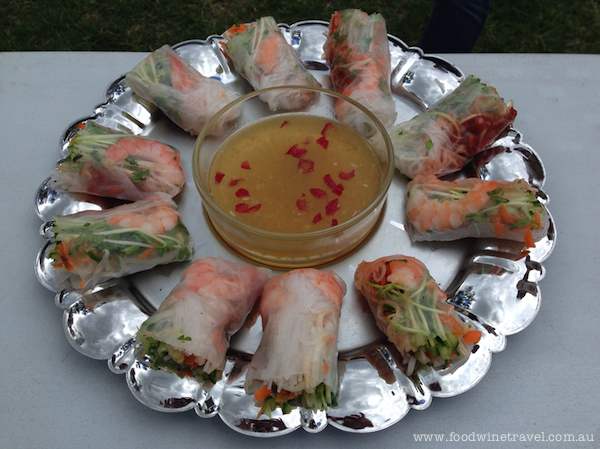 As difficult as it was to contemplate even more food, we were soon sitting down to a 6-course degustation dinner at Nightingale Wines, where the superb 2011 Ascella Chardonnay was matched with goats cheese soufflé, the silky smooth 2011 Greenway Momento Merlot with roast lamb and chargrilled capsicum, and the deliciously rich 2011 Stomp Limited Release Shiraz with a duck and cherry dish with the novel twist of a chilli chocolate tuille. Divided opinions on whether that one worked but there was a certain harmony between the chocolate and the mocha notes in the wine.
We weren't exactly bright and chirpy when the alarm rudely awoke us at 4am the following morning, but once we were soaring over the vineyards with Beyond Ballooning, it was all worth it. From the air we had an even greater impression of just how neat and picturesque this little neck of the woods is.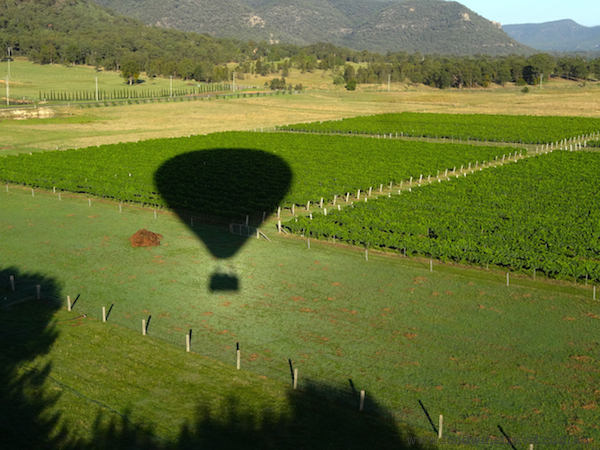 We toasted our good fortune with a refreshing glass of sparkling Verdelho at the Stomp cellar door. Winemaker Michael McManus makes a fun range called Pssst 'n' Broke – read that whichever way you will. "We're extremely serious and passionate about our wine but we also like to have a bit of fun," says McManus. Which sums up the good folk of Broke Fordwich rather nicely.
We travelled as guests of the Broke Fordwich Wine & Tourism Association, and were chauffeured around by the very enthusiastic Paul Burgess of A Wine Tour In Broke.
More information: brokefordwich.com.au
Related post: Going For Broke.