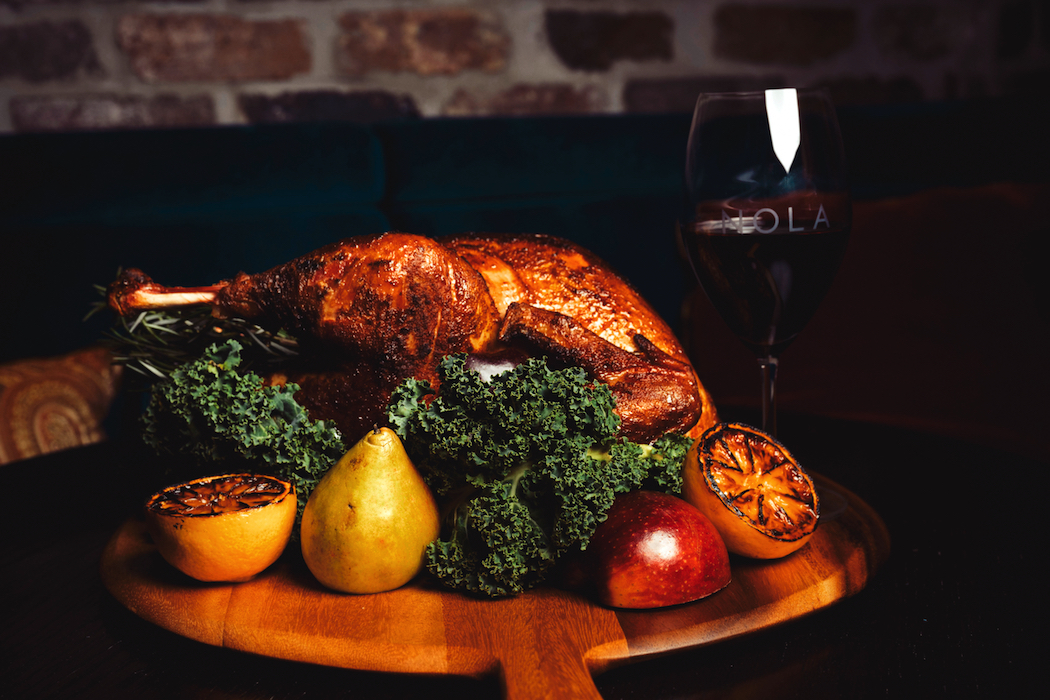 It wasn't so much the invitation to a Thanksgiving dinner that had us hooked. Rather it was the opportunity to experience some New Orleans-inspired venues and live music in downtown Sydney.
Our progressive feast of Thanksgiving food and drinks was a preview of Thanksgiving Month which is taking place at three Sydney venues throughout November.
We love New Orleans — one of our favourite cities in the U.S. — and we can never get enough live music, especially when it's New Orleans-style.
So when the invitation came, it was time to hit the road and experience our first Thanksgiving. We lobbed into NOLA Smokehouse and Bar for cocktails and a feast, caught a few tunes and knocked back more cocktails at The Swinging Cat, and finished up with pecan pie and more live music at Jolene's.
Yeehaw! What a great way to spend an evening. If you love this American tradition or simply want to know more about it, take some tips from us and enjoy your own celebration at any or all of these three great venues.
---
When and what is Thanksgiving?
The Thanksgiving holiday in the United States is on the last Thursday in November (this year November 24). Steeped in history and nostalgia, it's a national holiday which began as a day of giving thanks for the harvest and other blessings of the past year.
Thanksgiving is celebrated with a great array of food, drink and festivities, and this first-of-its-kind series of events in Sydney is no exception. Throughout November, the three venues here are putting a unique spin on classic Thanksgiving favourites and American-inspired cocktails.
There'll be Thanksgiving banquets, late-night Thanksgiving Throwdown parties, Thanksgiving Pie cocktails, Snickerdoodle desserts and, of course, whole roast turkey. Local bands and special guest artists will perform throughout the month.
---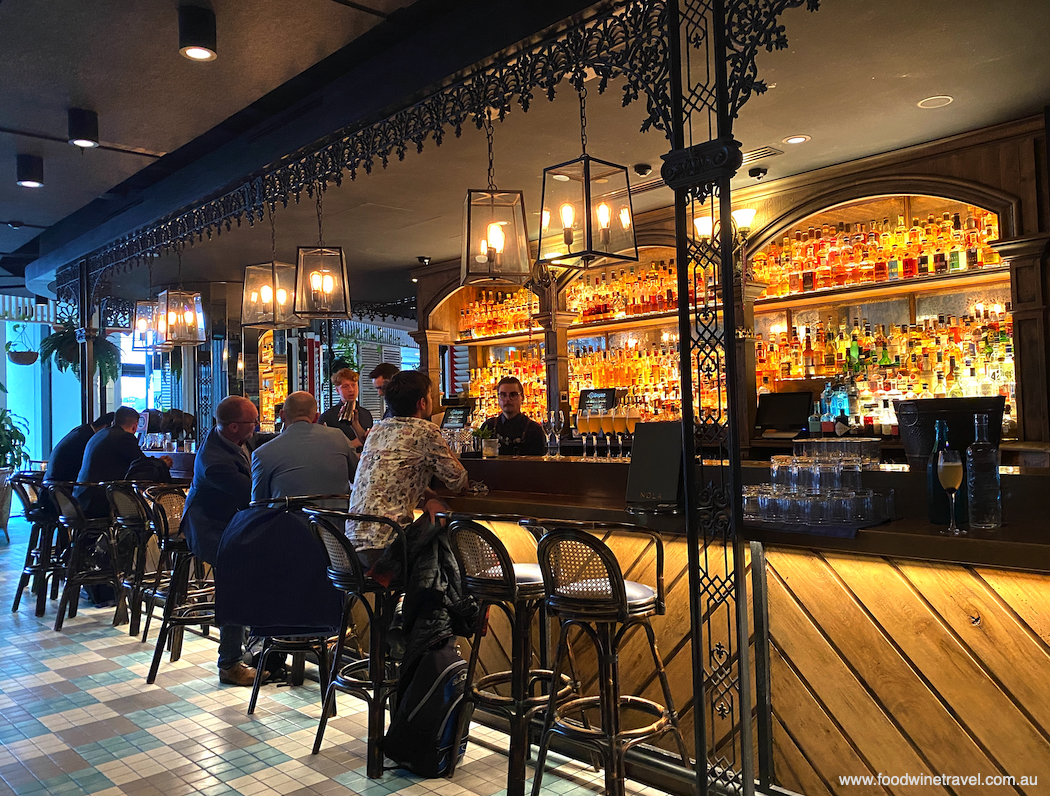 NOLA SMOKEHOUSE AND BAR
Level 1, One International Towers Sydney, 100 Barangaroo Avenue.
Did you know that 'NOLA' stands for New Orleans Louisiana? We didn't either until we visited New Orleans a few years ago and wondered why we were seeing 'NOLA' on every sign, advertisement, and sticker.
Stepping into this fabulous restaurant and bar in Barangaroo brought back so many memories of our visit to New Orleans. The wrought iron work over the bar, the shuttered windows, the red, white and green timberwork, the jazz band knocking out tunes, the fantastic cocktails … all of it had us reminiscing big time.
We kicked off with a delicious Southern Belle Spritz cocktail, a blend of Jack Daniels whiskey, Prosecco, peach and St Germain elderflower liqueur.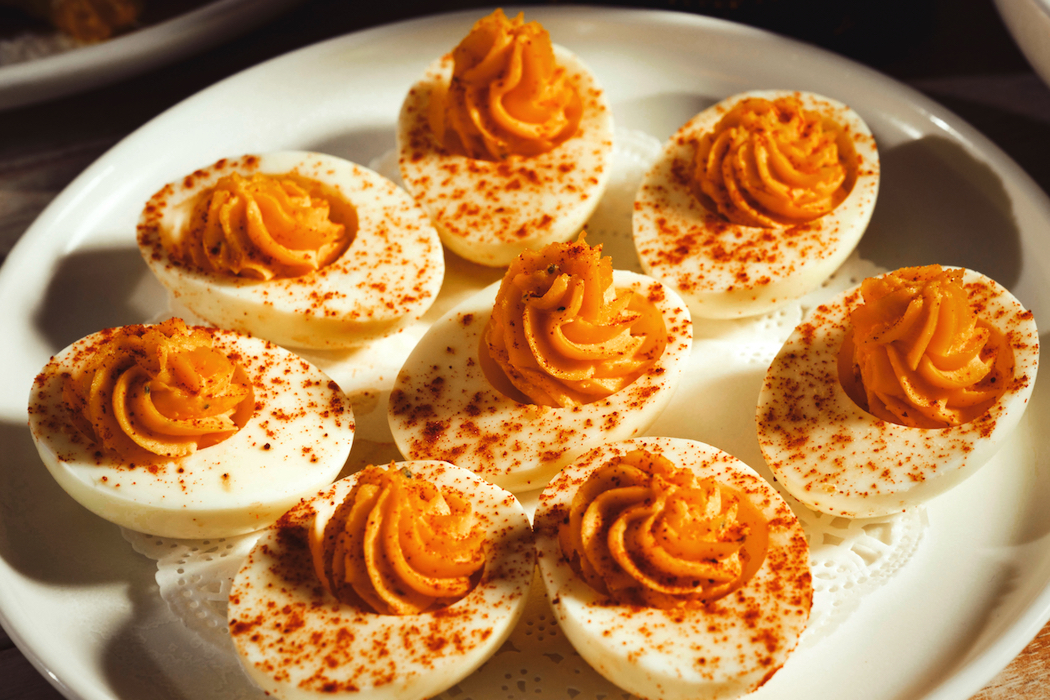 That was the prelude to an amazing banquet of Southern fried chicken, mashed potatoes and gravy, barbecued corn with chipotle, fried brussels sprouts and maple bacon, pastrami and pickles, mac 'n cheese, and the highlight: a whole turkey, barbecue-smoked creole-style. Oh, and we mustn't forget the devilled eggs – a personal favourite!
This special menu is going to be available to diners at NOLA on November 24 for $130 p/p, with pumpkin pie included. Cocktails are extra and there'll be a choice of the Southern Belle Spritz (highly recommended) and a banana-pudding-inspired Banana Ballroom cocktail. Sign up now, folks.
If you can't make it on Thanksgiving, you can pop along to NOLA any night this month and enjoy the cocktails, pumpkin pie or good tunes from local artist, Riot Squad.
To book, visit www.nolasydney.com
---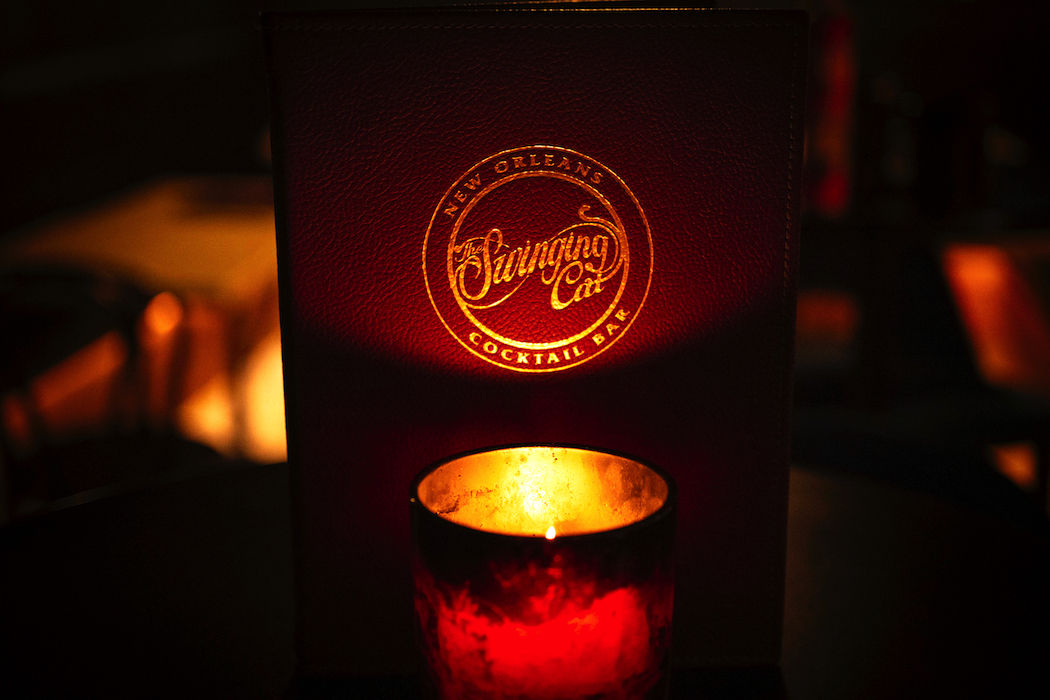 THE SWINGING CAT
44 King Street, Sydney.
This underground cocktail bar is the coolest little bar ever (so named because you couldn't swing a cat). It was filled with live music and happy patrons when we arrived for post-dinner cocktails. We listened to a band of jazz musicians from the Sydney Conservatorium before they took a break — it's a standing joke for Maurie and I that whenever we arrive to watch live music, the band is just about to go on a break!
So we had to console ourselves with cocktails. Let's Split (inspired by an old-fashioned banana split) is one of the drinks The Swinging Cat has created for Thanksgiving Month. It's a delicious blend of Jack Daniel's Tennessee whiskey, vanilla, banana and cream, shaken hard and served in a coupe with biscuit crumb.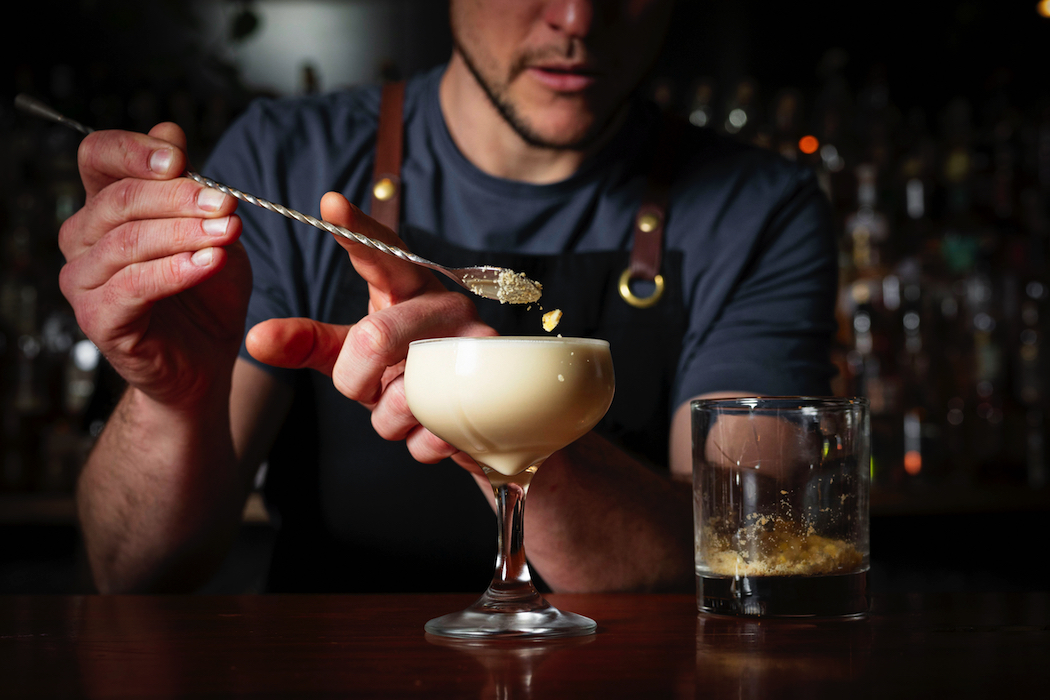 The Swinging Cat is also offering Peach Kiss, a blend of Woodford Reserve Kentucky Straight Bourbon whiskey, dry vermouth, peach and bitters with a cranberry garnish. Both cocktails are inspired by classic desserts regularly enjoyed at Thanksgiving.
These special cocktails are available every night in November, and if you're feeling peckish, you need to stick around to try their Thanksgiving Leftovers Jaffle stuffed with turkey, brie and cranberry jam. Stay on to catch their Thanksgiving Parade music line-up including The Swinging Cat House Band and The Sazeracs.
To book a table: www.theswingingcat.com
---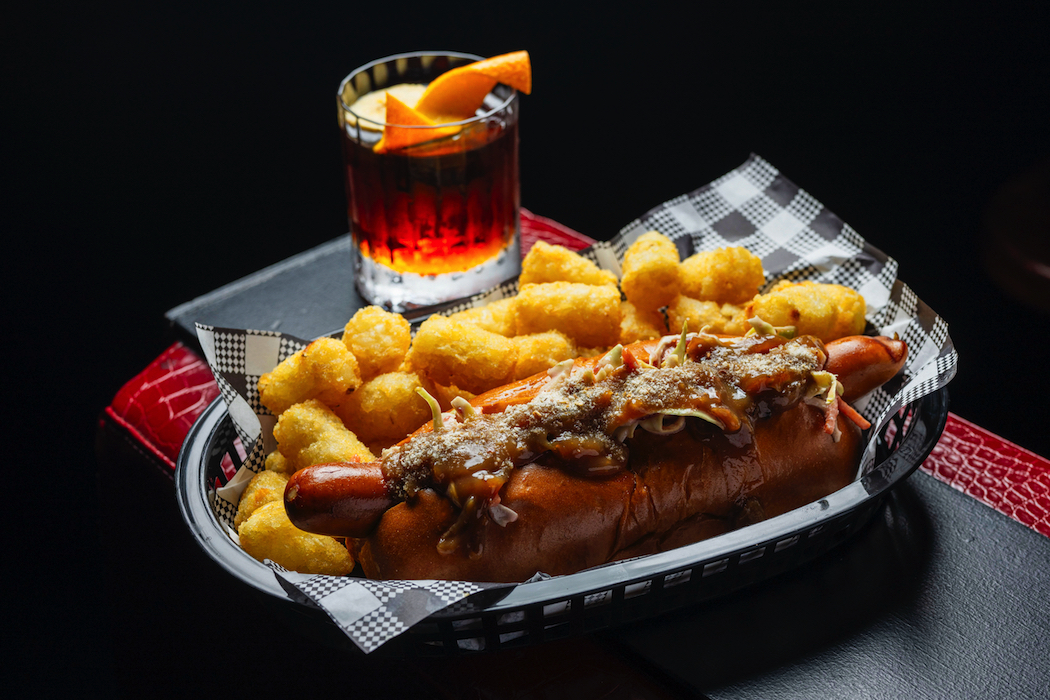 JOLENE'S
Basement level of 73 York Street, Sydney.
I must confess that we had some trepidation about Jolene's, as it sounded a little too C & W for us. Whenever anyone asks Maurie if he is allergic to anything, he always says "Only Country & Western music".
We discovered, however, that this Nashville-inspired whiskey and country music bar in downtown Sydney is oodles of fun. Run by self-confessed American Whiskey nerd, Simon Rose-Hopkins, its drinks menu is focused around Bourbon, Rye and Tennessee whiskey, albeit with a new approach which he likes to think of as "redneck tiki".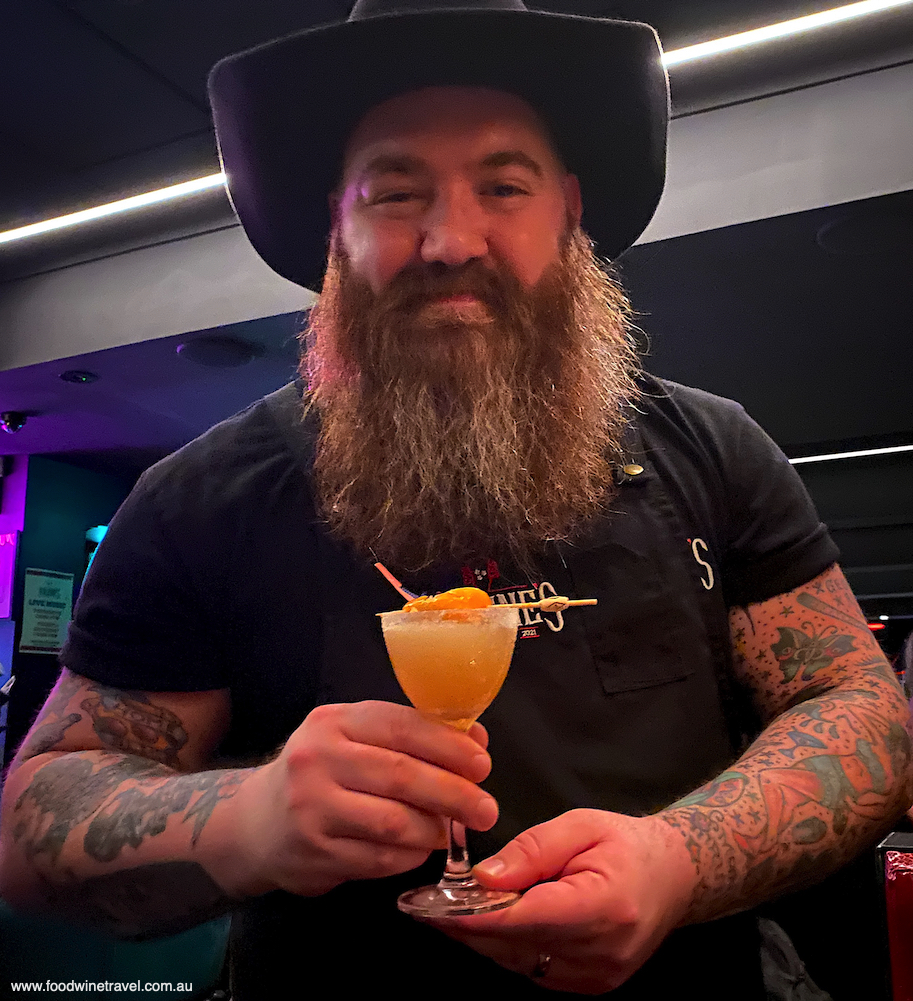 This means using the spirits in non-traditional flavour matchings and showcasing their versatility. Simon's enthusiasm is infectious: he even has a bottle of Jack Daniels tattooed on his arm.
"We could have done the fine dining thing but that's not us," he said. "We've taken the traditional Thanksgiving dinner and turned it into a hot dog."
Made with a turkey frank from an award-winning smallgoods supplier, the Turkey Dog topped with Cranberry Slaw and Stuffing Crumb is on the menu throughout Thanksgiving November, along with a delicious Southern-Style Pecan Pie.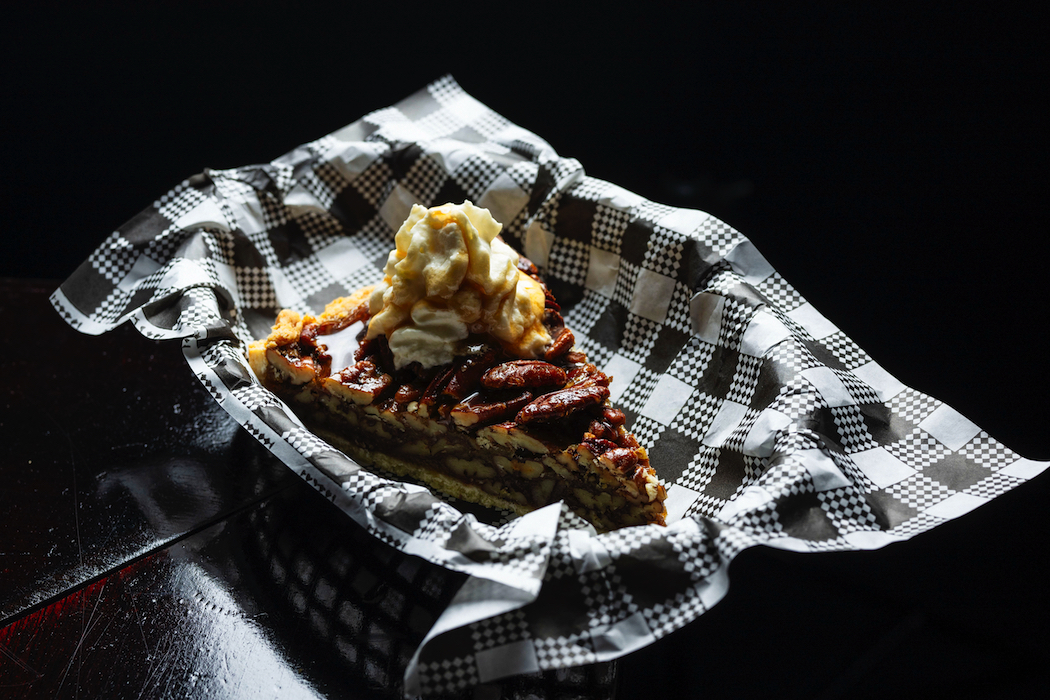 Grab a King Kong or a Just Peachy (peach cobbler-inspired) cocktail, nestle into a booth and listen to the music, or stand up and dance to live entertainers such as Red Slim, Bryen Williams Duo, Lozz Benson, and CK & the 45s.
The booths are named after country singers Chris Stapleton, Kenny Rodgers, Johnny Cash, Taylor Swift (for fans of more mainstream music) and Dolly Parton for the 12-seater VIP booth.
Bookings are essential for booths, but walk-ins are always welcome. To book: www.jolenessydney.com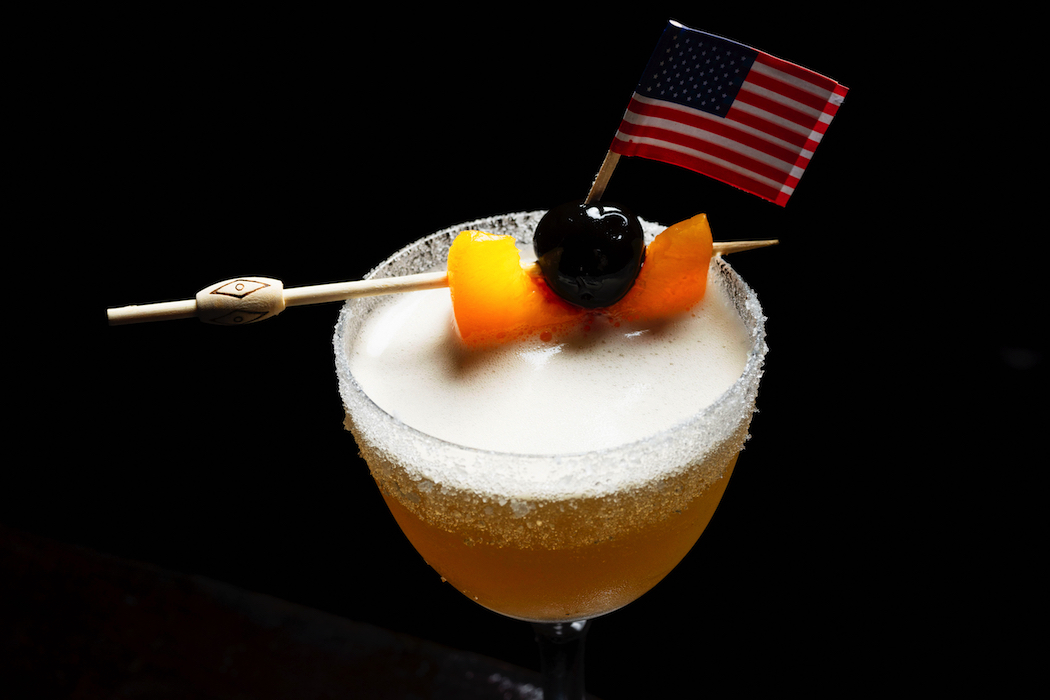 ---
It's great to see the hospitality industry bouncing back after two years of disruptions. We thoroughly enjoyed this taste of American Thanksgiving and we think you will too. Don't let the Yankees have all the fun!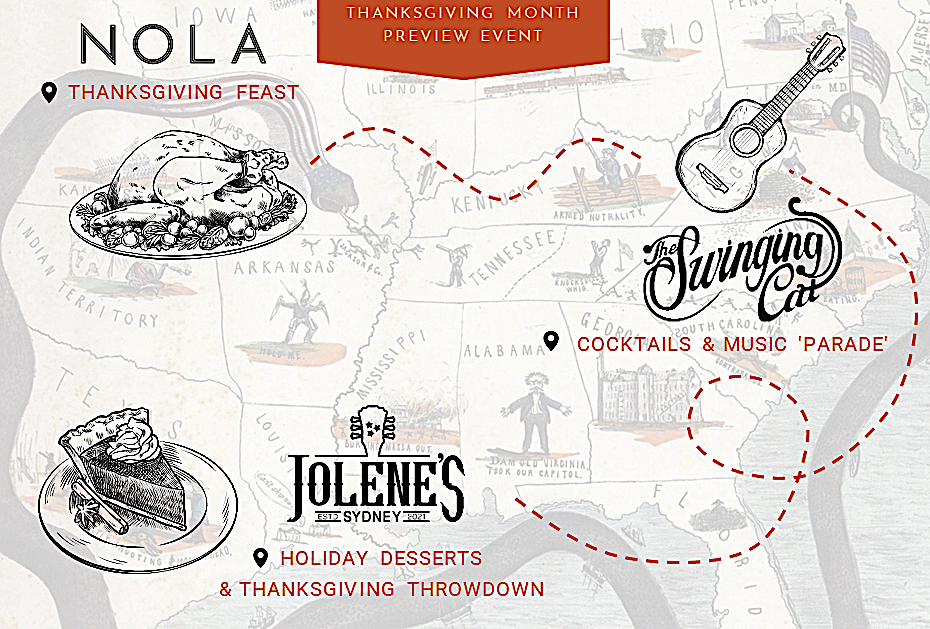 With thanks to the various venues for hosting us. Photos are a mix of ours (where indicated) and others supplied by the venues and used with permission.