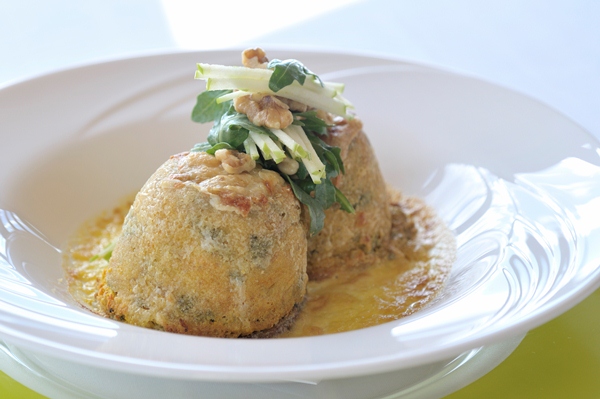 I have a confession to make. One of the reasons  I accepted the invitation to check out the International Cricket Hall of Fame was that it promised lunch.
I wouldn't travel just anywhere for lunch, but this one sounded good – … "in the pavilion overlooking Bradman Oval … the very pitch where Sir Donald honed his skills …"
Count me in. Always love a good story told over a glass of wine.
As you'll see from my post on the Hall of Fame and its new Bradman Gallery, I learnt a thing or two about cricket. But I also learnt how good the local food is, during a lunch prepared by Robin Murray.
Robin is the executive chef at nearby Centennial Vineyards and he and his wife Mandy are now also handling the catering at Stumps Café.
I loved his feather-light soufflé, the recipe for which follows. This twice-baked soufflé was made from feta cheese produced by Small Cow Farm, one of the great regional producers in the Southern Highlands.
It was followed by deliciously moist and juicy spatchcock roasted with thyme and served with a puree of organic parsnip, fricassee of carrot, bacon and locally produced mushrooms, chicken jus, and salsa verde made with herbs from the Stumps Café garden.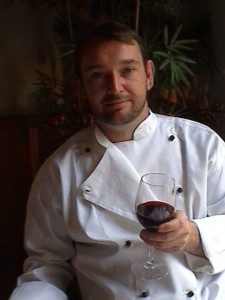 Originally from the highlands of Scotland (perhaps that's why he feels so at home in the Southern Highlands), Robin trained in the UK and Europe and has been head chef in some of Australia's leading restaurants.
He has worked at the Windsor Hotel and the Sofitel Hotel in Melbourne, and at venues at Federation Square, where a young George Calombaris was his apprentice.
He runs a cooking school at Centennial Vineyards and loves sourcing ingredients from local growers and producers. He is something of an expert in charcuterie and his pancetta and prosciutto are apparently second to none (unfortunately I haven't had a chance to try these).
Robin says the space and facility at the  International Cricket Hall of Fame are cutting edge and he has some exciting plans that include a host of food and beverage events.
TWICE BAKED FETA AND PUMPKIN SOUFFLÉ
425 ml milk
30 grams onion
85 grams butter
85 grams flour
225 grams feta
200 grams cooked pumpkin
6 eggs, separated
1 tablespoon English mustard
300 ml cream
50 grams finely grated Parmesan
2 tablespoons chopped parsley
Salt and pepper
Preheat oven to 170 degrees C. Butter 8 small ramekins and dust with breadcrumbs. Prepare a bai-marie (a deep baking tray half full of water) already in the oven. Warm the milk with the onion and leave to infuse for 15 minutes. Make a roux by melting the butter in a saucepan and adding flour; cook gently for 2 minutes without colour. Remove the onion from the milk and add milk to the roux a third at a time, stirring continuously. When all the milk is added, cook for another minute. Remove the pan from the heat and add the feta, pumpkin, parsley and mustard.
Season to taste, then add the egg yolks. Transfer the mixture into a large bowl. Whip the egg whites until stiff, fold into mixture. Fill the ramekins two-thirds to allow the soufflé to rise. Place into bain-marie and cook for 25 to 30 minutes. Remove and cool for one hour. Remove from the ramekins and place upside down into ovenproof serving dishes, pour cream over the top and grated parmesan. Bake for about 10 minutes until golden brown and bubbling. Garnish and serve.
To garnish:
1 sliced apple
Handful of toasted walnuts
1 cup of rocket leaves
Olive oil
Salt and pepper
Combine all ingredients and season.
Recipe courtesy of Robin Murray.