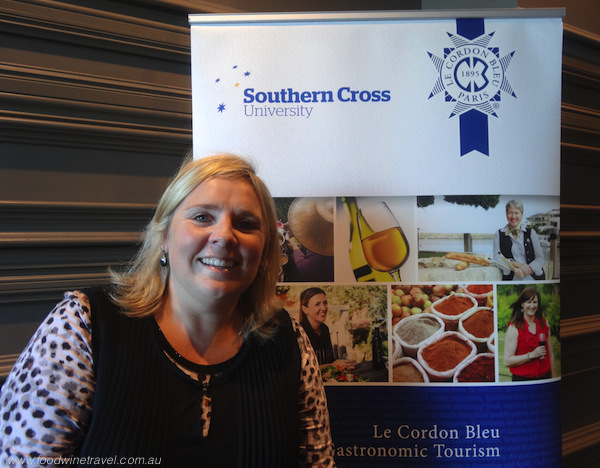 This is a course I'd love to do … if only there were a lot more hours in the day. The Master of Gastronomic Tourism offered by Southern Cross University and Le Cordon Bleu looks at "all facets of how food and drink interconnect in our lives" – which in simple terms means it has my name written all over it.
Recently I had the privilege of meeting Le Cordon Bleu's senior brand manager, Sophie Mibus (above), at Esquire restaurant, for a lovely relaxed lunch that I've written about in a separate post. Sophie was visiting Brisbane with food consultant and current student Tawnya Bahr to help spread the word about this exciting program.
Combining an academic approach to understanding food and drink within historical, cultural and contemporary contexts, the program is the only post-graduate degree of its kind in Australia. Because the entire course is delivered online, it can be undertaken from anywhere in the world, making it a great opportunity to network with like-minded people.
The program in its present incarnation was first offered in May 2012 and 115 students are currently undertaking units. It takes 12 units to obtain the Master's degree but you can pace yourself – Tawnya, for example, was telling me that she is currently doing only one unit because that's all she feels she can manage. (She's a busy lady who has been running food tours for the past 8 years.)
Passion for Gastronomy
The program is perfect for someone like Tawnya (below) as it is integrated with tourism, business and management applications. Graduates typically work in hospitality, writing, media and tourism, yet a lot of people undertake it simply because they have a passion for gastronomy. Sophie says about 30% of students undertake the course for career reasons and about 70% for lifestyle.
The topics studied range from sustainability and food security to contemporary trends in cuisine and culinary arts; from food writing for media to the history of gastronomy and the restaurant; and from small business management to entrepreneurship and the application of ethical business practices in tourism operations.
The program has the backing of Le Cordon Bleu, which was founded in Paris in 1895 and is one of the world's most prestigious providers of gastronomy, culinary and hospitality management education. It costs $2650 per unit but FEE-Help is available for Australian citizens, and there are some attractive scholarships. With the exchange rate in their favour, it's particularly attractive for our American friends at the moment.
If you have a tidy €6300 to spare, you could also do an intensive two-week Diploma in Taste, Gastronomy and Arts of the Table at Le Cordon Bleu and the University of Reims Champagne-Ardenne in France. www.heg-gastronomy.com
Master of Gastronomic Tourism
Le Cordon Bleu Australia
Tel: 1800 064 802
www.cordonbleu.edu
You might also enjoy: Esquire restaurant.
This is not a sponsored post. I'm just keen to help spread the word.