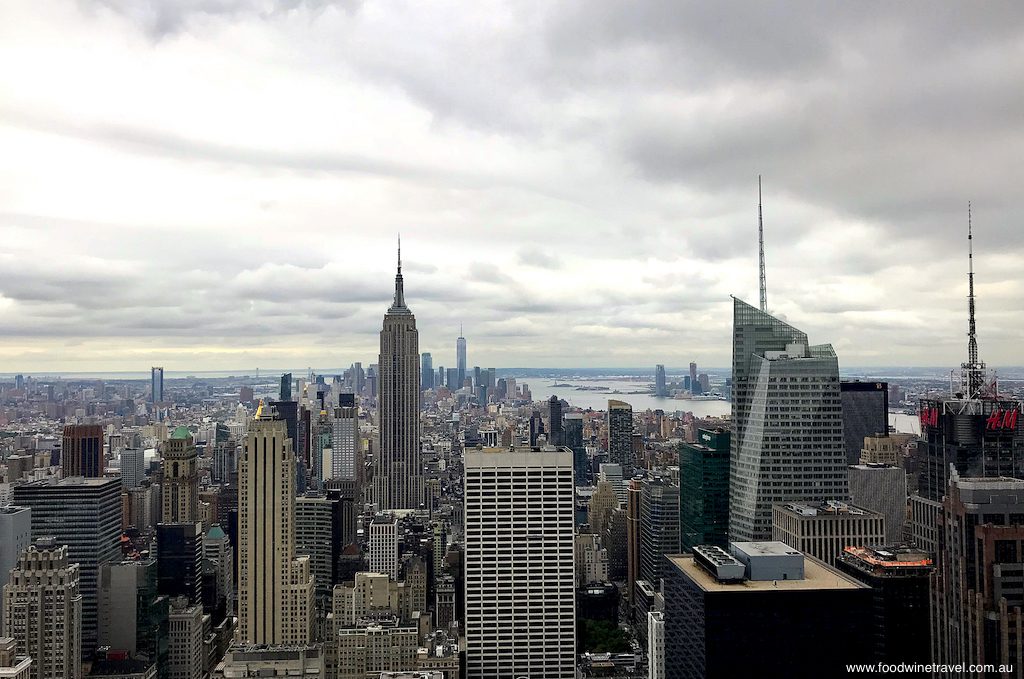 Which is better? Seeing New York City from the Empire State Building or the Top of the Rock Observatory?
That's a hard one because each is special in its own way. At the end of this post, we'll show you an easy way of doing both. But in the meantime, let's look at each one on its own.
---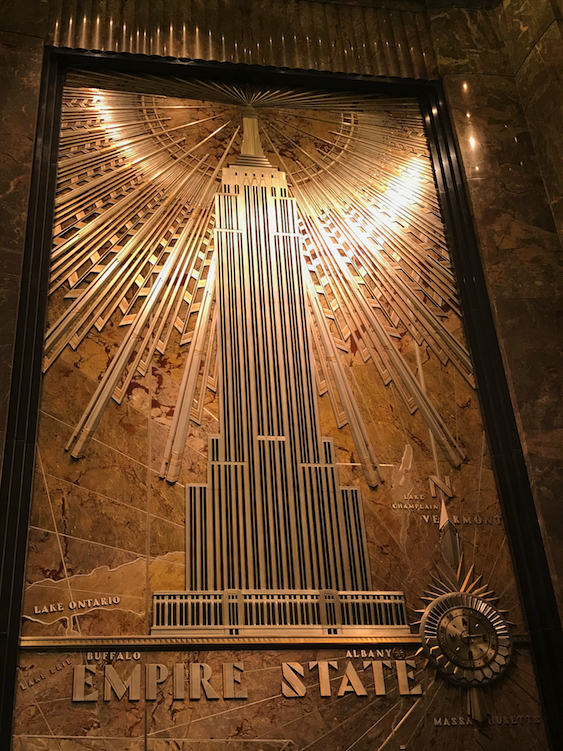 Empire State Building, New York City
Maurie thought I had rocks in my head when we finished walking the High Line and I suggested we head to the Empire State Building. It was after 10.30pm and it's a bit of a hike between the two, but I do like to get the most out of a day 🙂 Somehow I managed to convince him it would be worth it.
In the city that never sleeps, the last elevator to the observation deck of the Empire State Building leaves at 1.15 am. Plus, I had heard that there is a live saxophone performance every night from Thursday to Sunday until 1am. And we're always keen for a bit of live jazz.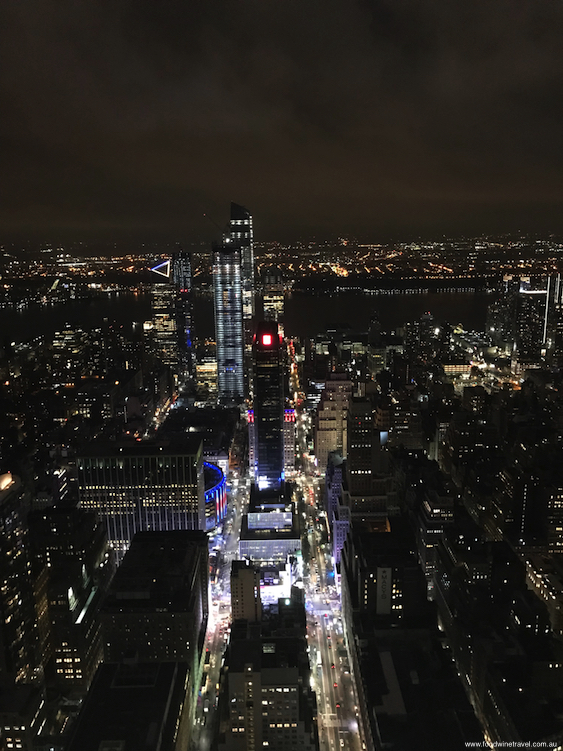 The good thing about rocking up to the Empire State Building after 11pm is that there isn't much of a queue to get in (although, it has to be said, there were still plenty of people around – at no time did we feel unsafe walking the streets).
Located in Midtown Manhattan, the Empire State Building is an Art Deco masterpiece. It was built in 1931 in rapid time, and there's an excellent exhibit that tells you all the hows and whys. The plan was for one storey to be erected every day. It was hugely ambitious but remarkably, the 102-storey building was finished one month ahead of schedule.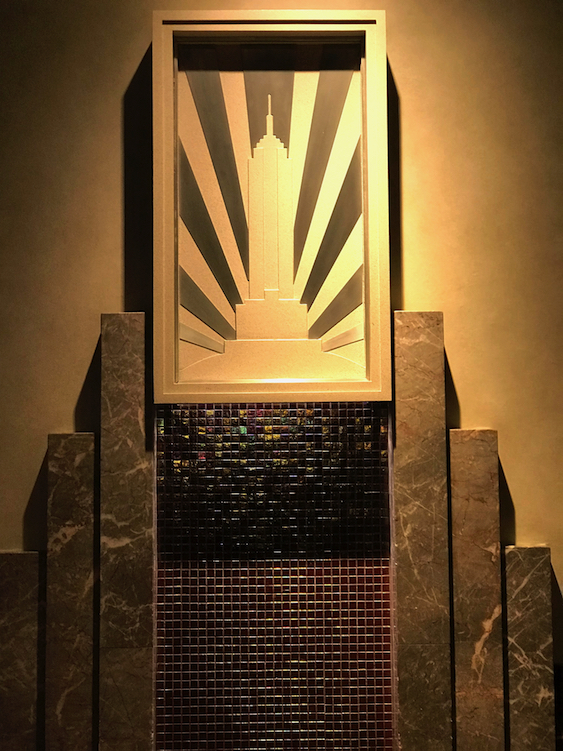 Soaring 1,454 feet from base to antenna top, it's still a striking feature of the New York skyline despite the construction of so many skyscrapers since. A new entrance opened last year on 34th street, leading into a stunning lobby with beautiful art deco murals on the ceiling and a grand staircase that splits around a two-storey model of the building.
Take the elevator up to the 86th Floor Observatory and Dare To Dream exhibition which is full of fascinating information and photos about the building's construction. Everywhere you turn, there are lovely art deco touches.
The Observation Deck wraps around the building's spire, providing 360-degree views of New York and beyond. The setting of dozens of movie and television scenes, it is magical at night with all the twinkling city lights. On a clear day you can see views of Central Park, the Hudson River and East River, the Brooklyn Bridge, Times Square and even the Statue of Liberty way off in the distance.
The high-powered binoculars are free to use, and there is a free audio tour that you can access on your personal device at www.audiotour.esbnyc.com. Access to the 102nd floor Observatory and an Express Pass are available as ticket upgrade options.
If you go:
Empire State Building
Hours: Daily 8am to 2am
20 West 34th Street (between 5th and 6th Avenue)
New York, NY 10001
United States of America
www.empirestatebuilding.com
---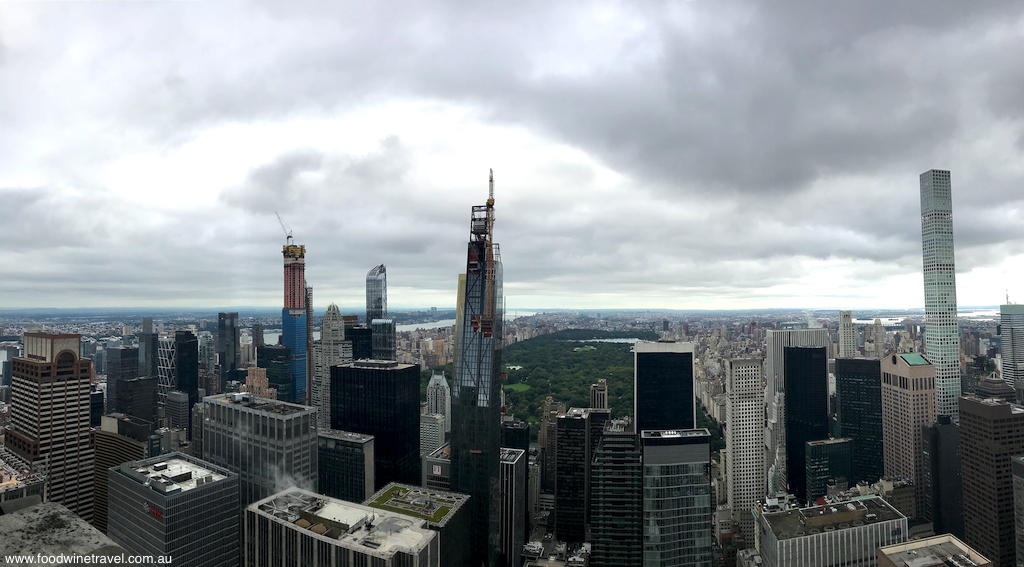 Top of the Rock Observatory, New York City
Lesson 101 in New York: Never roll up to an attraction and expect to get in without a wait. A very long wait. In the case of Top of the Rock, you most likely won't even get in the same day. We arrived at the ticket counter mid-afternoon in September and found that entry was by timed ticket and it was fully booked for the rest of the day.
We were offered the opportunity of doing a 90-minute tour of the Rockefeller Centre which would have guaranteed entry to the observation deck, but with limited time in the city there were other things we wanted to see instead. So we opted to buy tickets for 8am the next day, when we were assured that we would get in without much wait.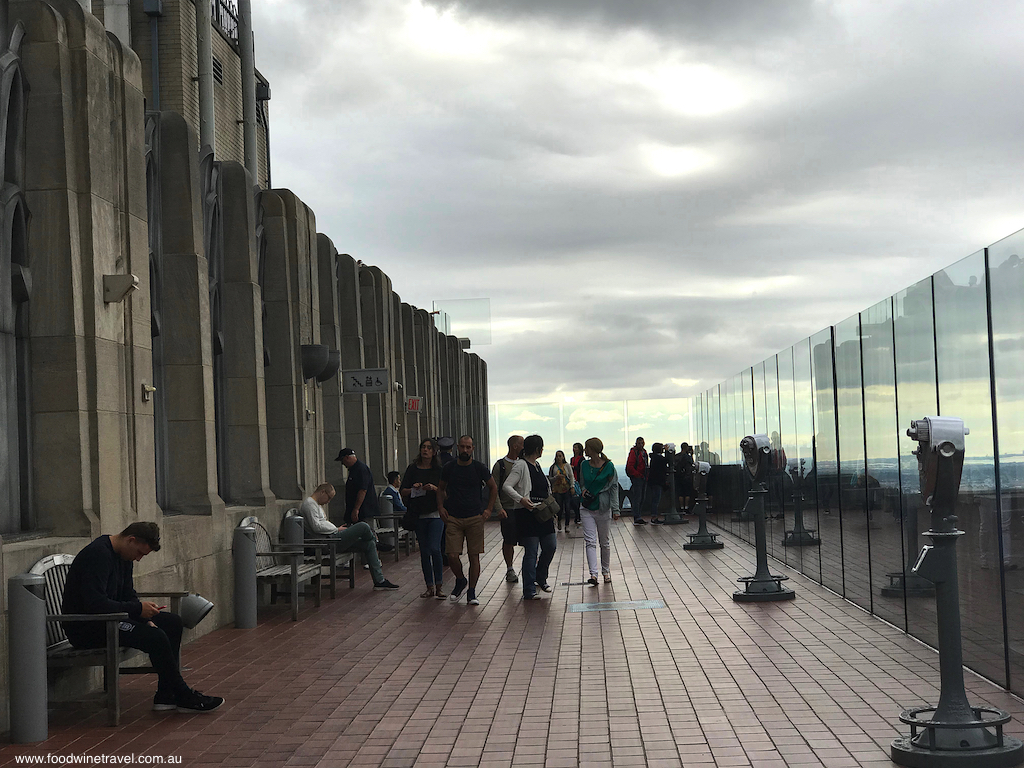 After passing through a security checkpoint, you'll see an exhibition about John D. Rockefeller Jr., who built the Rockefeller Centre, and you'll also see the famous photo of 11 construction workers eating lunch while seated on a steel beam high above the city during the last months of the building's construction in 1932. There is also a theatre with a short video presentation.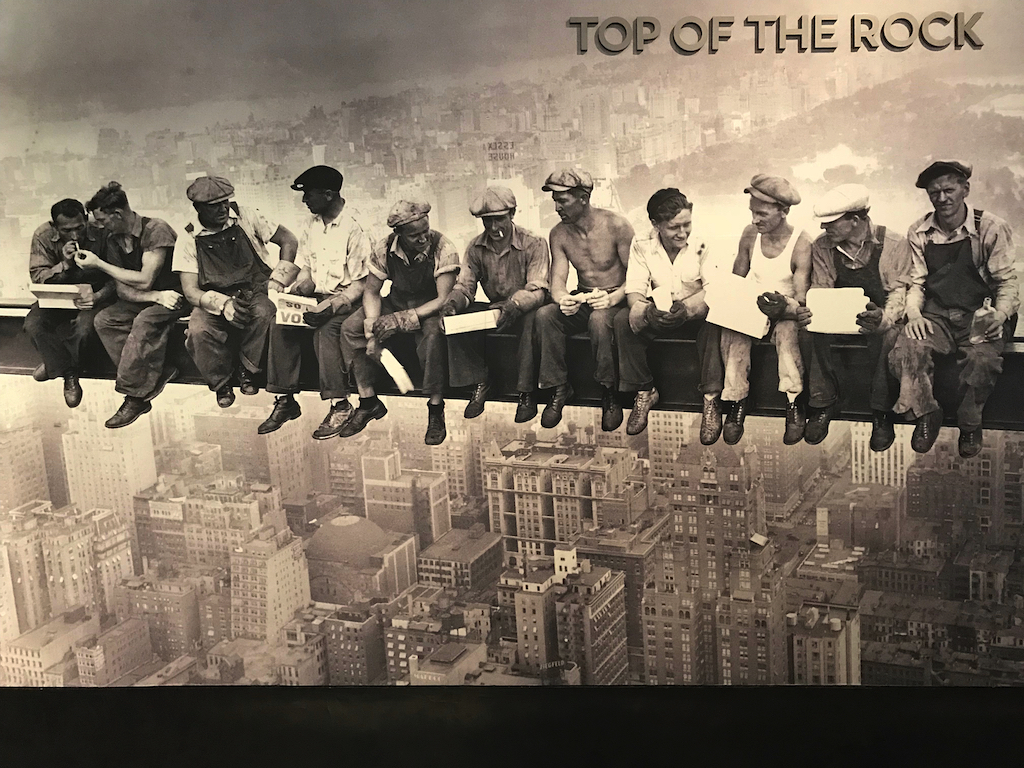 At 850ft above ground, the Top of the Rock Observatory sits at the top of the Rockefeller Center and offers breathtaking views of the city, including the Empire State Building and Central Park. The main entrance is on 50th Street between Fifth and Sixth Avenues, where you'll see a red carpet and almost certainly a queue. If it's terribly busy, you could try the other entrance on the Concourse level of Rockefeller Plaza.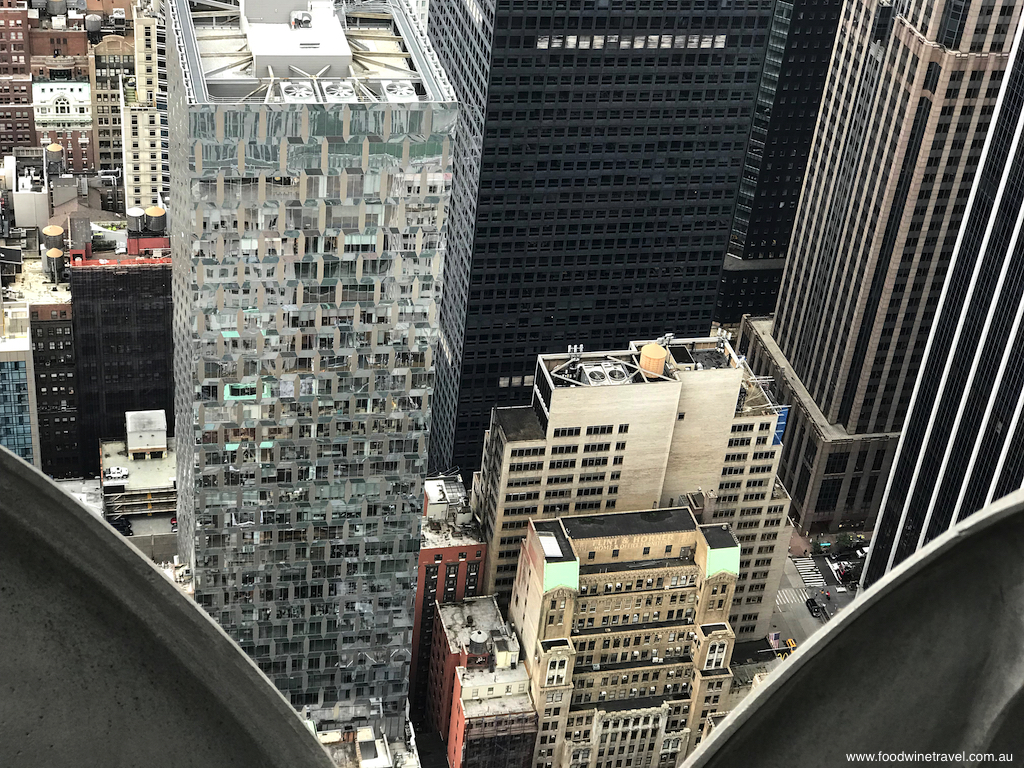 From here, the elevator takes you to the top with three floors of indoor and outdoor observation decks on the 67th, 69th, and 70th floors. Look up as you travel skywards as there's a light show on the elevator ceiling. On the 67th floor, there's a beautiful sparkly installation called Radiance, created by Michael Hammers on behalf of Swarovski. It shimmers with crystals, fibre-optic lighting and blown glass.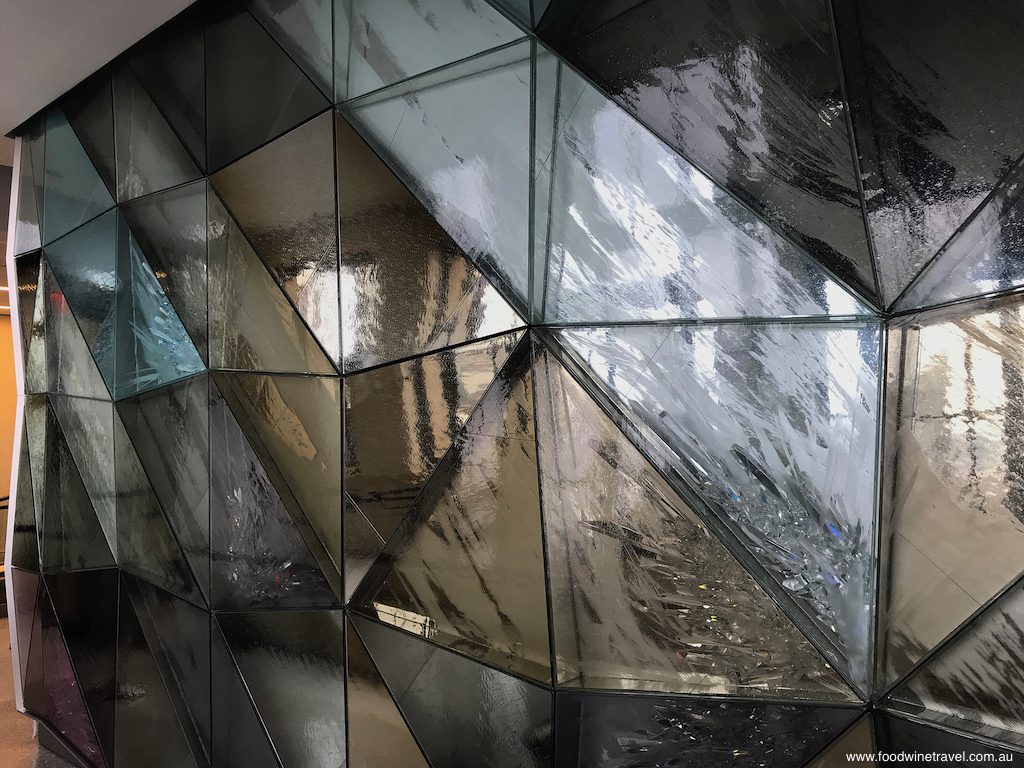 There are binoculars on each of the floors for close-up views of various points of interest. For the best views, head to the Top of the Rock one hour before sunset (the golden hour). To spare the ordeal of lining up, buy your tickets online in advance.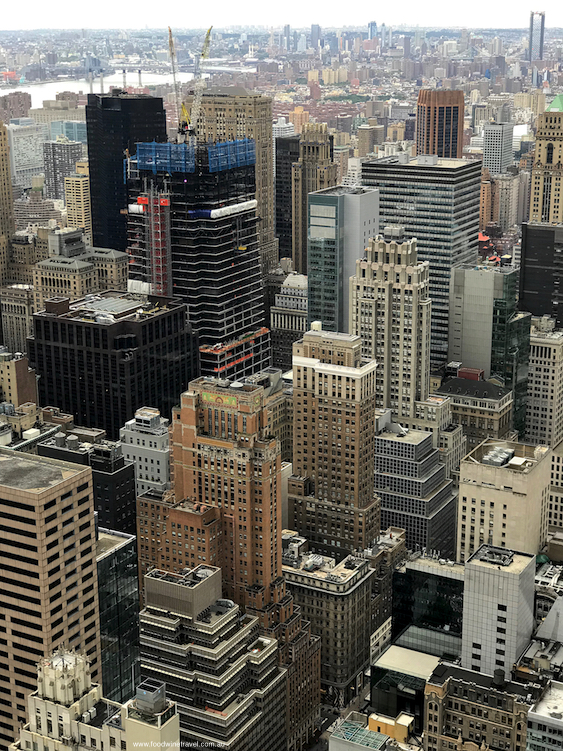 If you go:
Top of the Rock Observatory
Hours: Daily 8am to Midnight
Last elevator up at 11pm
30 Rockefeller Plaza (enter on 50th Street, between 5th and 6th Avenues)
New York, NY 10112
United States of America
www.topoftherocknyc.com
---
Empire State Building vs Top of the Rock
Both buildings are in Midtown Manhattan, about two kilometres apart. They are both interesting from a historical and cultural perspective, and both do a great job of enhancing the visitor experience with the addition of interesting exhibits. Not surprisingly, they both offer fantastic views of the city skyline.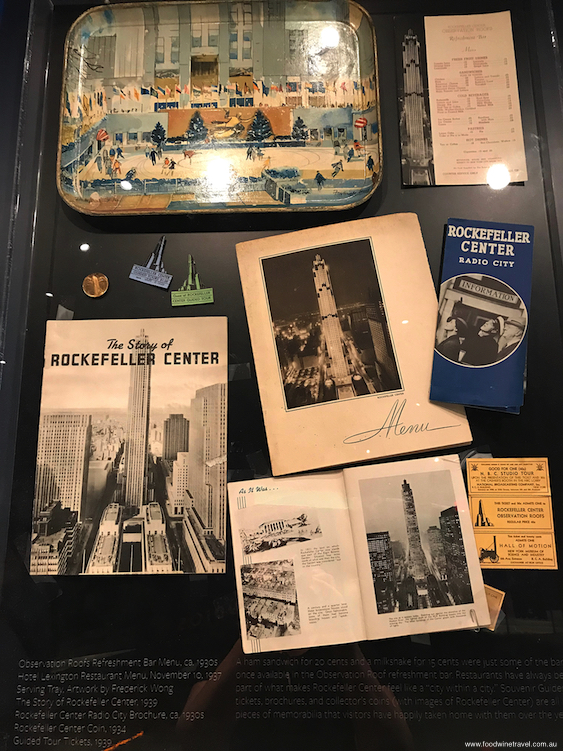 The Empire State Building has the highest open-air observation deck of any in the city. It's further south in Manhattan than Top of the Rock so it offers better views of the Financial District, One World Trade Centre and Statue of Liberty. You can see landmarks such as Times Square, the Brooklyn Bridge and, of course, Rockefeller Plaza. You can still see Central Park though not as closely as you can from Top of the Rock.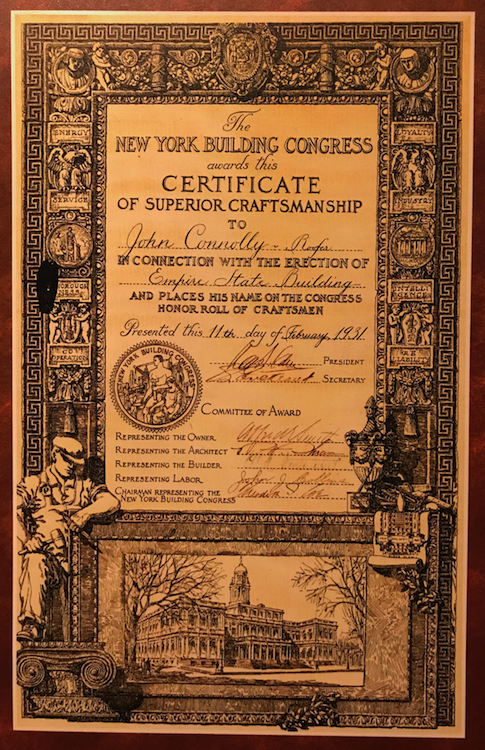 Top of the Rock is further north and thus closer to Central Park and Times Square. From here, there's a partially obscured view of the Chrysler Building and you can also see One World Trade Center, the Bank of America Tower and the Flatiron Building. And, of course, it offers a great view of the Empire State Building!
If you really have to choose, I guess it comes down to whether you want the best view of Rockefeller Plaza, or whether you want the best view of the Empire State Building.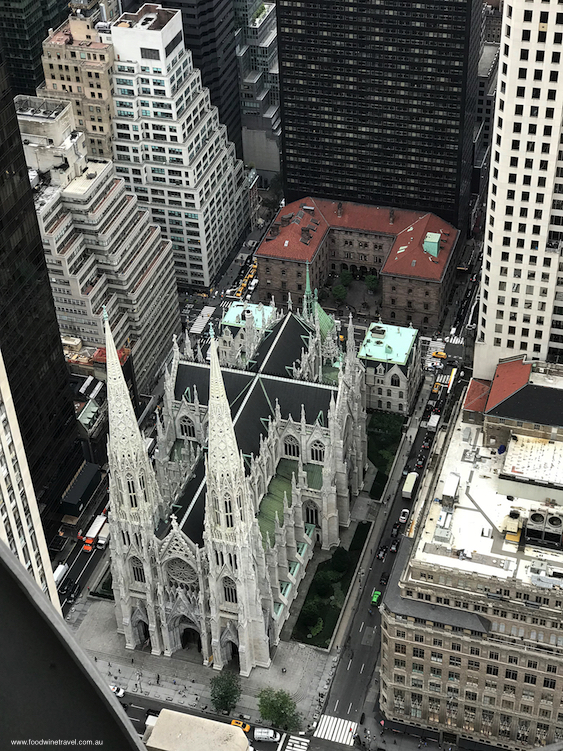 ---
Save on admission with New York Pass and visit both
Instead of choosing between them, consider buying a New York Pass which allows free entry to both, and also enables you to skip the lines. Currently, entry to the Empire State Building is $39. With the New York Pass, it is free and you can head straight to security without collecting a ticket. Currently, entry to Top of the Rock Observatory is $41.37 but it is free with the New York Pass.
Passes are available for 1, 2, 3, 5, 7 or 10 days and can be purchased online and downloaded to your mobile instantly. We were kindly given a 1-day Pass to trial but as we discovered, you have to plan carefully if you are going to get value out of the 1-day Pass. The 1-day Pass currently sells for $134 so you would need to squeeze a lot more attractions into your day to make it worthwhile.
Also, you need to be aware that the Pass is only valid on the day you download it. If you download it later in the day, as we did, it is not valid for 24 hours from that time. Fortunately for us, when we couldn't get into Top of the Rock as we'd planned, we were still able to use it to reserve tickets for the following morning.
The New York Pass allows free entry into more than 100 New York attractions, so a better proposition would be to buy the 3-day pass that costs $274 (or an even longer pass if you are staying longer). This way, you can plan ahead and get the best value out of it.
Information: www.newyorkpass.com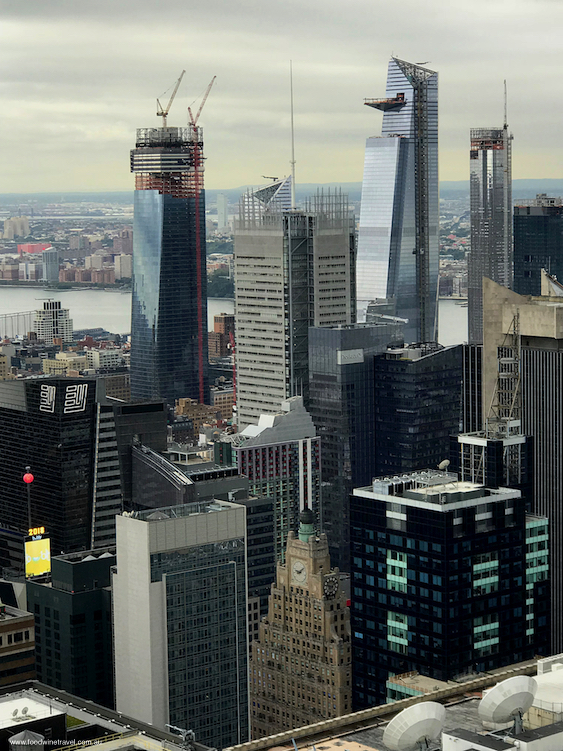 ---
A note to bear in mind
*Prepare for the security lines at these attractions and help speed up the process by making sure you don't have any prohibited items.
*Dress for the weather – it can be cold and windy on the observation decks.
---
View the skyline from the comfort of home
It's now possible to get 24/7 access to footage of the Empire State Building and its views via EarthCam live-streaming on www.empirestatebuilding.com One camera is installed on the rooftop of One Grand Central Place, allowing a view of the Empire State Building, its lightings and the "sparkle effect" that occurs daily for five minutes every hour between sunset and 2am New York time.
A second camera is installed on the 103rd floor of the Empire State Building and captures views of New York City and beyond. How cool is it to be able to watch the sunrise from the heart of New York City?
We visited New York at our own expense, but New York Pass provided us with a complimentary 1-day Pass which we used to visit the Empire State Building and Top of the Rock.