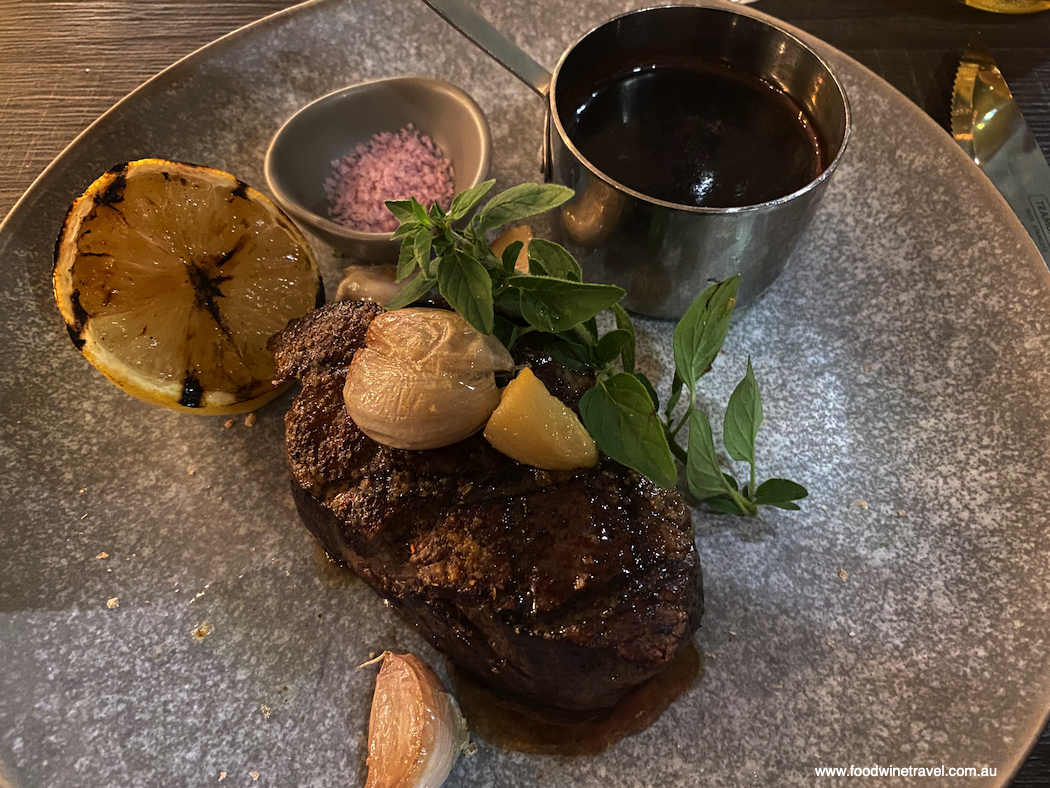 The 'country meets city' theme at Rydges Fortitude Valley Brisbane extends to the hotel's Six Acres Restaurant, where Queensland's prized beef is highlighted on a menu of simple but beautifully presented dishes.
Executive chef Francesco Trucco is in charge of the kitchen, which focuses on premium produce from Queensland and beyond. With five different steaks cooked on the grill – exquisitely cooked if my 300g Scotch fillet is anything to go by – this is one of Brisbane's best steakhouses.
Yet there is much else to tempt as well, from Chimchurri Marinade Baby Chicken to a Rack of Lamb with Vegetable Ratatouille and a comforting pasta dish with Italian-style meatballs and rich Napoli sauce.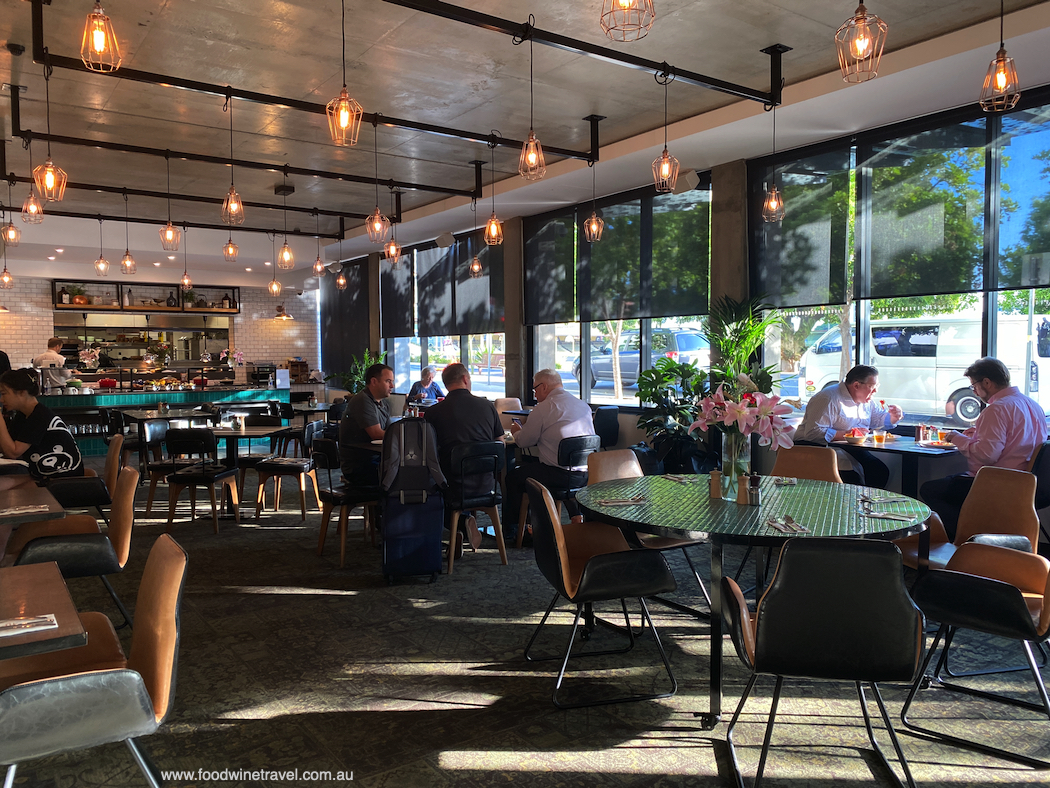 That the restaurant embraces the 'country meets city' theme is appropriate given its location directly opposite the Brisbane Showgrounds, to which country folk are drawn annually for the Ekka (as the show is fondly called). On a glorious day or balmy evening, you can sit outside on the hotel terrace under an original Showgrounds fig tree.
Six Acres restaurant pays homage to the area's rich history. What was known as "Petty's Paddock" was a six-acre expansion of the Showgrounds in 1909 for the Jubilee exhibition celebrating 50 years since the separation of Queensland from New South Wales.
Located on the ground floor of the hotel, the room transforms effortlessly from a casual, relaxed space for breakfast to a stylish venue for dinner. Banquette seating alongside black and tan leather chairs, colourful decorative plates lining the walls, and spectacular arrangements of sweet-smelling lillies add to the ambience.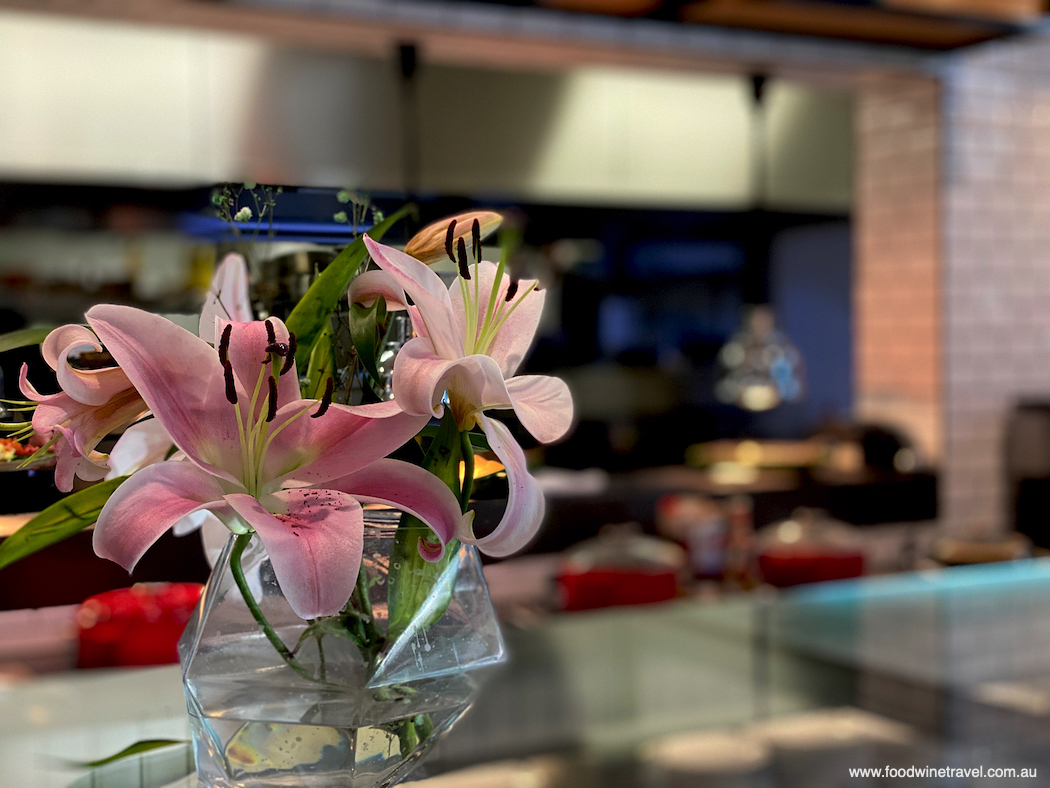 On arrival at the hotel, the staff were incredibly friendly and welcoming, and this followed through to the restaurant where we were particularly impressed with our waiter's wine knowledge and attention to detail.
From a relatively small menu of entrées, my travel writer pal and I both chose the scallops, which were served in the shell, generously doused in a Champagne and saffron velouté with panko crumbs sprinkled on top. Delicious.
My scotch fillet main came with a couple of cloves of roast garlic, half a lemon (chargrilled) and a Shiraz-infused jus, and we enjoyed sides of Crunchy Fries with Parmigiano Cheese and Truffle Oil, and Green Beans with Crispy Shallots and Butter.
Although we couldn't have faulted the mains, dessert was the real standout. Choosing from one of three sweets on offer (not counting the cheeseboard), we never expected an orange tart could look and taste so beautiful. In a riot of red, yellow and white, it looked like a modern painting.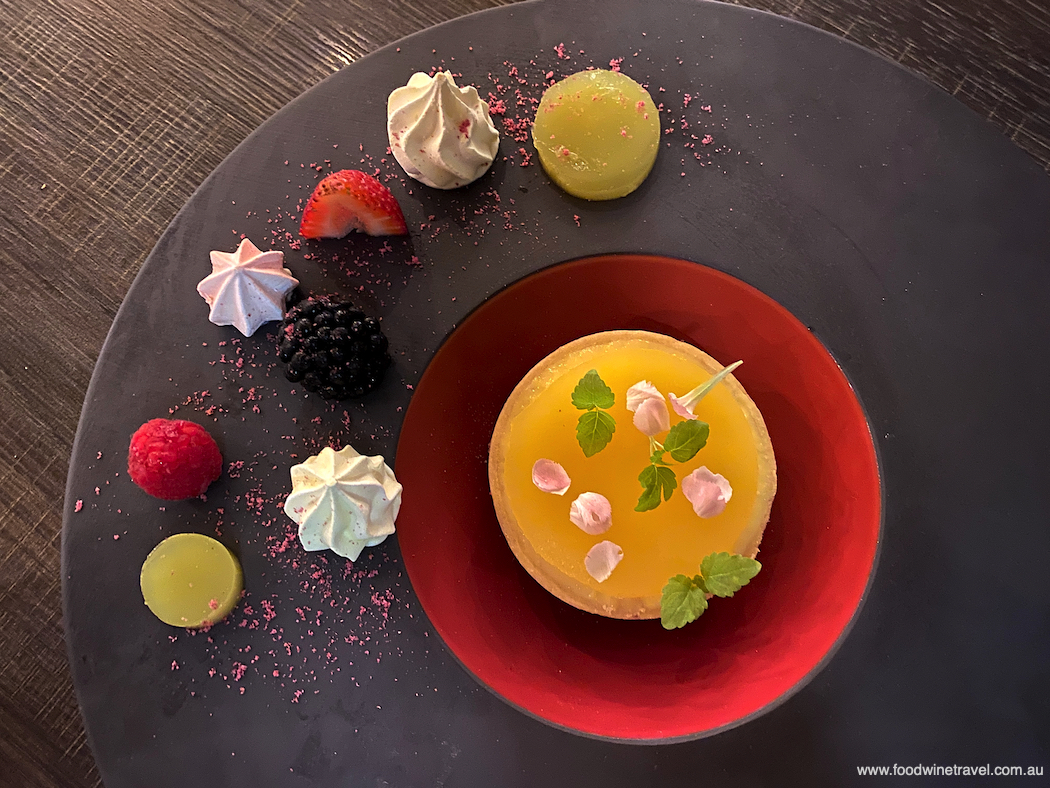 Even if you're not a hotel guest, Six Acres warrants a visit. It's open for breakfast 7 days a week, and for dinner from Tuesday to Saturday. Adjacent to the restaurant, on the ground floor of the hotel, Six Acres Bar serves craft beers, discerning wines, signature cocktails and bar menu favourites.
If you go:
Six Acres Restaurant
Rydges Fortitude Valley Brisbane
601 Gregory Terrace
Bowen Hills QLD 4006
Australia
Tel: +61 (0)7 3188 3000
www.sixacresrestaurant.com.au
With thanks to Six Acres Restaurant and Rydges Fortitude Valley Brisbane for hosting us for this beautiful meal.