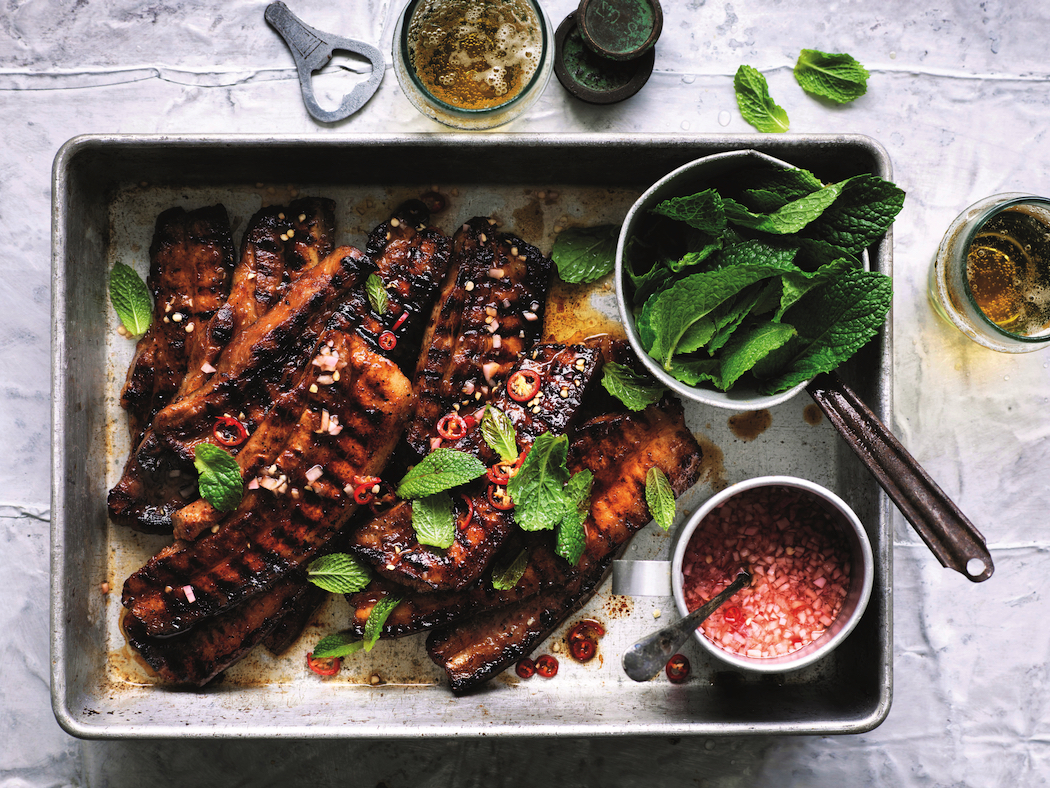 Continuing with last week's barbecue theme, and perfect on hot days, popular television personality Adam Liaw has a pork belly recipe that can be put together in 30 minutes.
A Filipino-inspired recipe, it's cooked on the barbecue (or on a grill if you prefer) and served with a spiced vinegar. Liaw says if you ask any Filipino person about liempo (pork belly) you'll get an almost primal reaction.
"It's one of the country's favourite comfort foods, and with good reason," he says. "I like to leave the slightly chewy skin on the pork belly but you can remove it if you prefer."
The recipe is one of more than 100 classic dishes given a fresh, delicious twist in Good Food New Classics, published by Simon & Schuster Australia.
The second collection from the Good Food team, edited by Ardyn Bernoth, it has recipes from eight of the country's leading chefs. They're apparently Good Food's most requested, and they range from Kylie Kwong's vegetarian special fried rice to Neil Perry offering a chicken Kiev with garlic butter that is baked instead of fried.
Katrina Meynink adds toasted seeds and pomegranate to her sweet potato, carrot and cumin soup, while in another recipe from Adam Liaw, lamb is slow cooked and infused with Tunisian flavours. The schnitty goes meat-free with Jill Dupleix's inspired eggplant schnitzel with leek pickles and labna, while Andrew McConnell's addictive spiced hot cross buns have sour dried cherries added to the mix.
And who can resist Helen Goh's Irish coffee cake with Bailey's Irish Cream in the filling? All of these recipes have been created for home cooks and are easily managed for weeknight dinners, yet impressive enough to serve for guests.​
---
Buy your copy of Good Food New Classics from Book Depository (free delivery worldwide).
Buy your copy of Good Food New Classics from Australian-owned Booktopia.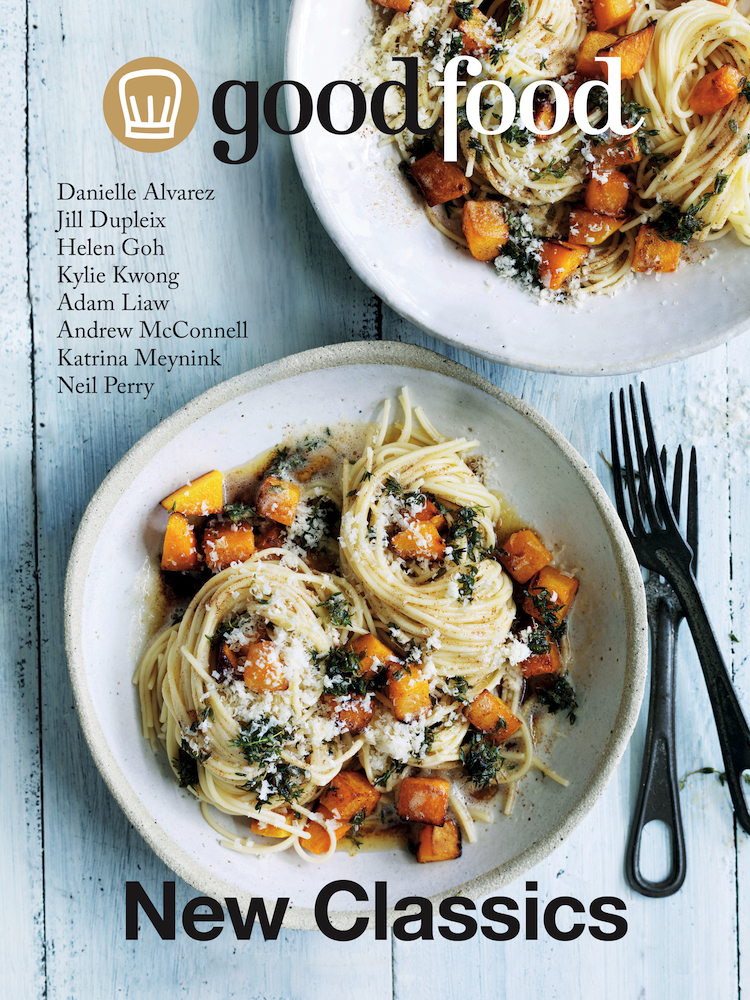 ---
Quick barbecued pork belly with spiced vinegar
Serves 4
1kg pork belly, cut into 1cm strips
125ml (½ cup) light soy sauce
60ml (¼ cup) lime juice
60ml (¼ cup) white vinegar
55g (¼ cup) brown sugar
6 garlic cloves, finely minced
½ tsp ground black pepper
125ml (½ cup) water
60ml (¼ cup) tomato sauce
60ml (¼ cup) vegetable oil
mint leaves, to serve
Spiced vinegar
60ml (¼ cup) white vinegar
2 tbsp lime juice
½ small red onion, finely minced
2 garlic cloves, finely minced
2 bird's eye chillies, finely sliced
¼ tsp salt
½ tsp light soy sauce
½ tsp sugar
Place the pork belly strips in a large press-seal bag with the soy sauce, lime juice, vinegar, brown sugar, garlic, pepper, and water. Mix well and refrigerate overnight.
Remove the pork belly from the bag and transfer the reserved marinade to a small saucepan. Bring to the boil and cook for 1 minute. Remove from the heat and mix in the tomato sauce and vegetable oil.
For the spiced vinegar, combine all the ingredients in a non-reactive bowl or jar and mix well to dissolve the salt and sugar. Allow to stand for at least 15 minutes before serving.
Heat a barbecue grill or frypan over medium heat and grill the pork belly for about 2 minutes on each side. Baste with the marinade mixture and grill for a further 2 to 3 minutes or until darkly caramelised. Top with mint leaves and serve with the spiced vinegar.
Recipe and image from Good Food New Classics, edited by Ardyn Bernoth, published by Simon & Schuster Australia, RRP $39.99. Photography © William Meppem, Food stylist © Hannah Meppem. Reproduced with the publisher's permission.
This story originally appeared in PS News.