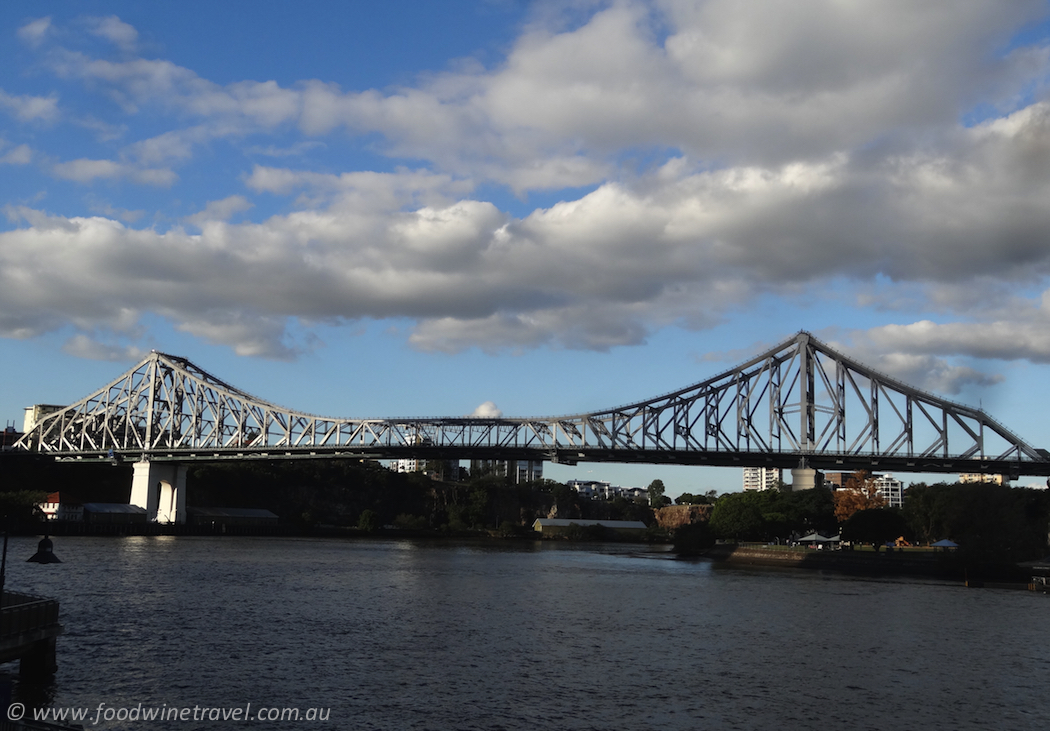 Brisbane's Story Bridge is an icon. Viewed from any angle, it looms large over the Brisbane River. Driving across it, the bridge affords spectacular views of the Brisbane skyline, especially at night.

Australia's longest cantilever steel bridge opened to traffic on July 6, 1940. On Sunday, nearly 75,000 people turned out to help celebrate the bridge's 75th birthday – around 1,000 people for each year of its life.


The bridge was closed to traffic for the day and up to 20,000 pedestrians at a time were allowed onto it for a giant street party. The timed tickets were free but hugely sought after.

The first allocation of 25,000 tickets was snapped up minutes after they were released on May 15. A second release a few weeks later went nearly as quickly. We tried twice to secure tickets without success, then through a stroke of good luck won a double pass, courtesy of Tourism and Events Queensland.

What a buzz! Social media apparently went into overdrive with complaints about the long queues and crowds, and certainly at one point it was shoulder-to-shoulder, moving at a snail's pace.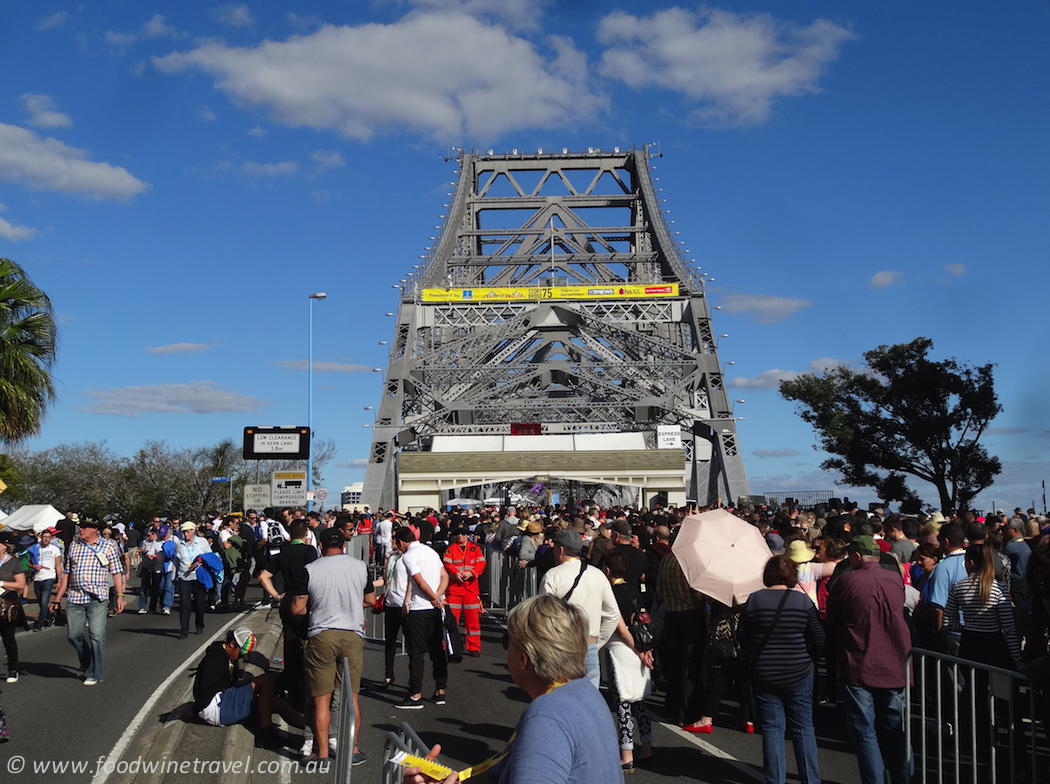 Yet people generally appeared to be in good spirits and we enjoyed the relaxed, party atmosphere with bands playing, people dressed in wacky outfits and a good variety of food trucks and vans relocated from the Eat Street Markets.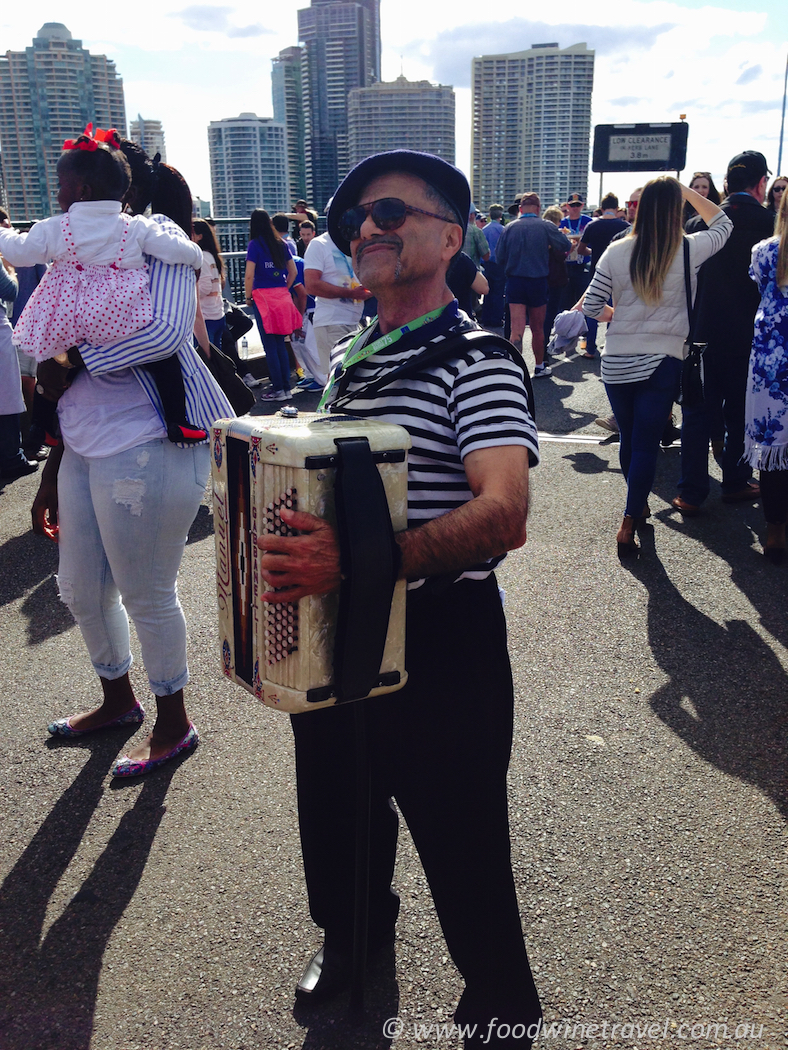 Madame Wu was one of the liveliest stalls, with the stallholders really getting into the spirit of the occasion as they were vocal in encouraging people to try their duck buns.
My Kitchen Rules grand finalists, Jake and Elle, were there with their cannoli, and Redgate Burgers were offering a 75'er (mint and rosemary lamb sausage with bacon, salsa and "cowboy" barbecue sauce on a roll).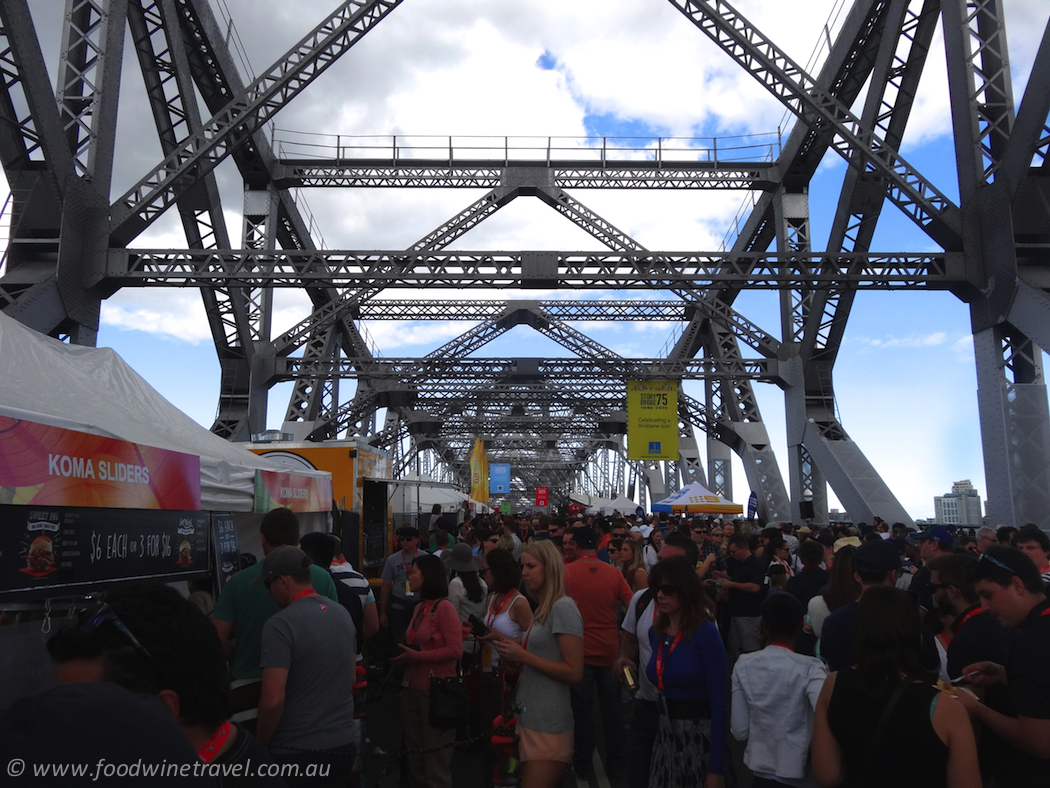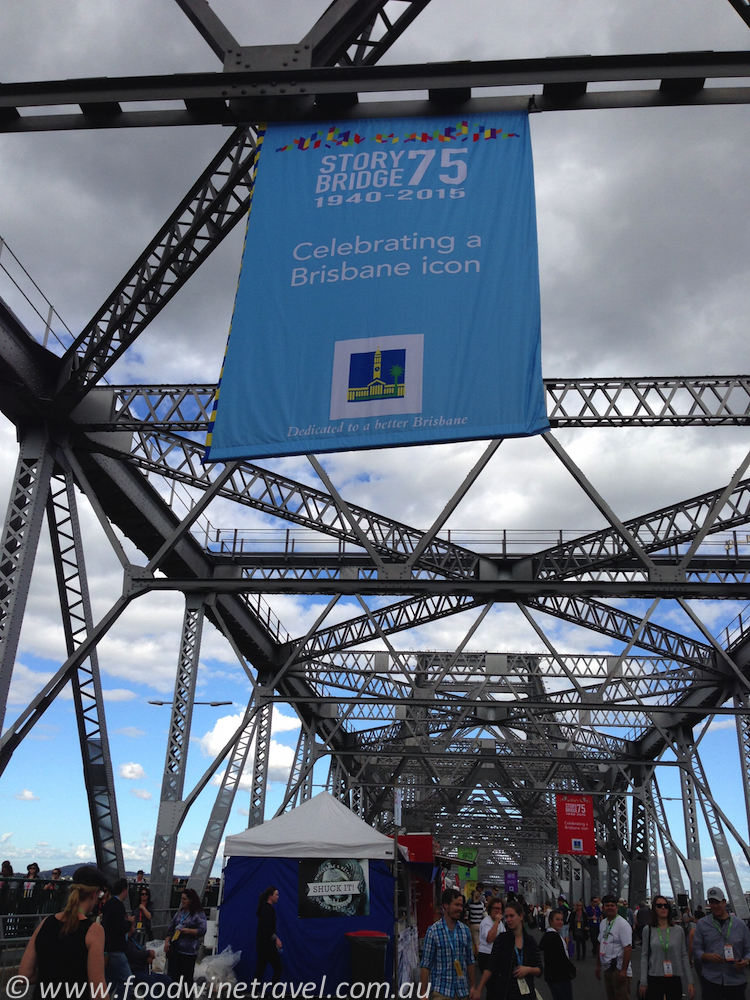 The chicken satay from Fat Noodle could have done with a bit more oomph, but the Asian salad it came with hit the spot.
We enjoyed crepes from Claude's – me a barbecued chicken crepe with mushrooms and balsamic caramelised onion; him a pulled pork crepe with apple, caramelised onion and bourbon barbecue sauce.
We shared a yummy salted caramel crepe, and after negotiating the crowds, it was time for gelati. One small gripe. I realise it was awfully busy but when I'm paying $5 for a single scoop of mango sorbet, I'd rather it not have chocolate icecream all through it. Can it be so hard to rinse the spoon between scoops?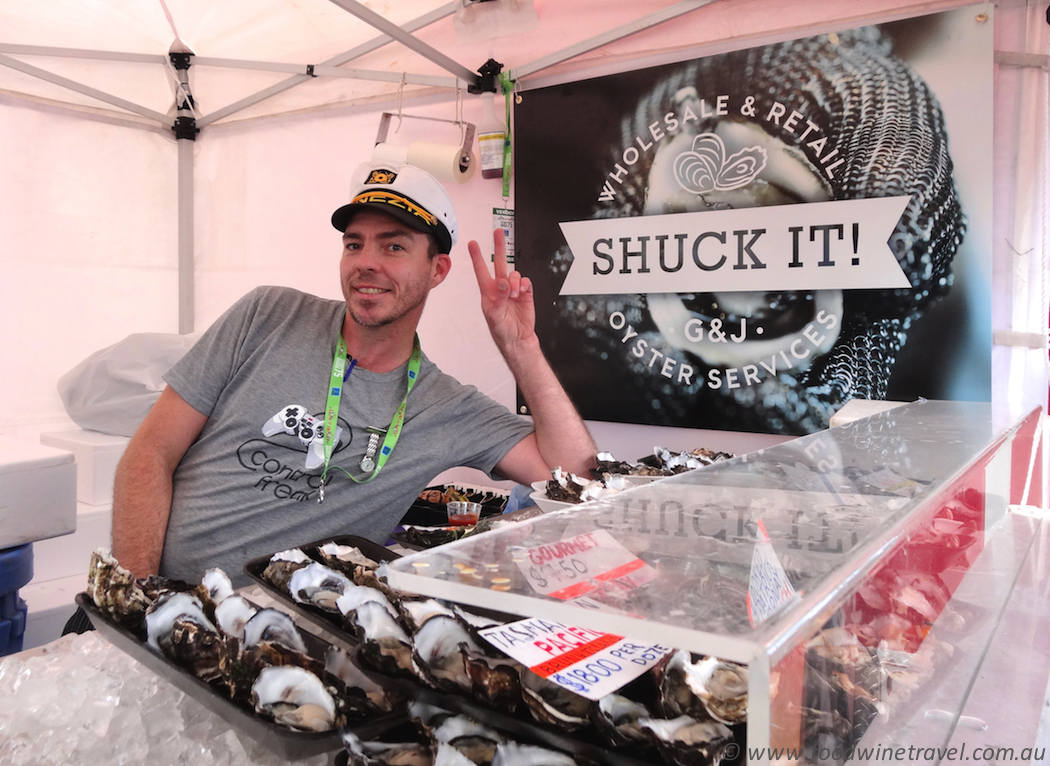 We enjoyed seeing the historic photos lining the bridge. Discussions about building the bridge began as early as the 1920s, but it wasn't until 1935 that construction started. It was designed by Dr John Bradfield, who also designed the Sydney Harbour Bridge.
As a major public works project, it created employment during the 1930s Depression, with up to 400 people employed during the peak of construction in 1938. The Second World War had started by the time it was finished.
And the name? It's a tribute to John Douglas Story, Public Service Commissioner from 1920 to 1939.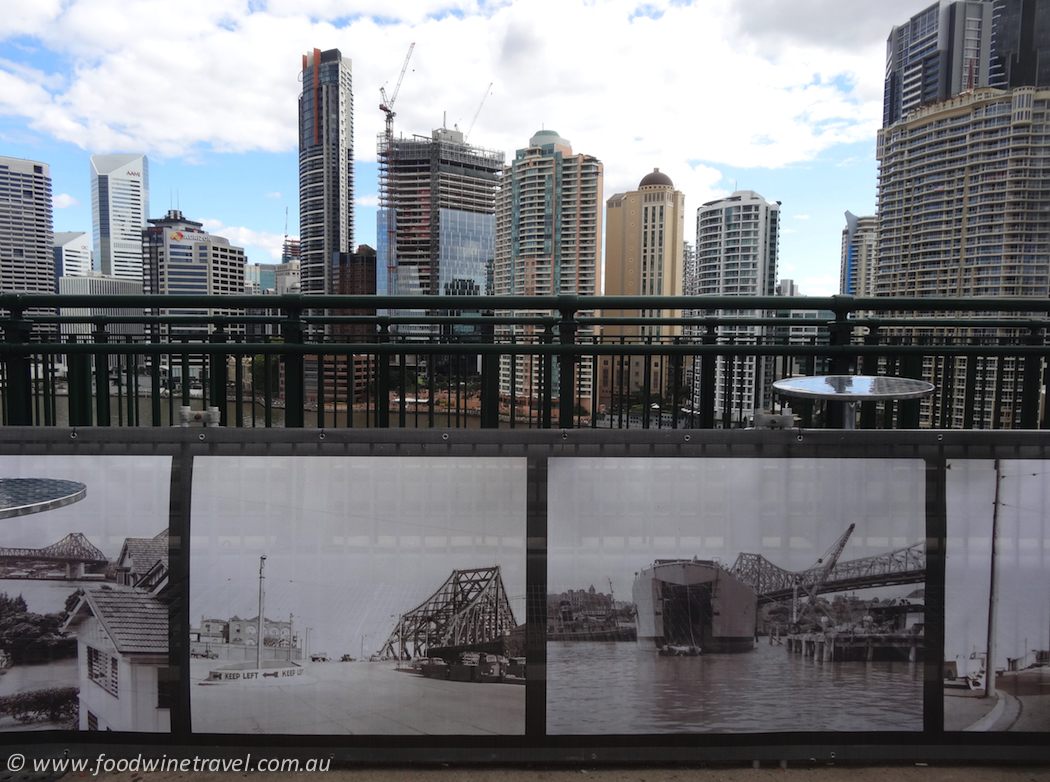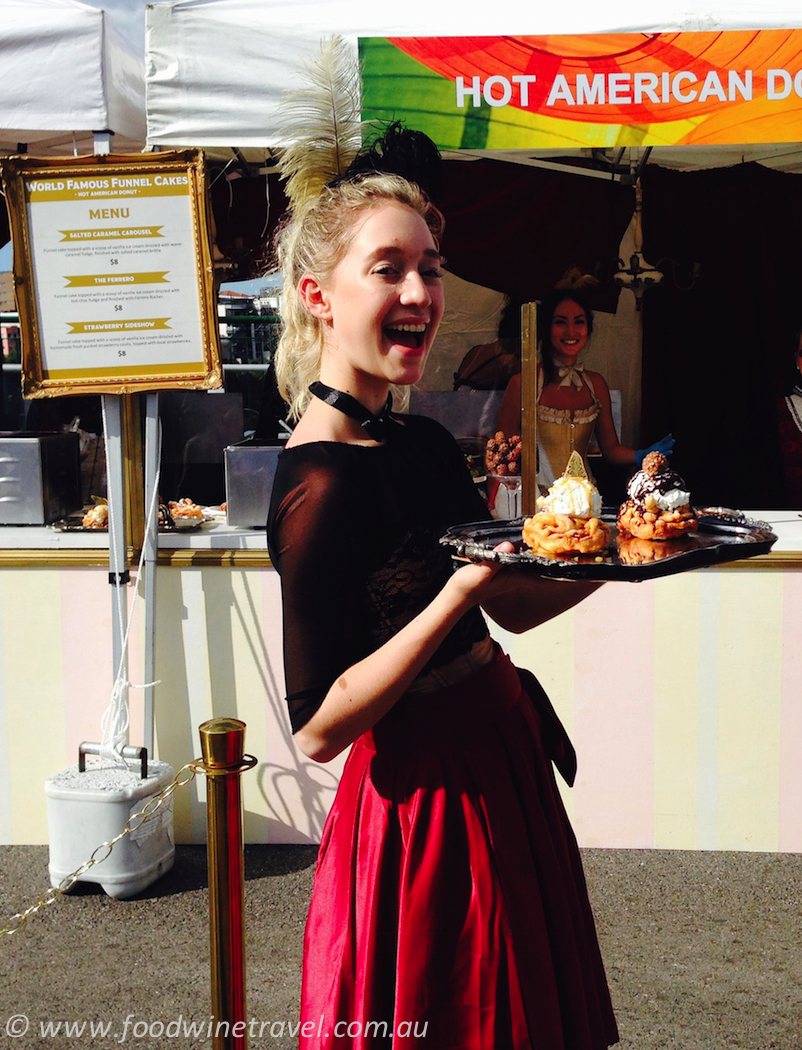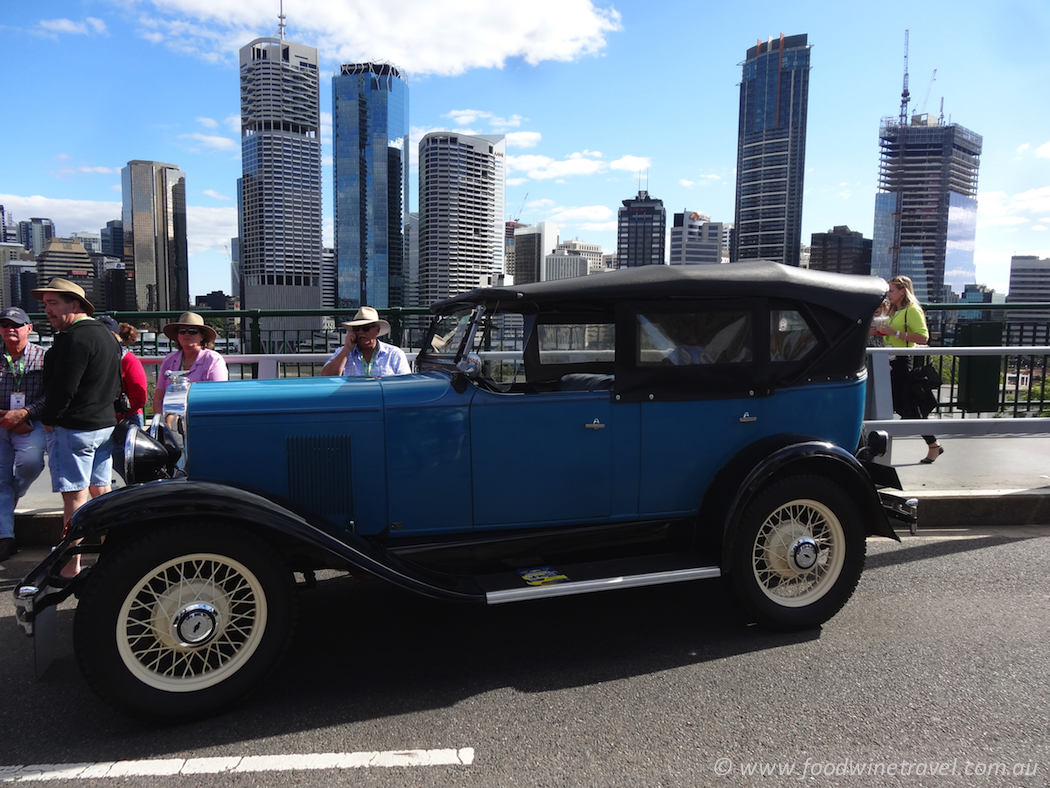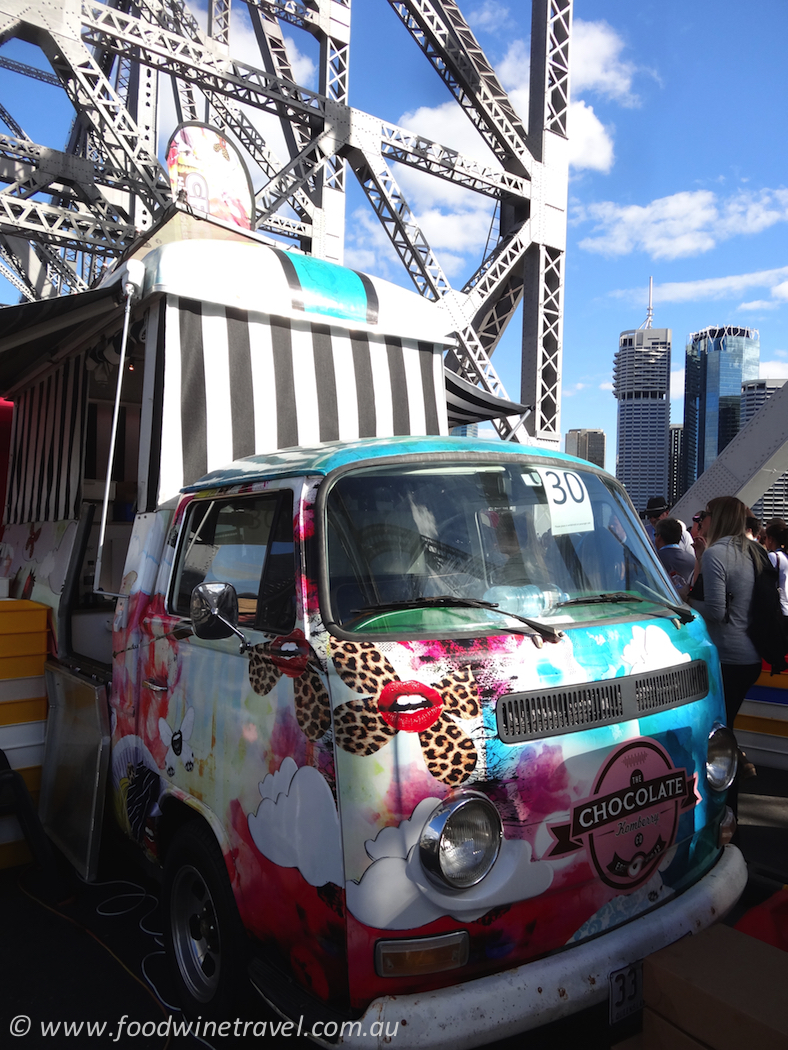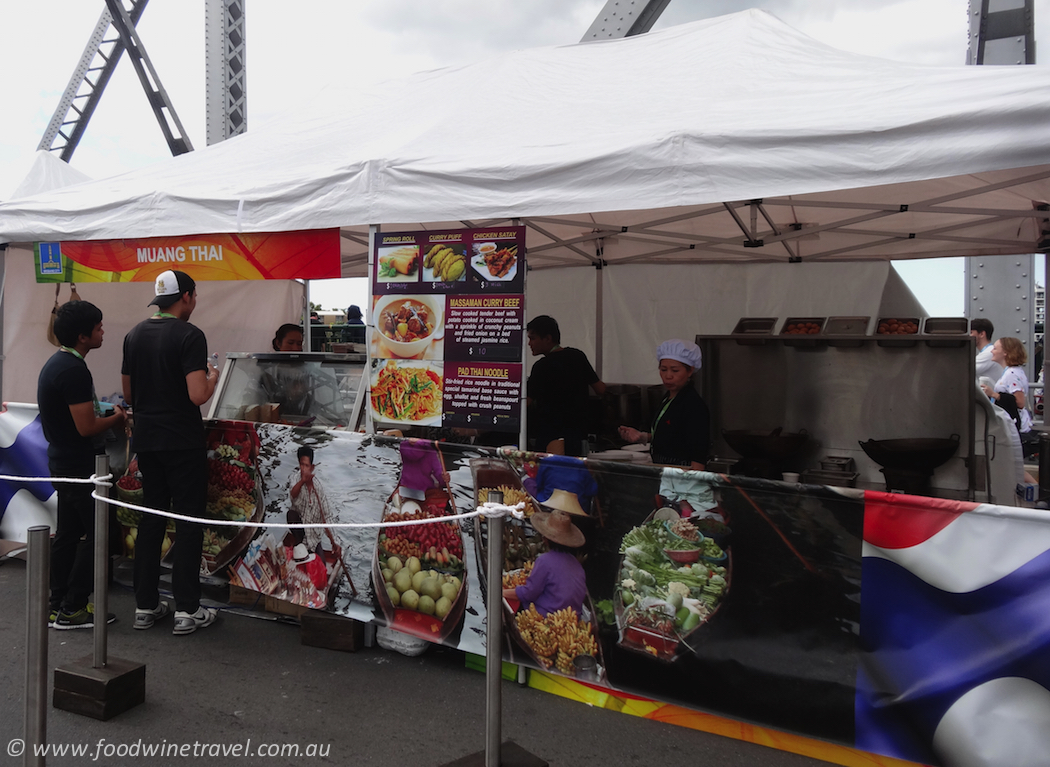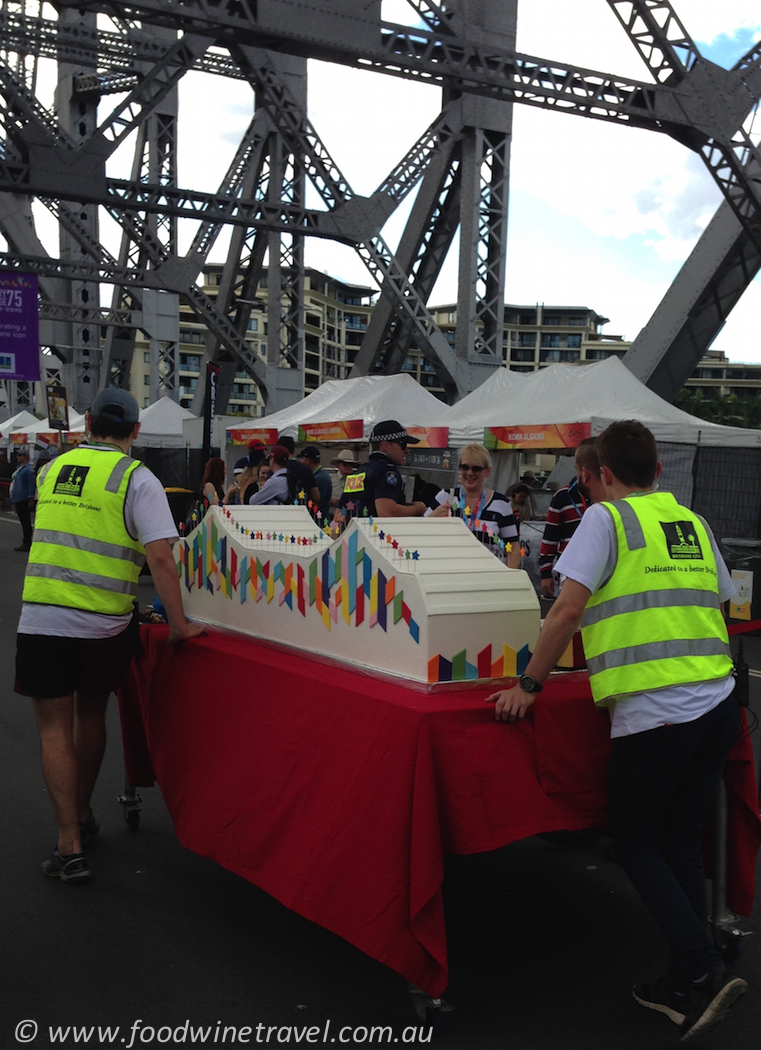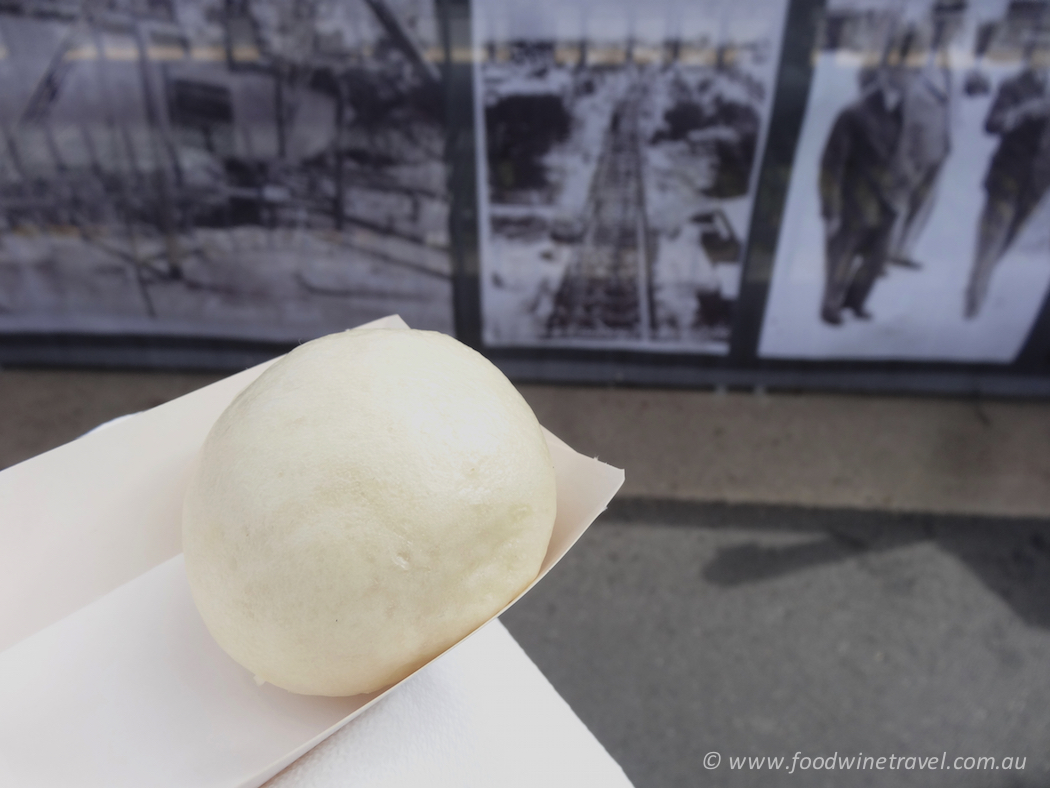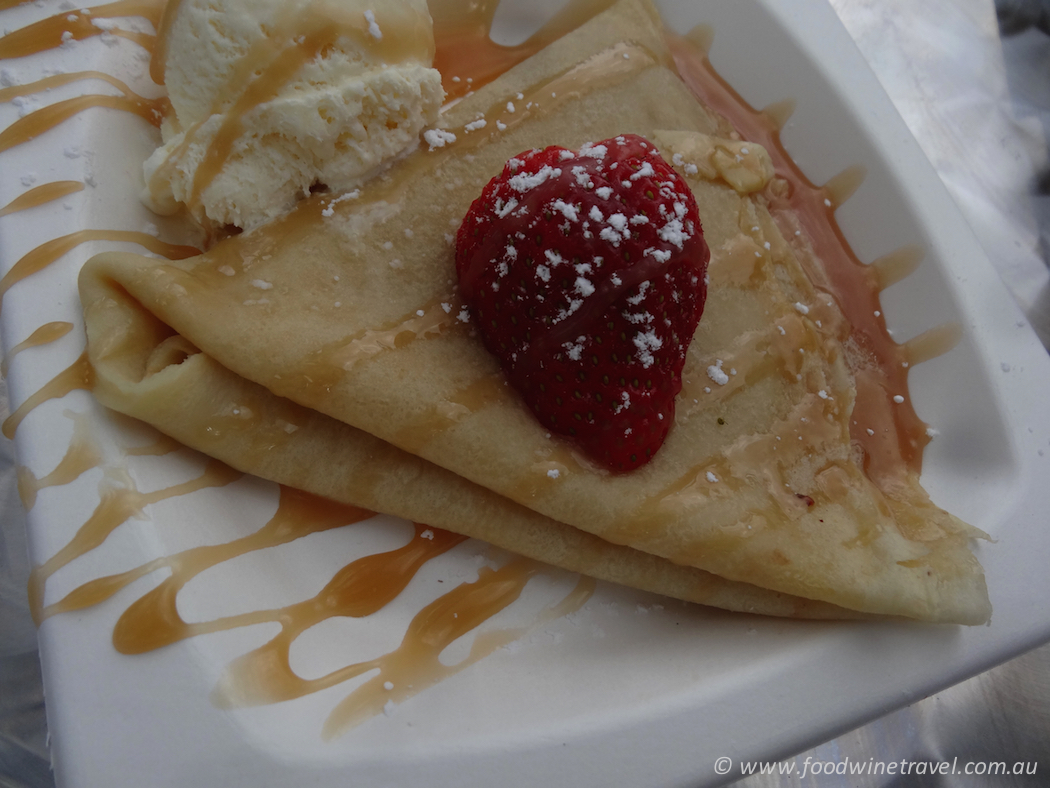 Spoilt for choice.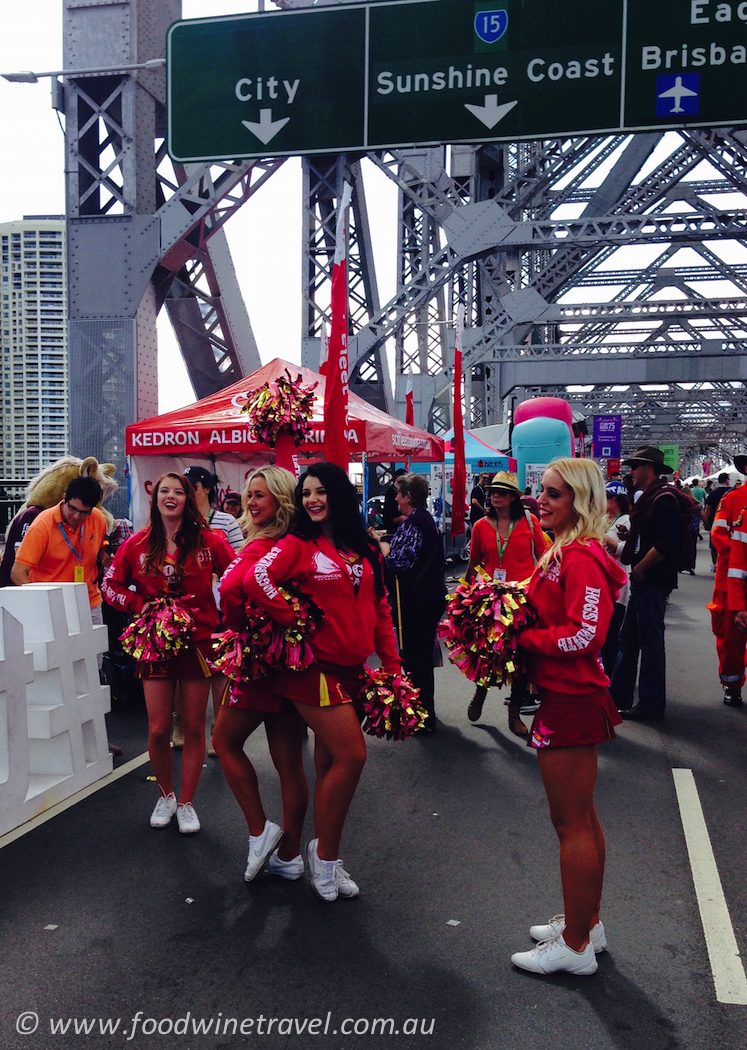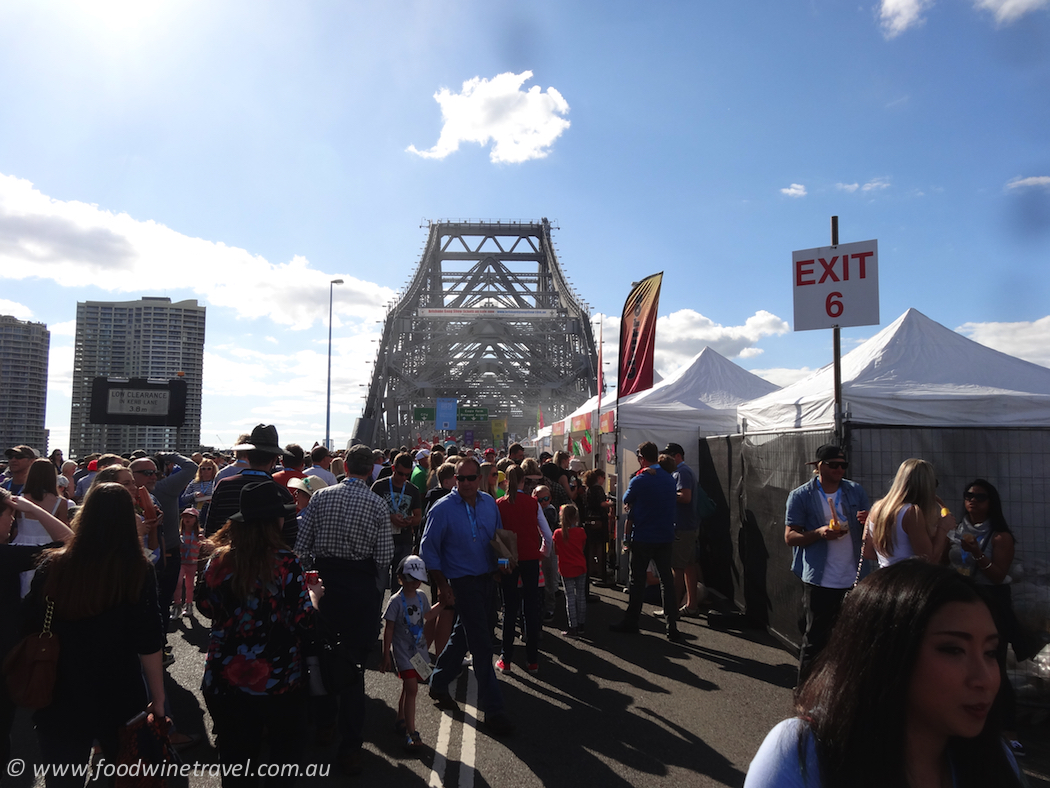 There must be some Brisbane/Sydney rivalry as the Mayor of Brisbane, Graham Quirk, made a point of saying that the bridge was more Aussie than the Harbour Bridge. "The Sydney Harbour Bridge steel came from London, while all of our steel came from Rocklea in Brisbane," he gloated.
The beauty of being a newcomer to the city is that any such rivalry escapes me. We just love the old girl for what she is.