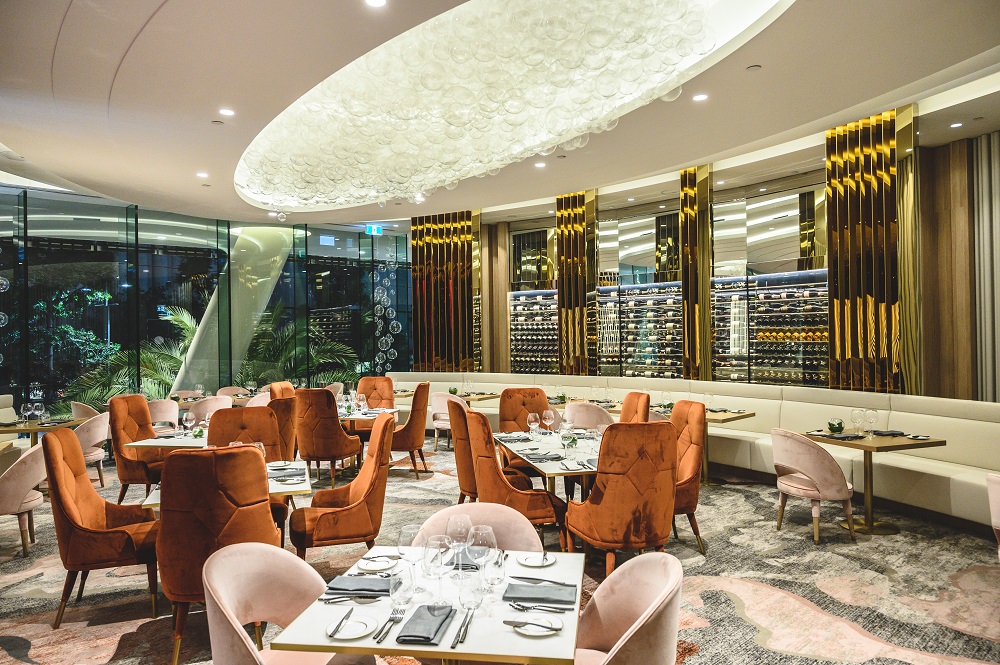 I love a restaurant where I can settle in for a few hours without feeling uncomfortable. Signature, in Southbank's very cool Emporium Hotel, meets this criteria on every level. It's an elegant, beautiful restaurant with white leather banquette seating and velvet-soft, high-backed chairs that are perfect for the long haul.
Slender tall vases of greenery create the feeling of a canopy over the table, while I could spend hours gazing at the 1000 hand blown glass baubles hanging above and the wine "library" in front of me with its stellar collection of international and local wines.
Entering the restaurant brings us past a striking, backlit white onyx bar and a huge piece of 150-year-old stained glass that was originally a Parisian shop front. On the tables, the etched water glasses are beautiful, as is the stemware. All of the carafes and wine glasses are Zalto, premium glassware from Austria.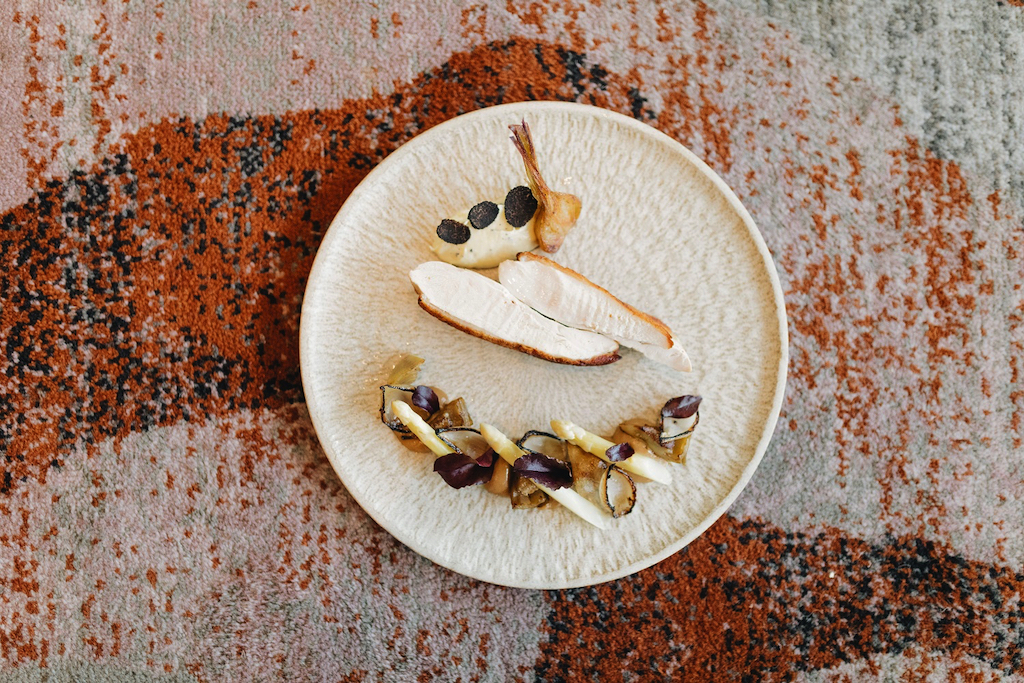 It's more than a bit special and sets the scene for a wonderful dining experience. Executive chef Chris Norman and his wife and sous chef, Alex Liddle, serve innovative dishes that celebrate the best of Australian produce. The menu is designed to be flexible, with frequent changes to accommodate fresh ingredients, new wine arrivals and seasonality.
One of the dishes on the new Spring menu, Sommerlad heritage chicken, has a nod to both winter and spring. "We've done a little play on this one," said Norman at the menu's launch. "We've got some late-season truffle from Western Australia and very new season garlic that we've confited, (along with) steamed white asparagus, and globe artichoke that we've roasted off, so it's a real crossover of seasons."
Sommerlad heritage chicken takes about 10 to 12 weeks longer to mature than regular chicken "because they grow them a lot slower, they're fed a lot better, they're a lot happier, they've got acres to run around with".
It's one of many special ingredients that Norman sources for the restaurant. Another is the scarlet prawns that are on the Spring menu as a starter with green tomato gazpacho, green almonds and avocado. They're among his favourite ingredients, and he says chefs in Sydney and Melbourne are "going mad for them at the moment".
"It's a very high-demand, low-quantity item. These prawns are sensational," he said. "They're caught between 500 metres and 2000 metres below sea level. They are bright red and have a bit of a lobster texture and taste to them so they are really, really special."
Norman serves this Queensland product with a delicate touch, grilled and served ever so simply. "(With) all our seafood, we really try and push Queensland. Queensland to me has arguably the best seafood in Australia," he said.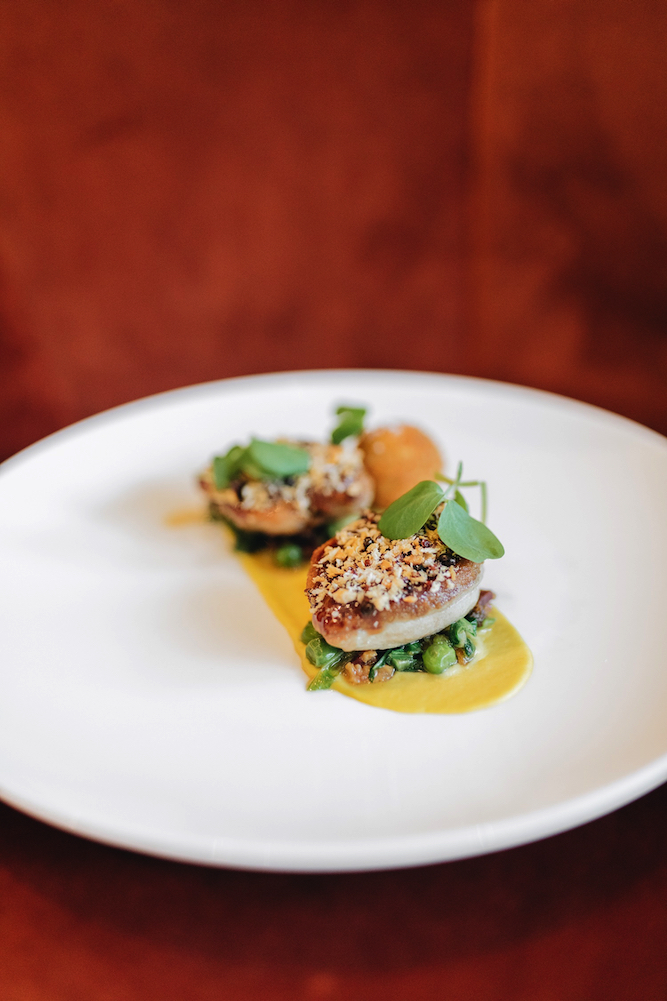 The Coral trout dish on the Spring menu also comes from the far outer reef, "about 100 nautical miles offshore (where they) catch all this pristine fish". It's served with pumpkin cooked two ways (puree and confit), pickled shimeji mushrooms, and samphire, a native succulent. "Samphire's been out for the whole of winter; now that the weather's a little better we've got samphire coming through," said Norman.
The quail entrée is even more local, pasture-raised in the Brisbane Valley, and served with corn puree, peas, pancetta, hazelnut, and wattleseed.
Sommelier Antoine Heurtier, who hails from Brittany, paired beautiful wines with the dishes, a South African Klein Constantia 2016 Sauvignon Blanc with the prawns, and Witches Falls 2017 Granite Belt Chardonnay with the coral trout. The restaurant showcases a lot of Queensland wines.
Even more interesting were the reds, especially a South Australian blend served with the quail: Somos 2018 Tintito, a biodynamic blend of Grenache, Nero D'Avola, and Aglianico, full-bodied and flavoursome with lots of delicious layers.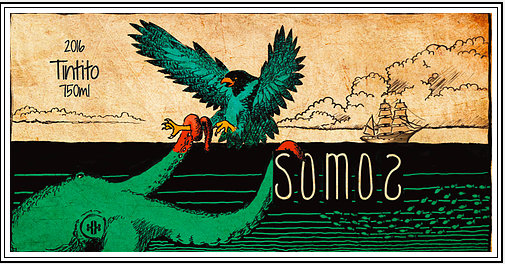 A Tasmanian dessert wine, Frogmore Creek 2018 Iced Riesling, with delicate apricot, peach and quince notes, complemented Liddle's desserts, though more so the Golden raisin, banana sponge and pineapple granita dish, than the more robust Spiced mulberries.
"The mulberries are just coming into season, they're in season for a very short period of time," said Liddle, as she described how they are served with pepperberry leaf custard, mulberry and Davidson plum compote and crumble, and dehydrated mulberries.
Judging by the dishes we tried at the launch of the Spring menu, Signature is a welcome addition to the Brisbane dining scene, and we look forward to seeing where Norman, Liddle and the team will take it.
If you go:
Signature Restaurant
Emporium Hotel
267 Grey Street,
South Brisbane QLD 4101
Australia
Tel: +61 (0)7 3556 3333
www.emporiumhotels.com.au
Food Wine Travel was a guest of Signature restaurant at the Emporium Hotel. Photos supplied by the hotel and used with permission.