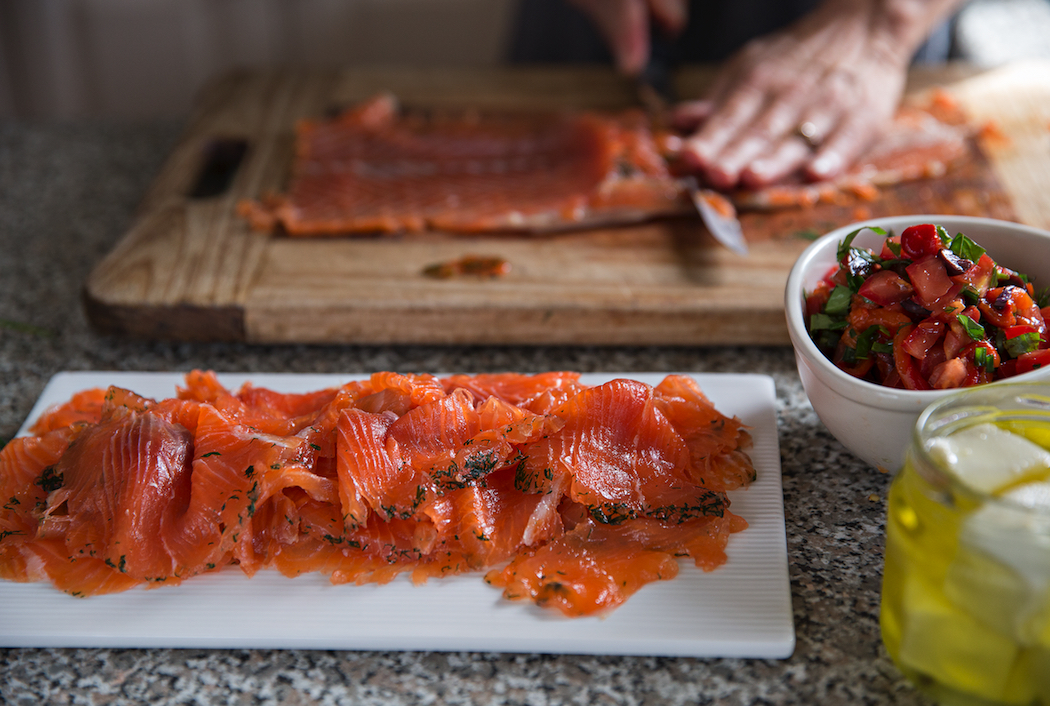 I love a gift that helps someone in need at the same time as bringing joy to the person you give it to. Royalties from the sale of The Great Australian Cookbook (Echo Publishing) go to OzHarvest to nourish those in need.
The book is a follow-up to The Great Australian Baking Book, that similarly benefited OzHarvest. Both books draw on recipes from a great line-up of cooks, chefs, bakers and local heroes.
The Great Australian Cookbook is described as "an affectionate snapshot of Australia and the food we love to eat". Its 165 recipes range from Aussie classics to more contemporary dishes – dishes that celebrate fresh local produce and Australia's rich multicultural heritage.
With cover and inside cover artwork by Reg Mombassa, it's a bright, cheery book with photography that captures the essence of Australia.
Top Australian chefs contribute
Among those who have contributed recipes are Stephanie Alexander, Maggie Beer, George Calombaris, Margaret Fulton, Kylie Kwong, Lydney Milan, Matt Moran, Neil Perry, Peter Russell-Clarke, Charmaine Solomon and Adriano Zumbo.
Katrina Ryan, owner of The Golden Pig Food & Wine School in Brisbane, contributed her recipe for Sugar-Cured Salmon Crostini, which is perfect for summer entertaining.
For a real Aussie summer treat, try The Great Australian Cookbook's mango and coconut iceblocks. The Bush Fruit Christmas Cake sounds impressive too.
Buy your copy of The Great Australian Cookbook from Book Depository now, with free delivery worldwide
SUGAR-CURED SALMON CROSTINI WITH GOAT'S FETA & SALSA
Serves 6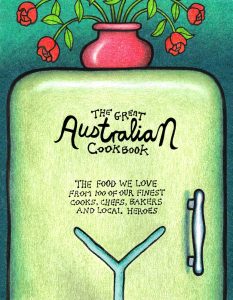 Sugar-cured salmon
500 g salmon fillet
½ cup chopped dill leaves
1/3 cup caster sugar
1/3 cup table salt
Salsa
1 red capsicum
olive oil for drizzling
3 large ripe tomatoes
10 Kalamata olives, pitted
3 tbsp chopped chives
1/3 cup chopped dill leaves
juice of 1 small lemon
4 tbsp extra virgin olive oil
To serve
6 thick slices artisan bread
butter to taste
6 tbsp Meredith Dairy marinated goat's feta
extra virgin olive oil for drizzling
6 lemon wedges
Remove the pin-bones and skin from the salmon. Press the dill leaves onto the salmon. Mix sugar and salt together and cover the salmon all over with the mixture. Cover with plastic wrap, place the salmon in a container and refrigerate for 24 hours. When cured, lightly wash salmon in cold water and pat dry with paper towels. Slice very thinly.
Pre-heat oven to 165°C. Place the capsicum on a baking tray and drizzle with olive oil. Bake for 45 minutes, turning once or twice, then remove and allow to cool. Hold capsicum stalk down and pull the stalk and seeds out. Remove skin and cut flesh into thin strips. Finely dice tomatoes and roughly chop olives. Mix all salsa ingredients together and season to taste with sea salt and freshly ground black pepper.
Toast bread and spread it with butter. Roughly spread feta over each piece of toast. Top with a large spoonful of salsa and then drape slices of salmon over. Top with a little more salsa and finish with a drizzle of olive oil, a good grind of pepper and a lemon wedge on the side.
Recipe and image from The Great Australian Cookbook, published by Echo Publishing and reproduced with the publisher's permission.
This story originally appeared in PS News online.