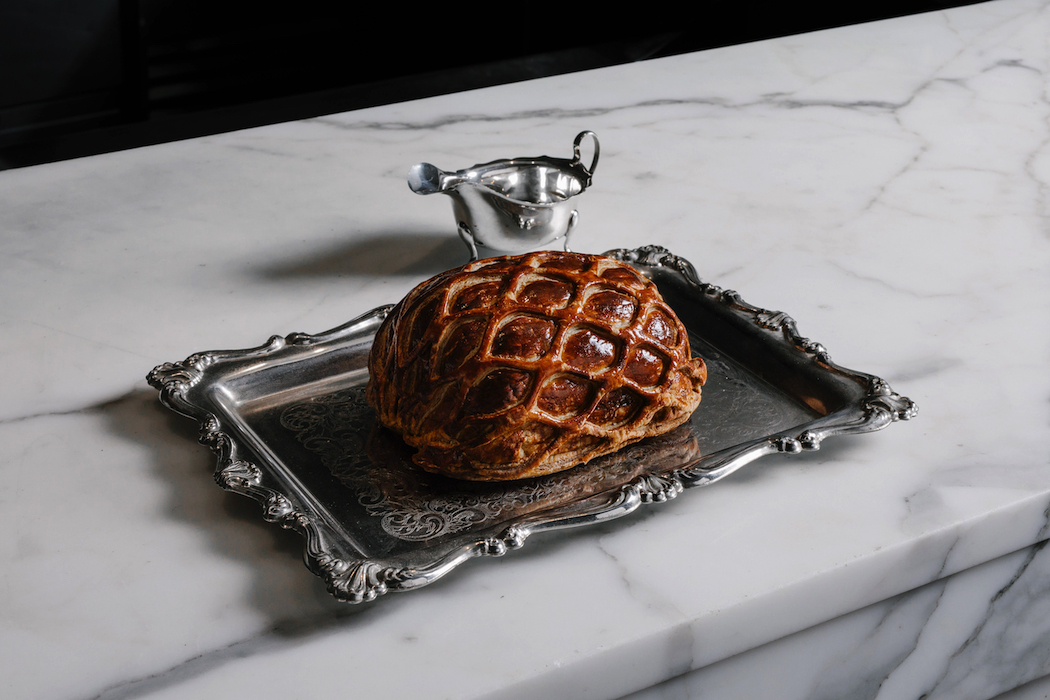 Rothwell's Bar & Grill is a beautiful new addition to the Brisbane dining scene. The vision of Dan Clark and Ben Russell, it occupies the space that was formerly occupied by Jamie's Italian in the heritage-listed Rothwell's building in Edward Street.
The restaurant has a timeless feel about it, an ambience reminiscent of some of the world's classic bistros. "Reference points were places like The Savoy Grill in London or Musso & Frank Grill in Los Angeles. They are the places we love to eat because the food is terrific and the service is warm," says Dan, the hospitality veteran behind 1889 Enoteca and Addley Clark Fine Wines.
He teamed up with chef Ben Russell (ex-Aria Sydney & Brisbane and Est Est Est) to execute their vision, their combined impressive pedigree guaranteeing that this is a restaurant to sit up and take notice of. The elegant interior provides the backdrop for a menu featuring classics such as prawn cocktail, steak tartare, chicken liver parfait, Moreton Bay bugs with café de Paris butter, duck cassoulet and the show-stopper, Beef Wellington serving two.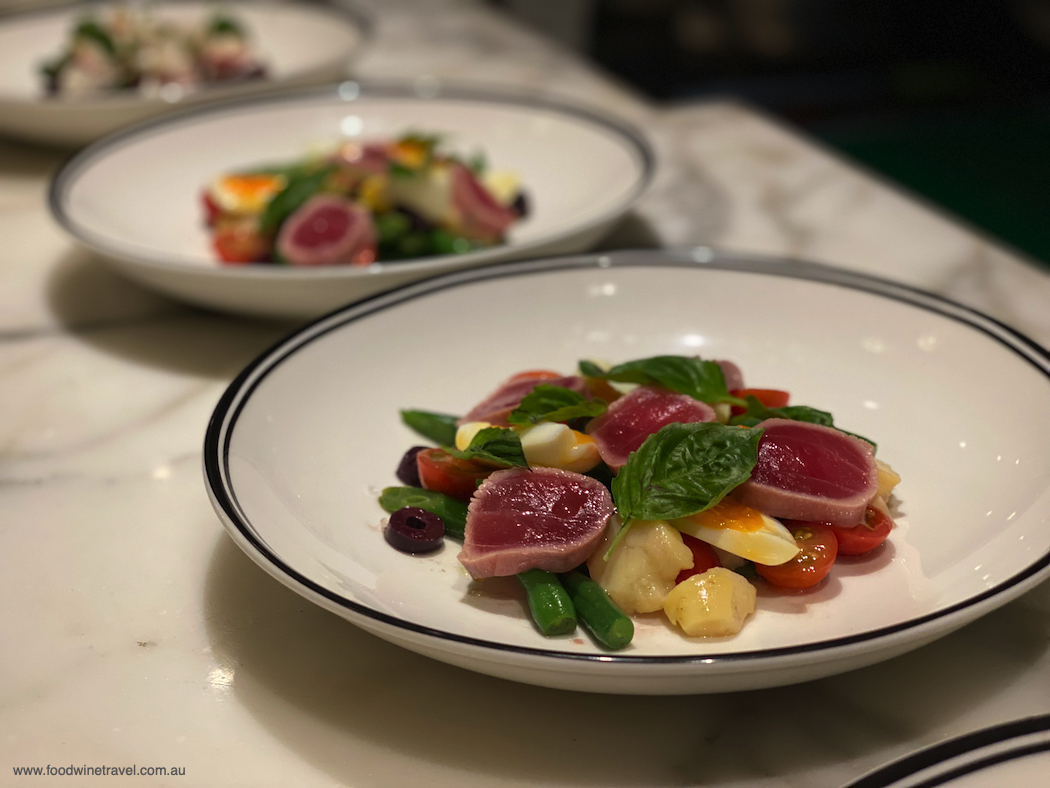 In designing the menu, Ben called on his skills of produce-driven cooking and focussed on local seafood, Australian beef and handmade pasta – "classic cooking techniques and European sensibilities, all the things I learned early in my career," he says. Tagliarini pasta with sea urchin is a specialty, and there are five kinds of steaks including a dry-aged T-bone and the incredibly flavoursome GR2 Wagyu that I was privileged to try.
The experience of eating Beef Wellington, dry-aged chateaubriand and steak tartare at The Savoy Grill in London some years ago inspired Dan to bring a similar big-city style restaurant experience to Brisbane. The words 'beef Wellington' were enough to get Ben interested too.
The pair met during Ben's time at Aria, where Ben was head chef, and they bonded over their mutual love of The Rolling Stones and great restaurants. Bringing Rothwell's Bar & Grill to fruition has been "a really easy partnership," says Ben, the pair meticulously managing every aspect of the project.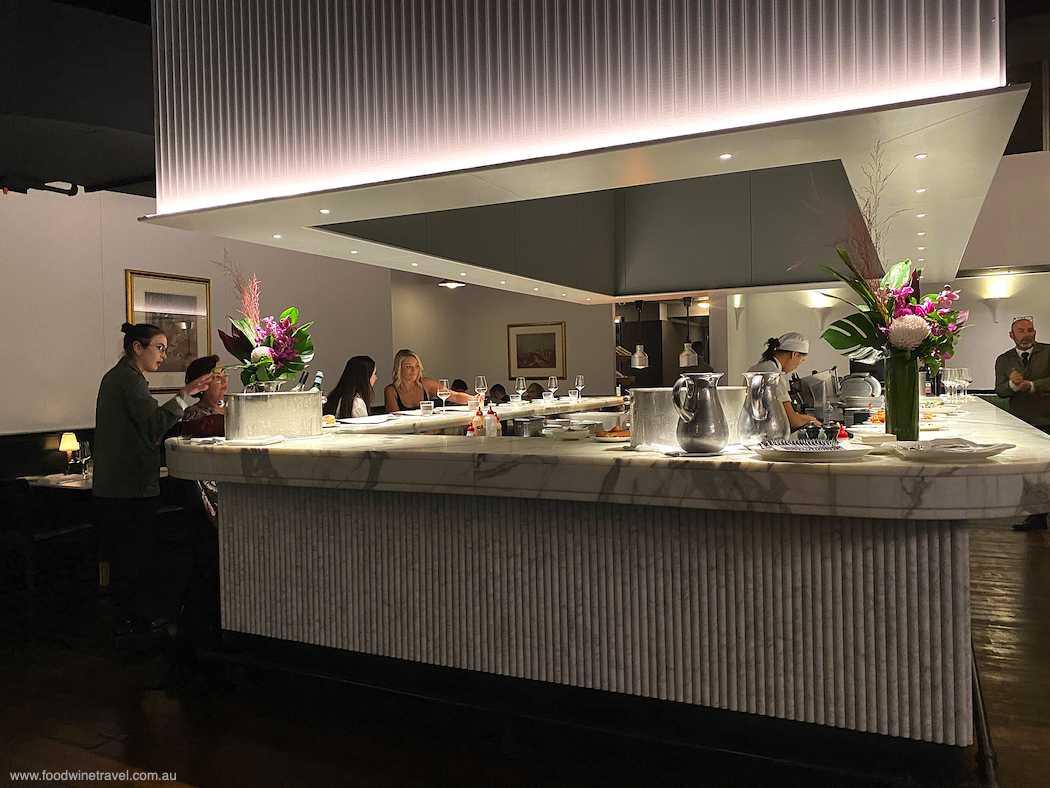 The centrepiece of the ground floor 90-seat dining space is the Marble Bar, an expansive white Italian marble bar that was there when it was Jamie's and which looks perfectly fitting in the space's new incarnation. Customers can sit at the bar to watch oysters being shucked onto silver trays that were handmade in London exclusively for Rothwell's.
The Rothwell's building is named after its former proprietor Thomas James Rothwell, who was by all accounts a highly regarded tailor. Dan has tried to reference that in the well-tailored outfits his staff are wearing. The walls are lined with avocado green leather banquettes, intimate and cosy with vintage table lamps adding flickers of light. A stunning chandelier hangs over the main dining space, while artworks from notable Australian painters line the walls.
The Foyer Bar just inside the entrance seats 40 and is a great spot to enjoy a cocktail or aperitif and something from the bar menu, such as niçoise salad or a club sandwich. Dan wants people to feel at ease in ordering as little or as much food as they wish, whether they are in for a long lunch, a four-course dinner or simply a drink and snack.
Dan likes to think their martini is the best around. It's served bracingly cold in a coupe glass with ice in a silver carafe so that you can top up your drink and keep it at the perfect temperature. A downstairs cellar, lined with sandstone walls and more than 2,000 of bottles of wine, provides more dining and function space.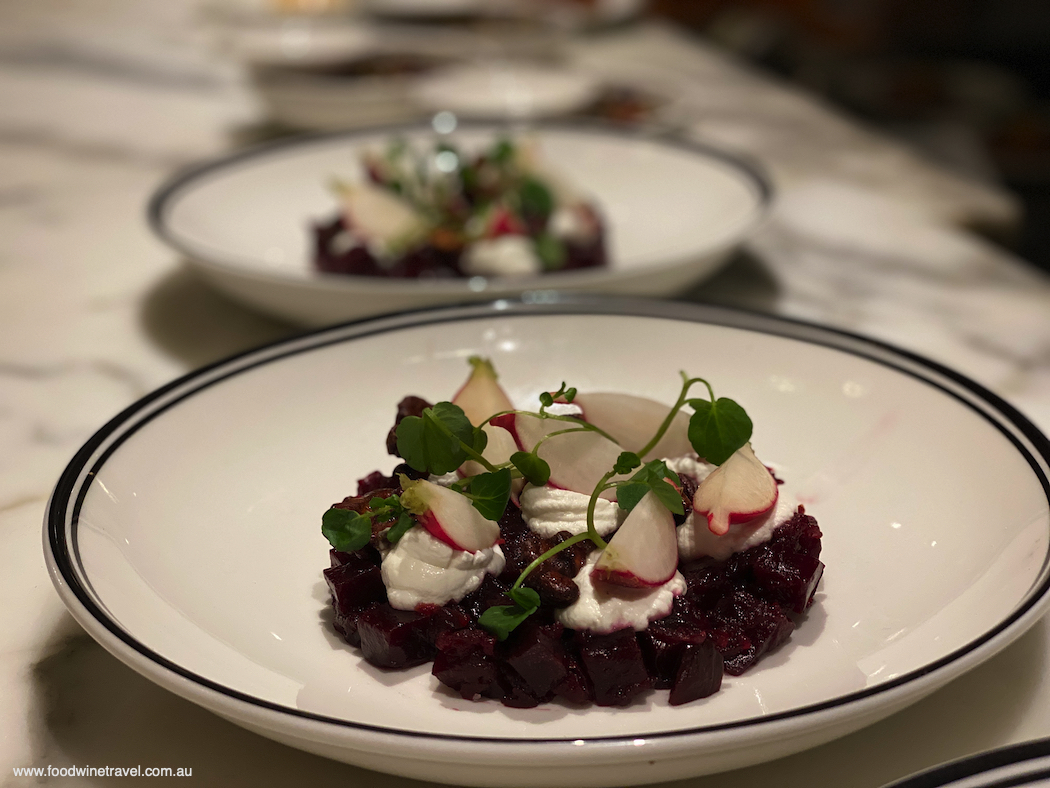 Dan's wine knowledge comes to the fore in the wine list, with smaller producers from Burgundy, Chablis, Bordeaux, Champagne and Barolo appearing alongside some of Australia's best-known names. Dan's own wine collection, bought from auctions around the world, is also on offer, including many The Ritz in London sold off during last year's lockdown (think 1947 Pol Roger and 1890s Cognac). For the perfect digestif, there's an Armagnac cart with bottles dating back to the 1920s.
With a desire for Rothwell's Bar & Grill to be around for the long haul, Dan and Ben have taken the best from venues around the world and translated them into something that is uniquely their own. "It's like all the classic restaurants we have been to but with a Brisbane vibe," says Dan.
If you go:
Rothwell's Bar & Grill
235 Edward Street
Brisbane Qld 4000
Australia
www.rothwellsbrisbane.com.au
Open Tuesday to Saturday, 12pm to 2.30pm & 5.30pm to late
Thanks to Rothwell's Bar & Grill for inviting me to join a media table to sample some of the dishes.