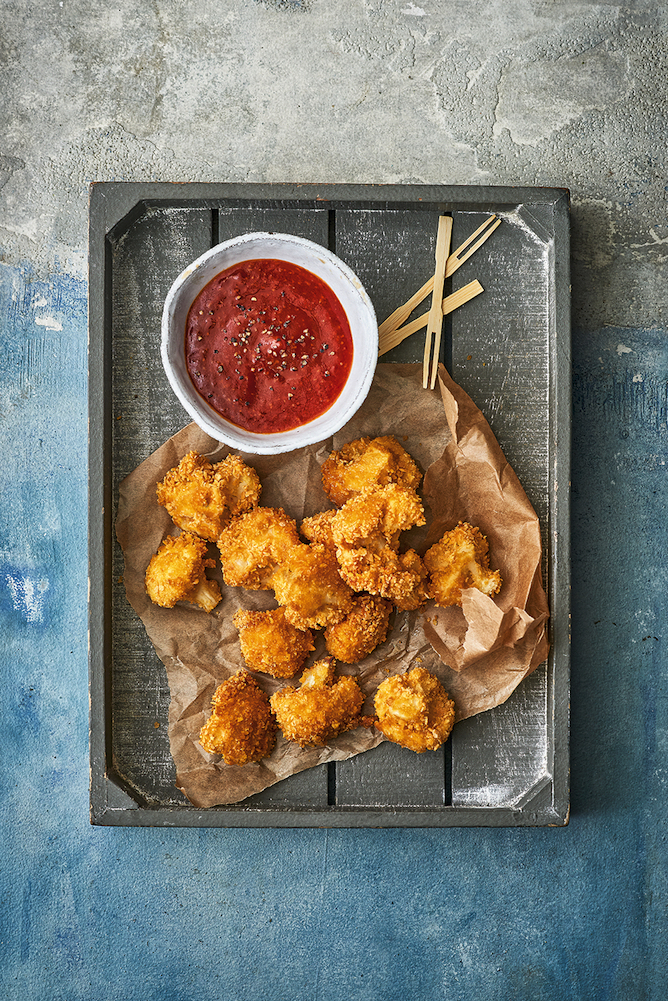 Vegetables are the elixir of life, according to Celia Brooks, who is so passionate about their health benefits that she has written a homage to them in SuperVeg, published by Murdoch Books. The book shines the spotlight on 25 mainstream vegetables that she considers to be the most health-giving on the planet.
Brooks sets out to change common misconceptions about vegetables by exploring their formidable nutritional benefits, and offering tips on selection, preparation and cooking techniques. Her passion for her subject vibrates through every page. "Health crazes come and go, scientific research proves and then contradicts, but one truth that is indisputable is this: plants should make up the bulk of our diet to sustain a healthy life."
Making vegetables interesting
Most of us recognize this but for many people the hard part is knowing how to make vegetables interesting. Brooks makes it easy with everyday recipes that range from simple flavour pairings through to more substantial offerings. With dishes such as Caramelised Artichokes, Roasted Broccoli and Chickpea Crunch, Watercress and Pine Nut Egg Cups, and the Ultimate Mushroom Soup, you'll find plenty of inspiration to add more goodness to your diet.
At the beginning of each chapter there is a section highlighting each vegetable's "superpower" – its most potent power – as well as which nutrients it has high levels of, both for essential function and for disease prevention. "There are many more nutrients provided by each vegetable at good, moderate or trace levels. I have not listed all of these but they are still wonderful and beneficial," she says.
These Cauliflower Wings and Hot Sauce are a fun variation on traditional Buffalo wings. You could add 1 to 2 tablespoons of toasted sesame seeds to the cornflake crumbs for extra flavour if you wish.
Buy your copy of SuperVeg from Book Depository now, with free delivery worldwide
CAULIFLOWER WINGS AND HOT SAUCE
Serves 2 to 4
cooking salt
250 g (9 oz) cauliflower florets, about walnut size – 2 to 3 cm (1 inch) wide
100 g (3 ½ oz) cornflakes (opt for a natural, additive-free brand)
sea salt
2 eggs
coconut oil spray or other oil spray
For the hot sauce:
1 tablespoon coconut oil or extra virgin olive oil
4 tablespoons tomato ketchup
½ tablespoon Sriracha or other hot chilli sauce, or to taste
2 teaspoons apple cider vinegar or rice vinegar
1 teaspoon light soy sauce
1 small garlic clove, crushed or
½ teaspoon garlic powder
Bring a pan of well-salted water to the boil. Add the cauliflower and blanch for 1 minute, then remove and rinse under cold water until cool. Drain thoroughly.
Preheat the oven to 200°C (400°F) and line a baking tray. Whizz the cornflakes in a food processor until they resemble very fine breadcrumbs. Place in a shallow bowl and stir through a good pinch of sea salt.
Beat the eggs in a small bowl. Dip each floret first in cornflakes, then in the egg, then in the cornflakes again until well coated and place on the baking tray.
Spray each piece of cauliflower a few times with oil. Bake for 20 minutes, or until crisp and firm.
Meanwhile, make the hot sauce. Combine all the ingredients in a small saucepan and gently bring to the boil, stirring frequently. Take off the heat, taste for seasoning and set aside.
Once the wings are cooked, transfer the hot sauce to a dipping bowl and the wings to a sharing plate. Eat right away.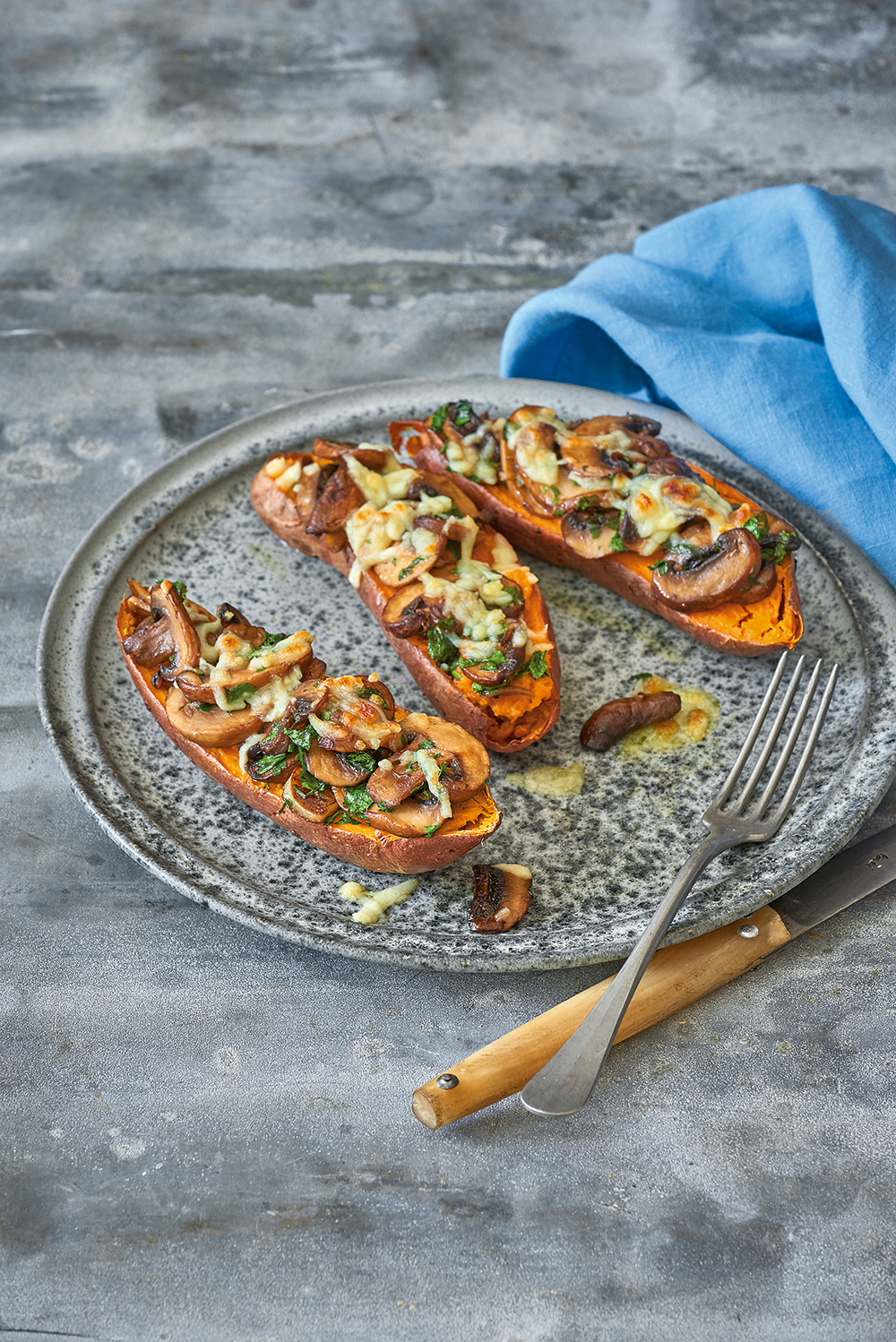 SMOTHERED SWEET POTATOES WITH TANGY MUSHROOMS AND MOZZARELLA
Serves 2 to 4
2 sweet potatoes (about 500 to 600g)
1 lb 2 oz to 1 lb 5 oz total weight
2 tablespoons extra virgin olive oil + more for brushing
3 garlic cloves, sliced
250 g (9 oz) chestnut or portobello mushrooms, medium sliced
sea salt and freshly ground black pepper
1 tablespoon lemon juice
handful of parsley, chopped
100 g (3½ oz) pizza mozzarella, grated (or other hard cheese)
Preheat the oven to 200°C (400°F) and line a baking tray.
Scrub the sweet potatoes and cut off any major blemishes. Stab them several times with a fork. Wrap each one in a paper towel and place both on a suitable plate in the microwave. Cook at high power for 5 minutes, then use tongs to turn them over. Cook for 3 more minutes, then leave to stand for 2 minutes. (Microwave cooking times vary.)
Carefully unwrap the sweet potatoes and test first with a knife or skewer, which should penetrate without resistance.
Slice potatoes open in half lengthways and check again that they are cooked throughout. (If not, rewrap and cook for 1 to 2 minutes more plus standing.)
Place the four halves on the baking tray, at first cut-side down, then brush with oil. Flip over so that they face cut-side up and use a fork to fluff the flesh slightly, keeping it contained in the skins.
Meanwhile, cook the mushrooms. Heat a frying pan over a medium heat and add the oil and garlic. Cook until the garlic starts to turn golden, then add the mushrooms and salt. Cook, stirring occasionally, until the mushrooms are soft and have released the maximum amount of juice – the juicier the better. Take the pan off the heat and stir in the lemon juice and parsley, then add several twists of black pepper.
Strain the mushrooms over a jug. Pour the reserved juice on to the sweet potatoes to season the fluffed flesh. Pile the mushrooms evenly over the top of the sweet potatoes. Top each with cheese.
Place in the oven and cook for 10 minutes, until the cheese is melted and tinged with gold.
Serve with a green salad, wilted greens or steamed broccoli.
Note: If you prefer to bake the sweet potatoes rather than microwave them, bake for 40 to 50 minutes at 200°C/400°F on a baking tray lined with non-stick foil or baking paper.
Recipes and images from SuperVeg, by Celia Brooks. Published by Murdoch Books and reproduced with the publisher's permission.
This story originally appeared in PS News online.