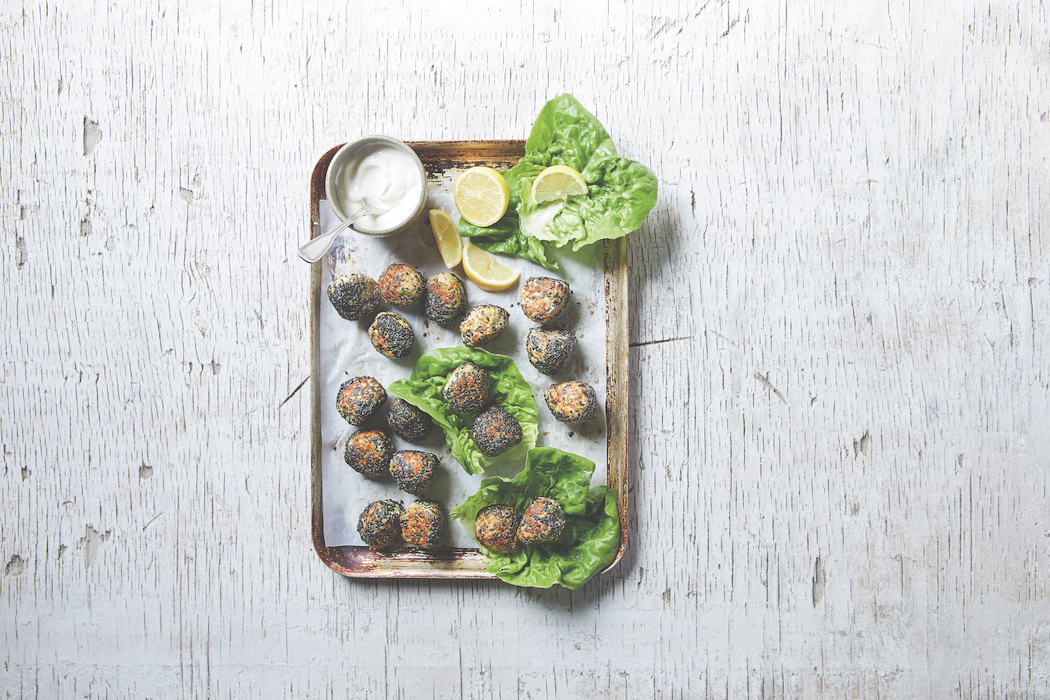 Tiffiny Hall says she is miserable without snacks. "I've been through phases where I flat-out denied myself snacks and … I was so miserable. I love eating." The personal trainer, TV personality and founder of online fitness program, TIFFXO, decided that instead of banning snacks, she would snack "right". "We're never going to stop snacking so we may as well learn how to do it properly and how to make them healthy," she says.
It's a topic that always comes up amongst members of her online community, who continually beg her for snack recipes. That was the impetus for Snack Power, published by Murdoch Books. It's a surprisingly versatile collection, ranging from pre- and post-workout snacks, snacks for special diets, and kid-friendly snacks, to no-cook and portable snacks, juices and smoothies, and what Hall calls "comfort food and good-mood snacks".
How does Roasted Cauliflower Dip with Raw Vegetables sound? Or Parmesan and Rosemary Crisps, Coconut and Date Power Bars, or Apricot and Coconut Bliss Balls? Or even treats like Chocolate Hot Cross Buns? There are muffins, energy bars, biscuits, dips, crisps, soups, omelettes, and quite substantial snacks like the Chicken and Chia Meatballs here.
The recipes are designed to be compatible with a busy lifestyle, and there are some useful tips on batch cooking and prepping in advance. Hall says wholesome and nutritious homemade snacks curb sugar cravings and keep you satisfied. "Potato chips and supermarket muesli bars are not snacks, they are energy zappers," she says.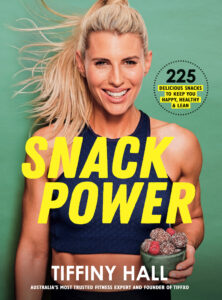 ---
Buy your copy of Snack Power from Book Depository now (free delivery worldwide).
Buy your copy of Snack Power from Australian-owned Booktopia.
---
Chicken & Chia Meatballs
Makes 24 (2 to 3 per snack)
20 g (¾ oz) black chia seeds
500 g (1 lb 2 oz) minced (ground) chicken
1 tablespoon minced ginger
½ onion, coarsely grated
100 g (3½ oz) coarsely grated zucchini (courgette)
small handful of coriander (cilantro), coarsely chopped
½ teaspoon salt pepper, to taste
40 g (1½ oz/¼ cup) sesame seeds
1 tablespoon olive oil
70 g (2½ oz/¼ cup) Greek-style yoghurt
large lettuce leaves, for serving (optional)
Preheat the oven to 180°C (350°F). Line a baking tray with baking paper and set aside.
Combine the chia seeds with 60 ml (2 fl oz/¼ cup) water in a bowl, stir and set aside for about 10 minutes, or until the water is absorbed and the mixture has formed a gel.
In a large bowl combine the chicken, ginger, onion, zucchini, coriander, salt and pepper. Mix to combine then stir through the chia gel. With damp hands, portion the mixture into about 30 g (1 oz/1½ tablespoon) amounts and roll into balls. Roll the meatballs in the sesame seeds to coat.
Heat a large non-stick frying pan over medium heat. Add the olive oil and cook the meatballs in batches for 5 minutes, or until well browned. Transfer to the prepared baking tray and bake for a further 5 minutes, or until cooked through.
Serve the meatballs with yoghurt and wrap them in a lettuce leaf for extra crunch.
Recipe and images from Snack Power by Tiffiny Hall, photography by Brent Parker Jones. Published by Murdoch Books and reproduced with the publisher's permission.
This story originally appeared in PS News.