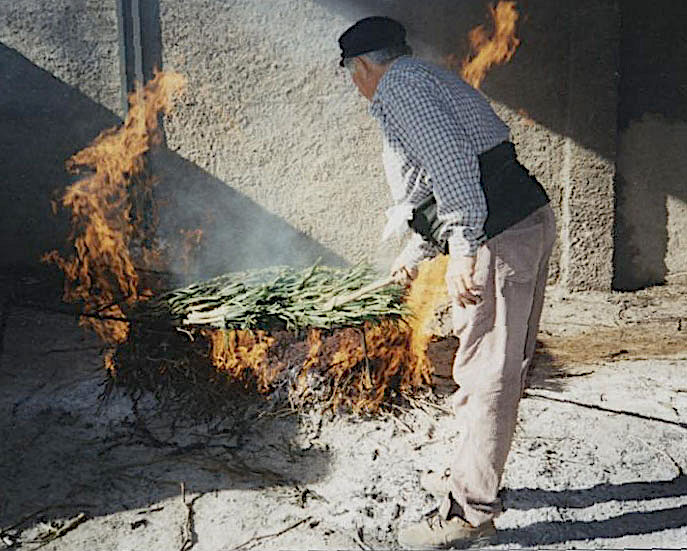 Eighteen months is a long time in advance to be worrying about what you might have for lunch, but anyone who has attended la calcotada will know that the wait is worth it.
This is a feast enjoyed in the Catalonia region of Spain, where revellers don bibs and consume enormous quantities of calcots, which look like a cross between a spring onion and a leek. In fact, calcots are onions whose growing process has been deliberately interrupted so that they take on a milder, sweeter flavour, which seems heaven-sent when cooked over an open fire.
Traditionally, the seeds are planted during a waning moon in September or October. Around January, the seedlings are transplanted and allowed to grow until late June/early July, when they are pulled from the ground and stored in a dry place.
By August or September they have begun to sprout again and are trimmed and planted in trenches, earthed up around the stalk like Belgian endive. The final harvest can be anywhere from January to April.
"Don't worry if you get too dirty eating it. That's necessary," says the mayor of Valls, the town where la calcotada originated in the late 1800s. It seems like the entire population of Valls has turned out to greet us in this little corner of Tarragona province, southwest of Barcelona, where several thousand people a day can revel in la calcotada when the season is in full swing.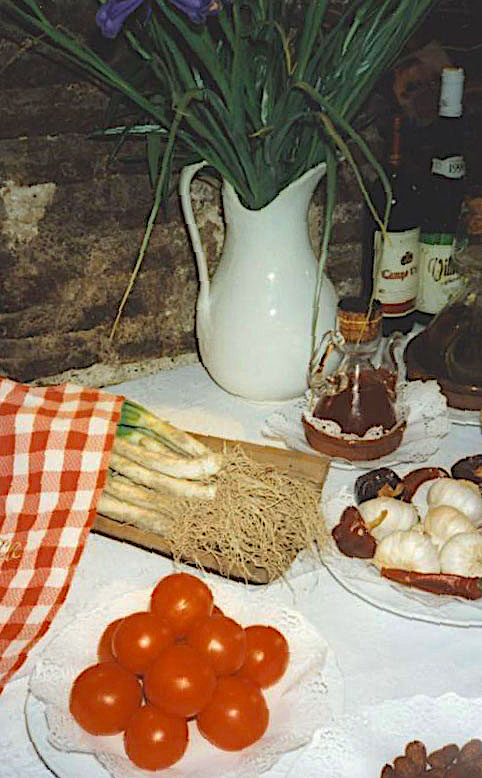 Our feast takes place at Cal Ganxo, a restaurant in a century-old stone farmhouse with an outdoor courtyard. An hour or two before serving, the calcots are bunched together on a grill over a fire stoked with vine cuttings. They are cooked for 10 to 12 minutes before being removed from the heat and wrapped in newspapers, which allows them to continue cooking.
Informally, they might be eaten standing up; more formally, they are brought to the table on curved terracotta tiles, which keep them warm. Either way, eating them is an art form. The calcot is held upright, grasped in one hand by its blackened base and in the other by the inner green leaves at the top.
In one fell swoop, it is pulled apart – the blackened part discarded, leaving a glistening white stalk which is then dipped in romesco sauce. Tip your head back, lower the calcot into your mouth and bite it off where the green part starts.
The ritual is repeated as often as appetite allows – on average, 12 to 20 are eaten, though some people apparently eat more than 100 at a time. During the meal, red wine is poured into the mouth from above using a porro, a glass wine jar with a long spout. This, too, is quite an art form, requiring a good aim.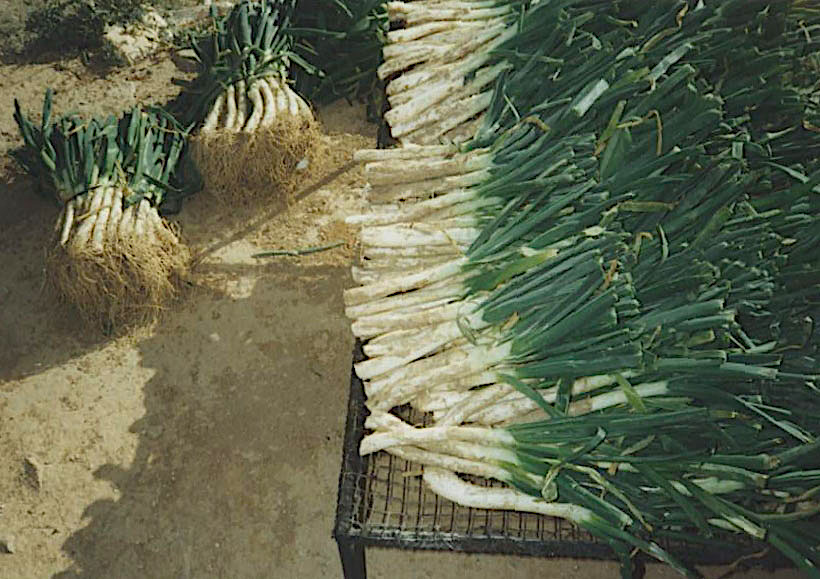 The secret to a successful calcotada is the romesco sauce – spicy, tomato-based and made with ingredients that are abundant in the region. Everyone has their own recipe, but Cal Ganxo's is creamy and irresistible. It's made with almonds, parsley and roasted garlic, crushed with a mortar and pestle. Fresh tomato puree is added, along with dried red capsicum, olive oil and a little chilli, vinegar and salt.
After the calcots, the table is cleared to make way for a mixed grill of lamb and sausages, including butifarra, the black sausage of the region, served with white beans, grilled artichokes and a garlic and oil mayonnaise. Next come fresh oranges, to lighten the stomach and make room for crema catalana, a light custard dessert with caramelised topping, one of the region's most popular dishes.
La calcotada would have begun as a family feast in the fields but such is its popularity that restaurants and farmhouses now offer it commercially. The celebration has spread to many neighbouring towns. A highlight of the local calendar, Great Calcotada Fiesta, with its calcot-eating contest, is held in Valls on the last Sunday in January.
This story was originally published in The Australian Travel & Indulgence section, 13 November, 2004.