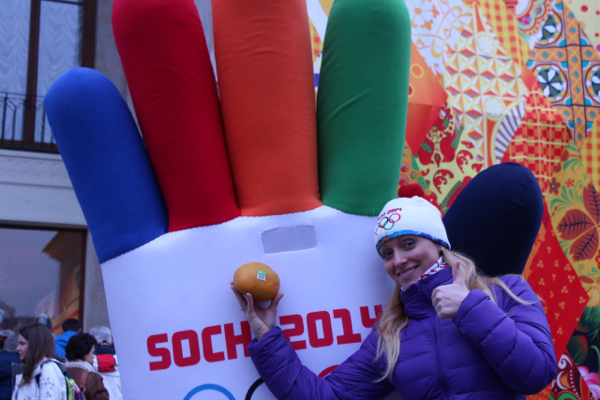 You're looking at the only gold that Australia won at the Winter Olympics. It took a mango to do it! The delicious Honey Gold mango found its way to Sochi 2014, about as far from its tropical homeland as it could get.
You might be surprised to know that the Australian-grown mangoes are being imported into Russia by Alimpex Pty Ltd whose representatives Georgiy Hleborodov and associate Olga (pictured) couldn't resist showcasing Honey Golds while enjoying the action.
I've been relishing this new mango that was developed by pure chance in 1991 in Rockhampton, Queensland. The natural result of a Kensington Pride off-type which was pollinated by an unknown variety, the grower – recognising its special taste and appearance – named it Honey Gold.
Queensland-based Piñata Farms bought the plant breeders' rights to the variety in 2002 and expanded the orchard for commercial production, sending the first fruit to market in 2009. Honey Gold mangoes are now grown in every mainland state except South Australia, and the original tree still bears fruit in the Rockhampton orchard.
They're deliciously sweet, juicy and aromatic with a glossy golden skin and small seed (so more flesh, yay!), and they stay remarkably firm when you cut them. The mangoes can be identified by the Piñata Farms Honey Gold sticker on the fruit and are available from November till March.
They have a good shelf life and will last several weeks if kept in the fridge (though if you're anything like me, you'll have tucked into them all by then). From snowy Sochi to sunny Australia, it's gold all the way with this sublime Mango Mojito cocktail. Cheers (or za vashe zdorovye as they might say in Russia)!
RECIPE FOR MANGO MOJITO COCKTAIL
Makes 2
2 limes cut into 6 wedges
10-12 mint leaves
1 mango cheek, cut into chunks
2 shots Vodka
½ cup white sugar
¾ cup water
Soda water or orange sparkling mineral water
To make sugar syrup, combine sugar and water in saucepan and simmer for seven minutes. Cool before using.
For each glass, muddle 3 lime wedges, 6-8 mint leaves and a few chunks of mango. Add crushed ice, a shot of Vodka, sugar syrup to taste and top with soda water or orange and sparkling mineral water.
Garnish with a sprig of mint and a few thin slices of mango.
Decorate each glass with a curled strip of mango cheek and a slice of lime speared with a toothpick.
Recipe and photos supplied by Piñata Farms.