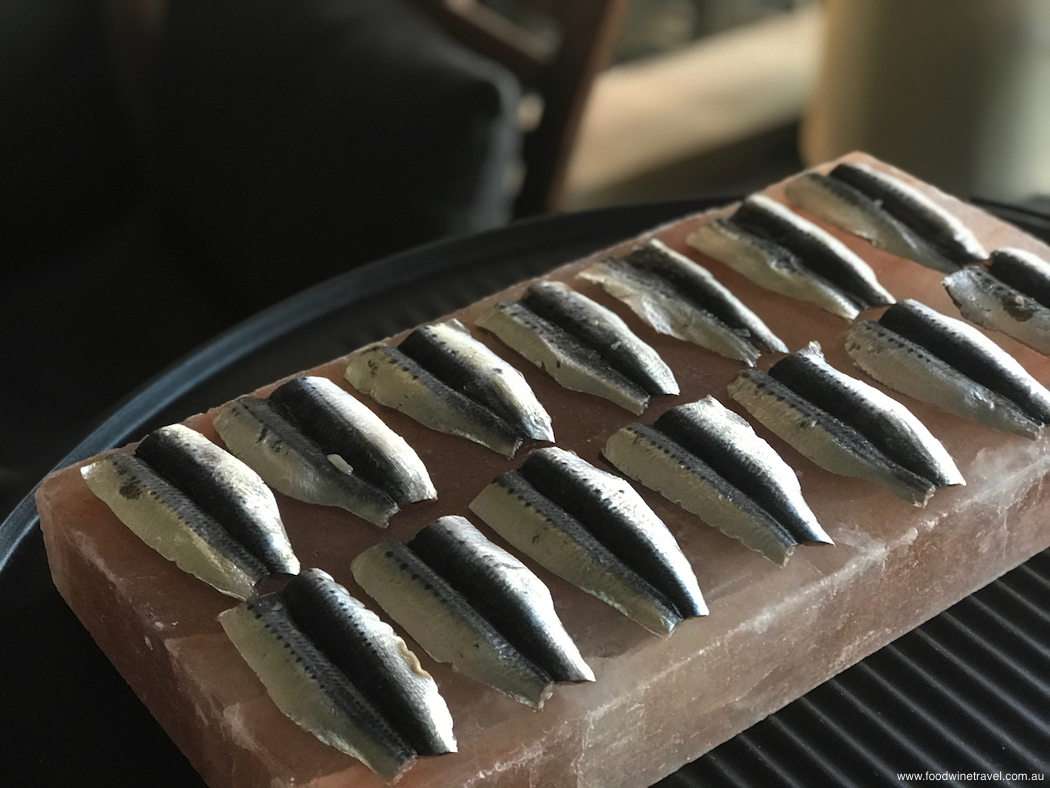 If you want your food to sing, try seasoning your dishes with some gourmet salts, or better still, consider presenting them on a Himalayan salt block.
Salt has been a much sought-after product for a very long time. It formed the backbones of early economies in Egypt, Greece, China and Rome, wars have been waged over it, Roman armies were even paid in it. In Medieval Europe, it propelled Venice to greatness, and it even played a role in the American Revolution.
It's fair to say that salt has left an indelible mark on the world – and it continues to do so. Any chef will tell you that even just a pinch of salt brings out the flavour in food. A good quality, natural salt enhances flavour (including sweetness), releases aromatics and masks any bitterness. It is also an essential nutrient.
By cooking and/or presenting food on a salt block, you not only get to appreciate these wonderful qualities, but it looks beautiful too. We've been experimenting with a 40cm x 20cm rectangular Himalayan pink salt block from The Salt Box, an Australian business selling high quality salts from around the world.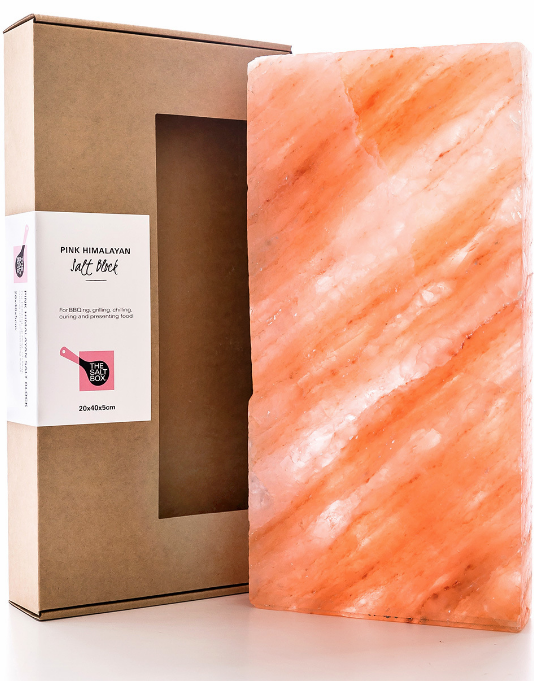 Our Himalayan pink salt block was carved from the Himalayan Mountains in Pakistan. It has been a joy to play with. From the start, we found it surprisingly easy to use and care for. We cooked a batch of sardines on the block over an electric barbecue, closely following the instructions provided by The Salt Box (more on cooking tips later). The fish cooked quickly without sticking too much. It was easy to wipe the block clean afterwards and it lifted the flavour of the sardines without being overpowering. The presentation was stunning, with the silver fish glistening against the pink salt.
A great talking point
We've used the salt block since for grilling steak and presenting sushi and deli items on. I love the way it gently seasons the steak. It always creates a talking point and looks so beautiful as a table centrepiece. After the salt block has been used for cooking, it looks a little less new each time you use it. I rather like this 'patina' that it acquires, but if you want to keep it pristine, you could buy one for cooking and one for food presentation. Problem solved!
All the salts sold by The Salt Box are 100% natural, without any nasties. Rowena Frith launched the business in 2011 after she discovered that good quality salt wasn't easy to track down – with luxury bath salts even harder to find than gourmet food salts. Since then, the range has expanded to include around 40 salts, possibly the biggest range of gourmet food and bath salts in Australia.  The Salt Box sells online as a retail store and also wholesales to retailers, manufacturers and restaurants and bars.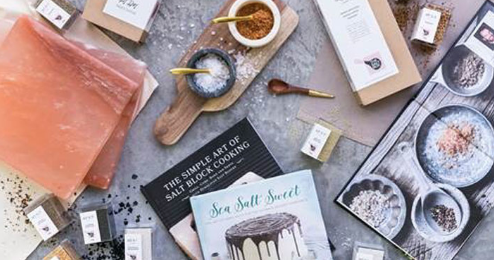 The Salt Box gourmet food range includes a BBQ Gift Set (including Smoked Applewood, Hickory and Habanero salts), Smoky Gift Set (including Applewood, Hickory and Extra Bold smoked salts), Fiery Gift Set (including Habanero, Scorpion and Sriracha salts), and other sets for cocktails, fish, vegans, foundation salts and more.
The luxury bath range includes gift boxes in 3 varieties with 100% natural blends of salts and essential oils. The range includes one of the highest quality Dead Sea salt brands on the market (Bokek). There is also a DIY Bath Bomb Kit.
Whether it's salt for cooking or salt for pampering that you are after, check out what The Salt Box has on offer. We can highly recommend their Himalayan pink salt block as a special and unusual gift.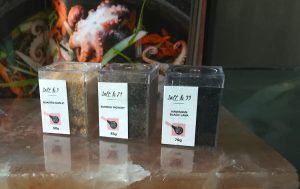 How do salt blocks work?
Salt blocks are very dense and naturally conduct and retain heat at extreme temperatures. Not only can they be hot enough to cook on, but they can also be chilled.
When you cook on a Himalayan block the heat and salt work together to produce salty-toasty-caramelised flavours and delicately crisped surfaces. That's why our sardines tasted so good.
The salt block should be heated slowly on the BBQ, grill, oven or on a stove top (electric or gas) and then it is ready to cook pretty much anything you would normally BBQ or grill, including meat, fish, eggs, bread, pizzas, and vegetables. It is recommended that you heat your block in three 10 -15 minute stages: first a low heat (no higher than 100 degrees C), then a medium heat (no higher than 180 degrees C) and finally a high heat (no higher than 220 degrees C). This is especially important when first using it. We followed this to the letter and it all went beautifully.
Alternatively, you can chill the salt block in the fridge and prepare cold foods on it to give a delicious salty taste, for example, guacamole. Chilling the block and putting meat or fish on it is akin to lightly curing the food.
To really impress your guests, use a heated block at the table or chill it and serve cheese, sashimi, charcuterie or ice-cream on it for a lovely salty flavour.
How should you look after your salt block?
Actually, it's dead easy. Apart from being careful to heat it slowly, the only other thing you need to do is to clean it afterwards, using a damp sponge or scouring pad. Pat it dry with a paper towel, wrap it in plastic wrap to store it, and that's it.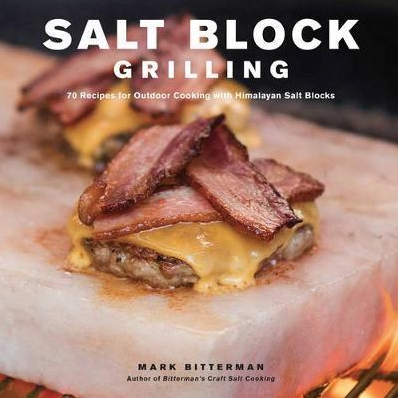 Recipes for salt block cooking
When The Salt Box sent us one of their lovely pink salt blocks, they also sent us a copy of Salt Block Grilling, by Mark Bitterman, who is something of an expert on salt block cooking. He teaches on culinary matters at renowned institutions, owns shops in the U.S. that specialise in salt, and has written extensively on the subject.
With recipes for dishes such as Salt Seared Smoked Pork Belly, Lamb Satay with Mint Chutney and Spicy Peanut Crumble, and Salt Seared Tuna Nicoise Salad, this is a great guide to buying, using and maintaining your salt block.
Visit The Salt Box for fabulous gift ideas. When ordering online, use the promotional code Salty10 to receive 10% off your order.
Buy your copy of Salt Block Grilling from Book Depository now, with free delivery worldwide
The Salt Box has not paid us to run this post, but we were given the salt block, book and 3 gourmet salts to play around with.