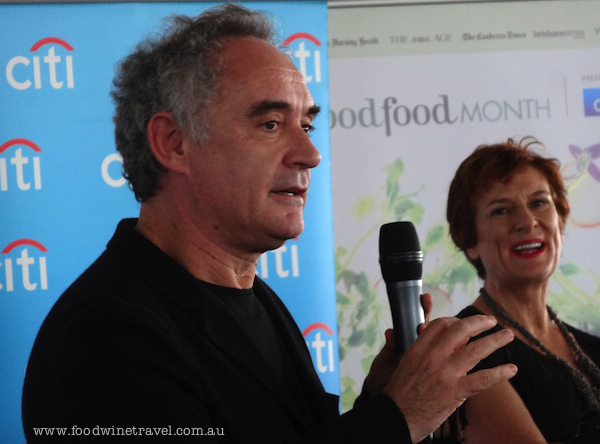 Back in 2001, I had the privilege of meeting Ferran Adrià when he was in Adelaide for Tasting Australia. People were already talking about his remarkable elBulli restaurant but the Spanish chef had yet to attract the cult following he has now.
I remember sitting in the audience and hearing gasps from chefs and food writers when he produced an entire dessert with various elements – including granita, mousse, shavings of ice and a sauce – the entire dish made from nothing more than water and gelatine!
Yesterday, Adrià was in Australia again, this time for the launch of Good Food Month, and it was interesting to hear his reflections on how the food scene has evolved in the years since. elBulli no longer exists, having closed its doors in 2011, but Adrià hasn't disappeared from view. He is establishing the elBulli Foundation, a creative workshop documenting the evolution of contemporary cooking around the world.
He's also been busy producing a seven-volume boxed set of cookbooks that weighs 18 kilos and costs $750. Put that one on your Christmas wish list! Published by Phaidon, elBulli: 2005-2011 charts his ground-breaking techniques through recipes, notes and sketches.
"One of the problems in cooking is that it's so passing," Adrià said at the Good Food Month preview at the Gallery of Modern Art (GOMA) in Brisbane. He began documenting his creations 13 years ago after one of his customers said 'this is great but I'd like to understand it more'. … "So we created this tool called evolutionary analysis so we can understand deconstruction and why it was done."
Adrià had a lot to say about deconstruction at that incredible session in 2001, which I wrote about in a lengthy feature in The Canberra Times soon after. (You can read that full article here.)
Adrià said yesterday that at the time of his first visit to Australia, cuisine was seen as "something elitist". How things have changed. "Today the most important social network is not Facebook, it's cooking. 60% of tweets are about travel and food."
Restaurant Magazine put elBulli at number one on its Top 50 list of the world's best restaurants for a record five times – in 2002, 2006, 2007, 2008 and 2009. Adrià featured on the cover of Time magazine and has been widely hailed as the world's most influential chef.
"Even today, three years after the closure, some people still think it's silly and that's what's so cool about elBulli," he said yesterday. "It was avant-garde."
Related posts: Ferran Adrià at Tasting Australia in 2001; Good Food Month preview.