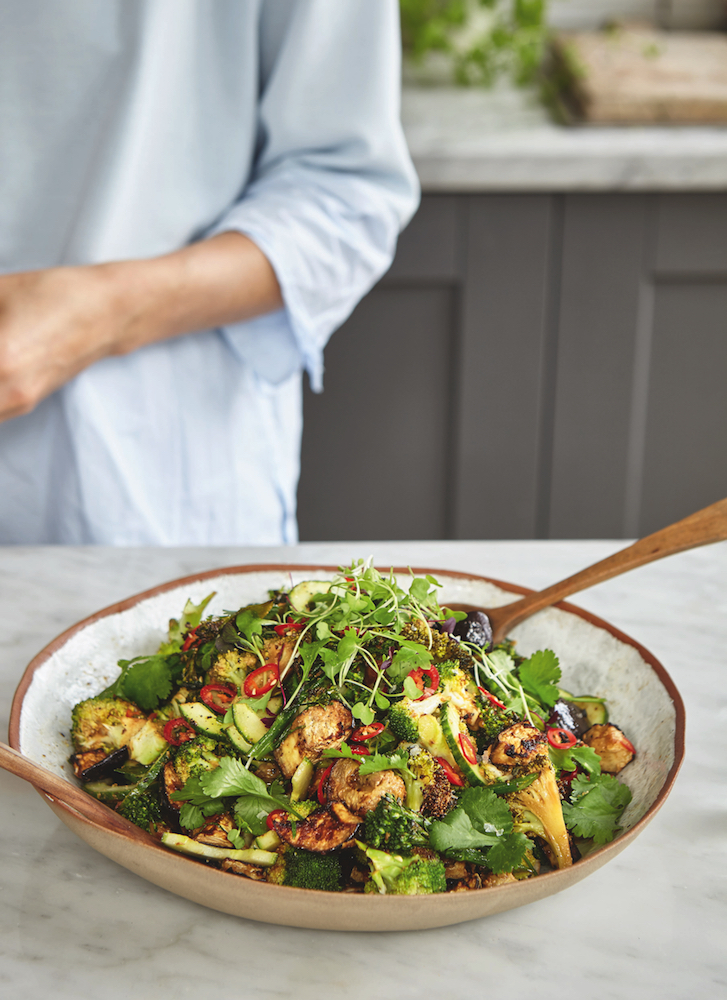 It's been quite a journey for Ella Mills since she founded her hugely popular blog, Deliciously Ella, and produced her first cookbook in 2015. That New York Times bestseller was followed by three other cookbooks, the latest being Deliciously Ella The Plant-Based Cookbook, published by Hachette Australia. Mills has also opened three thriving café-delis in London, launched a food product line across the UK, and organised pop-ups at festivals around the UK.
In her latest book, she shares the most popular recipes from her delis and reflects on her journey from food blogger to bestselling author and entrepreneur. The simple vegan recipes range from colourful salads, veggie burgers and falafel to creamy dips and sides, one-pot curries and stews, quick breakfasts, weekend brunches, muffins, cakes and brownies. They are the recipes for dishes that have been most frequently requested by her customers.
Spicy Miso Aubergine and Broccoli Salad
The salad here, for example, was a real hit in her central London deli, and is one of Mills' own go-to dishes as well. "We used to serve it cool but have recently discovered a new love of serving it warm, straight out the oven and couldn't recommend that more," she says. "The dressing is partly what makes this so good and I use it a lot in other dishes – the ginger, miso, sesame and lime mix is a real winner."
A champion of eating well, Mills switched to a wholefoods, plant-based diet after experiencing a debilitating illness, Postural Tachycardia Syndrome, while still a student. She gave up all meat, dairy, refined sugar, gluten, chemicals, additives and anything processed, starting her blog as an incentive to herself to try three new recipes each week.
This latest book offers a personal insight into her journey from starting the blog to creating a brand, and all that she has learnt along the way, including what drives the Deliciously Ella philosophy and her team's passion for creating delicious healthy food. (She now has a veritable army of people working for her.)
I've always enjoyed her unpretentious, healthy recipes and unpreachy style, and this latest book is no exception.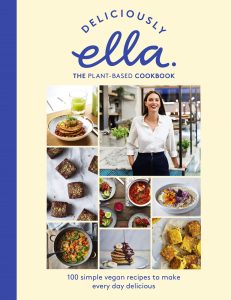 ---
Buy your copy of Deliciously Ella The Plant-Based Cookbook from Book Depository now, with free delivery worldwide
---
Spicy Miso Aubergine And Broccoli Salad
Serves 2 as a main dish, 4 as a side
2 medium aubergines, chopped into bite-sized chunks
1 large head of broccoli, chopped into florets
pinch of chilli flakes
handful of coriander, chopped
handful of sesame seeds
salt and pepper
For the miso dressing:
4 tablespoons miso paste
juice of 1 lime
1 tablespoon rice vinegar
3 tablespoons sesame oil
1 thumb-sized piece of ginger, peeled and grated
Preheat the oven to 240ºC (fan 220ºC). For the dressing, blitz the miso, lime juice, vinegar, sesame oil, ginger and some salt and pepper in a blender until smooth. If. you don't have a blender, dissolve the miso paste in a tablespoon of boiling water then stir through the other dressing ingredients.
In a large baking tray, mix the aubergine with the dressing and roast for 30 to 35 minutes. At this point, remove the tray from the oven and switch the oven over to the grill setting. Mix the broccoli florets with the aubergine, then place the tray back in the oven for another 10 minutes until the broccoli is lightly charred on top and the aubergine is soft and golden. Once cooked, remove from the oven, place in a serving bowl and sprinkle with the chilli flakes, coriander and sesame seeds before serving.
Recipes and photos from Deliciously Ella The Plant-Based Cookbook by Ella Mills (Woodward). Image by Nassima Rothacker. Published by Hachette Australia and reproduced with the publisher's permission.
This story originally appeared in PS News online.