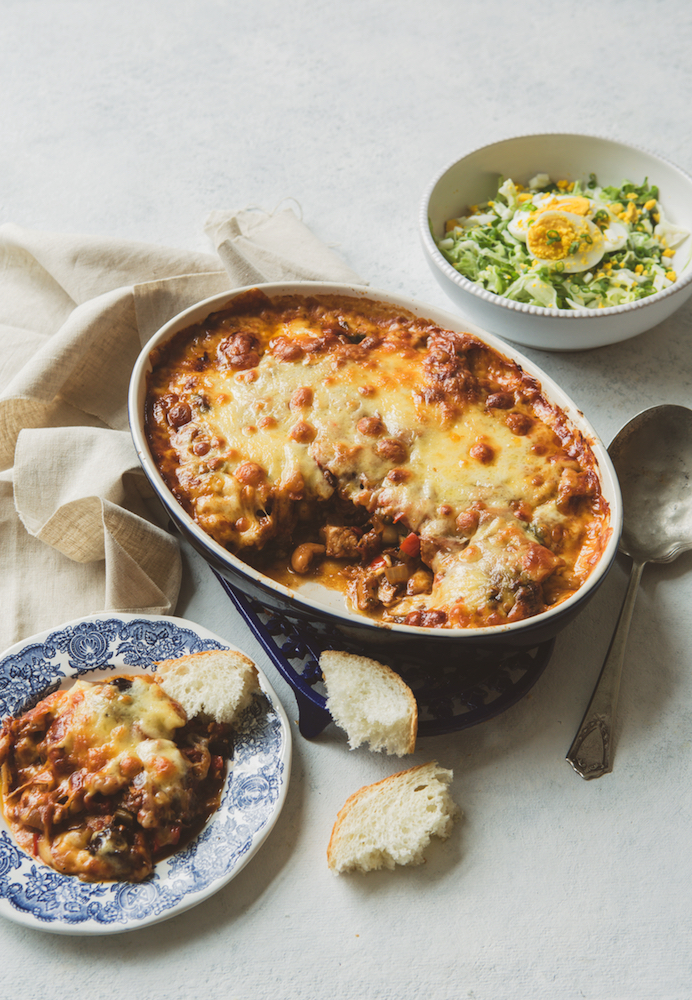 Allow me to indulge myself and go back to my roots for a bit.
I remember as clearly as yesterday my first day abroad. It was in The Netherlands, the country of my father's birth, and I was a few weeks shy of 16. A shopkeeper handed me some raw herring to try and I was schooled in the art of how to eat it, the Dutch way. That meant holding the fish by its tail, dipping it in chopped raw onions, and allowing it to slide into the mouth.
It was the start of a lifetime of travel and tasting, discovering ingredients and dishes that I hadn't encountered before, appreciating how food brings people together, and using food as a window into a country's history and culture. Of course my education had started long before, and as the daughter of a Dutchman who had spent much of his childhood in Indonesia, I was always very aware that the food on our family table was different from our neighbours. A jar of sambal was always a requisite at the table.
Not surprisingly, Dutch Feast, published by New South Books, resonates very strongly with me. It brings back memories of boeterkoek (butter cake), bitterballen (little balls of mince) and apple tart, and at the same time, reminds me of the huge influence that the former Dutch colonies have had on Dutch cuisine.
As author Emily Wight points out, Bonaire, Sint Eustatius and Saba in the Caribbean are part of The Netherlands proper, while the Caribbean islands of Aruba, Curacao and Sint Maarten are independently governed but still part of the Kingdom of The Netherlands. At various times the Dutch also had interests in Indonesia, Suriname, Brazil, Sri Lanka, India and parts of Africa, all of which had an influence.
History of Dutch cuisine
Conversely the Dutch had an influence on North American cuisine that a lot of people probably don't recognize. Pancakes and apple pie for starters. (Remember New York was once called Nieuw Amsterdam). Wight provides a potted history in Dutch Feast that is interesting and insightful.
She is a great advocate for Dutch cooking, which she believes has not been given its due internationally, and I love her claim that the food must be good, otherwise the Dutch wouldn't have such hearty appetites. She cites scholar and historian Simon Schama who writes in his book, An Embarrassment of Riches, about the Dutch appetite in the Golden Age. "The Dutch, it was thought by most other European contemporaries, did not pick at their victuals. In caricatures they were almost always depicted as guzzlers and sozzlers, as imposingly broad as they were dauntingly tall." Wight says: "You do not get to guzzling and sizzling if your food is boring. You just don't."
Wight first tasted this dish at The Old Cunucu House restaurant in Aruba. "It's a dish that was originally prepared by Indigenous slaves using discarded cheese-wheel scraps; traditionally, it might include raisins, olives, capers, nuts, or hot peppers, among other things," she says. Wight serves it in a 1.4-litre round baking dish, but she says you could portion it in four individual ramekins and freeze for reheating later. She suggests serving it with a light green salad and good white bread for sopping up the sauce.
Buy your copy of Dutch Feast from Book Depository now, with free delivery worldwide
KEESHI YENA
Serves 4
2 tsp kosher salt, divided
1 lb (454 g) boneless, skinless chicken breasts or thighs
2 tbsp olive oil, divided
1 onion, diced
1 red bell pepper, diced
2 celery stalks, diced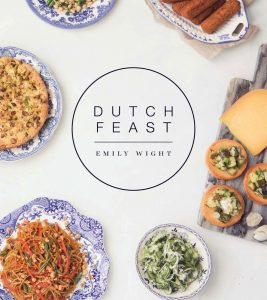 4 garlic cloves, minced
2 tsp smoked paprika
1 tsp ground black pepper
½ tsp ground cumin
¼ tsp cayenne pepper
½ cup (125 mL) dry white wine
14-oz (398-mL) can crushed tomatoes
1 tbsp capers, roughly chopped
2 tsp Worcestershire sauce
3 oz (75 g) dried pitted prunes, roughly chopped
1 lime, juiced
salt and pepper, to taste
7 oz (200 g) sliced Gouda
½ cup (125 mL) roasted cashews
Sprinkle salt on both sides of chicken.
In a large frying pan on medium-high, heat 1 tbsp olive oil. Brown chicken, cooking about 10 minutes per side. Remove from heat and set chicken aside.
Add remainder of olive oil to pan, then add onions, bell peppers, celery, garlic and remainder of salt. Sauté for 2 to 3 minutes, until vegetables have brightened in colour. Stir in smoked paprika, pepper, cumin, and cayenne pepper, and coat vegetables with spices.
Deglaze pan with wine, scraping any browned bits off bottom, and reduce heat to medium. Add crushed tomatoes, capers, Worcestershire sauce, and prunes. Cube cooled chicken and add to pan with lime juice. Simmer for about 10 minutes, until sauce has reduced and thickened slightly.
Taste and adjust seasonings. Set aside, and cool to room temperature. (You can do this up to 3 days ahead — it's better when made at least 1 day in advance; just cool and refrigerate until you're ready to assemble the casserole.)
Preheat oven to 350°F (175°C). Line a lightly greased 1.5-qt (1.4-L) baking dish with slices of Gouda. They need not overlap by much, but should all be touching. Tear pieces to fit as needed on bottom of dish — no one will see this part.
Stir cashews into room-temperature stew. Spoon mixture into cheese-lined pan. Top with remaining slices of Gouda, then bake for about 25 minutes, until stew bubbles around edges and cheese melts and turns golden in parts. Serve hot.
Recipe and images from Dutch Feast, published by New South Books and reproduced with the publisher's permission.
This story originally appeared in PS News online.