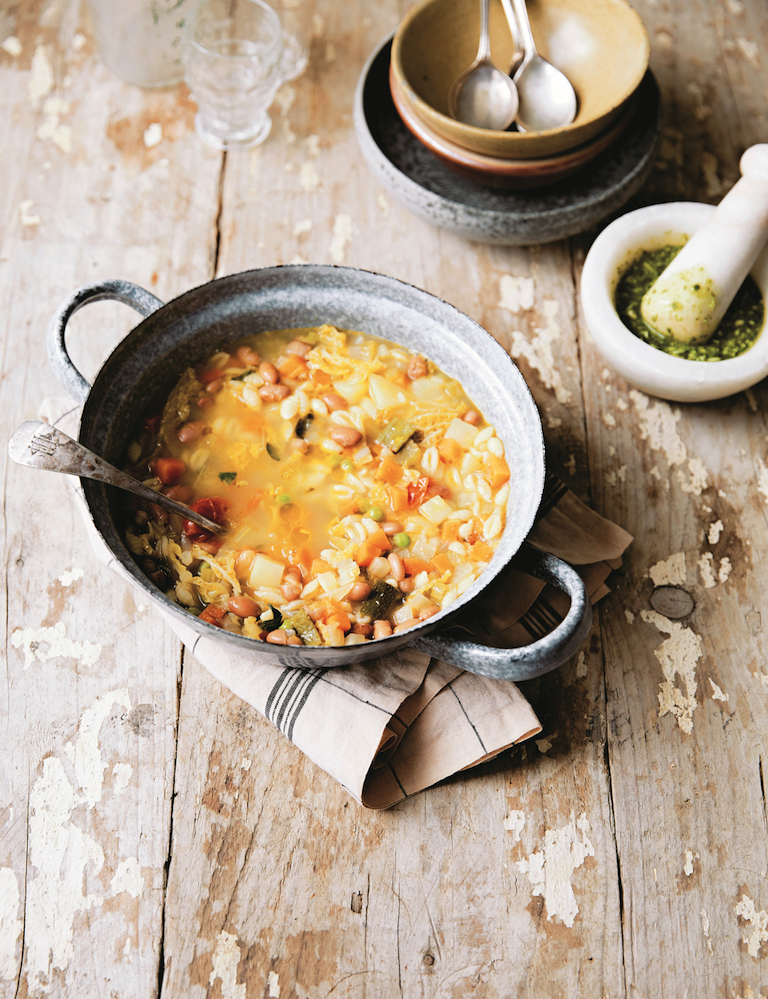 "From fridge to fork in 40 minutes or less" declares the cover of Gennaro's Fast Cook Italian, published by Pavilion Books. Gennaro is Gennaro Contaldo, an Italian who taught Jamie Oliver all he knows about Italian cooking. He also starred in the SBS show, Two Greedy Italians, with the late Antonio Carluccio.
As Gennaro points out in the introduction to Fast Cook Italian, even in Italy people don't have the time to prepare dishes that their grandmothers once made. Fortunately, however, the Italian philosophy of using a few good ingredients and cooking them in a simple, unfussy way means you can create beautiful, nutritious dishes in no time. "Traditionally, some of the best Italian dishes are made quickly with just a few fresh or stored ingredients," he says.
Stock the cupboard
Gennaro always makes sure he has dried pasta in the cupboard, as well as risotto rice, good olive oil, stock and cans of tomatoes. Add some onions, carrots, garlic, pancetta and Parmesan from the fridge, and there's already quite a few meals in the offering. Even when the cupboard is bare, a quick dish of Spaghetti aglio, olio e pepperoncino (garlic, oil and chilli) is a popular standby. And there-in lies the beauty of fast cooking, Italian-style.
All the recipes in Gennaro's Fast Cook Italian are quick and effortless to prepare, and super simple to follow, so that even those with limited cooking skills can make them.
Packed full of nutritious veggies, this Quick Minestrone Soup includes both borlotti beans and pastina (small pasta shapes). If you prefer, you could omit the pastina and any vegetable you don't like. For added flavour, you could serve with a dollop of pesto.
Buy your copy of Gennaro's Fast Cook Italian from Book Depository now, with free delivery worldwide
RECIPE FOR MINESTRONE VELOCE
(QUICK MINESTRONE SOUP)
Cooking time: 35 minutes (not including veg prep)
Serves 4 to 6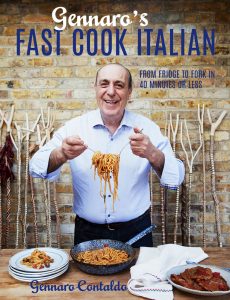 4 tbsp extra-virgin olive oil
1 large onion, finely chopped
2 celery stalks, finely chopped
2 carrots, finely chopped
1 small fennel bulb, finely chopped
1 courgette (zucchini), cut into small chunks
1 large potato, peeled and cut into small chunks
280g/10 oz Savoy cabbage, shredded
6 cherry tomatoes
a handful of fresh basil leaves
1.5 litres/52 fl oz/6½ cups vegetable stock (bouillon)
1 × 400-g/14-oz can of borlotti (cranberry) beans, drained
50 g/1¾ oz/one-third cup frozen peas
75 g/2½ oz small pasta shells (pastina)
sea salt and freshly ground black pepper
grated Parmesan, to serve
Pesto sauce, to serve (optional)
Heat the extra-virgin olive oil in a large heavy-based saucepan set over a medium–high heat. Add the onion and celery and sweat for a couple of minutes. Add the carrots, fennel, courgette, potato, cabbage, tomatoes and basil, and mix well. Pour in the stock, bring to the boil, then lower the heat and cook for 20 minutes. Add the borlotti beans, peas and pasta and continue to cook for about 6 to 8 minutes, until the pasta is cooked (check cooking times on the packet).
Remove from the heat, season with salt and pepper to taste, and serve with grated Parmesan and a dollop of pesto, if desired.
Recipe and images from Gennaro Contaldo's Fast Cook Italian, published by Pavilion Books. Image: Kim Lightbody. Reproduced with permission of HarperCollins Publishers.
This story originally appeared in PS News online.