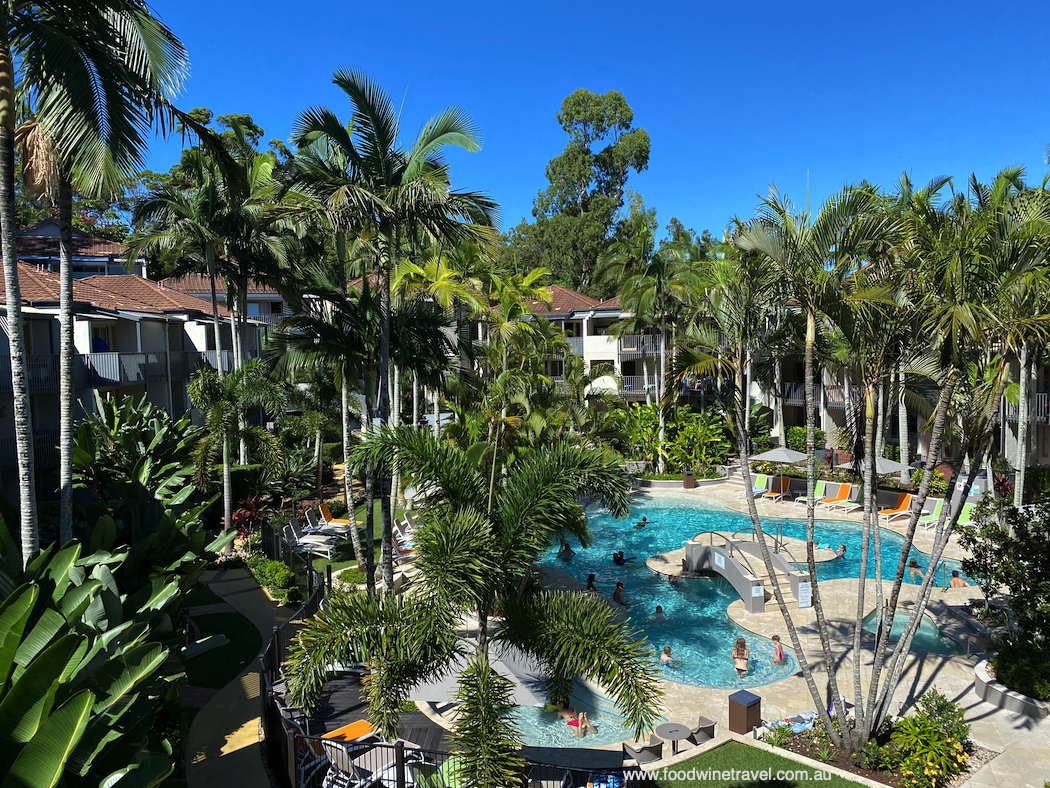 It's Location, Location, Location at Mantra French Quarter Noosa, on Queensland's Sunshine Coast. Nestled in a prime position at the national park end of Hastings Street, the resort is a few minutes' walk to Noosa's chic boutiques, spectacular beach, and bushland so special it has been declared a UNESCO Biosphere Reserve. That, coupled with a wonderful array of bars and restaurants right on the doorstep, means you really want to settle in for the long haul.
Settling in is easy at the Mantra, where the accommodation is in spacious, self-contained 1-, 2- and 3-bedroom apartments, located in four wings that encircle a lagoon-style pool fringed with palm trees. Most of the apartments look inward over this lush tropical garden, making it a lovely haven from the hustle and bustle of Hastings Street. (Noosa is a place where people come to unwind, but it can get awfully busy and crowded.)
Lounging at one of the pools here – there are also 2 spa pools, a sauna and a children's pool – you'd hardly know you were just steps away from all the cars driving around in an often vain attempt to snare one of Noosa's too few carparks. Fortunately, Mantra French Quarter has its own undercover carpark, and it's free for guests.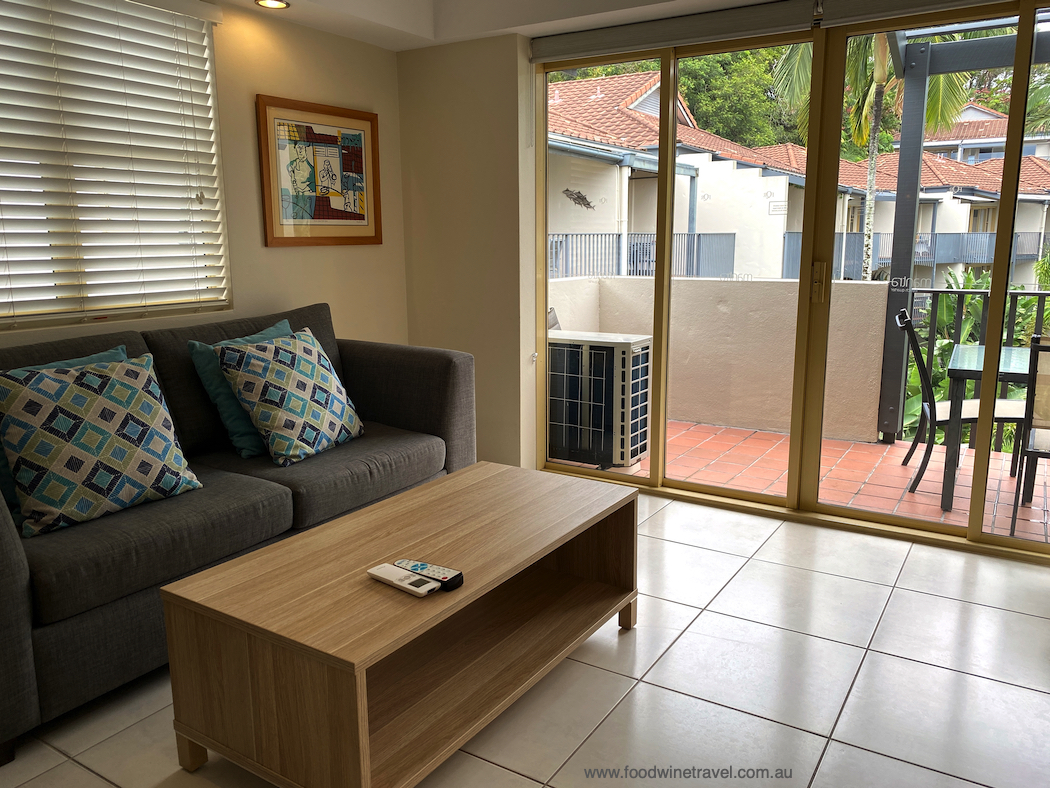 Even here, though, parking can be at a premium, despite the resort technically having one carpark space per apartment. On the Saturday night we stayed, we returned from a restaurant dinner to find there were no available spots in the North Wing where we were staying. The resort has 24-hour reception so although it was late at night, we were able to secure a swipe key from reception and gain access to a carpark in another wing.
The air-conditioned apartments are bright and airy with splashes of blue against a mostly neutral/beige décor. Sliding glass doors lead to an outdoor balcony overlooking the pool (a few overlook Hastings Street, others have terraces). Our apartment was well-equipped with kitchen and laundry facilities, including a washing machine and dryer.
The apartments are non-serviced if you are staying less than 8 days. If staying longer, they are serviced on the 4th day. The kitchen has a small dishwasher, cooktop, microwave oven, bar fridge, toaster and tea and coffee facilities. As part of the resort's Covid-safe management plan, everything in the kitchen cupboards was wrapped in cling-wrap, very commendable and not seen in other hotels I've stayed at during the pandemic (though admittedly I haven't stayed at many).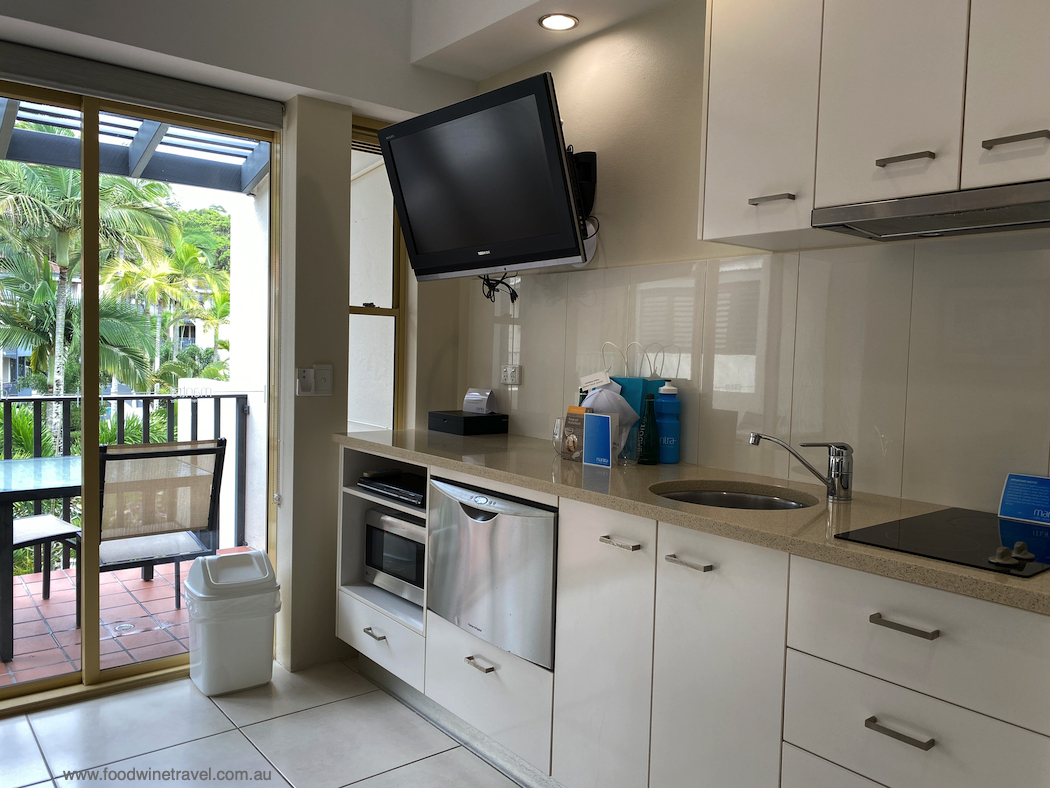 The hotel has barbecue facilities and it offers deals at View restaurant, located in its sister property Peppers Noosa Resort & Spa just up the hill. While the Mantra gives its address as Hastings Street, the reception desk is actually quite some distance away, on the other side of the resort. There is, however, a pedestrian entrance on Hastings Street, from where it's just a few steps to the beach.
There's not a lot that is French about Mantra French Quarter, nor is the accommodation particularly Insta-worthy. But it's very comfortable, super-convenient and the pool is lovely. Plus, it's right across the road from Massimo's Gelateria, one of the world's greatest icecream shops (no exaggeration). And that can only be a good thing!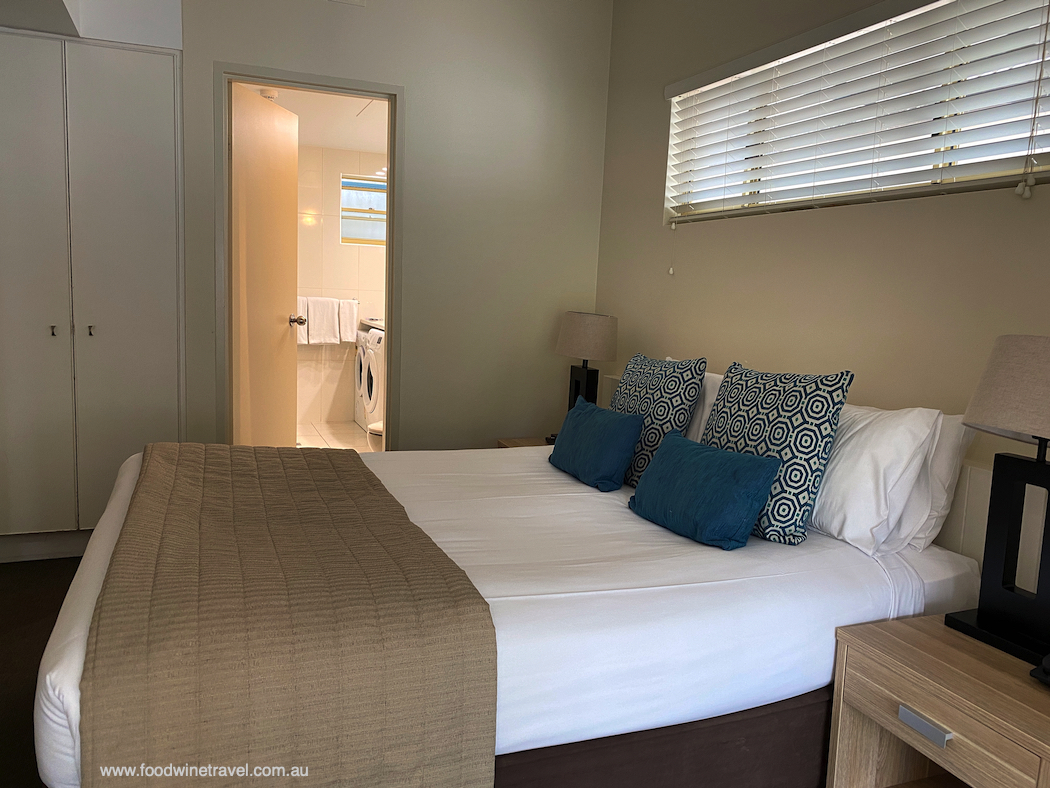 If you go:
Mantra French Quarter
62 Hastings Street
Noosa Heads QLD 4567
Australia
Tel: +61 (0)7 5430 7100
www.mantrafrenchquarter.com.au
With thanks to Mantra for hosting our accommodation for one night. We stayed in Room 301 North wing. We were in Noosa to attend the Sumptuous High Tea Soiree, one of the events from the re-imagined Noosa Eat & Drink.