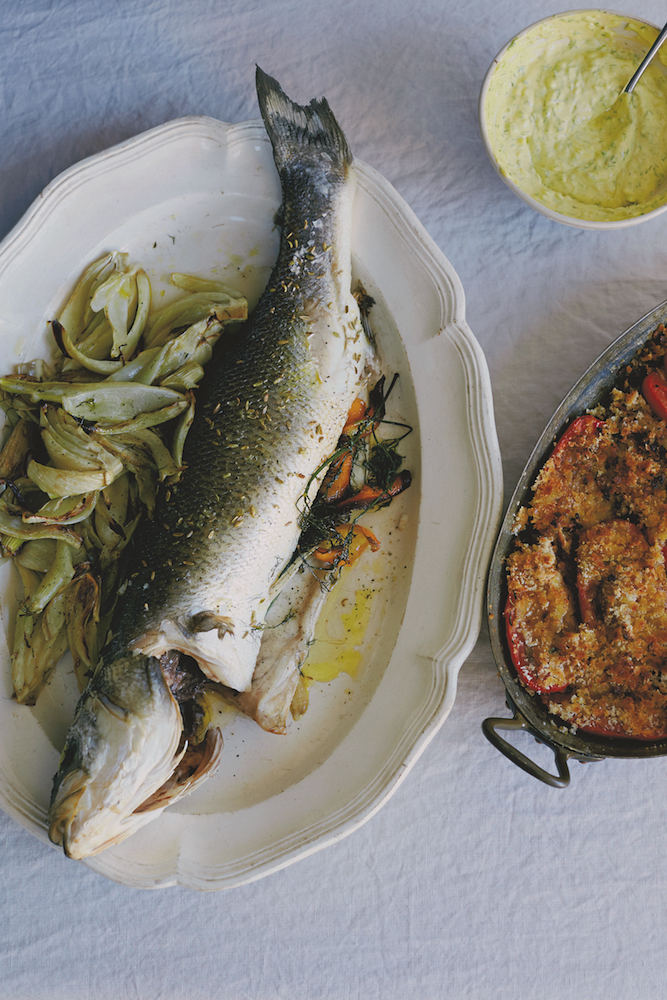 When I first saw the title of How To Eat A Peach, published by Hachette Australia, I wondered what inspired the title as it doesn't appear to be a book offering practical advice. The author, Diana Henry, says the book started out as a way of giving practical advice, but ended up being more about menus and place. "Part of my cooking is about revisiting places, and even expressing feelings about particular places," she says.
As a child growing up in Northern Ireland, Henry didn't go abroad until she was 15, but that experience, on an exchange trip to France, was the start of a lifelong interest in food. To date she has written nearly a dozen books, including some of my favourites, like Crazy Water Pickled Lemons and Roast Figs Sugar Snow.
When she was 16, Henry began keeping a book of menus, a school exercise book that she had carefully covered in wrapping paper. (I can relate to this, my own collection of recipe scrapbooks still amongst my most prized possessions.) Composing a menu is still her favourite part of cooking. "I don't invite people round and then wonder what I'll cook, I come up with a menu and then consider who would like to eat it."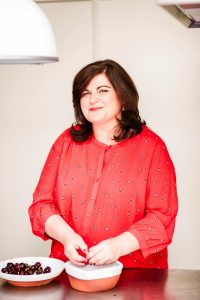 Menus aren't just groups of dishes that the cook can manage on a practical level, they also have to work as a succession of flavours, says Henry. Menus can set the mood and take you places, from an afternoon at the seaside in Brittany to a sultry evening eating mezze in Istanbul.
How To Eat A Peach contains many of her favourite dishes in menus that take the reader through the seasons in different parts of the world. There's a Cider and Gitanes menu ("falling in love with France"), Before The Passeggiata ("a southern Italian supper"), My Spanish Cupboard, In My Own Back Yard ("a British-Irish Sunday lunch"), and many other delicious menus.
This Provence-inspired recipe for Tomatoes and Anchovies comes from Henry's How To Eat A Peach menu of six dishes for an elegant summer dinner. It's here that the book's title falls into place. Henry believes cooking is all about "taking care of the small, seemingly unimportant things" and she tells of an experience in Italy when she first became aware of this.
"The diners at the next table didn't have a fancy dessert, they just had a bowl of peaches and a bottle of cold Moscato. Everyone sliced their peach and dropped it into the wine. After a while they drank the wine – now imbued with the flavour of the peach – and ate the peach slices, which now tasted of the wine. This was not a complicated dish, but it was a lovely way to end a meal – seasonal, straightforward, caring, and even a little magical … Those peaches became a symbol of what good food is all about."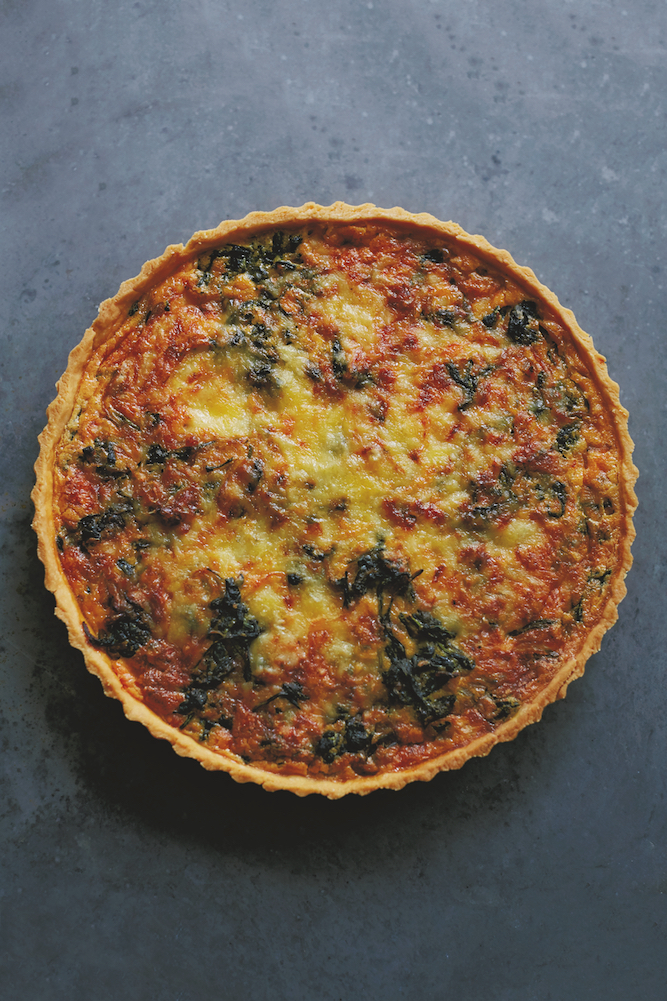 Buy your copy of How To Eat A Peach from Book Depository now, with free delivery worldwide
TOMATES PROVENÇALES AUX ANCHOIS
Serves 6
8 to 9 large plum tomatoes, halved
50 to 100g jar or can of anchovies, drained (reserve the oil)
2 fat garlic cloves, very finely sliced
sea salt flakes and freshly ground
black pepper
100g (3½oz) stale coarse white breadcrumbs (about 1 day old is good)
finely grated zest of ½ unwaxed lemon
leaves from 4 thyme sprigs
2 tablespoons extra virgin olive oil
Preheat the oven to 190°C/375°F/gas mark 5. Put the tomatoes into a gratin dish (you need a big one) in which they can lie in a single layer. They need to be quite snug, but not too squashed up otherwise they sweat; you want some of their moisture to evaporate, as it makes them sweeter.
Halve each anchovy and stick some slices of garlic and some anchovy into each tomato half. Spoon 2 tablespoons of the oil from the anchovies over the tomatoes. Season.
Toss the breadcrumbs with the lemon zest, thyme and seasoning. Scatter on top of the tomatoes and sprinkle on the extra virgin olive oil. Bake in the oven for 30 to 40 minutes, or until the tomatoes have shrunk and the top is golden brown.
CHEDDAR, ONION & SPINACH TART
(from the "Smoky Days" menu for an early autumn lunch)
Serves 6
For the pastry:
275g (9¾oz) plain flour, plus more to dust
150g (5½oz) chilled unsalted butter, chopped
sea salt flakes
2 large egg yolks
For the filling:
30g (1oz) unsalted butter
550g (1lb 4oz) onions, very finely sliced
6 garlic cloves, finely sliced
450g (1lb) spinach, coarse stalks removed
freshly ground black pepper
2 large eggs, plus 3 egg yolks
375ml (13fl oz) double cream
2 teaspoons English mustard
150g (5½oz) extra mature Cheddar cheese, grated
For the pastry, put the flour, butter and a good pinch of salt into a food processor and whizz until it resembles breadcrumbs. Add the yolks and a little ice-cold water (about 2 teaspoons), and whizz to bring it into a ball. Shape into a disc, wrap in cling film and chill for 30 minutes.
Melt the butter for the filling in a large heavy-based saucepan and cook the onions and garlic, with a little salt, until slightly golden, then add a good splash of water and cover. Sweat over a very low heat until the onions are soft and floppy – about 30 minutes – stirring every so often.
Preheat the oven to 180°C/350°F/gas mark 4. Put a baking sheet into it. Roll out the pastry on a lightly floured surface and use it to line a loose-bottomed tart tin, 27cm (10¾in) in diameter (keep any leftover bits). Chill for 30 minutes in the cold bit of the fridge, or the freezer.
Uncover the onions, increase the heat and let the excess moisture bubble off and the onions cook until they are golden and sweet.
Wash the spinach and cook in a covered pan with just the water left clinging to it, for about 4 minutes over a medium heat, until wilted, turning over the mass every so often to make sure all of it is in contact with the base of the pan. Drain in a colander and leave to cool.
Line the pastry case with baking parchment, fill with baking beans or dried pulses and blind-bake on the hot sheet for 15 minutes. Remove the paper and beans and cook for another 8 minutes. Take it out of the oven and use the leftover raw pastry to patch any cracks you see.
Squeeze excess moisture from the spinach (with your fists or between 2 dinner plates) chop, season and add to the onions. Mix the eggs, yolks, cream and mustard and season well. Spread the spinach mix in the tart case, sprinkle on the cheese and pour on the cream mixture.
Bake on the hot sheet for 30 minutes, until just a little soft in the middle and golden. It will continue to cook once out of the oven. Cool for 10 to 15 minutes, then serve.
Recipes and images from How To Eat A Peach by Diana Henry, published by Hachette Australia, and reproduced with the publisher's permission.
This story originally appeared in PS News online.