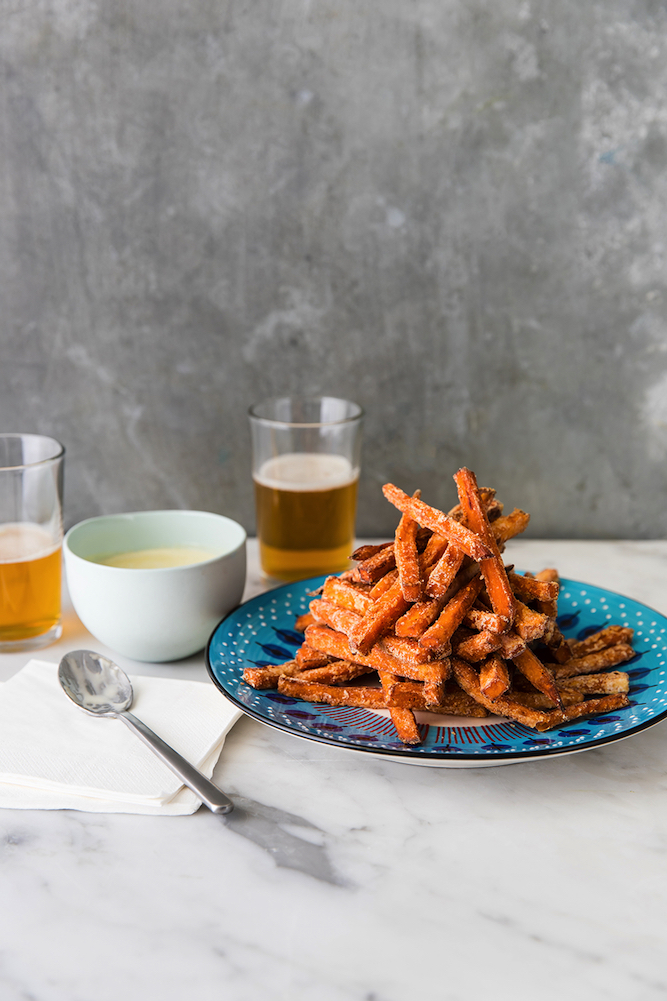 I can't think of a better way to enjoy being with friends and family than to sit down at a table and share a meal. Dining from shared plates is such a convivial way of eating – as the Spanish do so well with their tapas bars, the Chinese with yum cha, the Scandinavians with their smorgasbords, the Italians with antipasti, and so on.
It promotes conversation amongst diners and it allows them to experience a greater range of flavours than they would with a main dish, or two or three courses.
Balancing flavours
Restaurateur and cookbook author Luke Mangan offers a range of great ideas in his newest book, Sharing Plates, published by Murdoch Books. The recipes range from breakfasts and brunches to warming winter dishes and light summer fare, bar snacks and fun, informal foods. He shows how to think about balancing flavours and textures, how much time there is for preparation and what parts of the menu can be made in advance, to leave some time free for leisurely grazing and feasting.
Mangan suggests that while you shouldn't be afraid to "shake it up a bit", it's often simplest to stick to a general style of cuisine, such as Asian, Spanish or Mediterranean. The more than 100 recipes in the book are inspired by cuisines from Spain, Italy, Scandinavia, Middle East and Asia.
There's a chapter of his famously divine desserts, but the recipe I've selected to feature here is his Sweet Potato Fries. These are absolutely moreish just on their own, and they would make a perfect side for any meat dish as well. Before cooking them, you soak the chips overnight to remove the starch, then freeze them so they don't fall apart in the deep fryer.
---
Buy your copy of Sharing Plates from Book Depository now, with free delivery worldwide
---
SWEET POTATO & CHILLI SALT FRIES WITH GORGONZOLA CREAM
Serves 4 as a side or snack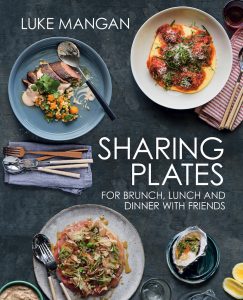 2 medium-sized sweet potatoes
vegetable oil, for deep-frying
30 g (1 oz/¼ cup) cornflour (cornstarch)
1 teaspoon chilli salt (see below)
CHILLI SALT
10–12 dried red chillies
1 tablespoon caster (superfine) sugar
100 g (3½ oz) sea salt
GORGONZOLA CREAM
1 tablespoon unsalted butter
1 French shallot, finely chopped
250 ml (9 fl oz/1 cup) pouring (single) cream
450 g (1 lb) gorgonzola cheese
FOR THE SWEET POTATOES
Cut the sweet potatoes into chips and soak in water overnight.
Two-thirds fill a deep-fryer or large heavy-based saucepan with vegetable oil. Heat to 140°C (275ºF), or until a cube of bread dropped into the oil turns golden brown in 35 seconds.
Line a baking tray with baking paper. Drain the chips and dry with paper towel. Place the cornflour in a large bowl or bag, add the chips and shake or toss to coat them in the cornflour.
Working in batches if necessary, fry the chips for 4 to 6 minutes, or until just cooked. Tip them onto the baking tray and place in the freezer for 20 minutes.
FOR THE CHILLI SALT
Blitz the chillies in a food processor for 1 minute, until crumbly and flaky. Add the sugar and salt and continue to process until fine. You'll end up with more chilli salt than you'll need for this recipe, so transfer the remainder to a small airtight container and store in the pantry to use in other dishes.
FOR THE GORGONZOLA CREAM
Melt the butter in a pan over medium heat. Cook the shallot for 2 to 3 minutes, until tender. Stir in the cream and cook for 5 to 10 minutes, until reduced by half. Reduce the heat to low, add the gorgonzola and stir until it melts. Season to taste.
TO SERVE
Reheat the oil in a deep-fryer or heavy-based saucepan to 180ºC (350ºF), or until a cube of bread dropped into the oil turns golden brown in 15 seconds.
Deep-fry the frozen chips for 3 to 5 minutes, until crispy. Drain on paper towel and serve hot, sprinkled with the chilli salt, with a bowl of gorgonzola cream.
Recipe and image from Sharing Plates, by Luke Mangan, published by Murdoch Books and reproduced with the publisher's permission.
This story originally appeared in PS News online.