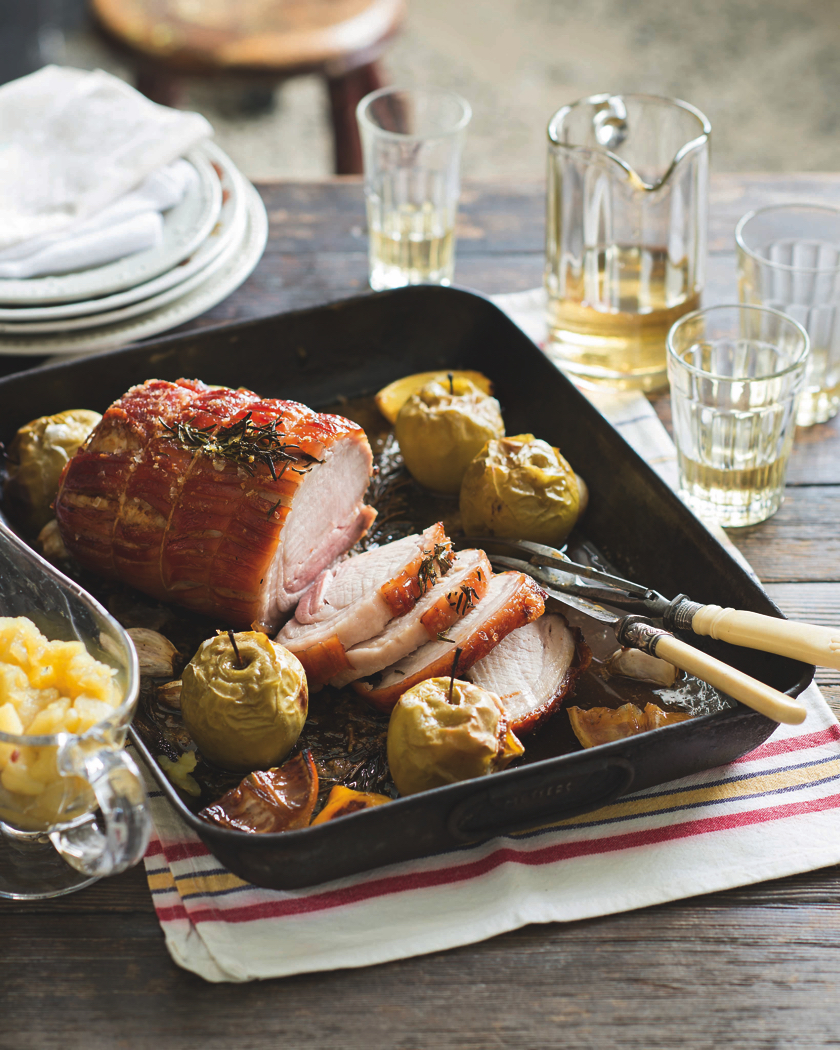 It's fashionable to be a country cook now, to buy a rundown cottage somewhere, grow your own fruit and veg, and then write beautiful blog posts about it or publish beautiful books that make us fantasize about living the same idyllic lifestyle. But Kate McGhie is a country cook in the truest sense of the word.
A farmer's daughter, she was born into seven generations of a family who worked the land. She grew up in Victoria's Western District on a farm that produced everything the family ate: pigs, cattle, sheep, goats, fruit and veg.
The vegetable garden was massive – "about 100 steps in one direction and 200 in another" – and there was a huge potato patch and orchard.
Memories of a country childhood
Although she has travelled the world and been a Melbourne resident for many years, memories of her country childhood are firmly etched in her mind and infuse everything she does in the kitchen. The magic of cooking has been with her ever since she was a little tot watching her nana make meringues, when the separated yolk became the sun, the whisked whites became fluffy clouds and as the sugar was added, the mixture turned into snow.
Yet she is careful not to romanticise the past too much, pointing out that there were times when life was sheer drudgery, and that to be a part of today's lifestyle people can't be expected to spend hours every day grinding wheat into flour.
It's that commonsense approach – the magic tempered with a good dose of reality – that has characterized the columns McGhie has written for Melbourne's Herald Sun newspaper for 30 years. It was very evident in her wonderful book, simply titled Cook, published in 2006 and which went on to win best cookbook in the prestigious Gourmand World Cookbook Awards.
And it's also evident in her new book, Apple Blossom Pie, published by Murdoch Books, in which she explores the foundation and flavour of Australian country cooking through chapters such as The Salad Bowl, The Veggie Patch, Larder and Pantry, The Flock, The Herd, The Piggery, The Orchard and Baking Day.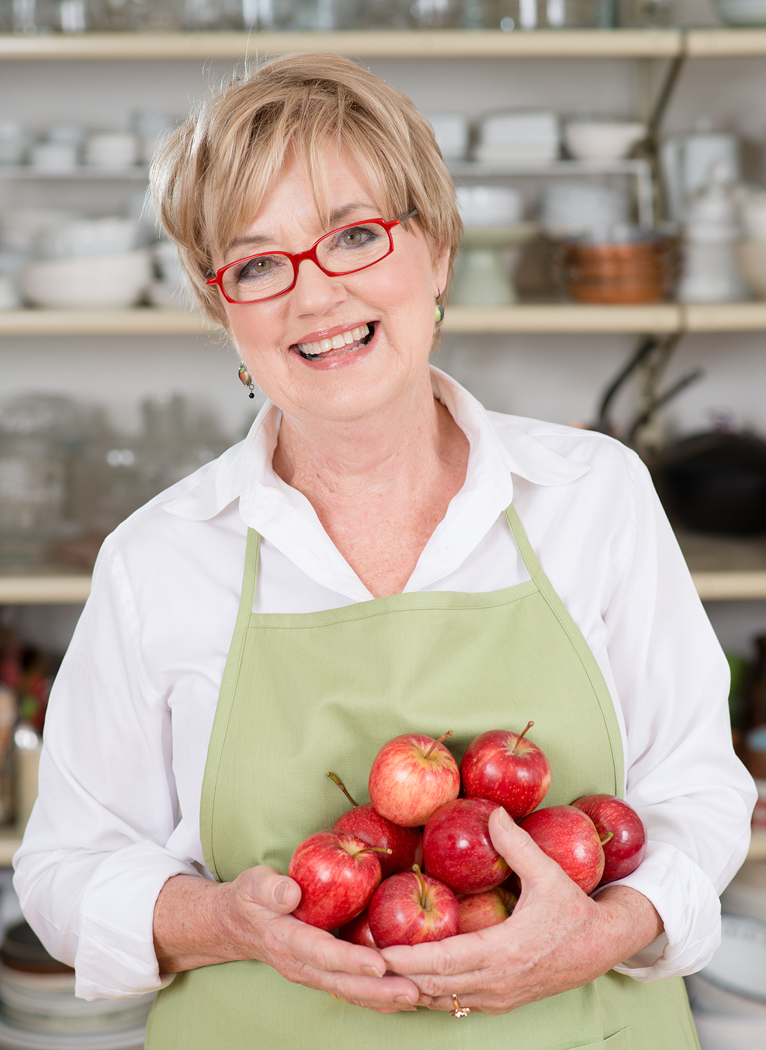 Although they are written with the practical wisdom of country cooks and retain the spirit of traditional country cooking, the recipes in Apple Blossom Pie are by no means stuck in the past. Inevitably, McGhie's approach to cooking has changed over decades of working in the food media, and one of the things I've always admired about her work is how she produces food that is fresh and modern while the fundamental philosophies and disciplines remain proudly intact.
No doubt that innovation was also a skill learned from her mother, for as McGhie points out in Apple Blossom Pie, her mother had to be innovative because every day she had to put a meal on the table based on what was in the garden or in the pantry. "The more limited the larder the greater the need to make use of what was there. … The garden was pivotal to the variety of our meals. She had to be extra creative when cabbages were in abundance!"
Recipes a part of family history
McGhie writes warmly as she reminisces ("An empty tummy is the best cook," says Grandad), and she hopes the recipes will become part of people's family history. It would make a beautiful Christmas gift for someone special, and in the spirit of Christmas, the recipe I've chosen to reproduce here is roast pork.
Roast pork was always on our Christmas table when I was growing up. Never for us the turkey that was always much too expensive when I was a kid, and probably not even available in our small country town. I often wondered why Mum insisted on pork for Christmas, even when we could afford turkey and ham all the trimmings.
Then I learnt that pork was often served at Christmas in rural Australia in days gone by, and in that way, Mum was re-living her own memories. As McGhie expresses so beautifully in Apple Blossom Pie, these memories of food hover over us like guardian angels.
Buy this book from Book Depository.
Buy this book from Amazon.
PORK ROAST WITH CIDER AND PAN-BAKED STUFFED APPLES
Serves 6
3 cups (750 ml/26 fl oz) dry apple cider
¼ cup (60 ml/2 fl oz) olive oil
salt flakes and freshly ground white pepper
3 tablespoons chopped marjoram
1.5 kg (3 lb 5 oz) boneless pork loin
6 small apples (such as granny smith, fuji, pink lady, rome beauty)
½ cup (60 g/2¼ oz) chopped walnuts
1 cup (250 g/9 oz) chopped prunes
2 bacon rashers, finely chopped
thinly peeled zest of 1 lemon
4 plump garlic cloves, peeled and sliced
a handful of marjoram sprigs
Put the cider, olive oil, salt, pepper and marjoram in a bowl and mix well. Lay the pork out flat in a shallow dish and pour the cider mixture over. Leave the pork to marinate for 30 minutes, turning once.
Preheat the oven to 180°C (350°F) (fan-forced 160°C/315°F).
Core the apples from the bottom end leaving the stalks intact. Combine the walnuts, prunes and bacon in a small bowl and use to stuff each apple. Remove the pork from the marinade, roll up and tie with string. Use the point of a small thin-bladed knife to make slits all over the meat and stuff with pieces of lemon zest and garlic. Lay the marjoram sprigs on top of the roast, and secure with string. Put the meat into a heavy-based roasting pan and roast for about 1¼ hours or until well browned and the juices run clear when tested with a metal skewer. After cooking for 30 minutes add the marinade to the pan and use to baste the meat occasionally to keep the meat moist. Add the stuffed apples to the pan about halfway through cooking. When the meat is cooked remove it from the pan, cover it loosely with foil and leave to rest for 20 minutes before carving. Serve with a baked apple.
Apple sauce: To make chunky apple sauce, peel, core and dice 3 large granny smith, golden delicious or bramley apples. Place in a pan with 1 cup (250 ml/9 fl oz) of apple cider and if liked, 3 cloves. Simmer uncovered until the apples are very soft and then remove the cloves. Add enough sugar to sweeten and continue cooking until the mixture is thick and chunky. Stir in a knob of butter. If the sugar is added at the beginning, the sauce will be smooth.
Note from Kate: Although apples are the first accompaniment that comes to mind for pork, we often used quinces or gooseberries, which have an apple-like floral acidity. Leave the pork joint uncovered, skin side up, in the fridge overnight. This helps to dry the skin, which makes better crackling. I recommend a cider with a tart taste and dark cloudy appearance to offset the sweetness of the apples and pork.
Recipe and images from Apple Blossom Pie by Kate McGhie, published by Murdoch Books and reproduced with permission of Murdoch Books.
This post was originally published in PS News online.