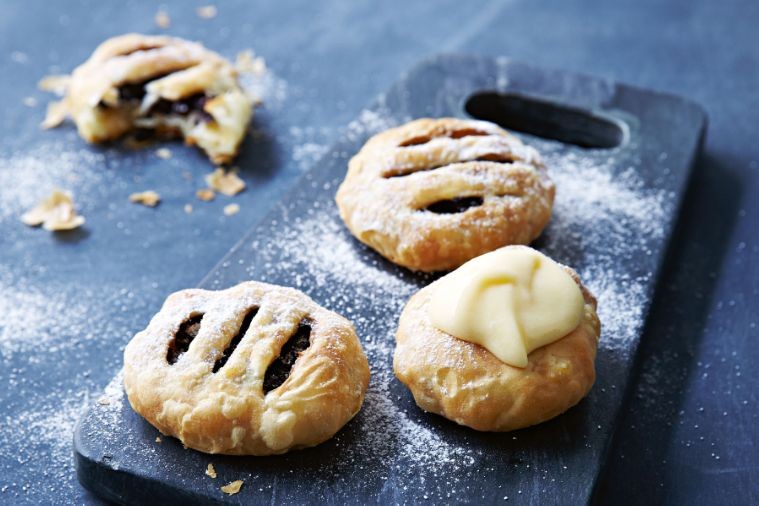 You know that thing where you hear an unfamiliar word or name and soon afterwards you encounter the same name again, often repeatedly? (It's called "frequency illusion" or the "Baader-Meinhof phenomenon". Why it's named after a German terrorist group is another story…)
Well, I first became aware of the name, Nelly Robinson, when I attended a promotional event for Northern England recently. I was told that Robinson, who hails from Northern England, is making a name in Sydney with his restaurant, nel. One of the goodies in the little gift bag I came away with was an Eccles cake, a small, round cake that is much-loved in Northern England.
And what do you know but I'm hearing the name, Nelly Robinson, everywhere now, and I've also been hearing more about Eccles cakes! The reason for this raised consciousness is that nel. is one of the restaurants participating in this weekend's Taste of Sydney, and Nelly has very kindly shared the recipe for the Eccles cakes that he'll be selling at Taste.
The event features more than a dozen of Sydney's newest and hottest restaurants, showcasing more than 50 dishes between them. It's held over four days, finishing on Sunday, and according to my Sydney contributor, is an event not to be missed.
First timers Thievery are serving Barbecued marron with Moroccan spices, while Salaryman are serving crayfish stuffed chicken wings. Three Blue Ducks at the Farm are sure to be a crowd favourite with their fried chicken and hot sauce, and there will be plenty of vegetarian options with Kitchen by Mike offering various salads at the canteen pop-up.
Get your pork fix
There will be plenty of chances to get your pork fix with 4Fourteen's Pig Ear Schnitzel, Kitchen by Mike's roasted pork belly, nel.'s spicy pork neck, and Porteño's porchetta with braised green beans. Firedoor is offering a selection of dishes cooked over hot coals including shrimp on the barbie, signature fries and even a smokin' sheep semifreddo dessert dish. Kensington Street Social will feature its signature dish, the Social 'Dog' – pork and fennel sausage, green apple, black pudding, cheddar and mustard.
Biota will showcase native Australian produce with a braised wallaby taco, while festival favourite, MoVida, will serve Pinchitos Morunos, Flinders Island lamb marinated in moorish spices and cooked over charcoal, as well as embutidos, which are Spanish smallgoods and conserved products. Nel. will do Green Pea & Ham, a 'Box of Treats' with the aforementioned Eccles cake, and its icon dish, Spicy Pork Neck with miso and apple soil, coleslaw and mango sorbet.
For those looking for a hands-on experience, the Electrolux Chefs' Secrets program is a series of masterclasses with renowned chefs such as Peter Gilmore (Quay), Colin Fassnidge (4Fourteen), Mark Best (Marque) and, yes, Nelly Robinson too. There are also live cooking demonstrations.
A special feature this year is the South African Garden where you can immerse yourself in all things South African, including food, wine and masterclasses. Here's a run-down on the event, and in the meantime, enjoy a taste of Nelly Robinson's delicious Eccles cakes with lemon curd.
Fact file:
What? 2016 Taste of Sydney
Where? Centennial Parklands
When? 10-13 March.
Cost? $30 plus dishes/classes.
Ticket information: www.ticketek.com.au
ECCLES CAKES
Makes 10
100g whole dried currants
3 Twinning's English breakfast teabags
Zest of 2 limes
75g caster sugar
100g frozen puff pastry
In a small pan, bring the teabags to the boil. Leave to infuse for 1–2 minutes (or to taste) and then remove. Place whole dried currants, caster sugar and lime zest in a heatproof container and cover with the black tea. Cover and allow to infuse for one hour.
While the currants are infusing, sprinkle a generous amount of self-raising flour on a large wooden chopping board. Using a rolling pin, roll out the puff pastry until it is about 1cm thick. Then using a 5cm metal cutting ring, cut the pastry into individual circles. Place the pastry circles onto greaseproof paper and place in the fridge to keep cool. (This will stop the butter in the pastry melting).
Once the currant mix has infused, strain to remove all excess liquid. Spoon a teaspoon of the currant mixture into the center of each pastry. Grabbing the edges of the pastry, fold up and squeeze closed at the top to form a parcel-like appearance. Pop the pastry parcel in a 2cm ring and push down to ensure the top is sealed. (The cake will rise during cooking to form a ball like shape).
Pre-heat the oven to 200°C. Place the Eccles cakes on a baking tray covered with grease proof paper and cook for 10-12 minutes or until golden brown. Serve with home-made lemon curd, piece of matured cheddar cheese and a cup of English Breakfast tea.
LEMON CURD
Juice and zest of 2 lemons
100g roughly chopped, unsalted butter
125g caster sugar
3 medium eggs, lightly whisked
Over a low heat, in a medium-sized pan, heat the lightly whisked egg, lemon juice and zest and caster sugar, stirring constantly for 3-4 minutes. Then, gradually whisk the roughly chopped cubes of butter into the mix. Once combined, remove liquid from heat and allow to cool before serving.