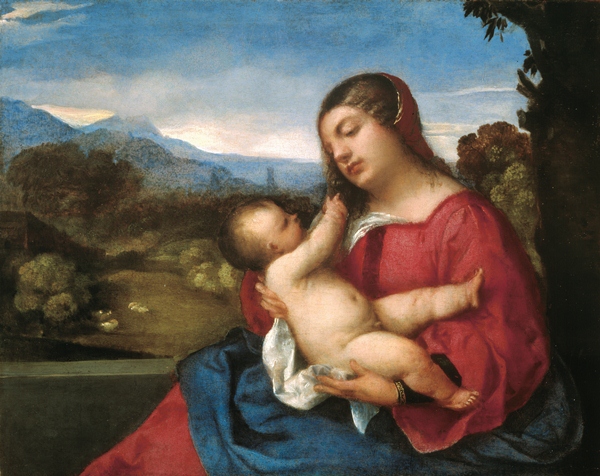 What an inspired decision by the National Gallery of Australia to produce a cookbook to complement the Renaissance exhibition.
Ten and a Half executive chef James Kidman oversees the company's various catering contracts, including Dieci e Mezzo in Canberra's CBD and a number of venues at the Gallery, including the Sculpture Garden restaurant, one of my favourite Canberra venues.
Kidman, formerly of Otto Ristorante in Sydney, produces beautiful Italian-inspired food using top-quality ingredients that are locally sourced wherever possible.
James Kidman's Renaissance Table is a coffee table-quality book with recipes for dishes such as radicchio, pear and hazelnut salad; baby calamari with tomato; veal rib-eye with figs; chestnut pappardelle with rabbit ragu; panettone bread and butter pudding; and classic tiramisu.
Along with Sharyn Cairns's stunning photos that look almost like still-life artworks, there is an introduction on Italian food, art and history.
The book costs $49.95 and is available at the NGA Shop and selected bookstores. It is also available from Fishpond with free postage anywhere in Australia.
Australian pasta company, San Remo – which exports pasta to Italy (how's that for coals to Newcastle?) – has partnered with the Gallery to help bring the exhibition to Australia.
The partnership will see two very special San Remo Chef and Curator Dinners being held as part of the ACT's Enlighten Festival on Saturday, March 3, and Saturday, March 10, 2012.
The dinners will include special late night viewings of the exhibition and talks by James Kidman,  Renaissance exhibition curator, Christine Dixon, and San Remo brand ambassador, Adam Swanson.
The Gallery's Sculpture Garden Restaurant is open for lunch from Wednesday to Sundays with Premium breakfast packages available on weekends.   During summer, you can enjoy Friday evening drinks in the Sculpture Bar.
The Poached Prawns recipe here is from James Kidman's Renaissance Table, but the Panettone Bread and Butter Pudding is a slight variation on the one in the book.
I first tried this dessert at Dieci e Mezzo where it was served with caramel, chestnut and pear icecream. I was bowled over by the dish, and Kidman very kindly gave me the recipe.
More on James Kidman's Renaissance Table.
POACHED PRAWNS WITH FENNEL

Serves 4
12 large prawns, shelled, deveined and tail on
1 litre water
75 g salted butter
Semi-dried cherry tomatoes
10 cherry tomatoes, halved
pinch caster sugar
pinch salt
To serve:
Half the fennel puree (recipe below)
50 ml extra virgin olive oil
20 pieces shaved baby fennel
20 snow pea tendrils
1 teaspoon fennel pollen
For the prawns:
Bring the water and butter to a boil then reduce heat to a gentle  simmer. Place the prawns in the water and butter and poach for about 1 minute. Remove the prawns and serve immediately.
For the semi-dried cherry tomatoes:
Preheat oven to 90ºC. Place the cherry tomato halves on an oven tray, skin side down, sprinkle with a little sugar and salt and roast gently until semi dried (about 10 to 15 minutes).
To serve:
Place a few teaspoons of puree on a plate, arrange three prawns on  the plate, place a few fennel shavings, 5 semi-dried tomato halves and snow pea tendrils on top of the prawns. Finish with a drizzle of  extra virgin olive oil and a sprinkle of fennel pollen.

FENNEL PUREE
Makes 300 ml
1 fennel bulb, roughly chopped
2 golden eschalots, finely sliced
200 ml cream
200 ml milk
30 ml olive oil
In a medium saucepan, sauté the golden eschalots  in a little olive oil until translucent. Add the fennel  and sauté for a further minute. Cover with milk and cream, cook on medium heat until tender. Remove the fennel from the saucepan and puree in a blender until smooth.
Wine suggestion: An aromatic pinot grigio or ribolla gialla from the north of Italy.
Recipe from James Kidman's Renaissance Table, published by the National Gallery of Australia.
PANETTONE BREAD AND BUTTER PUDDING
1 old (1kg) Panettone
10 eggs
275 grams sugar
1200 ml milk
400ml cream
1 orange, zested
1 cinnamon quill
1 vanilla pod, split and scraped
100 grams of white chocolate buttons
Line a baking tray with silicon paper so the pudding does not stick. Lightly butter the paper. Slice the panettone into 1cm lengths.
Place the milk, cream, sugar, orange zest, cinnamon and vanilla in a pot and bring to a simmer. Place eggs in a bowl, whisk together, add to milk mixture.
Place the slices of bread in the baking tray to cover the bottom. Pour enough egg mixture to moisten the bread. Sprinkle some chocolate over it. Repeat until you have used all the bread, milk mixture and chocolate. Allow to stand for 20 minutes to allow all the liquid to be properly absorbed. Cover with silicon paper and another tray. Bake at 130 degrees C for 45minutes or until the custard has set. Remove from oven, allow to cool and press over night with a little weight.
Recipe from James Kidman, executive chef, Ten and a Half.
Renaissance Table is available through Fishpond with free postage anywhere in Australia.