Nosotros Los Nobles (We Are Nobles), a film that has broken all box office records in Mexico, is coming down under. It will feature as the opening night film for the 8th annual Hola Mexico Film Festival.
Showcasing the best of Mexican cinema, the festival will travel to four Australian states from 24 October to 8 December, 2013. Touring Melbourne, Sydney, Adelaide and Perth, the festival will feature more than 100 screenings, live entertainment and parties with Mexican beer and nibbles. (Hey, organisers, why not Canberra? There are lots of film buffs here!)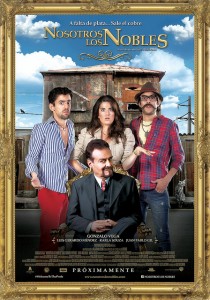 In each city, the festival will kick off with an opening night fiesta and a screening of the surprise comedy blockbuster, Nosotros Los Nobles, a riches-to-rags story told with a heavy dose of Mexican humour.
The film broke box office records upon its release in Mexico earlier this year, selling a record 6.8 million tickets. Directed by Gary Alazraki, it tells the story of construction mogul Herman Noble who realises his children are spoiled beyond redemption and tricks them into believing they are bankrupt and fugitives from the law. He then moves them into a poor neighbourhood and makes them work, something they have never had to do before.
More information: www.holamexicoff.co