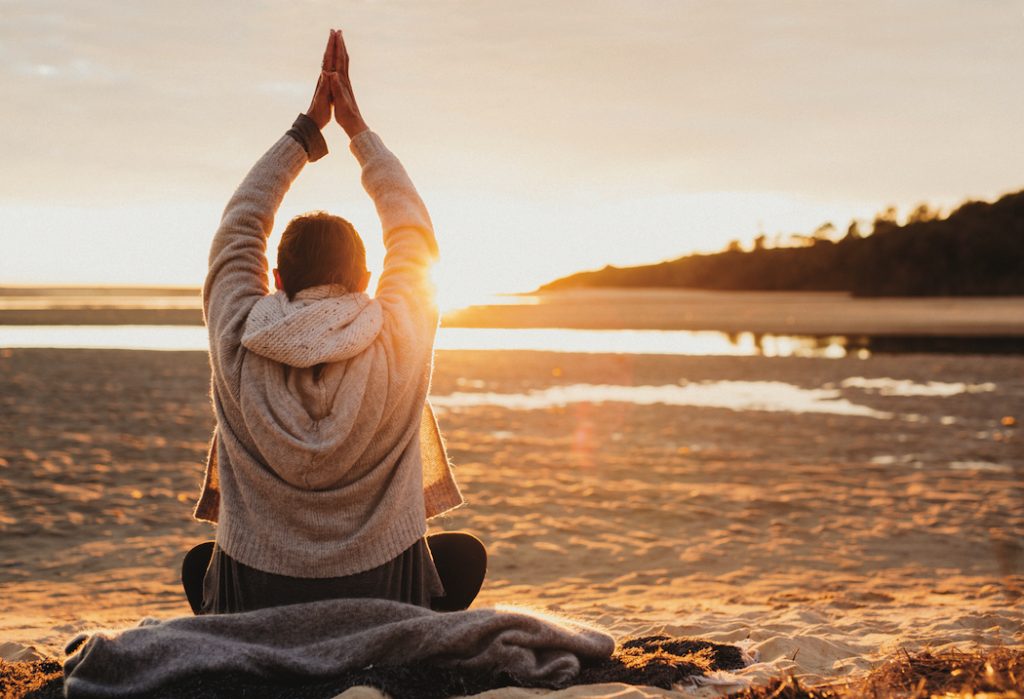 Jody Vassallo has written such a long list of cookbooks even she probably wouldn't be able to rattle off all their names. She began her career working with Donna Hay, writing recipes, styling and testing, and was Food Director at Murdoch Books in the late 1990s. She authored seven Marie Claire best-selling cookbooks and won a slew of awards for 18 additional books.
From 2004 she authored 15 regional food books for Hachette which were published internationally, and more awards followed. In total, she has written nearly 40 books, but none are quite so personal as her latest, The Yogic Kitchen, which takes a food-as-medicine approach to health, based on the ancient Indian practice of Ayurveda.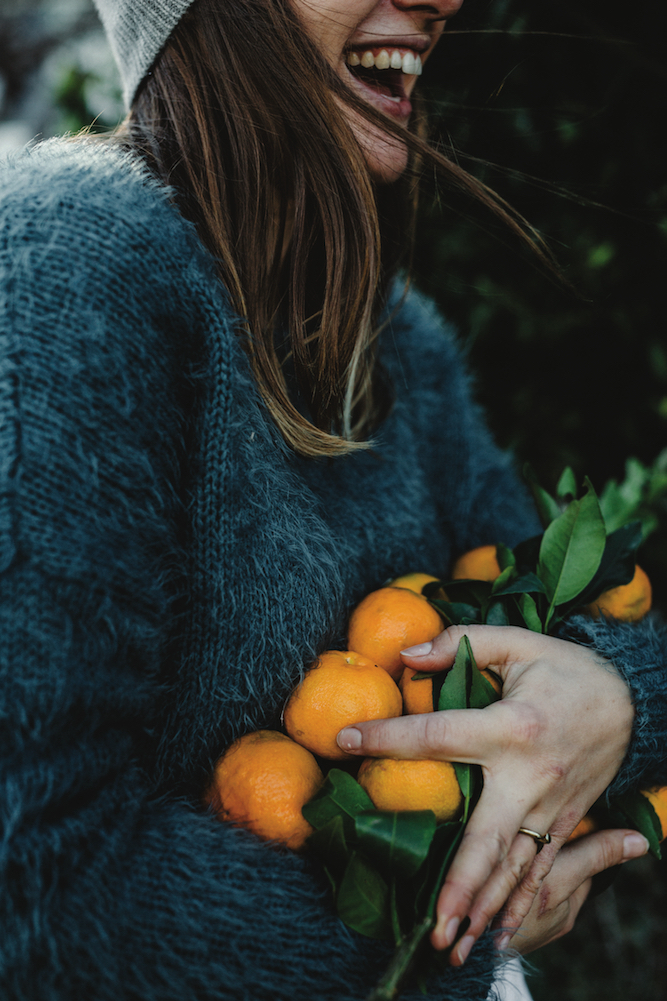 On her Facebook page, Vassallo says The Yogic Kitchen is the first book in which she has written so openly and honestly about herself and her journey with success, failure, depression and anxiety. "It is the first time I've spoken about how I came to Ayurveda and all it has done to enrich my life," she says.
"I want what I write to make a difference but not in a pushy way but a soft gentle 'here let me help you' kind of way. … I intend for my recipes to become good friends, things you will share with those you love again and again and again. I also want you to take soft steps into the world of Ayurveda for there is magic healing medicine in there."
Ayurveda is the sister philosophy of yoga, which Vassallo also practises and teaches. (The book has lovely photos of her on her little farm in Central Tilba, NSW.) According to the Ayurvedic way, human beings are made up of fire, earth, air, water and space, each element occurring in different levels in the body.
People can be classified into three simple "doshas": vata, pitta and kapha. Vatas tend to be creative types, pittas are more competitive and kapha are more moderate. All doshas can be imbalanced. Vata types are encouraged to eat grounding foods like root vegetables and dairy foods on unsettled days, pittas will find relief if they add cooling foods to their diet in hot summery months, and kapha types will benefit from adding warm spices like cinnamon, pepper, turmeric and ginger to their diet on cold, damp days.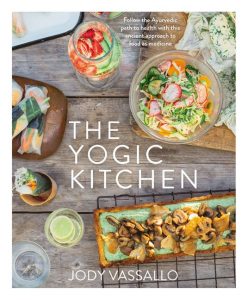 In The Yogic Kitchen, Vassallo shows how you how to identify which of the three main doshas you are and how you can support it with the right medicine. She stresses that it is not her intention to preach … "life is not an exam, we are here to enjoy it and feel good in it". And since the bulk of the book is recipes, that's easy to do … "once you know which dosha you are predominantly and that it is in balance, you could simply skip to that section and eat from there, confident that you are doing yourself some good".
This seriously good Vegan Choc Peanut Butter Cake is from the Vata section.
Buy your copy of The Yogic Kitchen from Book Depository now, with free delivery worldwide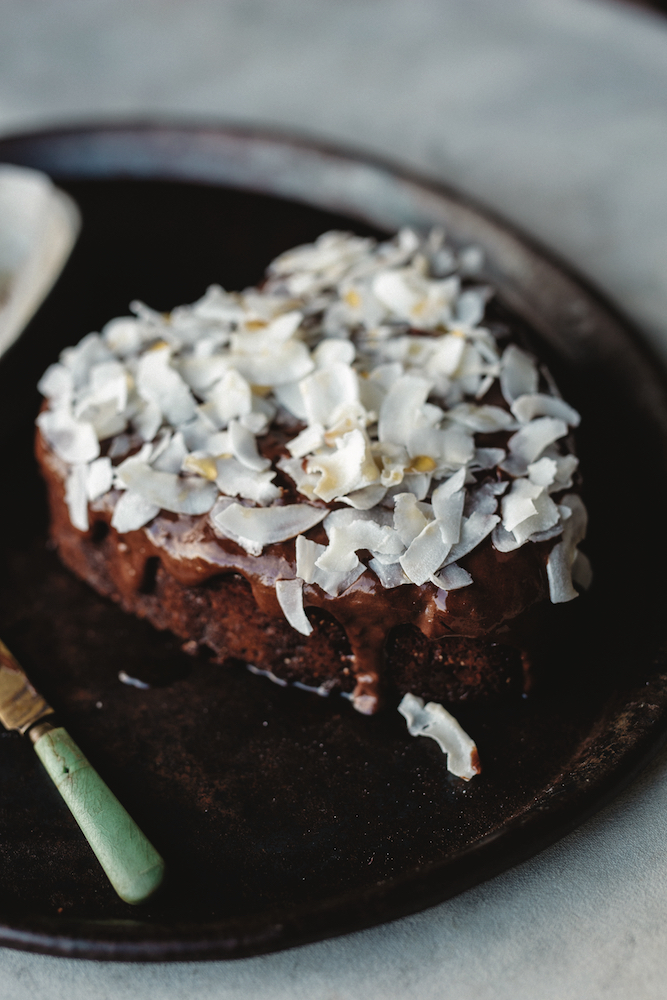 Vegan Choc Peanut Butter Cake
1 cup (100 g) almond meal
1 cup (100 g) dessicated coconut
½ cup (125 g) coconut sugar
½ cup (85 g) cacao powder
3 tablespoons buckwheat flour
2 teaspoons baking powder
2 tablespoons chia seeds
2 teaspoons peanut butter or hulled tahini
1 cup mashed ripe banana (about 3 small bananas)
1 cup (250 ml) coconut water
Topping:
1 ripe banana
2 tablespoons cacao
2 tablespoons maple syrup
1 tablespoon hulled tahini
flaked coconut, to serve
maple syrup, to serve
Preheat oven to 180 deg C. Grease and line a heart-shaped cake tin or 22cm springform tin with baking paper.
Place the almond meal, coconut, coconut sugar, cacao, buckwheat flour, baking powder and chia seeds into a bowl and stir to combine. Combine the peanut butter, banana and coconut water, then fold into the dry ingredients. Spoon the mixture into the prepared tin and bake for 40 to 50 minutes or until a skewer comes out mostly clean when inserted in the centre. (It will be slightly moist because of the nature of the cake.)
Allow to cool for 10 minutes in the tin before turning out onto a wire rack to cool completely.
To make the topping, place the banana, cacao, maple syrup and tahini into a food processor and process until smooth and creamy. Spread over the cooled cake, top with the flaked coconut and drizzle with the maple syrup.
Recipe and images from The Yogic Kitchen, by Jody Vassallo. Published by Murdoch Books and used with the publisher's permission.
This story originally appeared in PS News online.