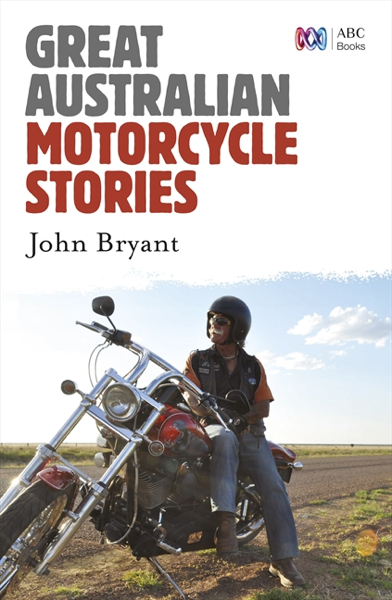 Great Australian Motorcycle Stories. Editor: John Bryant. Published by ABC Books.
Reviewed by David McIlroy.
With a collection like Great Australian Motorcycle Stories it's inherently easy to simply pick up the book, flick to a story with an appealing title and start from there. That's exactly what I did, selecting one from Mick Beltrame about his travels with one or two of his collie dogs on the back of his motorcycles, in which the bond with his dogs is conveyed strongly. I selected this one selfishly because Mick is a fellow member of the Canberra branch of the Ulysses Motorcycle Club.
Maintaining the canine theme in which the same strong bond is evident, I also read about the famous Tex & Bundy duo who have travelled more than 700,000 kilometres raising funds for charities, enabling Bundy to gain the "fastest dog in the world" title (I guess Laika was disqualified, being an exo-atmospheric traveller).
The next story I selected was one by John Bryant himself, covering his earliest days of motorcycling. This one was hilarious, both for his description of his teenage persona, his choice of motorcycling gear, but also his ability to infiltrate the police escort in the procession of one of Australia's biggest VIP visitors in 1970. You'll have to buy the book to discover the VIP's identity!
Most of the stories hail from probably 10 to 20 years ago at least. Only one of the stories is written by a woman, but it's a good one – even if the demographics of modern biking now include a larger female representation and many of these women have proven to be much more avid bikers than the author of Granny Annie's Postie.
There are human interest stories galore, stories about the love of bikes and biking (of course), a ghost story and a weird pseudo-scientific metaphysical racing tale set at Phillip Island Circuit. As an avid motorcyclist, I found this book highly readable and with something for almost anyone, not simply motorcyclists. I recommend it.
The book is available from the ABC online shop.