In recent years, many Australians have headed to Spain to walk the Camino de Santiago. But, if you're a food and wine pilgrim, the good news is that you don't have to leave the country to experience gastronomic spiritualism. …. And, you can travel by car.
The Epicurean Way is the premier food and wine touring route covering four of South Australia's iconic regions – McLaren Vale, Adelaide Hills, Barossa Valley and Clare Valley. It provides pilgrims with an opportunity to sample some of Australia's best wines and experience the finest local produce prepared by award-winning chefs in settings that combine history with modern refinement.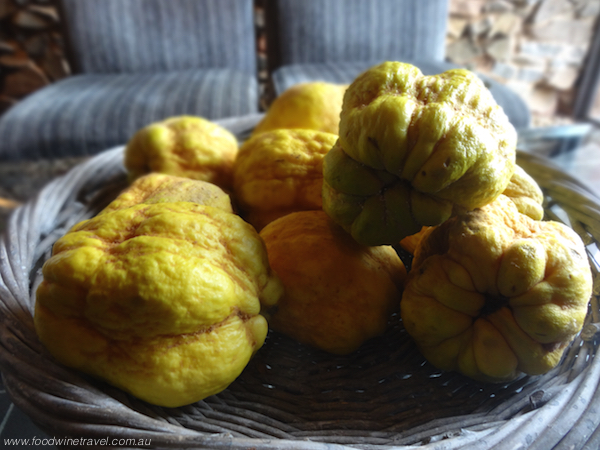 All these locations are an easy drive from Adelaide and your pilgrimage can last two days, two weeks or as long as you like – it depends how much you want to see and experience and how many cellar doors you want to visit. Apart from the food and wine destinations, there are some very picturesque little towns to explore.
It's almost like travelling from village to village in France, but in fact, I think there's more to some of these small towns than many little villages in France. The history of these regions and their viticultural heritage is a remarkable story of migration, settlement, struggle and ultimately, achievement.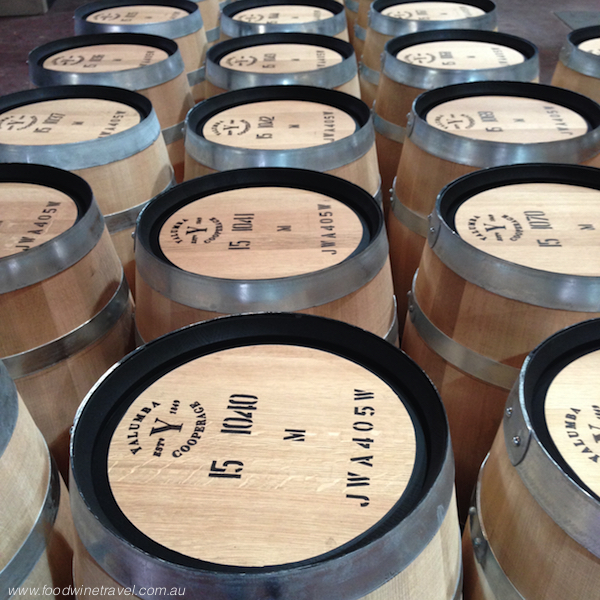 As a guest of Brand South Australia, I joined a tour group led by the very knowledgeable Paul Henry, co-creative director of Tasting Australia, one of the country's most popular culinary festivals. The tour provided just a snapshot of what's on offer on the Epicurean Way.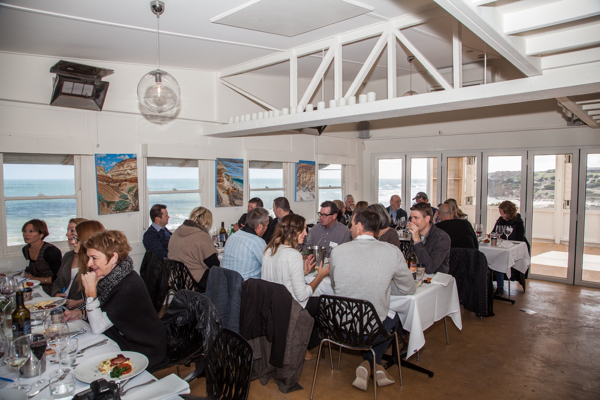 Unlike the Camino, we started our pilgrimage by the sea in McLaren Vale at the Star of Greece Restaurant, perched high on the cliffs of Port Willunga overlooking the beautifully rugged coastline. No, it isn't a Greek restaurant. It's named after the vessel Star of Greece which was shipwrecked there in 1888.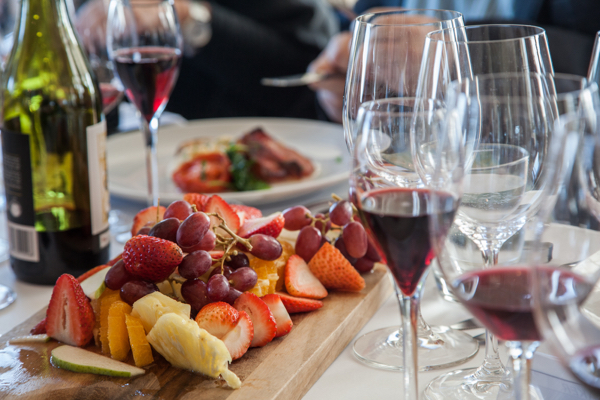 This is a must stop in McLaren Vale and owner Nikki Govan served up a tasty breakfast while we heard from some of the local wine makers – Battle of Bosworth, Inkwell Wines and Brash Higgins.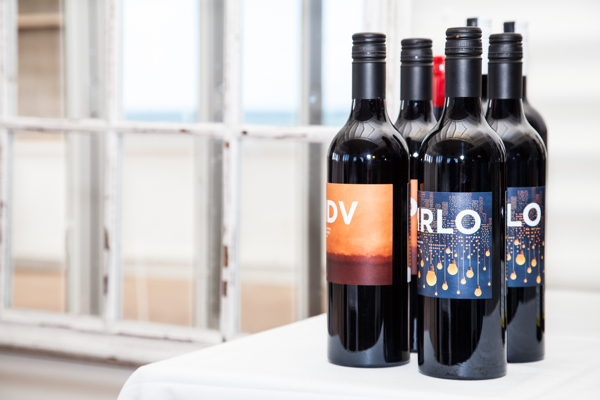 McLaren Vale has always produced some great Chardonnay and Shiraz, and Battle of Bosworth's Chardonnay and Puritan Shiraz are fitting testament to what this single vineyard organic winery can produce in the region. Aged in amphora, Brash Higgins' NDV Nero d'Avola is also a great example of what the region has to offer in the increasingly popular Italian varieties.
The region has an annual music festival and picking up that theme, Inkwell Wines include the Dub Style No 1 Grenache in their range – a variation on a theme and music to my lips. Also worth a visit at Willunga is the McLaren Vale Beer Company. Their Dr Pilkington's Miracle Cider warmed up with a stick of cinnamon is just what you need while gazing at the Southern Ocean.
It's only an hour to the Adelaide Hills where the climate produces fine Pinot and Chardonnay. Along the way, you can stop for a coffee in one of the small towns or pick up some produce from the roadside stalls. In the Hills, we visited Woodside Cheese Wrights, who in partnership with Coriole Wines provide what winemaker Alex Serrah (yes, that's his real name) calls the "one-stop party shop".
Our lunch there was excellent, starting with canapés including a duck rillette with beetroot and Lilliput capers matched with 2014 Coriole Fiano. We tasted Coriole's Picpoul, Barbera and Shiraz, but the stand out for me was their 2010 Vita Reserve Sangiovese, a great match with the main course, Angus Pure Thomas Farms beef tenderloin.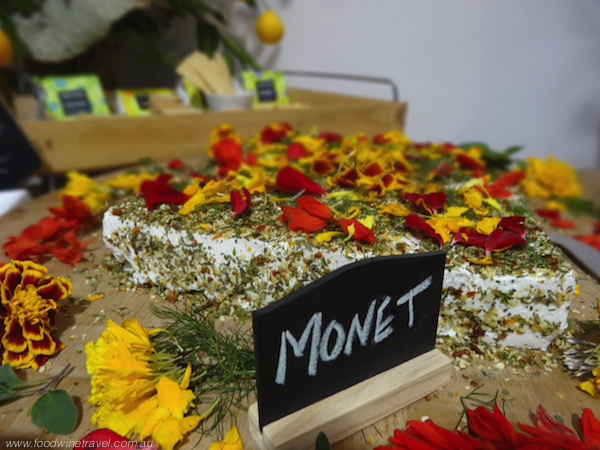 We finished with a cheese buffet which included the Woodside Cheese Wrights Monet, Drunken Goat and Raw Buffalo. It was hard to leave that lunch while there was still some cheese left.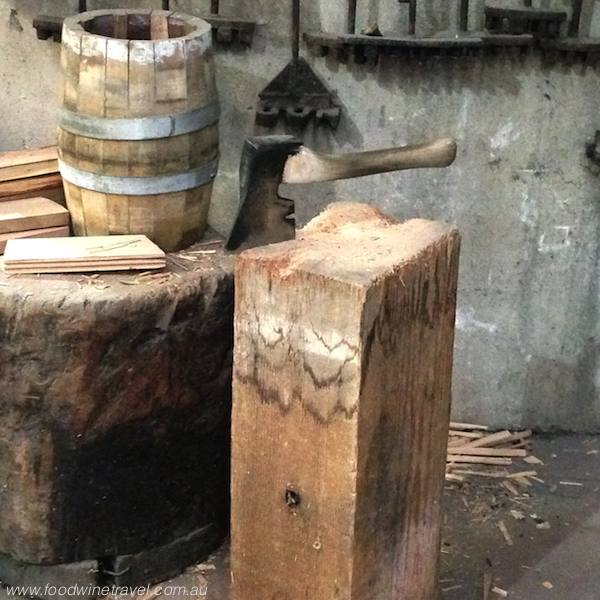 Another hour travelling through some picturesque country and inviting little towns and we were in the Barossa amid the stately surroundings of Australia's oldest family owned winery, Yalumba. This is one of only a handful of wineries in the world with its own cooperage and you can witness the skill and age-old tradition of barrel making. The museum at Yalumba contains not only some of their oldest vintages but also a collection of rare and exclusive wines from around the world.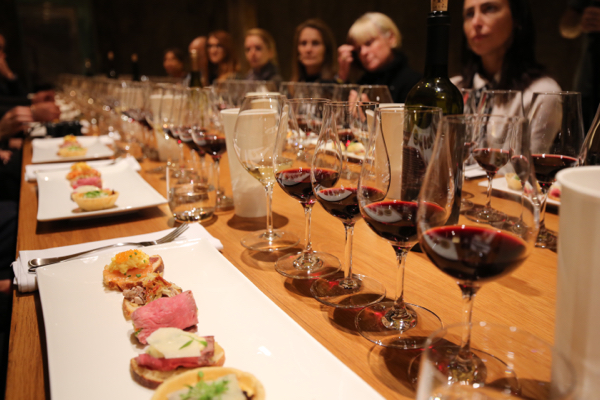 The experience of sitting at the long table in one of their old underground cellars was almost spiritual, the light giving the waxed walls a dull medieval lustre. We sampled six of their best wines with matching food; I can still taste the 2012 Signature Cabernet Shiraz with a canapé of rare beef, autumn vegetable and horseradish. I also discovered that there is such a thing as a breakfast wine. The 2013 Virgilius Voignier goes beautifully with smoked salmon and scrambled eggs – a revelation that could not have occurred in any other setting.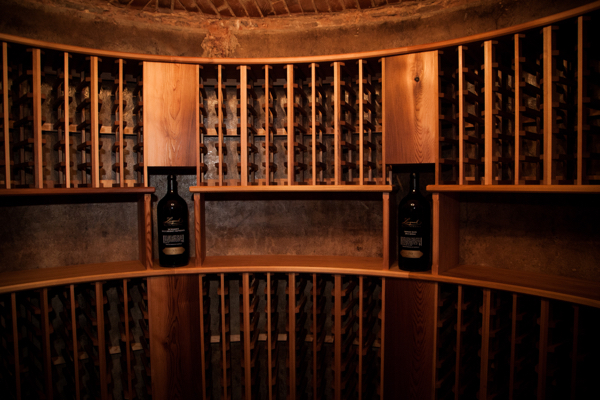 Langmeil Winery in the Barossa has some of the oldest surviving Shiraz vines in the world – something that many people from overseas don't generally know. Its buildings are also part of one of the earliest settlements and have been intelligently preserved to evoke the pioneer spirit and sense of ingenuity and struggle. A fascinating tour through the buildings was capped off with a taste of Langmeil's Freedom Cabernet Shiraz while James Lindner proudly displayed his winery's Barossa Trust Mark – a sign of quality, integrity and sustainability in the region.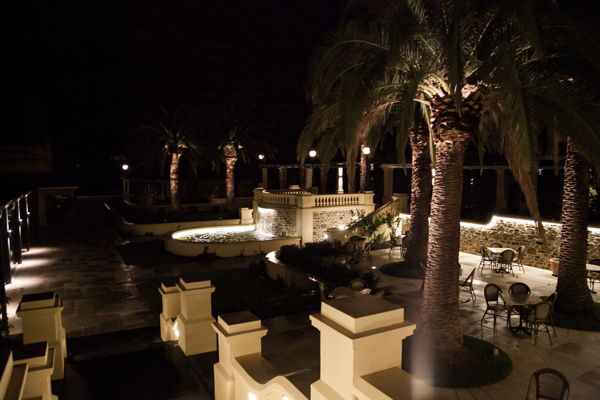 The Barossa is also home to the iconic Seppeltsfield Winery dating back to 1851. This estate has been through some difficult times, but the historic 1888 Gravity Flow winery has been restored and updated and production has never been better. If you happen to be there at harvest time it will be a sight you won't forget. The road from there to the cellar door is lined with the imposing date palms that have become symbolic of Seppeltsfield.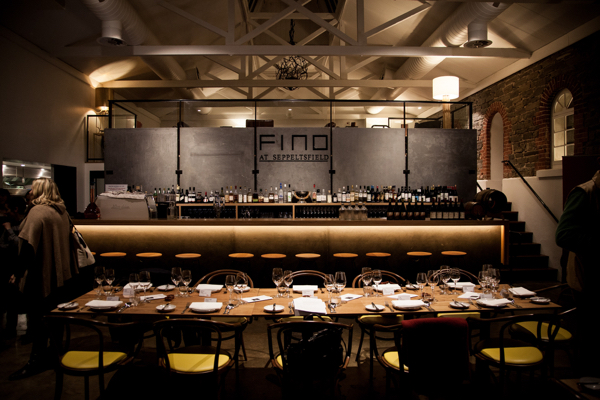 We dined at FINO restaurant in the historic Seppelt bottling hall, which specialises in Barossa produce very thoughtfully matched with a selection of their excellent wines. I particularly liked the Brussels sprouts, baked ricotta, barley and chilli matched with 2014 Tscharke Project Naturalis Savignin. The main course was Hutton Vale lamb and root vegetable pie matched with 2013 Travis Earth Unwooded Mataro. Given the chance, I'd probably eat this every day.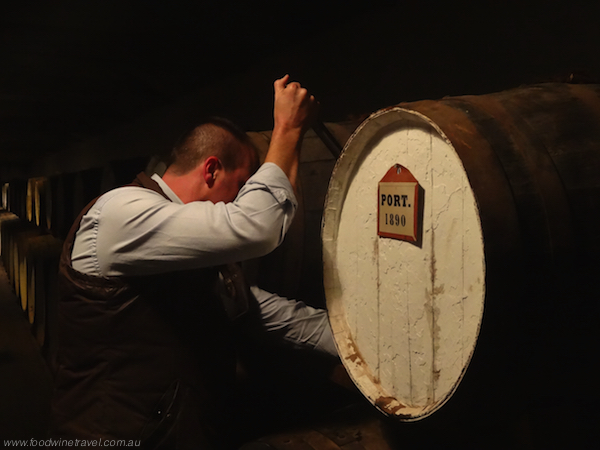 The finale was a visit upstairs to the barrel room and a glass of Seppeltsfield Centenary 1915 Tawny straight from the barrel to commemorate the 100 year anniversary of Gallipoli. What makes the Centennial Collection unique is that it contains every vintage since 1878. No other winery in the world is able to release a 100 year old single vintage Tawny every year. If you do the tour at Seppeltsfield you can try one from your birth year. Looking at that glass of Tawny I thought, 'this was probably the best thing to come out of 1915'.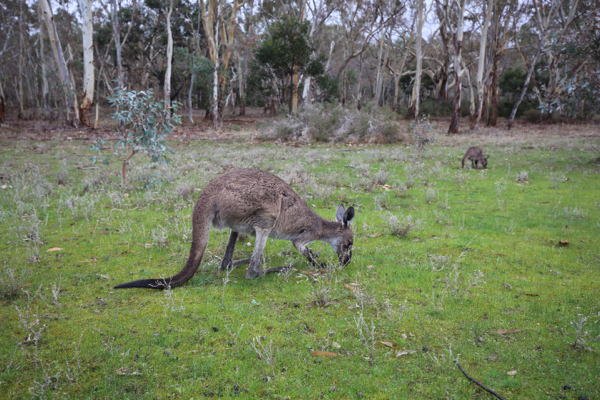 After a restful night at the Novotel Barossa, we set off bright and early for the Kaiserstuhl Conservation Park. For the epicurean pilgrim, a walk through the bush and communion with the numerous kangaroos may be just what you need at this stage.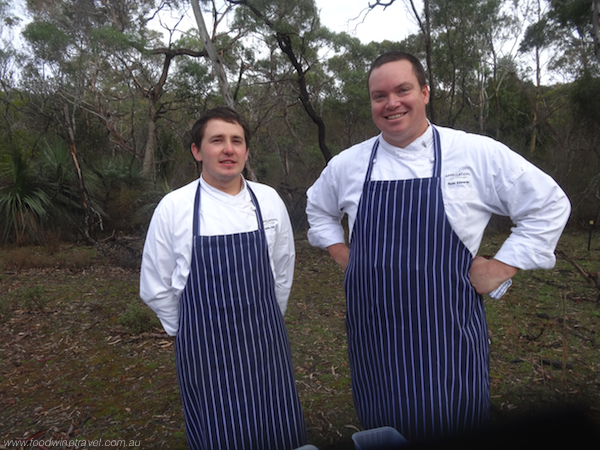 Otherwise you can arrange for a gourmet breakfast half way along the trail, prepared by Ryan Edwards (right) and Jamie Wall from Appellation at The Louise Hotel. This is a great food experience in a bushland setting and a nice variation on what The Louise has to offer.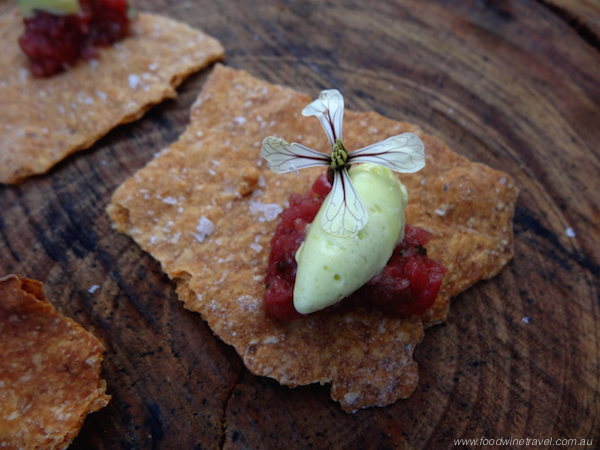 Wine writer James Halliday named Hentley Farm 2015 Winery of the Year and it's not hard to see why. Its reputation has been gained in a relatively short time and with a menu that depends on what's available locally on the day, chef Lachlan Colwill has a winner. You either have the 2-hour lunch or the 4-hour lunch and apparently most people opt for the 4-hour experience. After a wine tasting with some very innovative and tasty canapés, I made a mental note to come back for the full experience.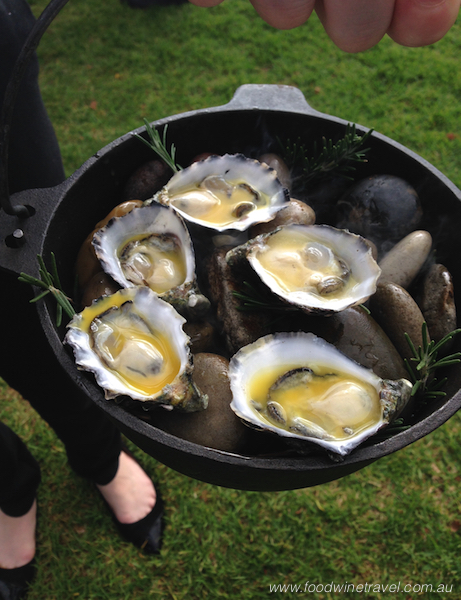 Being an oyster lover I was intrigued with the Smokey Bay Angel oysters with passionfruit juice and rosemary – even one of our group, who doesn't usually eat oysters, thought they were very good.
Driving into the Clare Valley from the Barossa, you pass through the town of Auburn, birthplace of C. J. Dennis and home to the historic Rising Sun Hotel. It also has some cute little craft and gift shops and welcome coffee stops.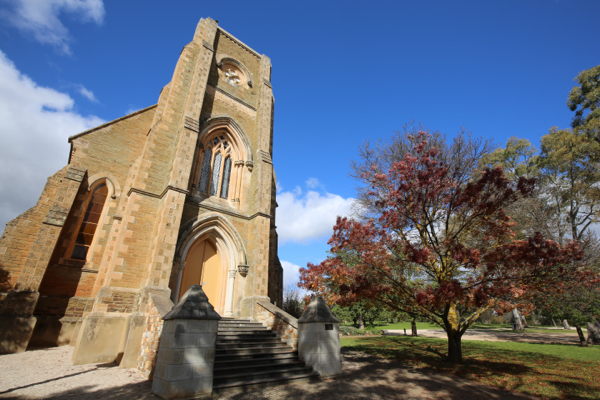 At Sevenhill Cellars the pilgrim can be uplifted, especially after sampling its St Francis Xavier Riesling. Sevenhill was established by the Jesuits in 1851 as the first winery in the Clare Valley. Initially it was established to make sacramental wine, but helped to put Clare Valley on the map when it began to produce premium table wines.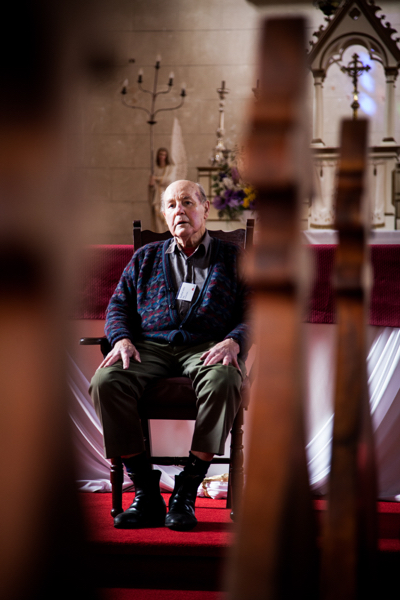 If you take the tour here you're in for a real treat because it begins with a talk by winemaker and living legend, Brother John May. Seated in the church he explains the history of the Jesuits in the Clare Valley, the construction of the church and the development of the winery. His friendly and gentle manner will probably give you more warmth than the wine itself. Don't forget to visit the crypt under the church where members of the order have been buried.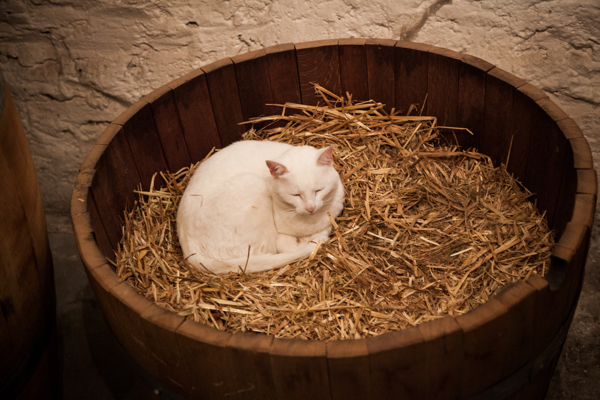 The cellar door has a very interesting museum and you can also learn a lot from the resident winery cat, Maysie. Sevenhill has an extensive range of wines, including some good fortifieds. True to the region, its Rieslings, at good prices, are among the best. If you want to go to the high end, its flagship is the very fine 2009 Brother John May Reserve Release Shiraz at $95.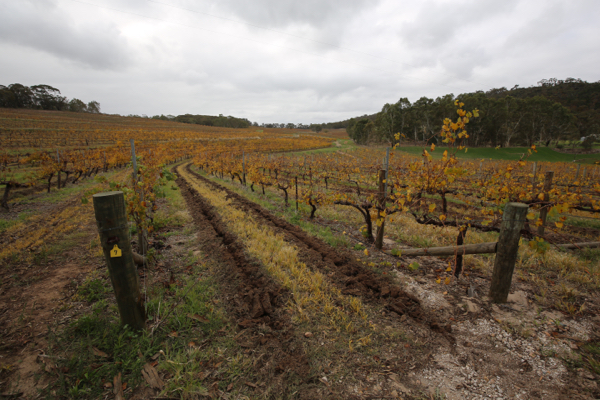 We ended our pilgrimage at Skillogalee, one of the oldest cottages in the Clare Valley and now one of the best restaurants, set among colourful abundant gardens. Nicola Palmer is the chef and daughter of the owners, Dave and Diana Palmer, who have faithfully maintained the tradition and history of the place. The menu presented a hard choice – a rare occasion when I could easily have selected any of the options available.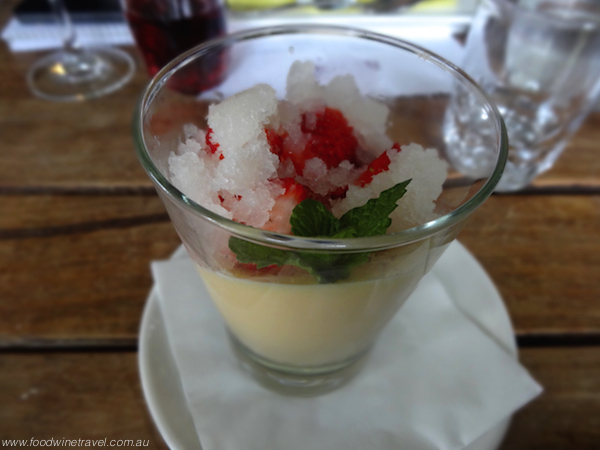 I opted for the Grilled Australian sardines with sauce vierge and crusty bread, followed by Duck breast and orange salad with Lebanese cucumber, cherry tomatoes, snow peas and a honey mustard dressing. To finish, I had Apricot panna cotta with almond praline, strawberries and pear granita (above).
Skillogalee Trevarrick wines and Wines by KT complemented the menu. KT is Kerri Thompson, previously at Leasingham, but now producing quality wines under her own label. David Palmer explained that 'Skillogalee' means a thin porridge or gruel, what the early settlers ate. Considering what we ate, I'd say things have come a long way.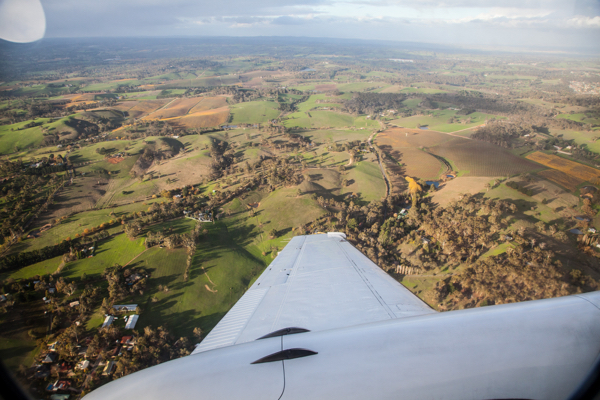 So, you don't need sensible shoes and walking poles. You just need a good appetite and enough time to explore the many heavenly delights of the Epicurean Way. Go to www.southaustralia.com.au, click on 'things to do' for suggested itineraries and more information on the Epicurean Way, and start planning your tour now.
Read Maurie's story on the Epicurean Way in Issue 3 of FWT Magazine.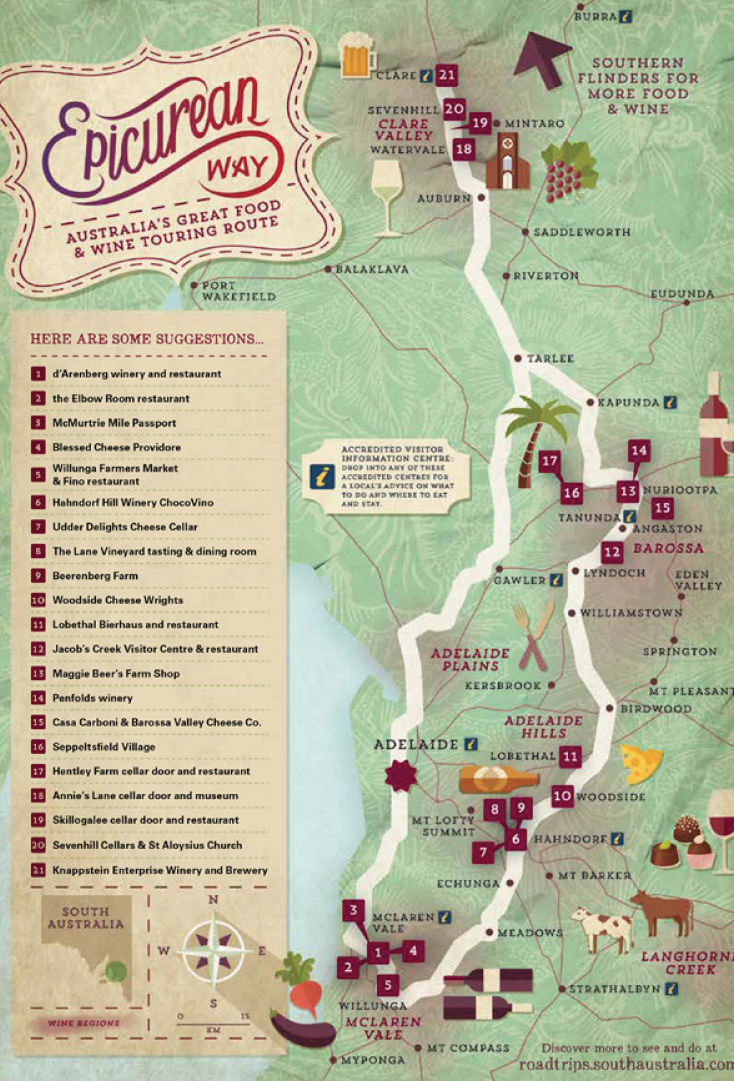 Photos watermarked Food Wine Travel taken by Maurie O'Connor.
Other photos supplied by Brand South Australia.
Maurie travelled as a guest of Brand South Australia.