Katnook Odyssey Cabernet Sauvignon & Katnook Prodigy Shiraz, $100 each

Love and marriage go together like a horse and carriage … and so it is with Katnook's flagship duo, Odyssey Cabernet Sauvignon and Prodigy Shiraz. Looking at one of these fine wines without the other doesn't seem right. Perfect and pure expressions of Coonawarra's most successful varietals, they both have the honour of being listed in Langton's Classification of Australian Wine, Odyssey as 'Outstanding' and Prodigy in the 'Excellent' category. Always sought after – they are particular popular in Asia – these recent releases could well be the finest to date.
Katnook winemaker Wayne Stehbens says the 2012 vintage was one of the finest ever in Coonawarra. "It was a very early, warm, dry, low-yielding vintage which led to intense fruit aromas, great depth of flavours and fine tannins for both Odyssey and Prodigy."
Both wines have been fine-tuned over many years – little wonder it is such a successful marriage. Odyssey, one of 52 'Outstanding' wines in Langton's, was first made in 1991. With intense blackberry and leafy notes, and complex layers of chocolatey oak, the 2012 is full-bodied and tannic, even more so than usual.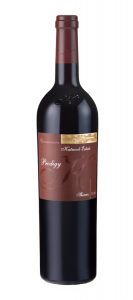 Like Odyssey, Prodigy was basket-pressed and matured in a combination of French and American oak. Prodigy was first made in 1997 from young vines and was an instant success, winning the Jimmy Watson trophy at the Melbourne Wine Show in 1998. The 2012 Prodigy is somewhat brighter and more elegant than the Odyssey, more raspberry than blackberry, with fine tannins and hints of liquorice and spice.
Both wines have a long finish and years of cellaring potential. I guess that means they will last the distance … like all good marriages.