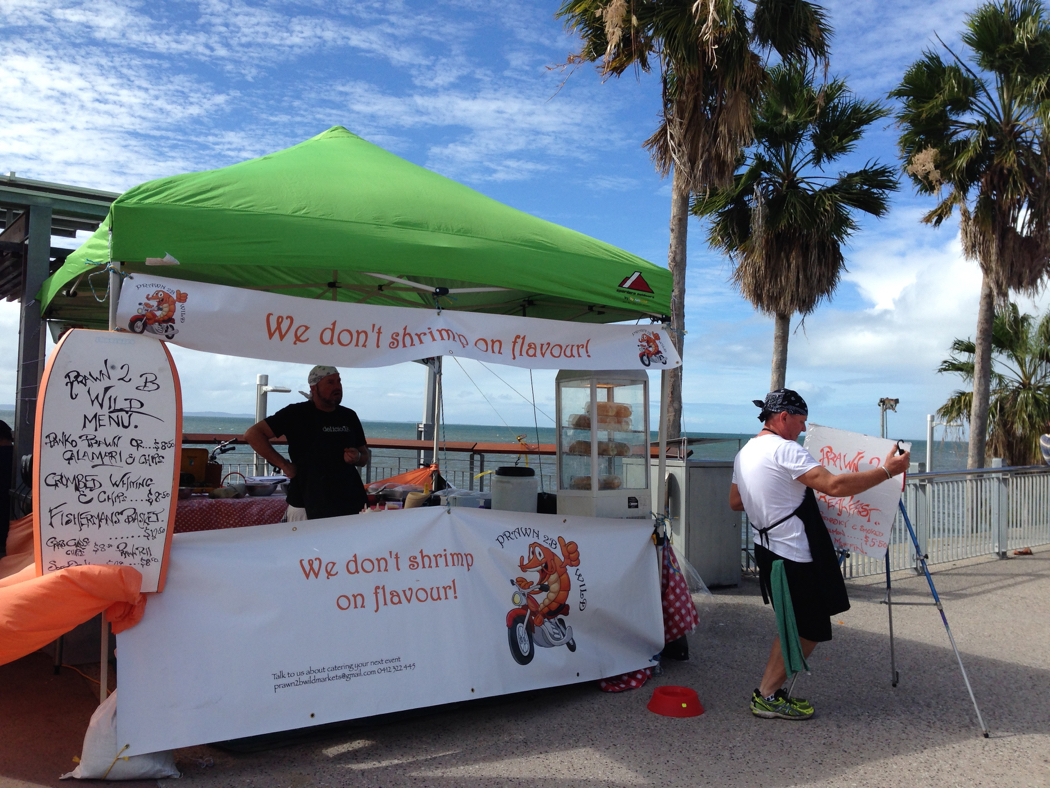 What a weekend we've had, with some fabulous events and experiences, not to mention some very wild weather. It was all happening on the Gold Coast, in Brisbane and even right here in Redcliffe.
Night Quarter Helensvale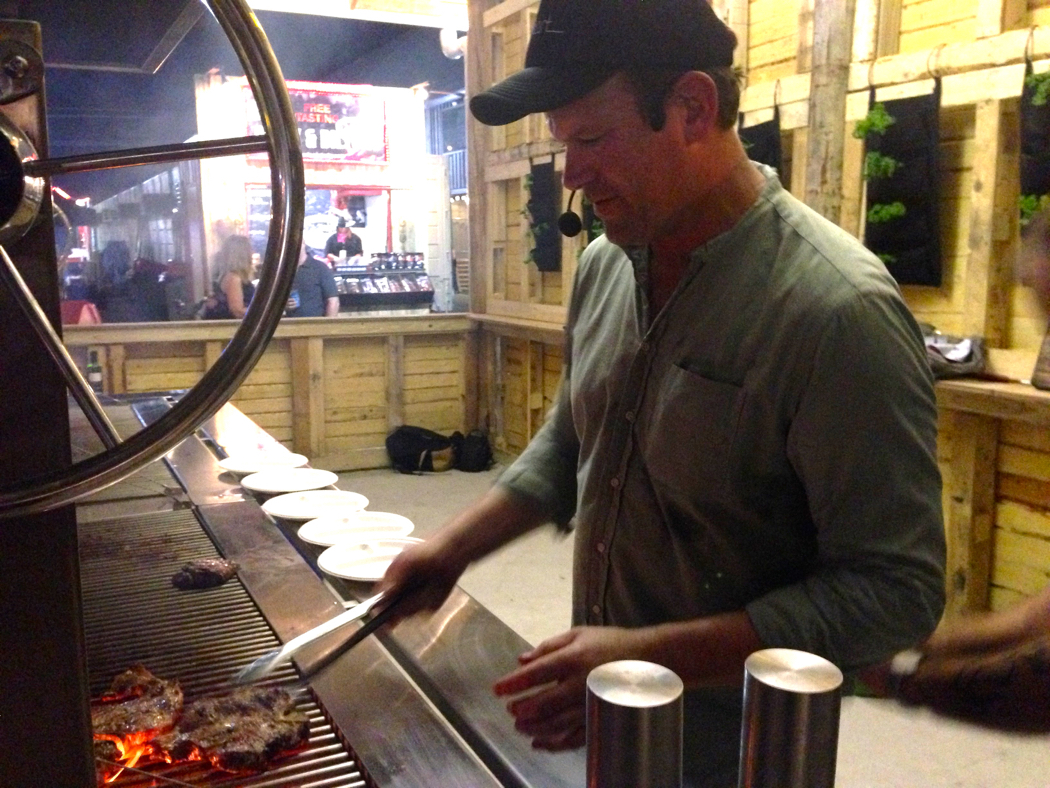 Friday night saw the opening of the Gold Coast's Night Quarter, a serious rival to Brisbane's Eat Street. In a previously vacant area near Helensvale railway station, numerous shipping containers and an open pavilion have become the home of fashion, food and entertainment every Friday and Saturday night from 4pm till 10pm. It's a casual place to eat and drink, buy local produce or jewellery, craft and fashion items, as well as have a haircut or a massage and listen to live music. With so much great food on offer it was a hard choice, but we settled for a prime steak cooked to perfection by celebrity chef Ben O'Donoghue in the Backyard, the Quarter's barbecue area.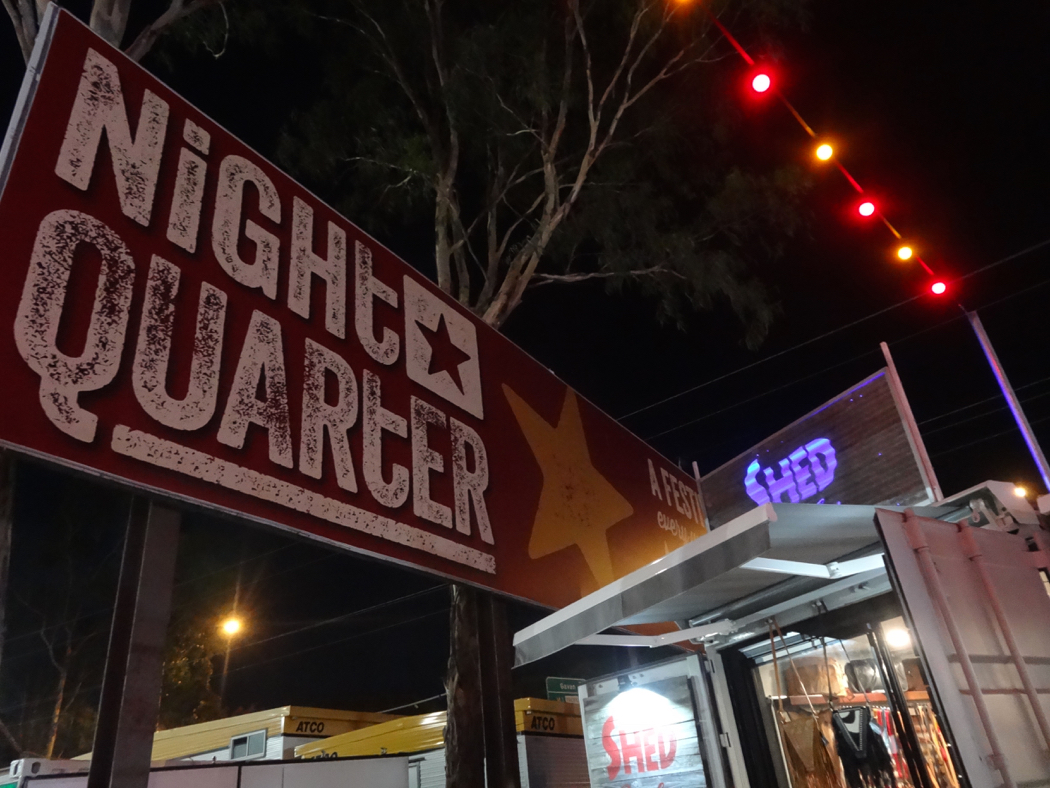 A Good Sleep-in
A good sleep-in is essential to a relaxing weekend. Arranging your weekend schedule around a sleep-in is highly recommended by nine out of ten general practitioners and every well-balanced and sane person. On Saturday or Sunday morning every café around the country is gearing up for the 11am brunch influx after the sleep-in. Take my word for it; a sleep-in is not to be missed.
Saturday Brunch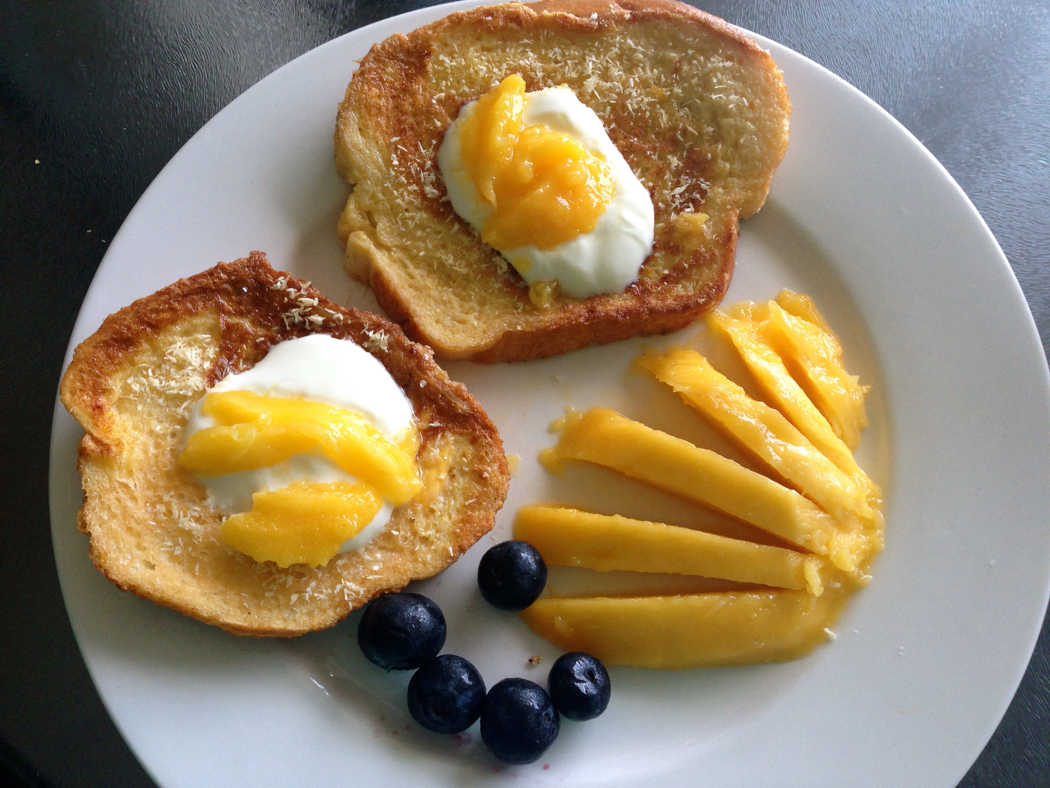 It looks like being a great season for mangoes in Queensland because even this early in the season, the Kensington Prides (our favourite) are juicy, flavoursome and inexpensive. What can be better for breakfast than fresh mangoes enjoyed on the deck overlooking Moreton Bay on a bright warm Saturday morning? Here's the recipe for our summer brunch:
French toast: Beat two eggs with a tablespoon of vanilla essence and a dash of milk, dip in slices of fresh bread and fry till golden. Place on plate and sprinkle with desiccated coconut, then add a good dollop of yoghurt or ricotta on top. Slice half a mango and arrange on plate with the French toast. Add some blueberries or blackberries and some mint as desired.
Hank Marvin Gypsy Jazz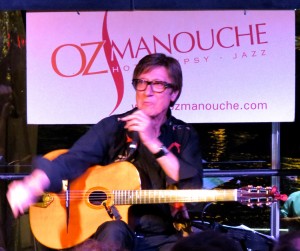 Saturday night at the Brisbane Jazz Club and Hot Club Swing set the mood with an exciting style of gypsy jazz and French romance as part of the 2015 Oz Manouche Festival. The headline act was Hank Marvin Gypsy Jazz. Hank is right up there with the greatest rock guitarists of all time.
As lead guitarist for the Shadows, backing band for Cliff Richard, he influenced many of the world's most famous rock guitarists and, like Cliff Richard, he's still going strong.
These days he lives in Perth and heads a fabulous little group playing gypsy jazz. Along with Nunzio Mondia on piano accordion, Gary Taylor on rhythm guitar and Pete Jeavons on double bass, they wowed a sell-out crowd, evoking the spirit of Django Reinhardt and having lots of fun. These guys are such accomplished musicians that they can vary styles and slip in a few well-known riffs from the Shadows and others with rhythmic ease. They first appeared at the Oz Manouche Festival, hosted by the Brisbane Jazz Club, in 2008. Let's hope they come back again.
Redcliffe Markets
If your dog wants to meet other canines and your kids want to play in a jumping castle, there's only one place to be on Sunday morning in Redcliffe and that's at the markets. You can also buy clothes, crafts, meat, bread, fruit, vegies and a range of stuff from near and far. This week, Christmas was well and truly evident with decorations and Christmas gifts on offer in a festive atmosphere. One of the things I really love about the markets on Redcliffe Parade is that they always have such terrific musicians performing there. Sometimes I go just to listen to the music.
But, there's also another market in Redcliffe on Sunday mornings. It's held at the Redcliffe Showgrounds, with stallholders setting themselves up around the racetrack selling a fascinating array of trash, treasure, plants, fruit and vegies, tools, electrical equipment and everything else you can't get in a department store. Dogs are not allowed here but kids are no problem, except when their parents won't buy them the cheap secondhand toys. If you want to catch this market and pick up some great bargains, you can't sleep in because it's all over by 11am.