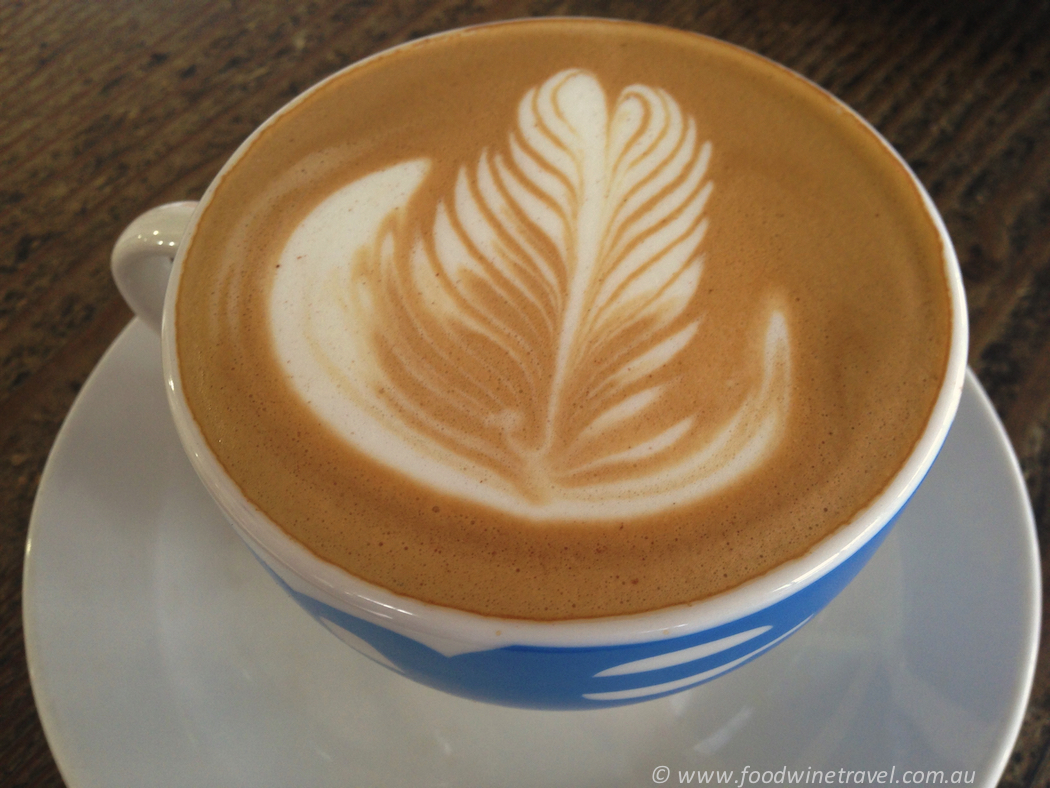 Here at Food Wine Travel we love our coffee, so when we heard that Merlo Coffee's Bean of the Month for December is a Colombian bean available nowhere else in the world, we were eager to try it. And yes, we're giving it the thumbs up.
It's a smooth, medium-bodied coffee with medium-high acidity and no bitterness – indeed, quite the opposite, with sweet vanilla notes and even a hint of caramel. We popped into Merlo's torrefazione (roasting house and café) in the Valley, where we enjoyed a flat white (for me; pictured) and a soy mocha (for him), costing $7.80 for the two.
This Cup of Excellence award winner comes from the 2.9 hectare Lucitania farm in La Vega, Colombia, where Victor Fajardo and his wife, Yaneth Palacios, have been perfecting their coffee for more than 20 years. They scored 85.53 in the Cup of Excellence awards, a prestigious competition that brings together farmers, exporters, buyers and coffee industry professionals from all over the world.
Bean of the Month at Merlo
Entries are cupped by national and international judges at least five times during the competition and the top contenders are sold to the highest bidder during an internet auction. Brisbane's Merlo coffee roasters secured the exclusive supply of this one and has it as Bean of the Month in its venues until sold out.
The coffee is certified by the Rainforest Alliance, Fairtrade International and UTZ, a program for sustainable farming.
Merlo was responsible for introducing Queensland to its first espresso machine in the 1950s, and can also take credit for having the city's sidewalk dining laws changed in 1993 to allow outdoor café seating. Can it really be so recently that we've been able to enjoy the luxury of sitting in an outdoor café watching the world go by?
It's definitely set a new trend with its Colombian Cup of Excellence.
You might also enjoy our post, Merlo launches special filtered coffee.