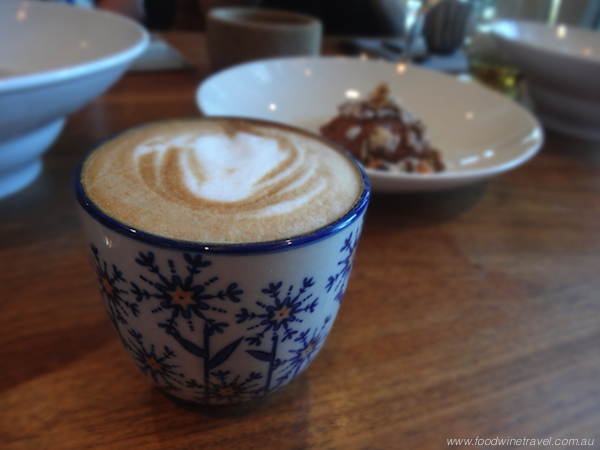 "My dad's got a sense of humour," said Johnny Walker when we remarked on his name (as no doubt others before us have). Walker (below) is responsible for esq., the casual dining part of Esquire, one of Brisbane's most esteemed restaurants. Esquire was the only three-hat restaurant in the 2014 edition of the Brisbane Times Good Food Guide. It has won three hats in all three editions of the Guide, its polished service and beautifully crafted food putting it at the pinnacle of Brisbane dining. The executive chef responsible for its success, Ryan Squires, was awarded chef of the year in the same Guide.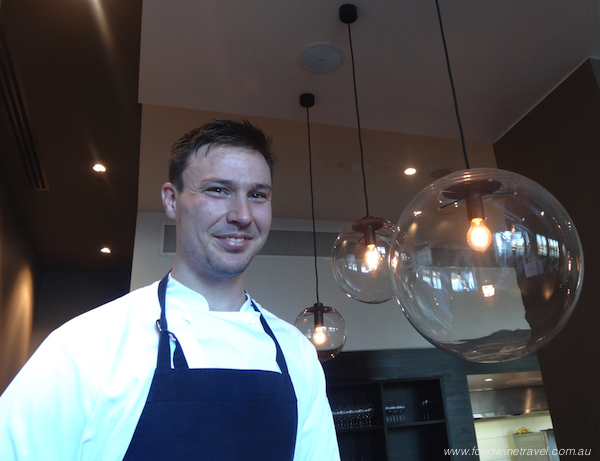 esq. is a more casual version of Esquire, producing simpler food but still with an emphasis on beautiful ingredients with some surprise touches to make things interesting. In many ways, the lines between the two operations are blurred. esq. diners are seated on one side of a wall dividing the restaurant, Esquire diners on the other, but when esq. fills up, diners might find themselves seated in Esquire having the esq. menu.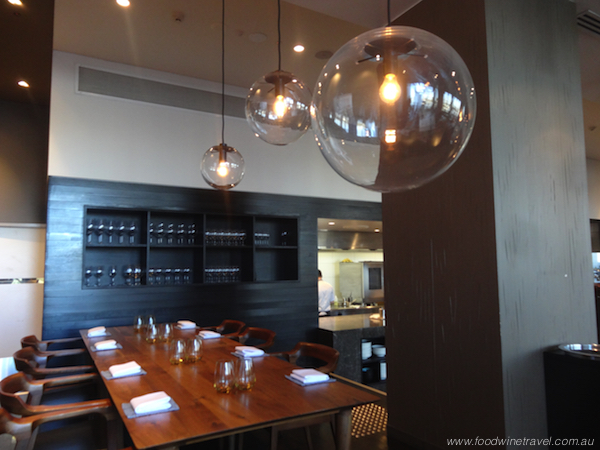 Although Esquire's menu is degustation only, there's a natural synergy in the food, not least because a lot of it is cooked over a large charcoal grill that is a focal point of the restaurant's design. You have to walk right past it to get to the tables in Esquire, so you might see the chefs roasting meat or cauliflower or some of the locally sourced and sustainably caught seafood that features on the menu.
The same philosophy of seasonal and local underpins both the Esquire and esq. menus. The dishes aren't really described on the menus; they're really just lists of ingredients and, as such, are not particularly enticing. They're certainly no clue to just how beautiful and how creative the food actually is.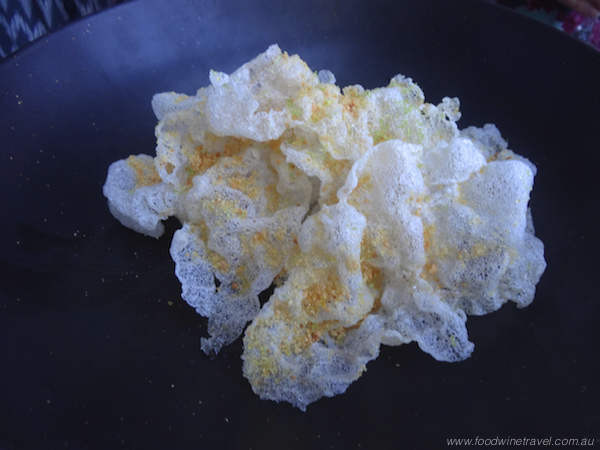 We started with bubbles on the terrace, overlooking the Story Bridge, as the waiter passed around a bowl of wafer thin slices of deep fried beef tendon (above). It sounds unappetising but these were a taste explosion as they were puffed up like soft delicate rice crackers that dissolved on the tongue. They were sprinkled with a very more-ish kaffir lime and peanut coating.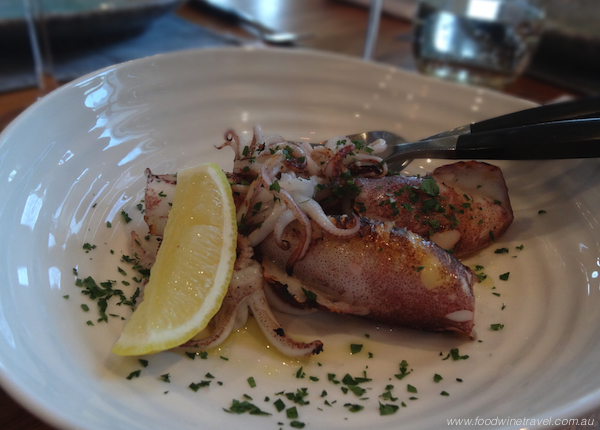 Moving inside, a crisp and refreshing Paco Lola Albarino from Spain kept pace with a succession of shared plates, including Moreton Bay calamari coated with garlic, lemon and parsley (above); and highly marbled rib-eye beef from the Australian Agricultural Company (below).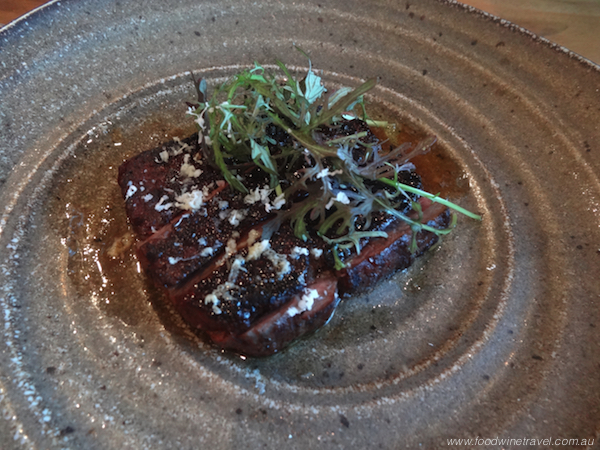 From the menu of side dishes came Grilled zucchini slices with pistachio dukkah, lemon and herbs; Spiced chickpeas with caramelised onion and crème fraiche; and Radicchio with balsamic vinegar, goat's Gouda and fried onion. Walker explained how the very thinly sliced onions were cooked in vegetable oil for 45 minutes, starting from a cold temperature (this being the important bit).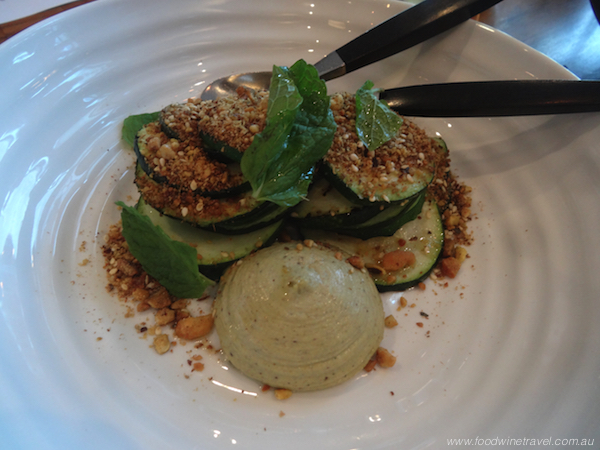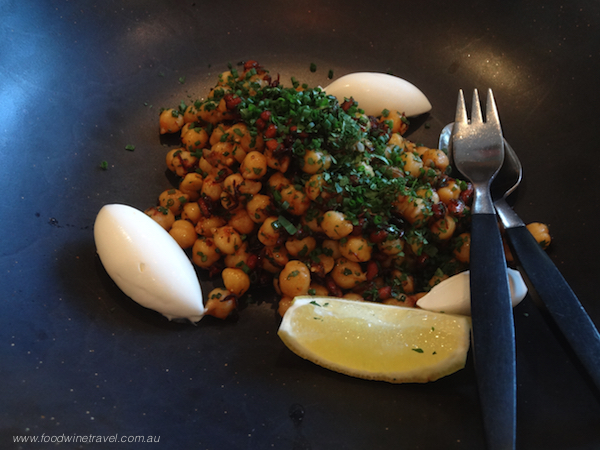 Our group of five sampled all three desserts on the esq. menu and it was agreed that all three rocked: Popcorn parfait tarragon; Campari curds and whey; and Whipped cocoa malted milk buckwheat rice (like a chocolate mousse with granola). The playful Campari whizz-fizz-like confection was teamed with curds and whey icecream, freeze-dried mandarin, orange sorbet and orange jelly.
What a magical journey of flavours and textures! With thanks to Le Cordon Bleu for hosting a splendid lunch as senior brand manager Sophie Mibus briefed a small group of Brisbane food writers on their Master of Gastronomic Tourism program. You can read more about this exciting program in another post.
Fact File:
Esquire Restaurant
145 Eagle Street,
Brisbane Qld 4000
Australia
+61 (0)7 3220 2123
www.esquire.net.au