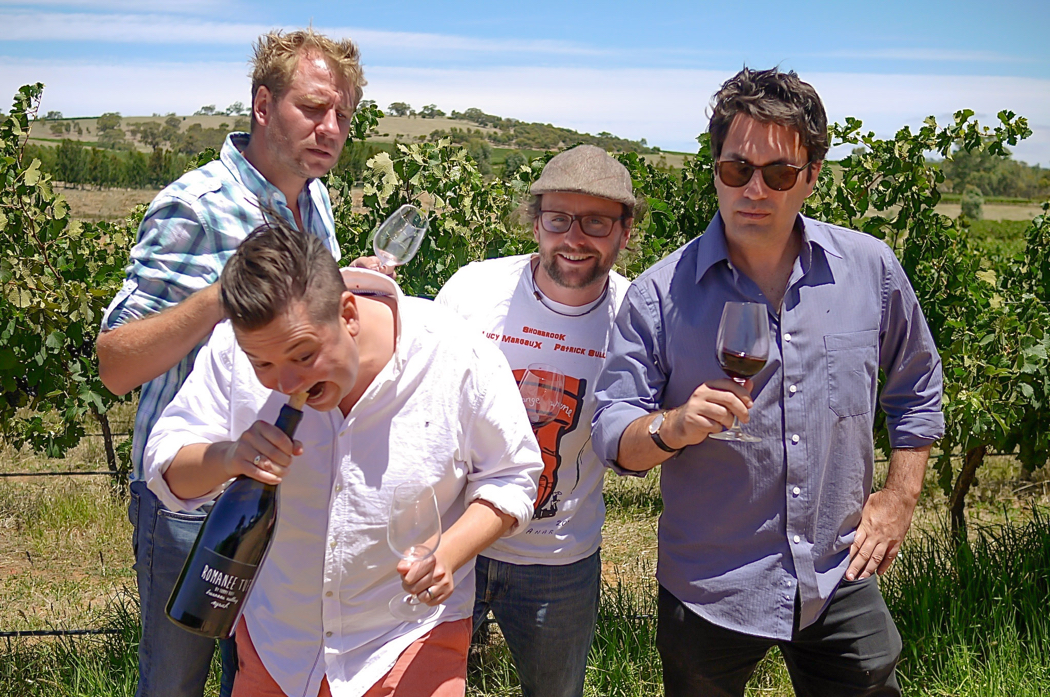 What happens when four 'screwcaps' decide to produce a very creditable television program about wine but never manage to get it quite right? The answer is Plonk – the hapless adventures of a television crew that despite all their best efforts continue to embarrass themselves and frustrate and amuse the winemakers who they attempt to feature in what becomes a fast-moving farce through South Australia's famous wine regions.
Winemaking can be a serious and complex business but winemakers themselves are usually down to earth, uncomplicated people, unlike some of the up-themselves types who pontificate about wine – enter Chris Taylor playing a very exaggerated version of himself as the presenter of the television series. His actual wine knowledge is in inverse proportion to his sense of self-importance and his attempts to discuss the industry usually leave his guests incredulous and angry.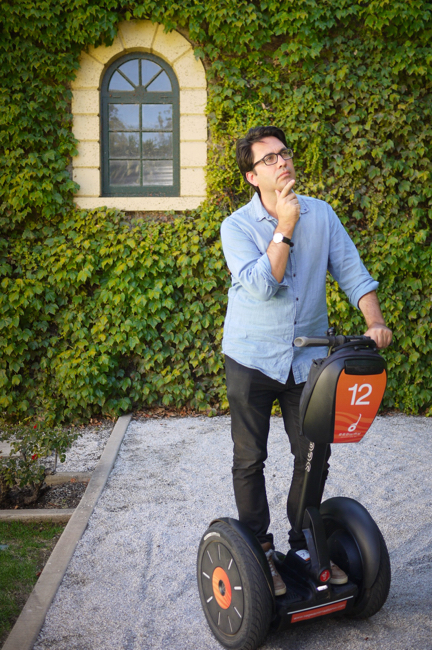 That 'anger' is of course well-acted by the winemakers who are the shining stars of the program and probably do more for their image in this lampoon of wine media than they could with any straight approach. Winemaking is always about innovation and it is a testament to the winemakers' characters – and to the South Australian Government, which backed the project all the way – that they have entered into the spirit of this satire – a very innovative way of promoting Australian wine.
The series is the brainchild of Nathan Earl, a graduate of the Australian Film Television and Radio School and himself the son of a winemaker. Earl plays the part of the producer who is continually trying to fix the mayhem created by his incompetent TV crew. He previously worked with Chris Taylor on The Chaser.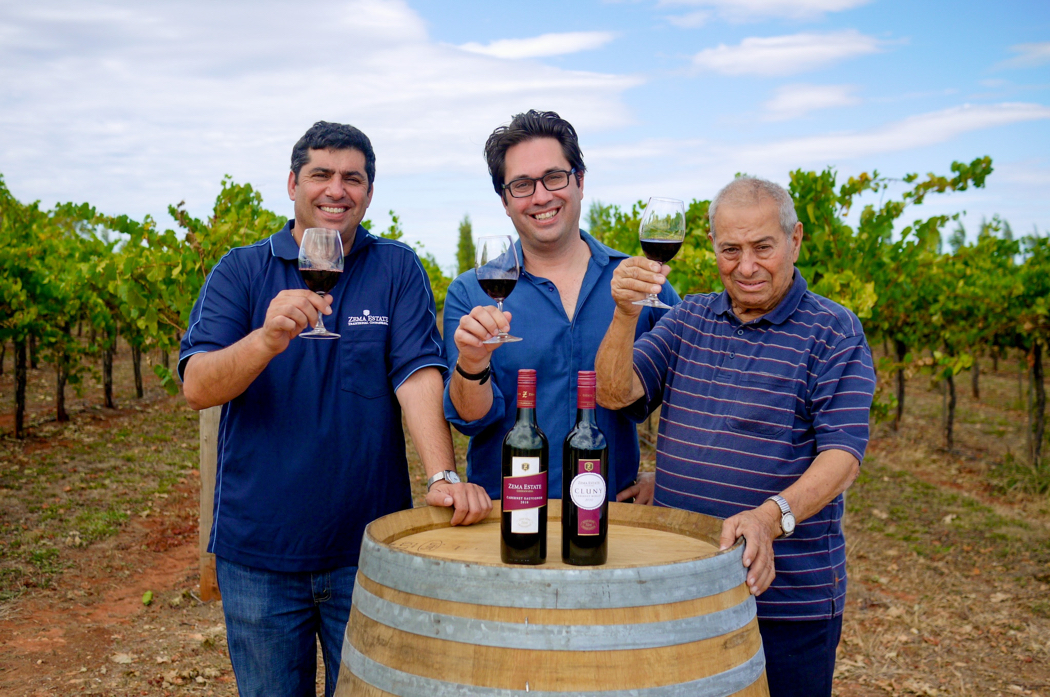 Alongside Earl and Taylor, Joshua Tyler plays the role of the researcher who surreptitiously takes over the budget, hires a maniac Portuguese bodyguard and disastrously tries to film using drones and skegros. Georgie Lewin was the series producer.
Plonk is a One Stone Pictures production in association with ITV Studios and is supported by Screen Australia, the South Australian Tourism Commission, the South Australian Film Corporation and Wine Selectors. It includes cameo appearances from Susie Porter, Greg Fleet, Stuart MacGill and Maggie Beer among others, and of course many very well-known wine makers.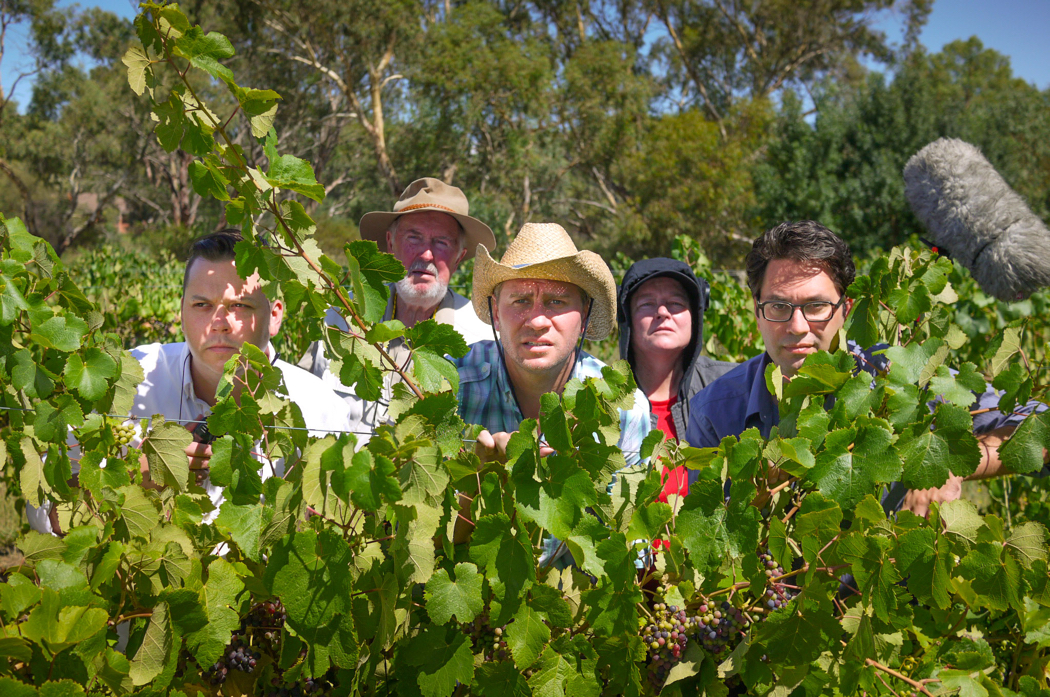 This is the second series of Plonk. The first, filmed in NSW, was produced as webisodes but is now available from Stan TV, as is the latest series. Ultimately it will go to commercial free-to-air TV – the sooner the better, as this incredibly funny six-episode series deserves a broader audience. It's an idea that has matured from a straight web-based wine program to a TV comedy with some very picturesque locations. There's no after taste, just a lot of laughs. Plonk is a corker.
Check out Plonk season two on Stan at www.stan.com.au
Visit youtube.com/roadtoplonk to view Plonk season one. Season two will be on You Tube in September.