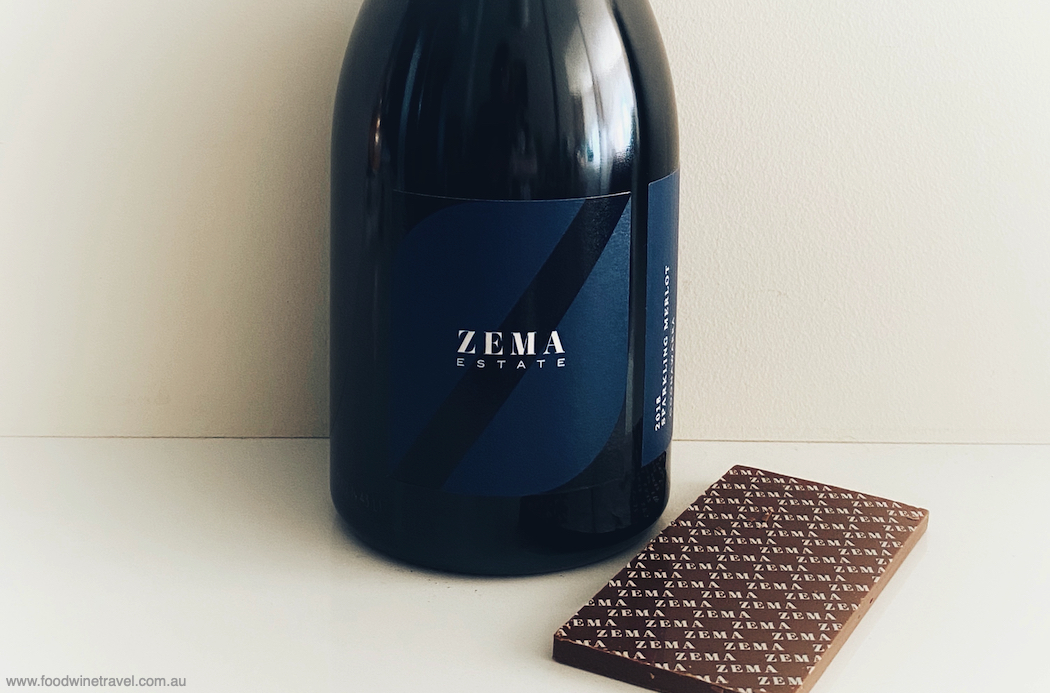 One of the great food and wine matches is sparkling red wine with chocolate, so there couldn't have been a more welcome treat than the one that came with Zema Estate Sparkling Merlot and other Zema releases – a block of Just Bliss chocolate.
Made by an Adelaide chocolatier that is bliss in name as well as flavour, the Milk Petite Classic Tile was stamped with the name of the Coonawarra winery responsible for the six wines we're looking at here. A clever bit of marketing, not least because the Zema Estate 2018 Sparkling Merlot is Zema's first ever Sparkling Merlot and, as I said, chocolate goes ridiculously well with sparkling red.
These velvety soft bubbles have a fragrant nose of black cherries and plums, with a small amount of Vintage port contributing to the roundness of the palate and accentuating the finish. Port is also a great match for chocolate, so little wonder there was a synergy between the bubbles and the chocolate. Pop the cork now as the Zema Estate Sparkling Merlot is drinking refreshingly well, though it will develop further with cellaring.
Since it was founded in 1982, Zema Estate has consistently produced fine Coonawarra reds. Focused on producing a premium product through meticulous viticulture (hand-pruning and hand-picking), passionate winemaking, and diligent bottle ageing, Zema draws on the traditions of its Italian heritage while demonstrating a deep respect for its Coonawarra provenance. Founder Demetrio Zema died in June this year aged 87, his legacy continuing on through son Nick and family.
I particularly love the Family Selection wines which represent the 'cream of the crop' – the very best fruit from Zema's three vineyards. These are big, rich wines produced in limited quantities, the Family Selection Cabernet Sauvignon allowed to mature for 24 months in top quality French oak and the Shiraz 22 months in a mix of French and American oak. Both wines are further aged for three years in bottle so that they are very drinkable on release, although having cellaring potential of at least a decade.
The Zema Estate 2015 Family Selection Shiraz ($49.99) we tasted was vibrant with spicy fruit and hints of vanilla and cloves. It had nicely rounded tannins and a long smooth finish.
The Family Selection Cabernet Sauvignon ($49.99) was simply exquisite, rich and concentrated with blackberry, mocha and vanilla notes. It went beautifully with eye fillet steak.
In contrast with Zema's Family Selection wines, the Estate wines are more medium-bodied, yet still very elegant with seamlessly integrated oak.
The Zema Estate 2016 Shiraz ($26.99) is bright with cherry and raspberry notes and hints of chocolate and spice. It was matured in American and French oak for 15 months.
The Zema Estate 2016 Cabernet Sauvignon ($29.99) is benchmark Coonawarra Cabernet, matured in French oak, smooth and silky with hints of eucalypt.
Zema Estate Cluny 2016 Cabernet Merlot ($24.95), last in the line-up we tasted, had a lot of sediment (it is unfiltered). It was bursting with flavour – vibrant sweet cherry, raspberry and vanilla notes – and was very easy drinking with soft tannins. We enjoyed it with spaghetti marinara and thought it was fabulous.
Food Wine Travel was provided with a bottle of each of these wines for tasting.