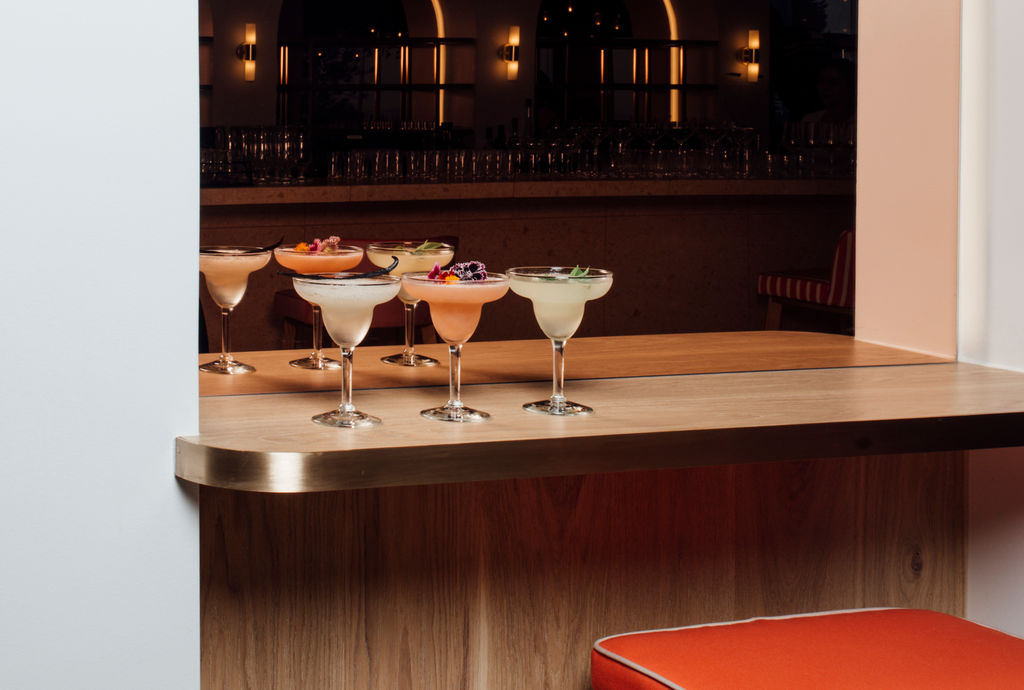 Hyde Paradiso, on level 2 of the luxurious Peppers Soul Surfers Paradise, describes itself as "the place to see and be seen, by the sea. A lively oceanfront lounge, inspired by the L.A. lifestyle." From our table with near eye-level views over the water and busy Surfers Paradise beach, it really does feel as though we could be in southern California.
Hyde is in fact a U.S. brand with a string of celebrity-adored hot spots in Los Angeles, Las Vegas and Miami. Surfers Paradise is its first Australian location; another has just opened in Perth. The style of the restaurant and bar is very much in keeping with the hotel's cool and stylish vibe.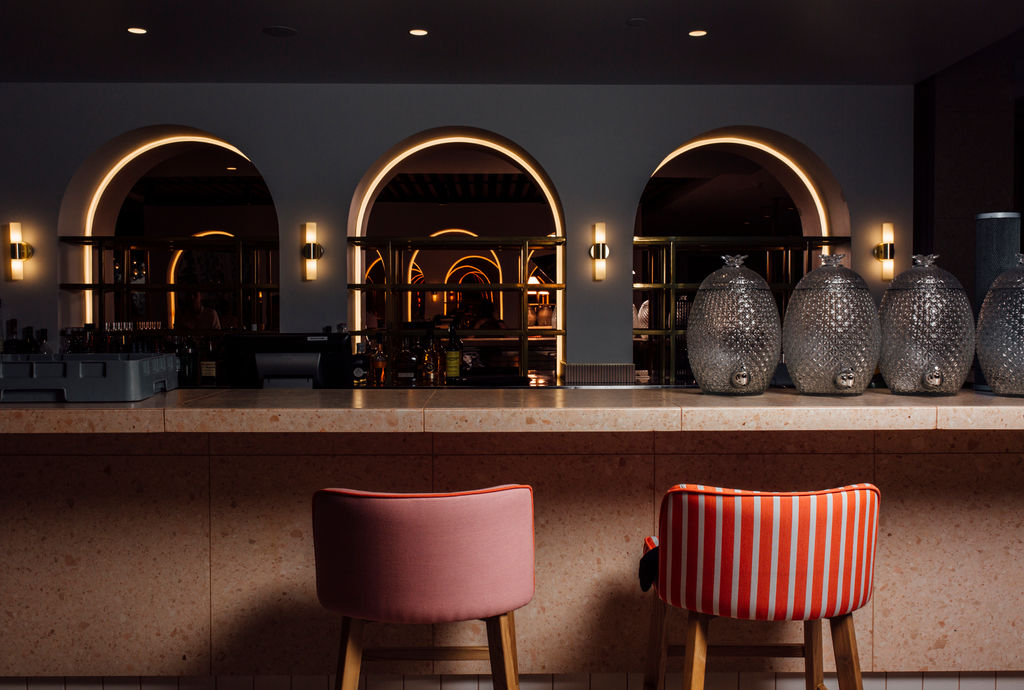 Designer Carlie Milosevic was responsible for the chic fitout. Formerly Carlie Waterman, she came to prominence as Australia's Fashion Graduate of the Year in 2012. Shortly after, her design of Hacienda Sydney also put her in the spotlight; it has since become one of the world's most Instagrammable bars.
The design of Hyde Paradiso at Surfers Paradise includes high tables and cosy booths in pastel blues, pink and coral, punctuated with sleek lighting, blonde timber surfaces and an eye-catching hanging garden. From every angle, the eye is drawn to the stunning beach view.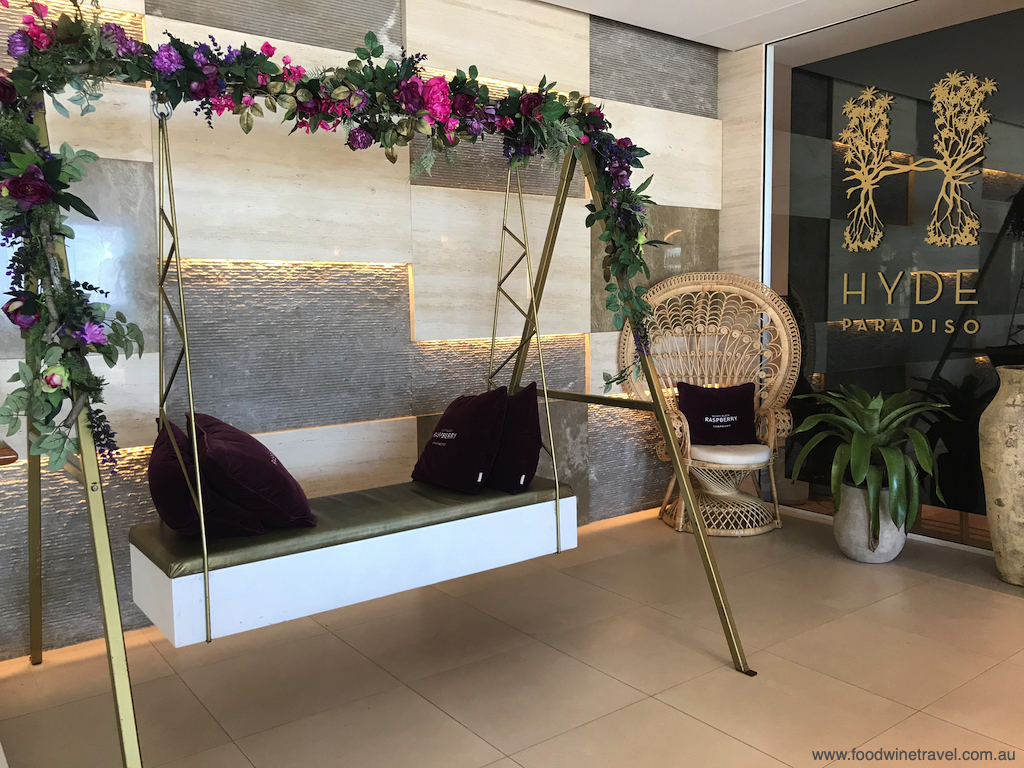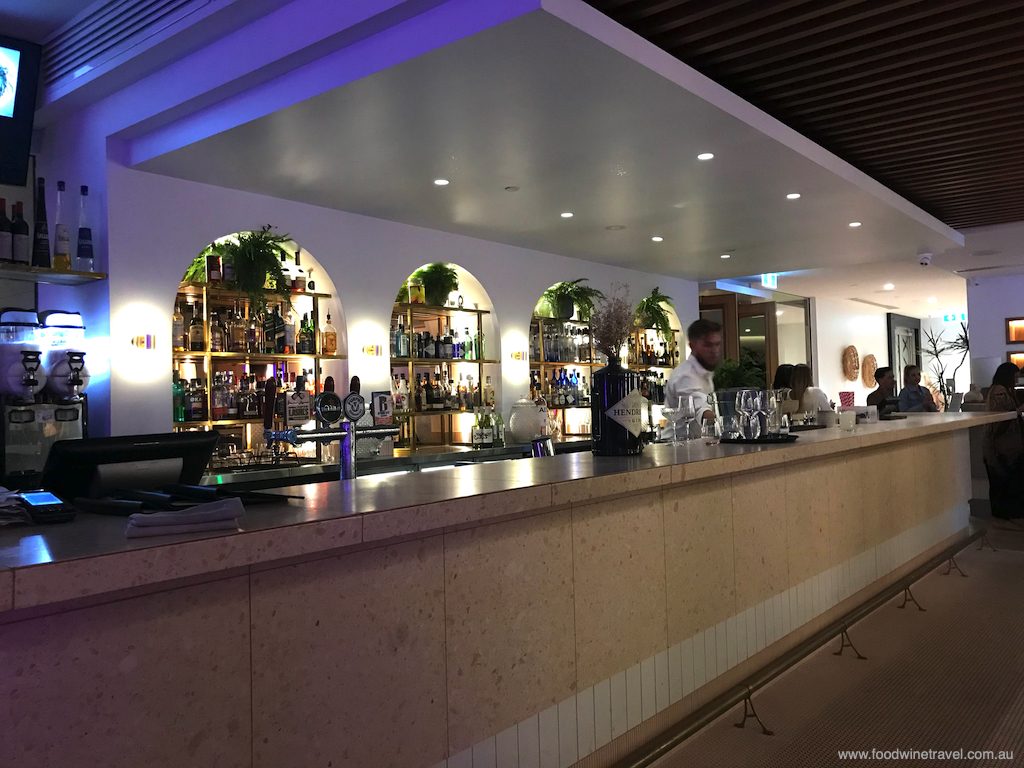 The seasonal menu features a vibrant mix of Greek, Turkish, Moroccan, Lebanese and Italian dishes, most of them small plates designed to be shared. Our waiter recommended the Charred baby octopus with fermented garlic and it was a great choice, beautifully tender and full of flavour. We also enjoyed the Sumac salt and pepper squid with lemon aioli, Pork belly with coleslaw and charred apple puree, Grilled haloumi with beetroot yoghurt, and a side dish of roasted cauliflower with pomegranate.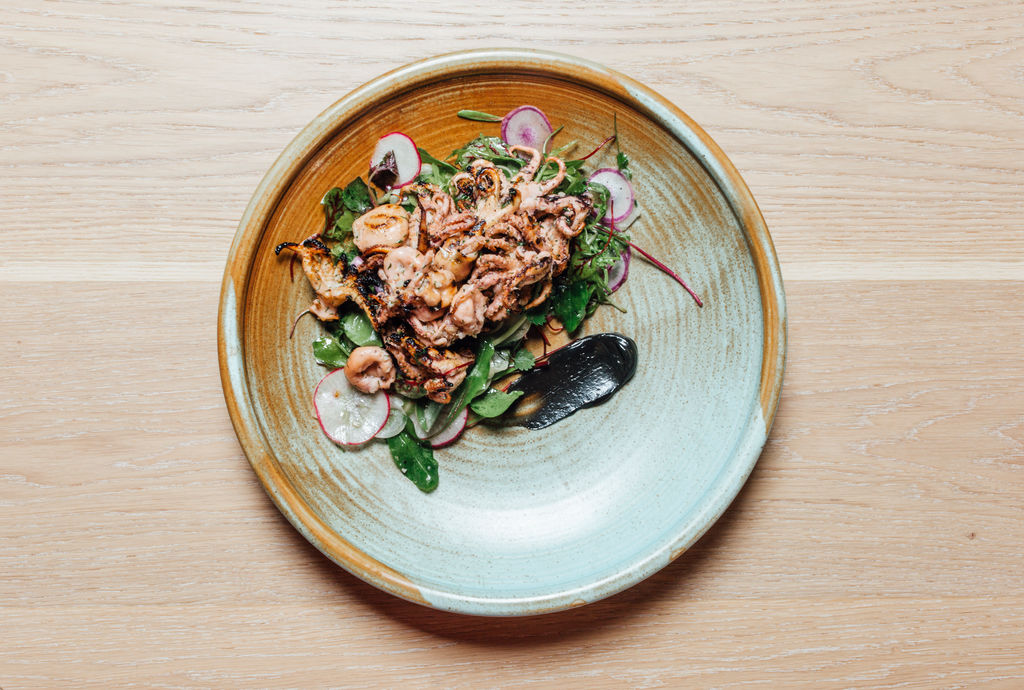 The bartenders behind the 12-metre-long pink terrazzo bar mix some great cocktails. I enjoyed the Frosini ($17), a mix of Lambrusco, apricot brandy, Regal Rogue Rose, and pomegranate vinegar. And being on the Gold Coast, how could we not try the Meter Maid ($19), made from Ketel One vodka, limoncello, cucumber, Crawley's sugar syrup, mint leaves and lime juice?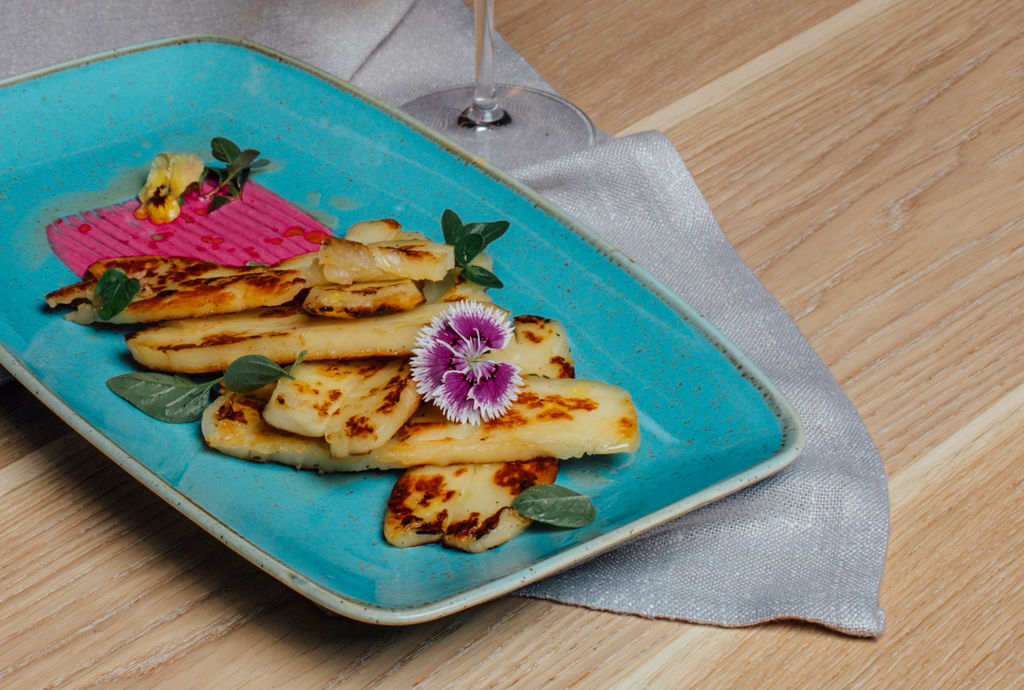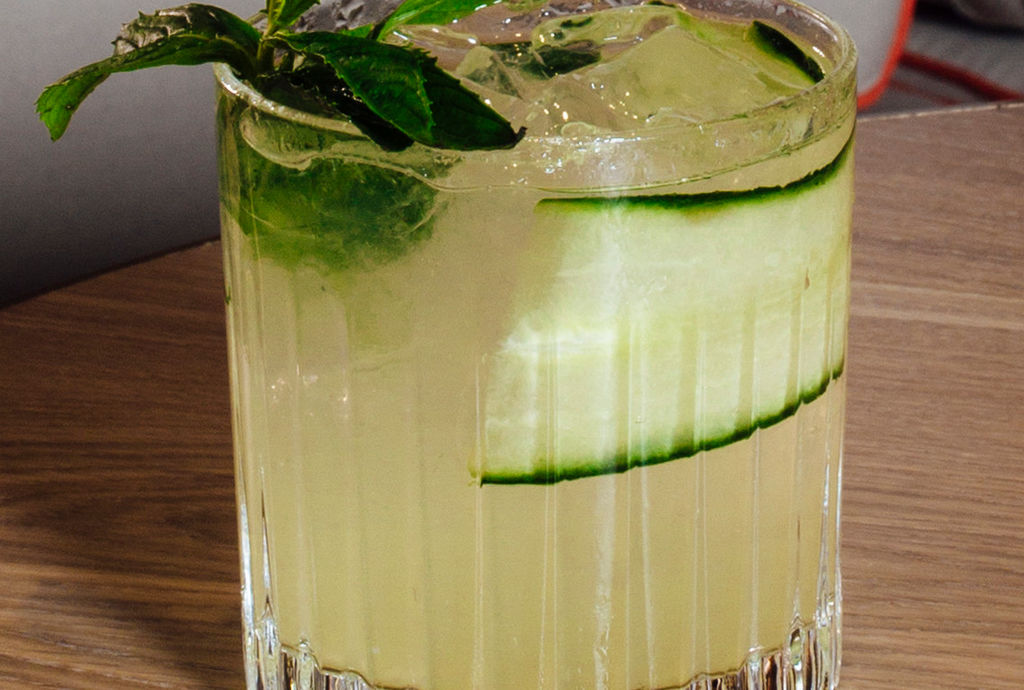 Hyde also does three different 'Shared Cocktails' including the Top Of The Town Punch, a blend of vodka, sparkling wine, pineapple juice, Crawley's orgeat, lime juice and mint. It's served in a large dispenser holding eight to 10 drinks that can be poured at the table. There's also a large selection of wine, bubbles and beer.
From Friday to Sunday, Hyde gets the weekend party vibes flowing with DJs cranking out the music until well into the night. There's also Bottomless Brunch on weekends from noon.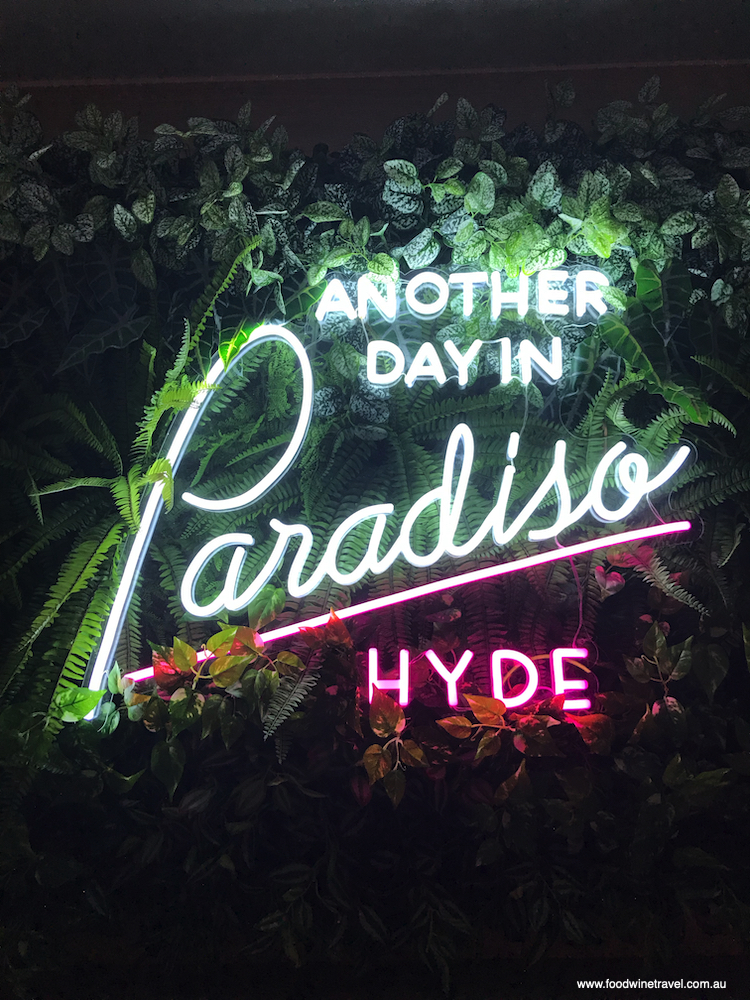 It was apparent on the night we visited that it's a popular spot for hen's nights (what is it with girls wearing platinum blonde wigs?) It's one endless party at this cool hangout and Peppers seems to have really nailed it in terms of finding a restaurant and bar formula that fits the vibe of the hotel.
Hyde Paradiso is open every day for breakfast and Wednesday to Sunday for lunch and dinner.
If you go:
Hyde Paradiso
Level 2, Peppers Soul Surfers Paradise
8 The Esplanade
Surfers Paradise QLD 4217
Australia
+61 (0)7 5635 5728
www.hydeparadiso.com
All photos by Anwyn Howarth, except the 3 by Food Wine Travel as indicated. Photos were supplied by Peppers Soul and used with permission.