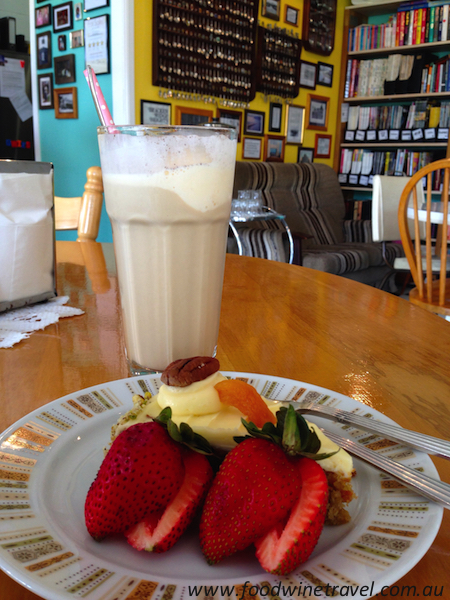 If ever I was to open my own café, this is exactly the sort of place I'd like to run! A bit quirky, with space to display all the retro stuff I like collecting, and … books. I always think that books lend a homely ambience, and that's certainly the case at Round Table Coffee where you really feel the personality of the owners, Allie and Jeremy.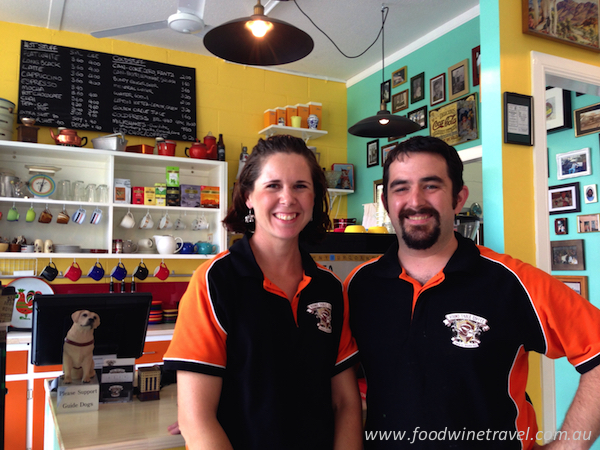 They opened the café four months ago in a little shopping centre in Bracken Ridge. We found it quite by accident as we were driving past on our way to an appointment and had some time to fill in. It was a scorcher of a day and we felt immediate relief as we stepped inside the air-conditioned café. It looked so welcoming, with newspapers carefully laid out on each of the three round 50s/60s style tables.
We ordered iced coffees, made just the way we like them (no cream but plenty of milk and a little bit of icecream), served with a stripey paper straw. The café uses the Old School blend from the Cleanskin Coffee Co in Brendale. We also had a slice of carrot cake, which Allie told me was made for them by Spoon Deli in New Farm. The café sells a wide selection of cakes, slices, muffins, sandwiches and wraps.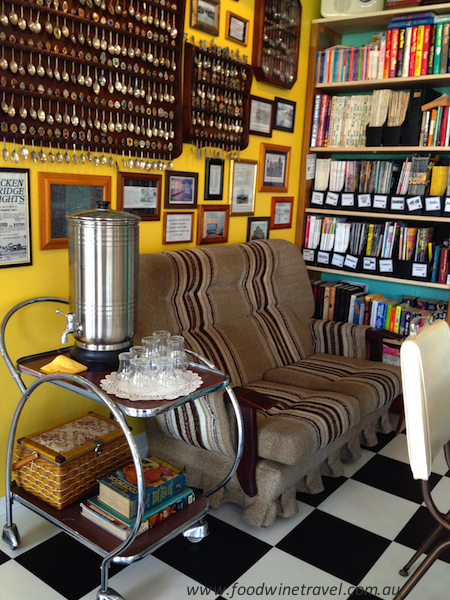 Some of the books on the shelves are just for browsing; others have stamps indicating that they can be bought or swapped. There's a comfy old brown couch for lounging in – it's the sort of piece that would have been tossed out pretty smartly a few decades ago but adds to the quirky feel here. Next to it, there's a real treasure, a '50s bar trolley that was a wedding gift to Allie's parents. She remembers it being wheeled out for special occasions with Cinzano and other drinks.
Also on the trolley is an old sewing basket and some old cookbooks – apparently people in the neighbourhood have donated quite a few of these vintage items. On the walls is an impressive array of spoons collected by the mothers of both Allie and Jeremy, along with some interesting local memorabilia such as an article about the opening of the Hornibrook Highway and other news items.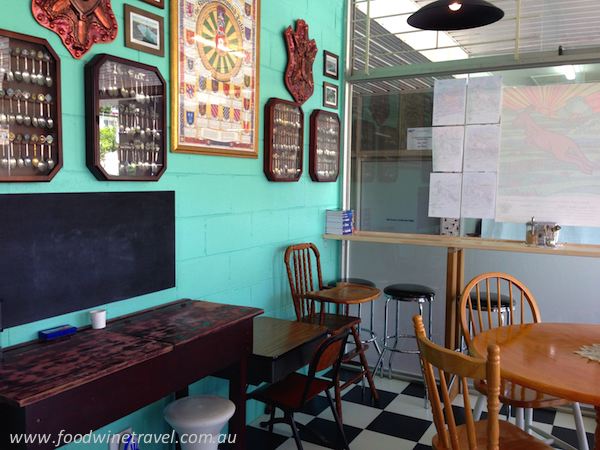 One of the many things I like about this café is that it's kid-friendly. There's an old chrome and vinyl high chair, as well as a couple of vintage school desks with kids' books in them (all intended to be used). Behind the desks, there's a blackboard with chalk supplied so that little ones can unleash their creativity.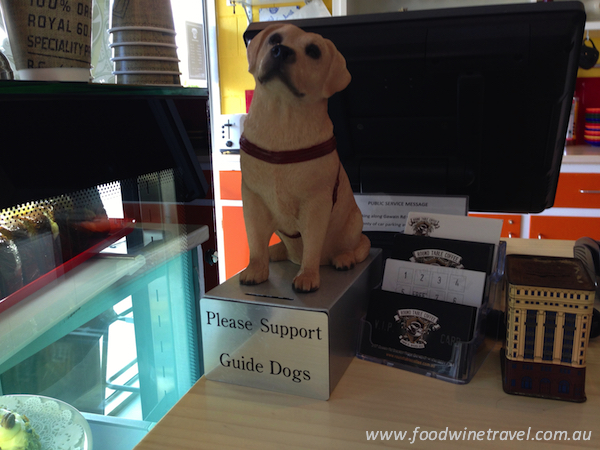 Everywhere you turn, there's something that brings a smile: an old radio, early plastic canisters, old cake tins, a vintage money box. Allie and Jeremy wanted a box on the counter to collect money for Guide Dogs and were thrilled when they managed to source a 30-year-old Guide Dog money box in pristine condition.
And if you're wondering where the Round Table name comes in, it's not because of the café's round tables. It's because the café is located in Gawain Road and Gawain was a Knight of the Round Table in the legend of King Arthur. All the streets around here are named for knights (Torre, Pelleas, Geraint) and damsels (Lynette, Bellicent, Ettarre and Lyonors) in the Arthurian legend. Cute.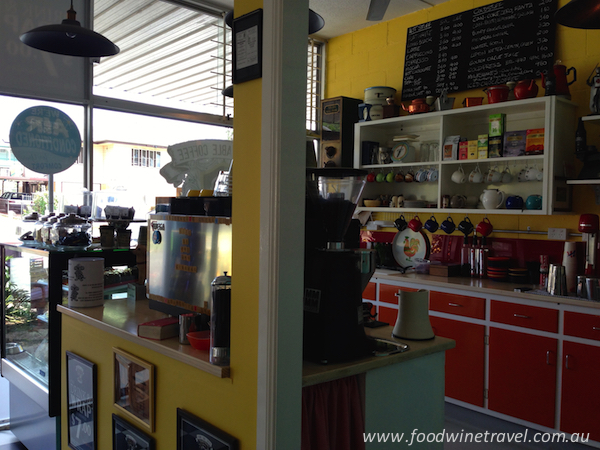 Fact File:
Round Table Coffee
3/67 Gawain Rd
Bracken Ridge Qld 4017
Australia
Tel: (07) 3261 2354
www.roundtablecoffee.com.au
Open: Mon-Fri 6am-4pm; Sat 7am-2pm; public holidays 7am-noon.