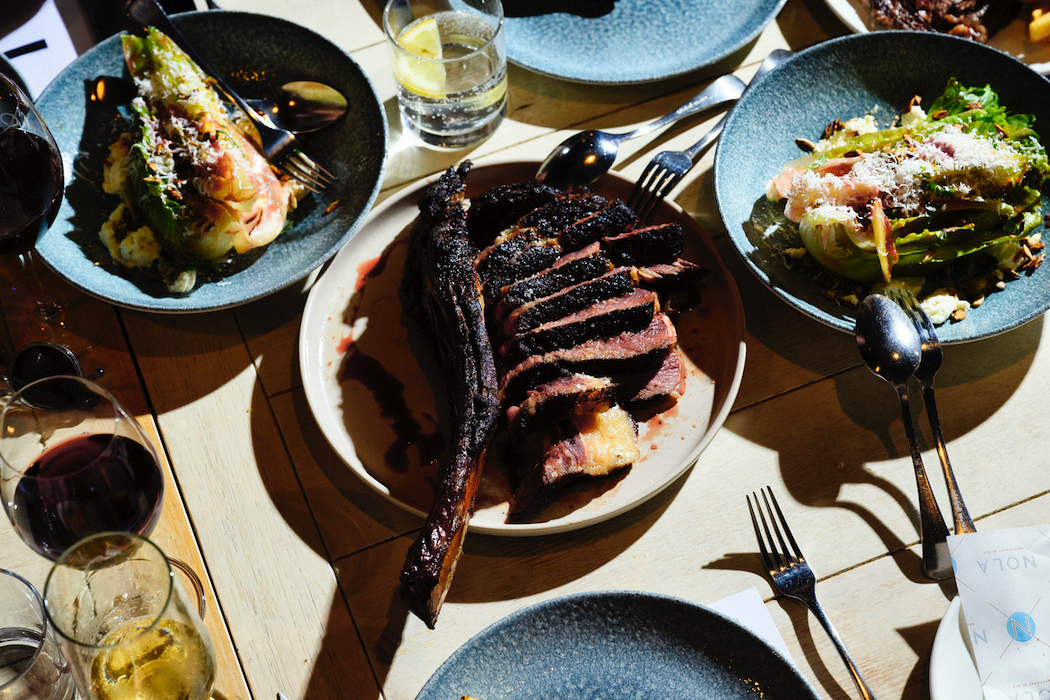 A month-long celebration of smoked meat – what could be more enticing for meat lovers?!
Throughout March, Sydney smokehouse and bar, NOLA, is offering special smoked meat options every day of the week. We love NOLA for its New Orleans vibe and we especially love that its Meat March festival has a focus on sustainability. The festival is being run in partnership with Portoro, a Riverina producer of sustainably sourced beef.
The festival is designed to give people a taste of everything this cooking style has to offer, and so there is something for everyone throughout the month, with two wagyu burger and steak frites options to salivate over, and even some smoked fish and vegetarian options.
A 300g on-the-bone sirloin Steak Frites is available every day for lunch, while classic and bacon wagyu burgers are on the menu all day every day. In addition, there are Taco Tuesdays (tacos with smoked ocean trout), Wagyu Wednesdays (beef tartare) and Tomahawk Thursdays.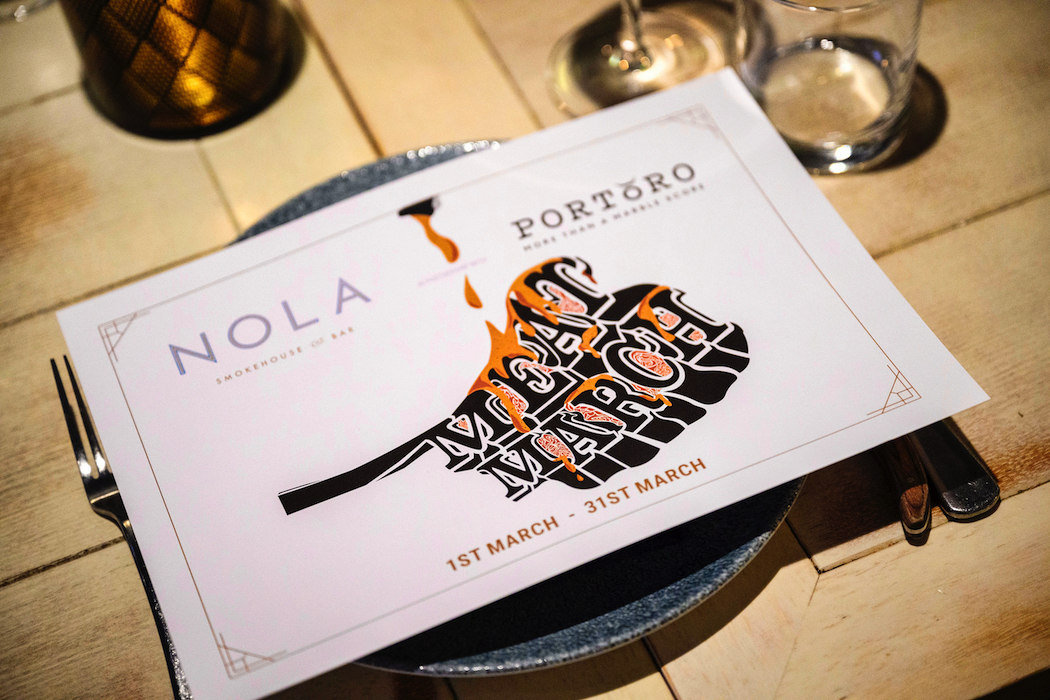 We were treated to a delicious preview of the dishes, the last one especially ticking all the boxes for truly dedicated meat lovers. The 1.3 kg tomahawk steaks are wrapped in muslin cloths soaked in Jack Daniel's whiskey and aged for 60 days. This produces an incredible depth of flavour, with sweet and smoky notes elevated by the whiskey. Run, don't walk, to sample this mouth-wateringly tender steak.
A side note here: NOLA not only has an expansive wine list, it claims to have the largest public collection of American whiskies in the Southern Hemisphere. So, if you love your whiskey, it's even more reason to hot-foot it to Meat March.
The highlight of the festival will be on Saturday, March 25, when the restaurant will host a Southern Styled BBQ Smoke-Off. NOLA's head chefs will battle it out against a team from Smoking Hot 'n' Saucy BBQ to see who can produce the best smoked meats. Open to all meat-lovers, guests will receive a set menu consisting of the various smoked meats produced by both teams, alongside NOLA's classic side dishes, with guests given tokens to vote for their favourites. The winning team will be awarded the Golden Meat Trophy. The cost for guests at the Smoke-Off is $130 per person.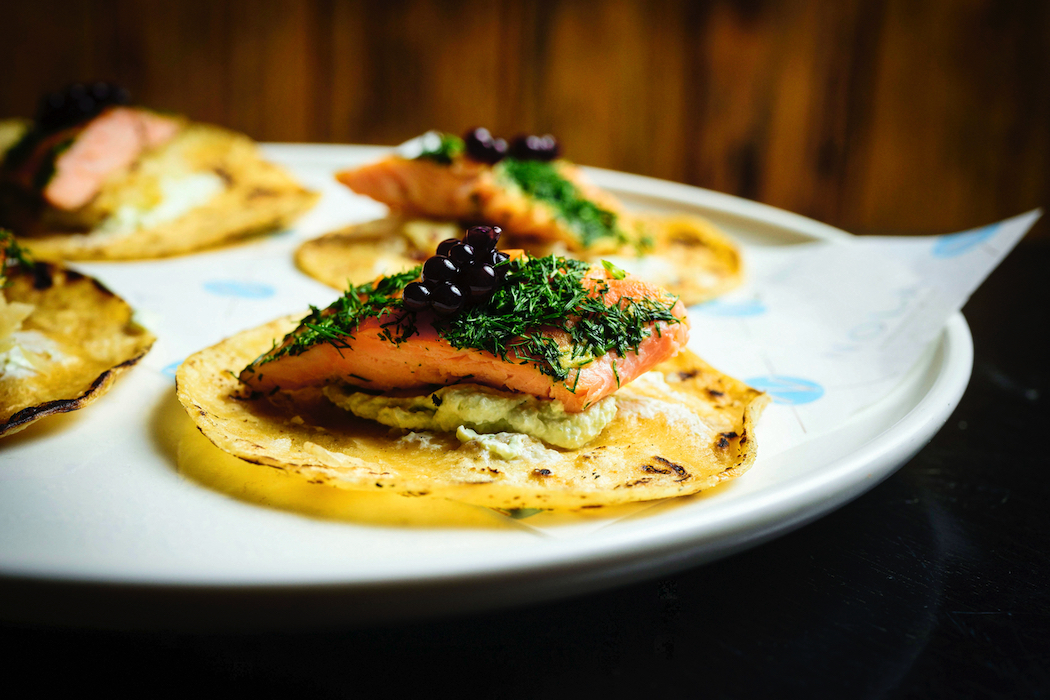 While Meat March is designed to be a smoking celebration, the team at NOLA are passionate about creating greater awareness around sustainable meat consumption. Executive chef Davyd Luke says promoting sustainability, especially in meat, is very close to his heart.
Hailing from England, where he says there was more consciousness around sustainability in restaurants, he is keen to see positive change, not just in the meat used in restaurants but also in kitchen practices. At NOLA, for example, beef is trimmed in-house and the offcuts turned into mince, so there is no wastage.
Davyd is delighted to be working with Portoro, both for its outstanding meat and because its principles are closely aligned with his own. "Me and my team have put a lot of love into this and hopefully you can taste it in what we give to you."
Portoro representative, Robert Ryan, in turn is appreciative of what the NOLA team are doing to bring the product to consumers.
"We want to expand the awareness of this type of product and help other people start to use this product too. We connect closely with chefs. We connect closely with like-minded people in this industry to try and create choice for people," Rob said.
Portoro sources its beef from Yambinya Station, a 7000-acre property in the Southern Riverina region of NSW, with 700 acres of protected river gum forest and natural waterways. Owner JBS Southern launched the Portoro brand 18 months ago, convinced that "there's a story there that people want".
Proclaiming a strong commitment to putting welfare (of people, environment and animals) over productivity, and committed to a net zero 2040, Yambinya Station is farmed holistically in support of those principles. It supports regenerative agriculture, uses locally sustainable water and feed, has started on a journey to plant a million trees, undertakes water recycling and waste recycling, and uses no antibiotics or hormonal growth promotants.
Ryan said that the way the animals are managed, right down to the type of feed used, delivered a meat quality they hadn't seen before. "It's the passionate people, it's the tailored feed ingredients, it's the stewardship of the environment, it's the silky eating experience that makes Portoro more than a marble score."
Try this beef yourself and see what you think during Meat March, on at NOLA until March 31. Walk-in spots are available but bookings are encouraged. The ticketed Southern Styled BBQ Smoke-Off will take place on Saturday, March 25, as a set menu, with bookings essential via the NOLA website.