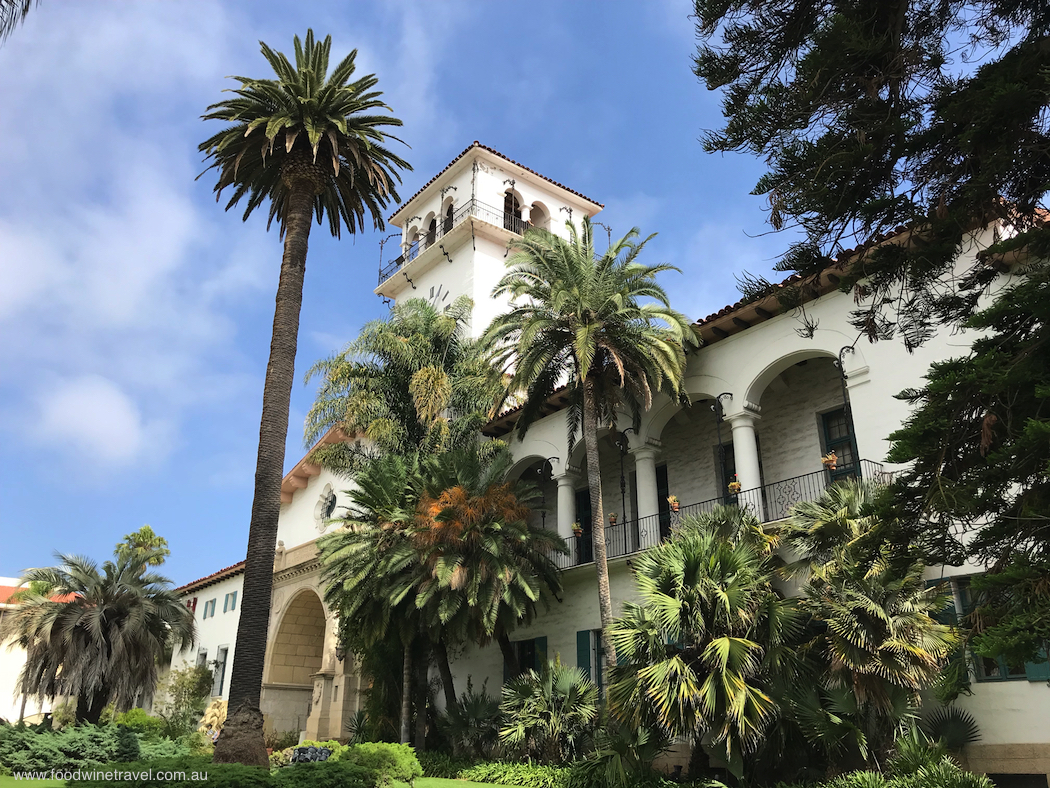 Once you've entered the United States through Los Angeles a few times, the city starts to hold less appeal than it might for a first-time visitor. Accommodation in L.A. also tends to be expensive, which is another deterrent to a stopover there. But hopping on another flight after the 14-hour flight from Australia is the last thing we want to do.
So, on the last few occasions that we've flown into L.A. we've taken to exploring some of the lovely places within a few hours' drive of the city, places like Solvang, Ojai and most recently, Santa Barbara. The beauty of Santa Barbara, as we discovered, is that you don't even need a car to get there. The FlyAway bus from LAX takes you straight to L.A.'s Union Station, from where you can hop on an Amtrak train that delivers you to Santa Barbara in two and a half hours.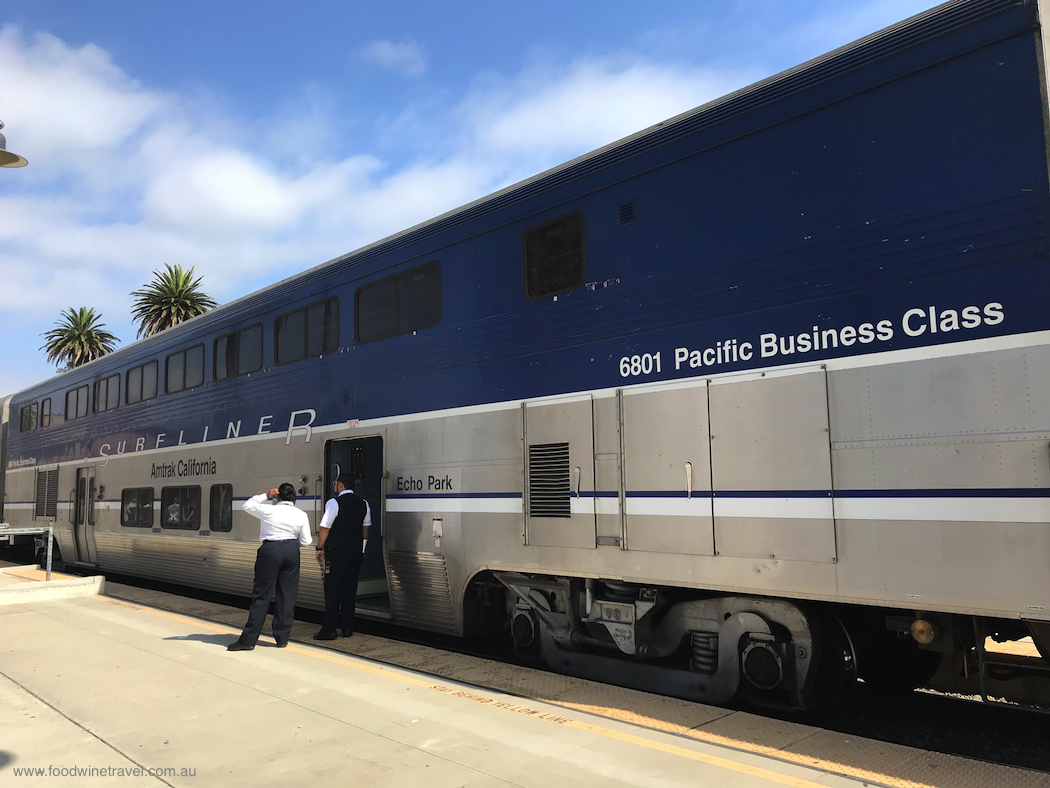 Following our early morning arrival at LAX, we were able to check into our Santa Barbara hotel mid-afternoon, go for a pleasant stroll and a quick bite to eat while easing ourselves into the local time zone, then get an early night and fall into a blissful slumber that had us fresh and ready to go the next day. What a joy it was to explore this attractive town with its distinctive red-tile roofs, Spanish-inspired architecture and pleasant Mediterranean-style climate that rarely climbs above 25 or below 7 degrees Celsius.
Long billed as the "American Riviera", Santa Barbara is a small city by American standards, with a population of just over 90,000. Yet it punches way beyond its weight, with a wealth of museums, art galleries and historical attractions; excellent restaurants and cellar doors; cultural events and festivals; and a stunning location, nestled between the Pacific Ocean and the Santa Ynez Mountains. There's a long line of sandy beaches fringed with palm trees, while dusk, not surprisingly, is glorious with the sun setting over the water.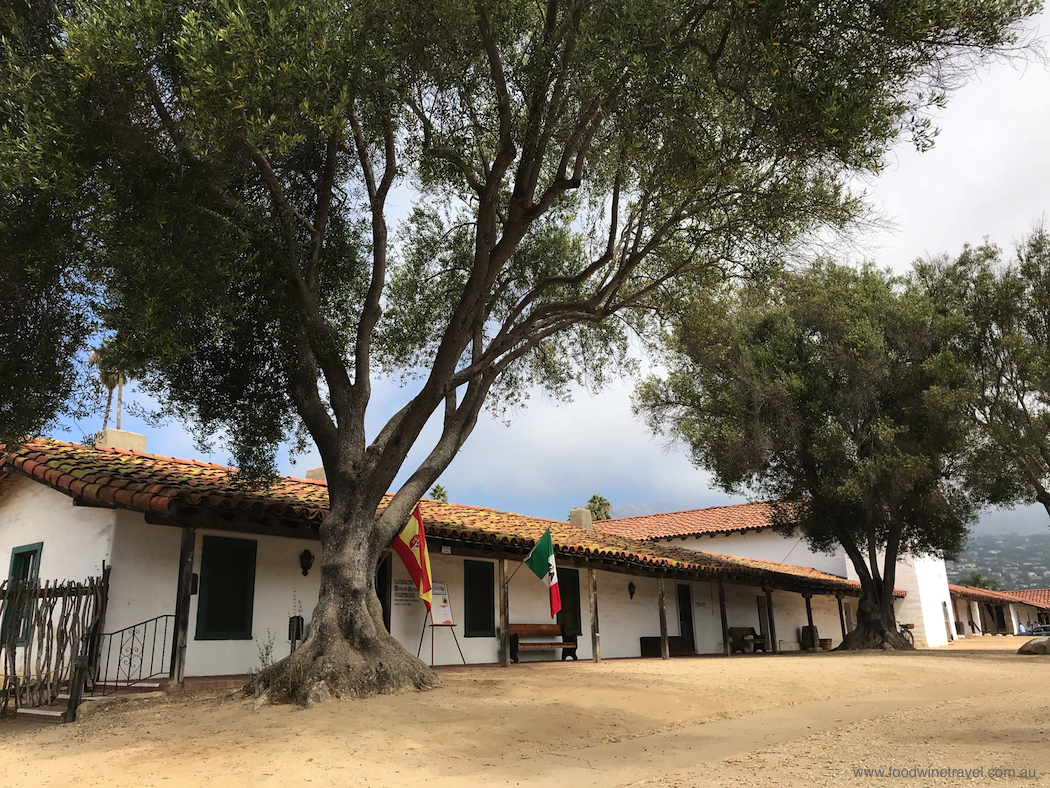 It would have been lovely to do a sunset harbour cruise but with jet lag kicking in, we could only muster enough energy on the first night for a stroll along Stearns Wharf, which holds a motley assortment of souvenir shops, seafood restaurants, candy shops, and a wine tasting room. From Stearns Wharf, you can take the Lil' Toot water taxi to the harbour, which has more restaurants and shops, as well as kayaking, whale watching cruises, and boat rentals. The harbour is home to more than 1000 fishing and pleasure vessels, and it is the gateway to the Santa Barbara Channel Islands which by all accounts are quite beautiful.
We got the feeling that Santa Barbara is a progressive sort of place, or at least, more environmentally conscious and eco-friendly than a lot of towns and cities in the U.S. It has a Santa Barbara Car Free Project which aims to "encourage car free, carefree transportation to, and around, Santa Barbara for cleaner air and a healthier planet". These are no hollow words, for it is surprisingly easy to explore the city and the surrounding region on foot, or by bicycle, boat, bus, shuttle or train.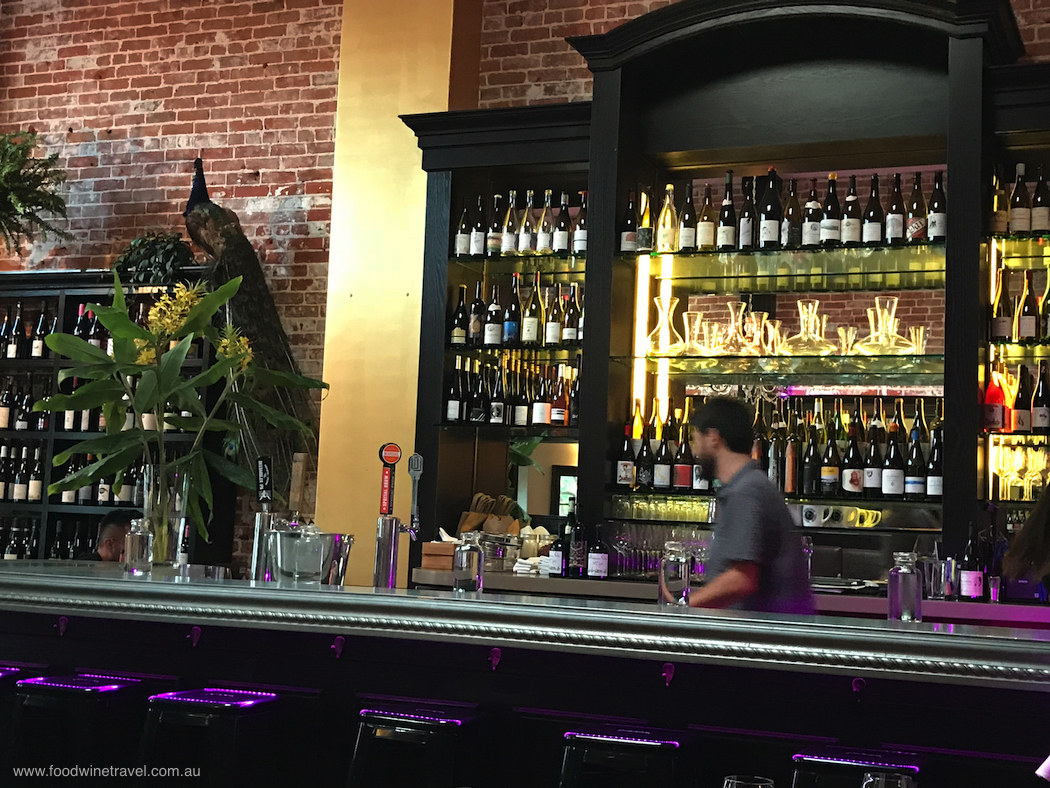 Once we caught up on much-needed sleep, we spent hours just wandering and exploring on foot, but we could also have rented bikes from Wheel Fun Rentals. They have 2- and 4-seater Surrey bikes that are perfect for riding along the waterfront and in the Funk Zone, a vibrant precinct where former warehouses have been converted into galleries, shops and tasting rooms. There are also electric shuttle buses that run every 10 to 15 minutes in the downtown area and on the waterfront; these cost just 50c for adults and 25c for seniors.
We did a Santa Barbara Trolley Tour which costs $25 for a narrated hop-on, hop-off tour that takes about 90 minutes to do the full loop. It has 13 stops that are convenient to shopping, dining and local attractions, and the ticket is valid for the following day as well. The ticket can also be used to obtain discounts at various shops and attractions.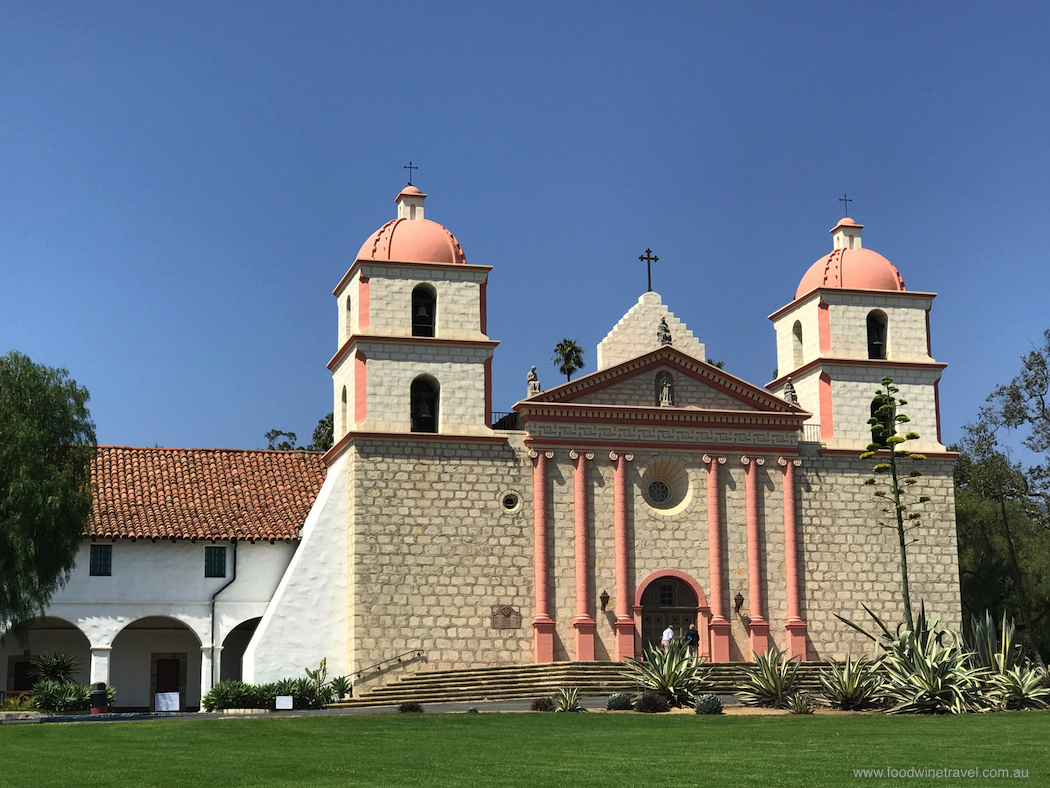 Our first stop on the Trolley Tour was the Old Mission, founded in 1786 and the 10th in a string of Spanish missions along the Californian coast. Dubbed 'Queen of the Missions', it has beautiful gardens, an interesting museum and a church with grand double bell towers and a unique altar built by the native Chumash people.
Also impressive is the city's County Courthouse, built in 1929 in a Spanish-Moorish style that makes it one of the country's most photographed buildings. Its 80-foot clock tower offers the best view in the city, with 360-degree vistas over terracotta rooftops to the ocean and mountains.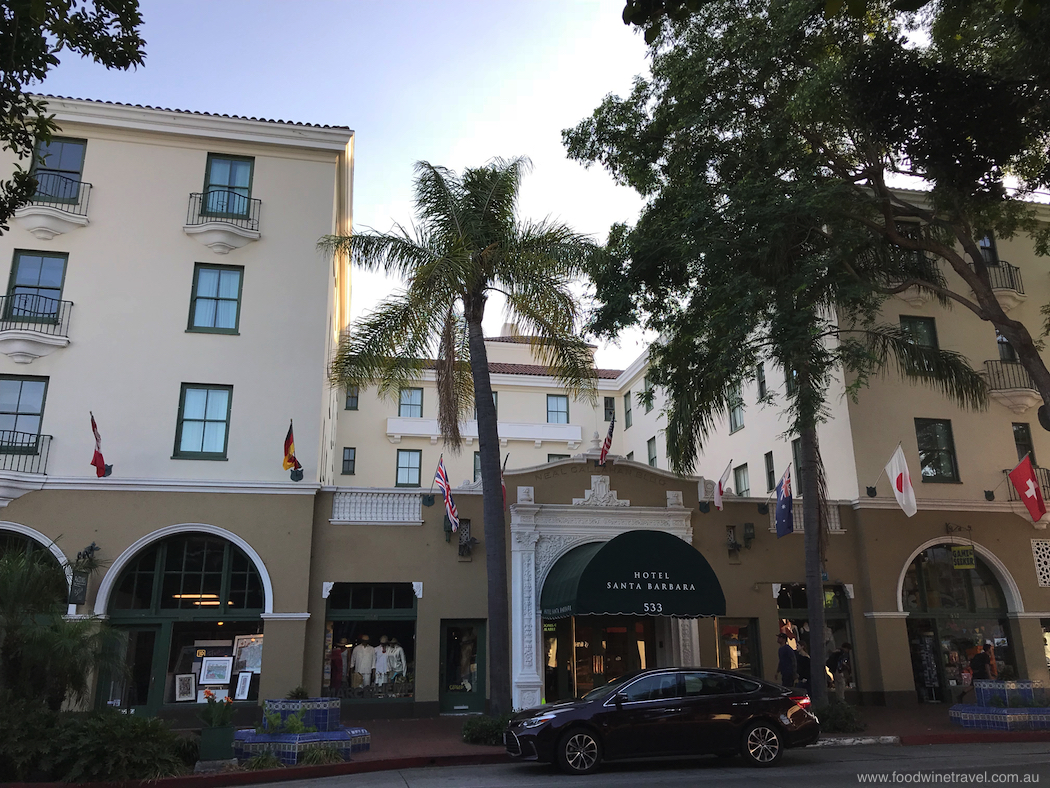 For museum nerds like us, it was a hard choice working out which attractions to see first. The Presidio, a reconstruction of the original Spanish fort founded in 1782, features a splendidly decorated chapel and restored officers' quarters. Two original portions remain, including El Cuartel, the oldest existing adobe in Santa Barbara. Another historic adobe, Casa de la Guerra, once the political and social centre of the community, is now a museum with period rooms and special art and historical exhibitions.
We were fortunate that our visit coincided with 1st Thursday, an evening of art and culture in downtown Santa Barbara. On the first Thursday of each month, galleries and cultural venues are open from 5 to 8 pm with free entry, while State Street comes alive with performances and interactive exhibits. We spent a long time in the Santa Barbara Historical Museum, which tells the story of the city through paintings, drawings, furniture and photographs from the days of the Chumash right through the era of silent film to the present day.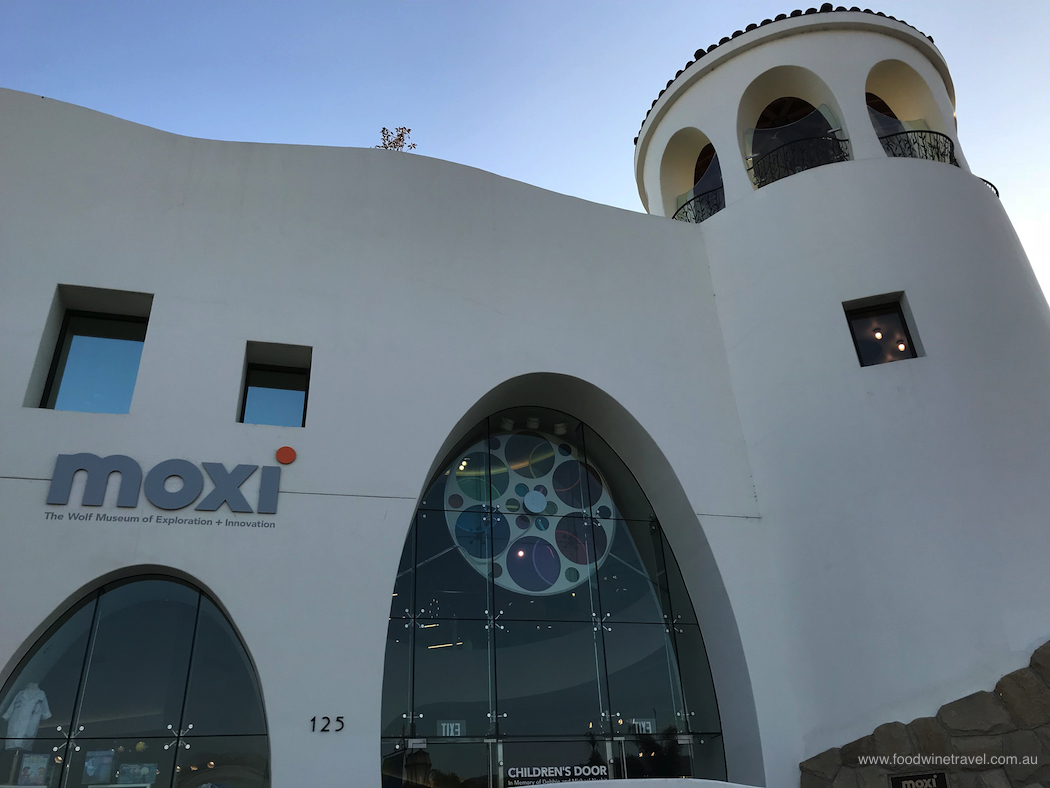 Santa Barbara was at the forefront of movie making before the epicentre shifted to Hollywood, something a lot of people might not be aware of. The Santa Barbara Historical Museum tells this story beautifully, while its changing exhibitions and courtyards and adobes offer a glimpse into the city's Spanish heritage. The city has been holding a fiesta called Old Spanish Days for more than 90 years, and we really enjoyed learning all about this much-cherished festival in the museum's special exhibition, Project Fiesta! The pageantry, costumes, vintage posters and photos were so captivating that we're really hoping to get back one day when the fiesta is being held.
This was just a small taste of the museums on offer – we would love to have done more but sadly our stay wasn't long enough. We could also have done MOXI, The Wolf Museum of Exploration + Innovation, which is in a very striking modern building near the train station; the Santa Barbara Museum of Art; and the Art, Design & Architecture Museum. So much to do and so little time.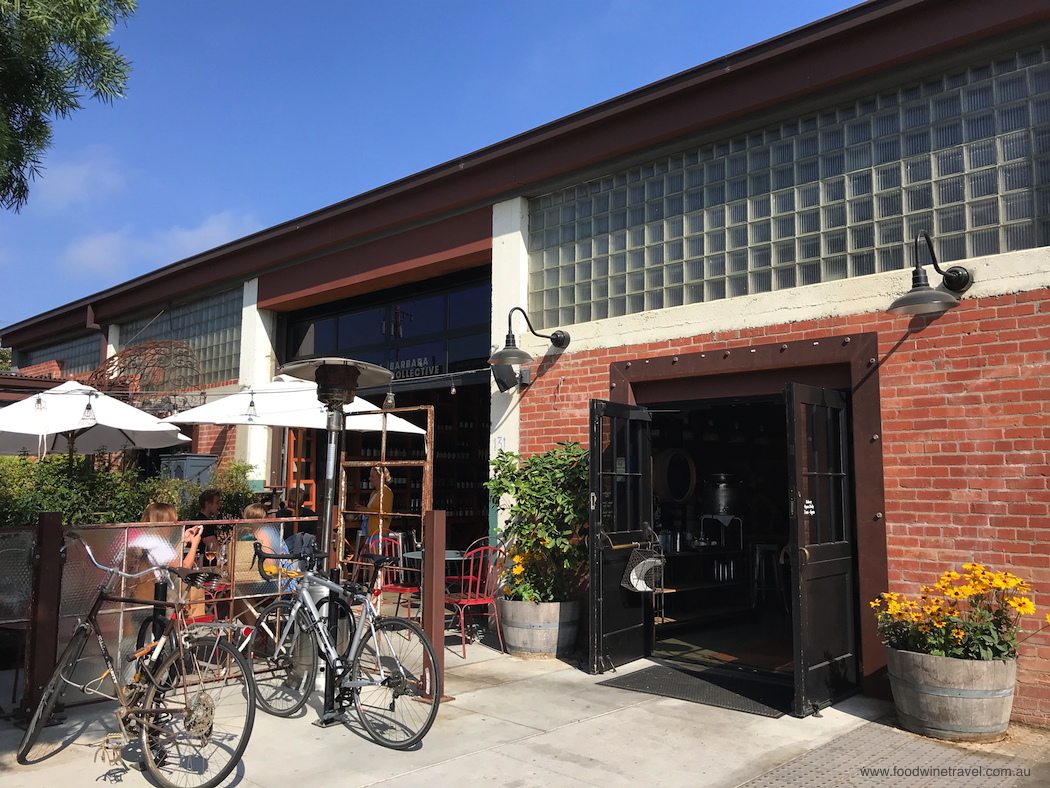 We had to leave time for some wine tasting of course. Santa Barbara has a fabulous Urban Wine Trail, with a couple of dozen tasting rooms, all within blocks of downtown and the beach. These cellar doors represent some of the finest producers in Santa Barbara County, and are a great opportunity for novices and aficionados alike to learn about and taste the different varietals and styles produced in the region (which, incidentally, was the setting for the very funny 2004 film, Sideways). Visitors can buy a Wine Tasting Card online that is good for 12 months and gives free wine tastings and discounts.
The Urban Wine Trail spans a couple of neighbourhoods, mostly Presidio, Midtown and the previously mentioned Funk Zone, and there's a map to guide you. We really enjoyed the tasting we did at the Santa Barbara Wine Collective, which represents six producers and saw us tasting some very fine Chardonnay and Pinot Noir from wineries such as Babcock and Fess Parker. The Collective shares its premises with the Helena Avenue Bakery, which does a superb gazpacho and bakes beautiful organic bread and pastries.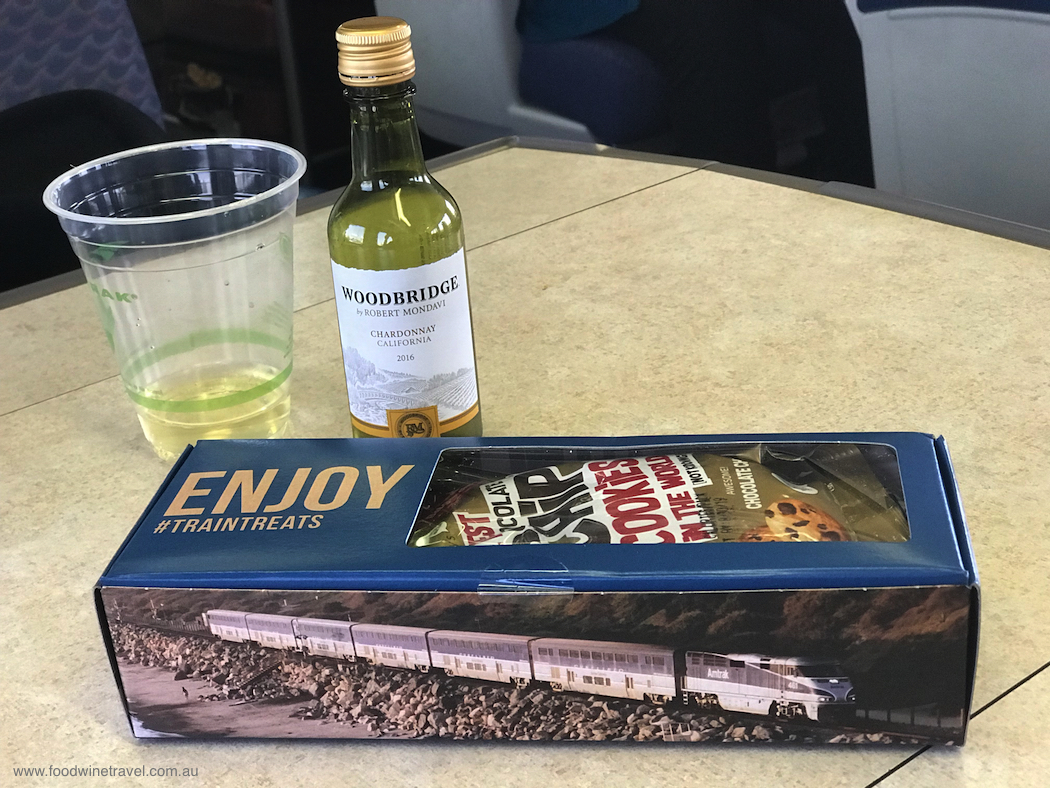 Trying to cram as much as possible into our less than 48 hours in Santa Barbara left us feeling pretty weary, and we were still jet-lagged, so our next experience was nothing short of magic. Salt features the largest Himalayan salt cave in North America, and we totally blissed out during our 45-minute session here. The caves are crafted from 250 million-year-old Himalayan crystal salt, and during the session, you relax in lounge chairs (or you can lie directly in the salt if you wish). It's supposed to be a great way of improving respiratory health but at the very least, it's pure relaxation as the lights are lowered, relaxing music is played, and you breathe in the micro salt particles.
Santa Barbara has many fine restaurants and we can't recommend highly enough the stylish Indian restaurant, Bibi Ji, which has an Australian connection. Chef Jessi Singh grew up in Australia and has a restaurant in Melbourne called Babu Ji. He also has Babu Ji New York City. The menu at Bibi Ji is fresh and exciting, and the whole ambience of the place is vibrant and fun. And while we're speaking about all things gastronomic, we have to put in a good word for two fabulous treats we indulged in: McConnell's Fine Ice Creams and the exquisite handmade chocolates we bought from Chocolate Maya.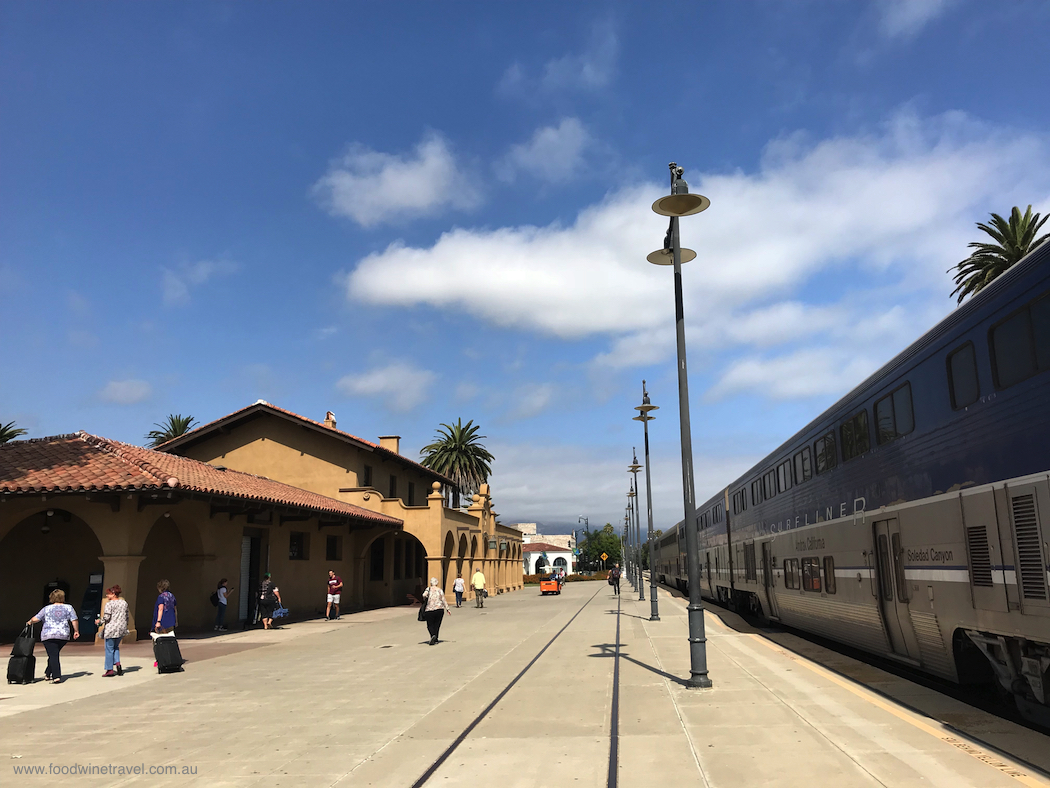 We spent two nights at Hotel Santa Barbara, which despite its location in the heart of downtown is very restful with a quiet, classic elegance. Its central location less than half a mile from the railway station makes it ideal for a car-free vacation. Amtrak's Pacific Surfliner offers a comfortable ride with pleasant scenery, free wi-fi and for business class passengers, a snack pack with fruit and nuts, pretzels, cheese and crackers, and cookies. We were also offered a single-serve bottle of Robert Mondavi wine (choice of Chardonnay and Cabernet Sauvignon), juice, coffee, water and newspapers. If you've arrived on the Amtrak train, you can show your train ticket and receive specials in various places around town.
Just over half an hour's drive from Santa Barbara, you can find beautiful vineyards in the Santa Ynez and Santa Maria valleys, and there are wine tours and private charters on offer for those who are car-free. Other places within easy reach include Solvang, a little slice of Denmark in California, easily reached by bus; neighbouring communities such as Montecito and Carpinteria, reached by trolley and public bus; and Channel Islands National Park, which you can get to by boat. Who needs a car?
With thanks to Visit Santa Barbara, Amtrak and Hotel Santa Barbara for hosting our two-night visit, and thanks also to Salt for the deeply relaxing session which put us in great shape for our U.S. trip.
If you go:
Visit Santa Barbara
Santa Barbara Car Free
Santa Barbara Trolley Tour
Hotel Santa Barbara
Urban Wine Trail