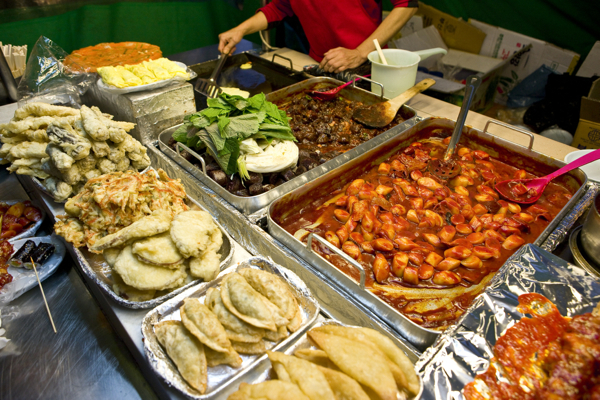 Although kimchi has become well known outside of Korea, other Korean dishes are less well known. To encourage more visitors to experience this intriguing cuisine, Korea's Ministry of Culture & Tourism and the Korea Tourism Organization have selected five streets where you can get a great insight into Korean food and culture.
Topokki (Spicy Rice Cake) Street
Topokki (Spicy Rice Cake) Street in Sindang-dong is a great place to sample one of Korea's favourite street foods. Topokki is made by stir-frying or boiling seasoned cylinder-shaped rice cakes in a very spicy sauce.  Sindang-dong has the largest clusters of topokki eateries in Korea. It's close to Dongdaemun Shopping Town, Seoul's largest shopping area, where you can shop for clothes 24/7.
Chodang (Tofu) Street
If you love tofu – and Koreans certainly do – a visit to Chodang Tofu Street promises to give you the best tofu experience. This street is in a small, beautiful village surrounded by a forest of 500-year-old pine trees near the city of Gangneung. Here you can enjoy tofu made as it has been for more than 400 years – with seawater from the nearby East Sea. The seawater makes the tofu tastier and softer than other tofu.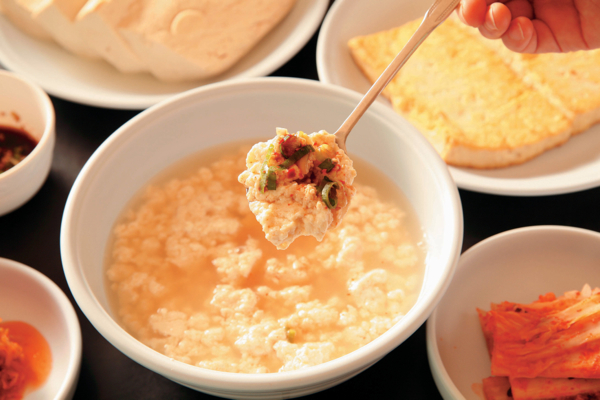 Chueotang (Fish Soup) Street
Korea's favourite stamina food is Chueotang (fish soup) and Chueotang Street in Namwon is the place to go for it.  Chueotang is made by boiling loach fish, a fish that lives in clean, grassy rice paddies and streams. The soup is full of minerals and calcium so it is great for stamina and is popular in autumn when the loaches are in their best condition. The fish is cooked with soybean paste, cabbage leaves and perilla seeds. Namwon is the home of the Korean version of Romeo and Juliet, as it is where the sad love story of Chunhyang and Lee Doryeong took place.  It's at the entrance to Jirisan National Park, one of Korea's most beautiful national parks.
Anjirang Gopchang Street
Anjirang Gopchang Street in Daegu is known for its specialty tripe dishes. High in iron and protein, and low in cholesterol, the tripe is either barbecued or made in to casseroles/stews. It's usually enjoyed with some Korean alcohol like Soju. The street gets packed at night with locals and tourists alike.
Millak-Dong (Raw Fish) Street
Korea is surrounded by ocean and the locals love raw fish. Millak-Dong Street at Gwangalli Beach in the port city of Busan is said to offer the freshest raw fish in the country.  Visit the direct sales fish market, choose your fish, then it will be made into fresh sashimi which you can enjoy on the beach. You can also have your fish prepared in a spicy seafood soup and sit down to enjoy the meal. Busan is home to Centum City, a mega shopping mall where you can get lost and shop for a week if you wish.
Korea Tourism has a free booklet, Korean Cuisine – Refresh your Senses, which you can get by emailing [email protected]  It's a great introduction to Korean food and has recipes that you can try at home.