Sally O'Neil, aka 'The Fit Foodie', describes her book, The Fit Foodie Meal Prep Plan (published by Murdoch Books) as the "uncooking cookbook". That's because she's all about minimising time in the kitchen, preparing healthy meals using wholefoods but steering clear of dehydrating, fermenting, soaking legumes and other methods that take time.
Her method for making healthy food simple is to prep it, batch it, store it and assemble it. The book is divided into sections accordingly. She doesn't suggest batch-cooking whole dishes and freezing them. What she does suggest is cooking some hero foods that can be used in multiple dishes throughout the week. Every now and then she also makes other things in bulk and freezes them.
A few hours of prep like this "saves you a heap of time when you're at your busiest, and also stops you from reaching for unhealthier options", says the popular blogger, who did all the photography and styling for the book herself.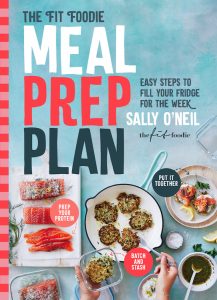 Buy your copy of The Fit Foodie Meal Prep Plan from Book Depository now (free delivery worldwide).
Buy your copy of The Fit Foodie Meal Prep Plan from Australian-owned Booktopia.
Chrissy Freer's The Anti-Inflammatory Cookbook (also from Murdoch Books) also has a holistic health focus. Like O'Neil, she uses whole, unprocessed foods, but as a qualified nutritionist she has created recipes specifically for their anti-inflammatory effect.
Chronic inflammation, she says, is the cause of many common ills, the culprits being processed carbohydrates, refined sugars and saturated fats.
All 100 recipes in her book are gluten free, and many are also vegetarian or vegan, dairy- and nut-free, making it easy to cater for differing needs.
They are everyday recipes, fancier than The Fit Foodie's but not at all difficult, and there is also a two-week meal plan, making it easy for those who don't want to have to think about what to have for breakfast, lunch and dinner.
The borlotti beans in the recipe here are high in protein and fibre. They have a creamy rich texture and nutty flavour that is a perfect match with the honey-roasted pumpkin and anti-inflammatory hazelnuts. For a vegan version, replace the honey with pure maple syrup.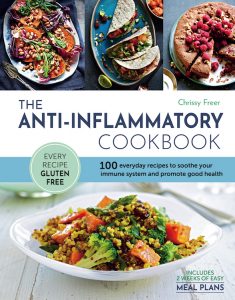 Buy your copy of The Anti-Inflammatory Cookbook from Book Depository now (free delivery worldwide).
Buy your copy of The Anti-Inflammatory Cookbook from Australian-owned Booktopia.
HONEY-ROASTED PUMPKIN, BORLOTTI BEAN, BROCCOLINI AND HAZELNUT SALAD
Serves 4
1½ tablespoons single origin floral honey
1½ tablespoons extra virgin olive oil
2 teaspoons coarsely chopped rosemary
800 g (1 lb 12 oz) pumpkin (winter squash), seeded and cut into wedges (see note below)
2 teaspoons red wine vinegar
250 g (9 oz/about 2 bunches) broccolini, trimmed
400 g (14 oz) can borlotti beans, drained and rinsed (see note below)
1 head radicchio, trimmed and leaves torn
2 tablespoons lightly toasted hazelnuts, coarsely chopped
Preheat the oven to 200°C (400°F). Line a large baking tray with baking paper. Combine 1 tablespoon of the honey, 1 tablespoon of the olive oil and the rosemary in a large bowl. Add the pumpkin and toss to coat. Place on the tray and roast for 30–40 minutes or until golden, turning halfway through the cooking time.
Meanwhile, combine the remaining honey and oil with the vinegar in a small bowl. Set aside.
Cook the broccolini in a saucepan of boiling water until just tender. Drain.
Combine the pumpkin, broccolini, borlotti beans, radicchio and hazelnuts in a large bowl. Add the honey dressing and gently toss to combine. Season to taste with sea salt and freshly ground black pepper.
Notes: Queensland blue pumpkin has a firm texture after roasting, so it's ideal to use in this salad. Butternut pumpkin (squash) is a good substitute.
You can replace the canned borlotti beans with 255 g (1½ cups) cooked borlotti beans.
Recipe and images from The Anti-Inflammatory Cookbook by Chrissy Freer. Photography by Julie Renouf. Published by Murdoch Books and reproduced with the publisher's permission.
This story originally appeared in PS News.