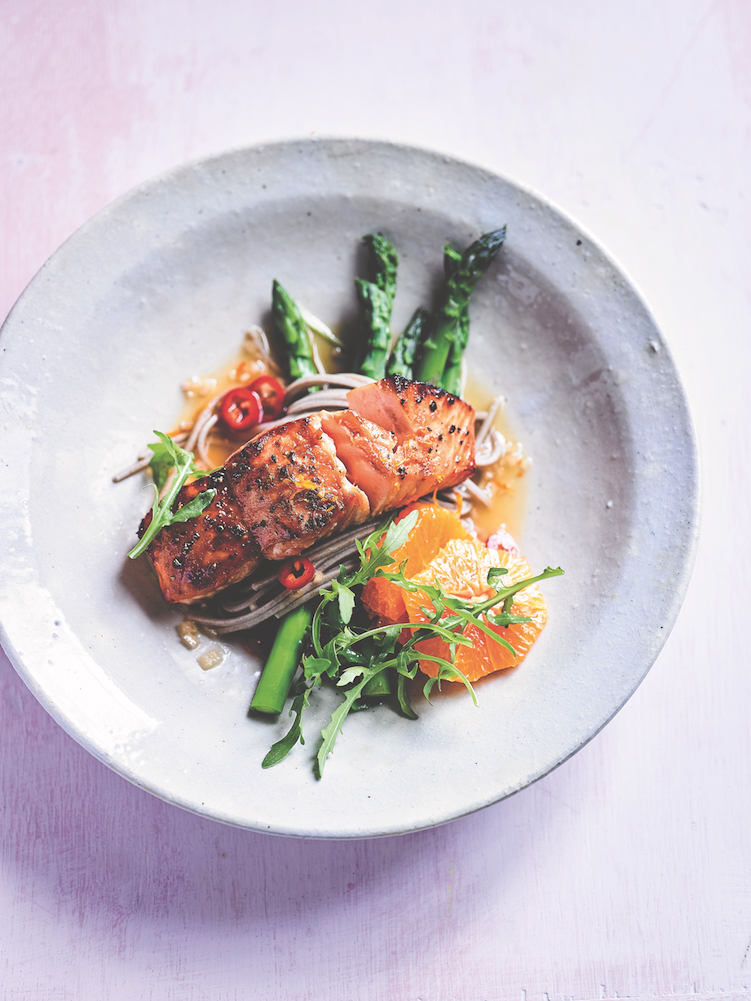 Growing up in the United States, Jennifer Joyce's Asian food experiences were limited to American Chinese (read, chop suey and egg rolls). It wasn't until she began travelling to Asia in the early 1990s that she discovered the deliciousness of authentic Asian cooking. "It wasn't just the hot-salty-sour punch I fell for, but the multitude of textures," she says of her discovery of dishes such as pillow-soft bao, karaage fried chicken, pho, potsticker dumplings and ramen. My Asian Kitchen, published by Murdoch Books, is the result of many years of return visits and experimentation.
This is the 11th book from Joyce, who has lived in the UK for more than 24 years, where she works as a food writer and stylist for magazines and newspapers such as BBC Good Food, Jamie Magazine and The Guardian. Her previous titles for Murdoch Books include My Street Food Kitchen, Meals in Heels and Skinny Meals in Heels.
In My Asian Kitchen, she aims to show how easy it is to create the flavours of modern Asian cooking in a home kitchen. Simple recipes and no-nonsense explanations of ingredients are accompanied by hand-drawn diagrams and beautiful photographs that bring the flavours to life.
Health benefits of Asian cooking
The recipes are grouped not by country but rather by style of dish, such as "boiled and bubbling", "crisp and tossed", "skewers and grills", "into the wok" and so on. From dishes such as prawn laksa and miso-glazed ribs, to XO fried rice and gado gado salad, it's a lovely celebration of the great diversity of modern Asian cooking. "Asian food is loved and sought after for its mouthwatering tastes, but it also has the added perk of real health benefits," says Joyce.
Pick up your chopsticks, prepare your wok and get cooking.
Soba noodles are best served cold and are the perfect foil for crisp hot salmon and a zesty citrus dressing. You can use any green vegetable with this, such as green beans or tender-stem broccoli.
Buy your copy of My Asian Kitchen from Book Depository now, with free delivery worldwide
GRILLED HONEY SOY SALMON WITH CITRUS SOBA NOODLES
Serves 4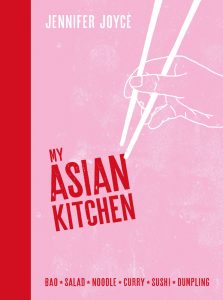 500 g (1 lb 2 oz) salmon fillet
2 tbsp Japanese light soy sauce
2 tbsp honey
2 seedless or mandarin oranges
250 g (9 oz) dried soba noodles
200 g (7 oz) asparagus, trimmed
1 finger-sized red chilli, thinly sliced
1 tbsp togarashi spice mix
2 handfuls mizuna or wild rocket (arugula)
Citrus Dressing:
zest and juice of 1 seedless or mandarin orange
1 tbsp Japanese light soy sauce
1 tbsp honey
2 tbsp lime juice
75 ml (2½ fl oz) yuzu juice
2 tsp grated ginger
1 small Thai shallot, finely chopped
Slice the salmon into four pieces. Mix the soy sauce with the honey in a shallow glass dish, then place the salmon, flesh side down, in the marinade.
Mix together all the citrus dressing ingredients.
Slice the peel from the oranges using a knife and then cut into discs. Set aside.
Bring a very large pan of water to a boil. Add a cup of cold water and then the noodles (the cold water helps slow down the cooking time to prevent the noodles from becoming soggy). Cook for about 7 minutes or until al dente. Add the asparagus in the last 30 seconds of cooking. Drain, rinse in cold water and leave to sit in the sieve until the salmon is done.
Heat your oven grill. Place the salmon on a foil-covered baking tray. Grill for 6 to 8 minutes until crisp at the edges. If your salmon has skin, then remove it after cooking.
Rinse the noodles again, to detangle. Arrange the noodles and asparagus on four plates. Top with the fish and orange slices and pour on the dressing.
Sprinkle with the chilli and spice mix and serve with some salad leaves strewn over the top.
Note: If you don't have togarashi spice mix, substitute with black or white sesame seeds.
PRAWN LAKSA
Serves 4 as a starter or 2 large portions
6 macadamia nuts
1 tbsp vegetable oil
75 g (2½ oz) yellow or red curry paste
250 ml (8½ fl oz) chicken stock
1 x 400 g (14 oz) tin coconut milk
2 whole star anise
2 cinnamon sticks
3 tbsp tamarind purée
2 tbsp palm sugar
2 tbsp fish sauce
2 tbsp lime juice
150 g (5 oz) green beans, chopped
200 g (7 oz) large raw prawns
200 g (7 oz) thin rice vermicelli
100 g (3½ oz) pineapple
large handful each chopped coriander (cilantro) and mint leaves
Pickled red chilli and shallots and crispy fried shallots, to serve
Using a mortar and pestle, crush the macadamia nuts to a fine paste.
In a large saucepan, heat the vegetable oil and add the curry paste and crushed macadamia nuts. Turn the heat down to medium and cook for 5 minutes. Pour in the stock, coconut milk, spices, tamarind, palm sugar, fish sauce and lime juice. Bring to a simmer and cook for 10 minutes, then add the beans and prawns. Simmer for 2 to 3 minutes and remove from the heat.
Pour boiling water over the rice noodles and leave for 2 minutes or until soft.
Cut the pineapple into 2 cm (3⁄4 inch) batons.
Divide the noodles among four large bowls and ladle the laksa over. Top with the pineapple, chopped coriander and mint and pickled red chilli and shallots. Serve with crispy fried shallots.
Note: The taste of this soup relies on using good stock, so it is worth making a Master Asian chicken stock or buying a good-quality chicken stock.
Recipes and images from My Asian Kitchen, by Jennifer Joyce. Photography by Phil Webb, illustrations by Riley Joyce. Published by Murdoch Books and reproduced with the publisher's permission.
This story originally appeared in PS News online.