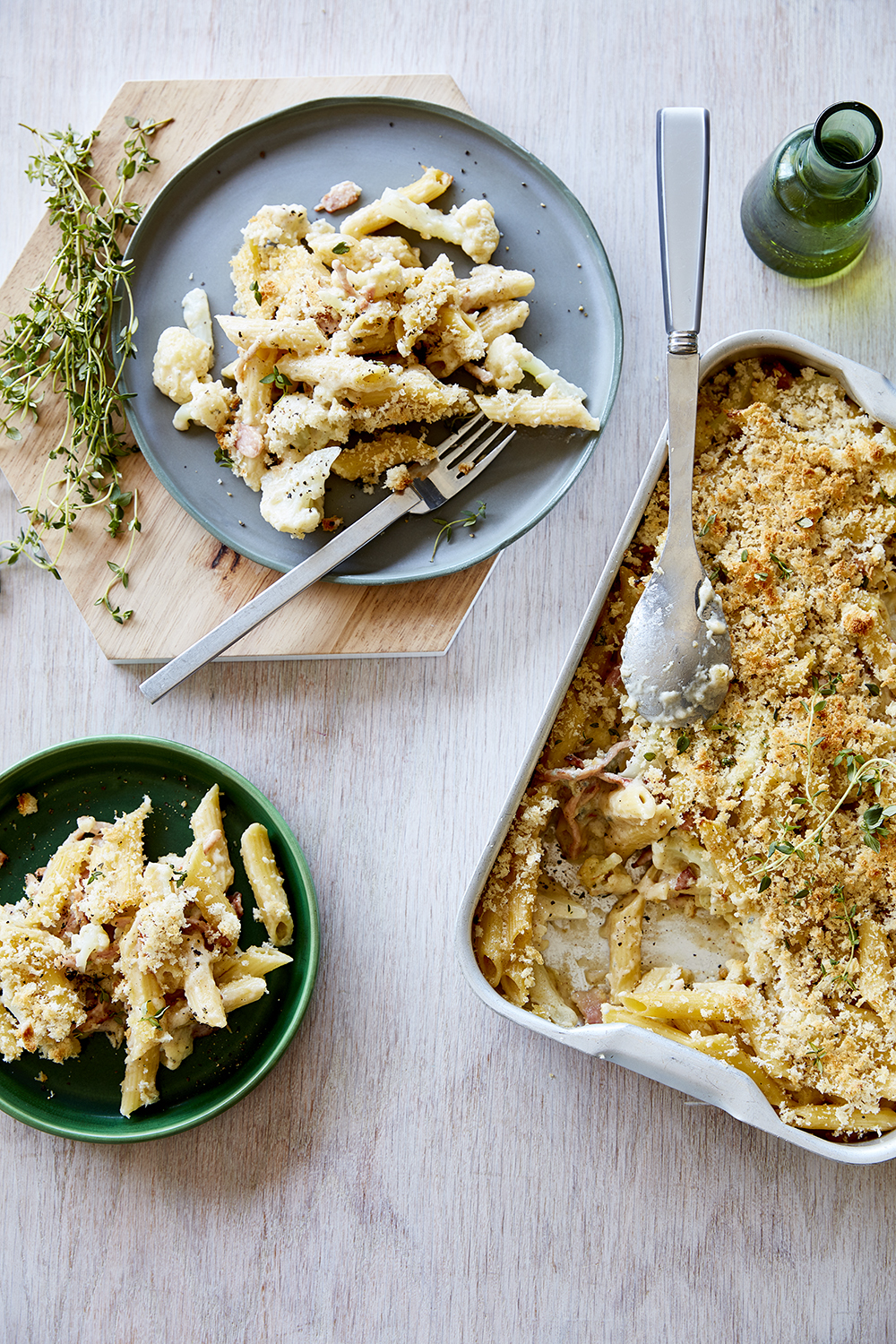 Monday to Friday never tasted so good. That's the promise Ross Dobson makes in the opening chapter of Tuck In, published by Murdoch Books. Designed to pack a punch with minimal effort, his recipes are inspired by all the Mediterranean, Asian and Middle Eastern flavours he has encountered courtesy of exotic neighbours he has had throughout the years.
The author of 15 cookbooks is renowned for his uncomplicated recipes – dishes that don't have long lists of ingredients, but rather, quick and easy meals that will keep hungry hordes happy and well fed. There are recipes for all occasions, from simple weekday fare to special meals for friends and family ("shindig" and "fine food from far flung places"), dishes to roll out at weekend barbecues, and delicious desserts ("sweet as, bro").
There are hearty soups, quick curries and pastas like the one featured below, and wintry stews that are easy but need a little more time. Dobson says planning, a well-stocked pantry and not being afraid to take a few shortcuts are the keys to making light work of Monday to Friday cooking.
Poshing Up
"There's nothing wrong with using good-quality ready-made stocks, tinned tomatoes, a packet of soup mix, frozen peas or a barbecued chicken from the supermarket," says Dobson, who does just that in recipes such as Scotch Broth (made with lamb shanks and soup mix) and Chicken, Bacon and Egg Rice (made with barbecued chook).
The inclusion of gorgonzola in the pasta recipe has 'poshed up' what is really a basic macaroni cheese recipe. Dobson suggests that if this strong-flavoured cheese is not to your liking, replace it with a sharp and tasty aged cheddar or gruyère.
These are easy recipes for delicious, hearty, comfort food so Tuck In and enjoy.
!! Buy Tuck In  from Book Depository, with free delivery worldwide !!
Food Wine Travel gets a small commission on purchases through this link but it doesn't cost you any extra.
PENNE RIGATE WITH BACON, CAULIFLOWER & GORGONZOLA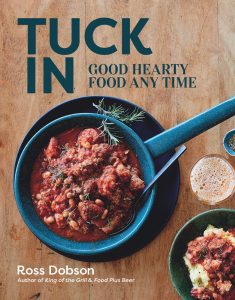 Serves 4
300 g (10½ oz) penne rigate
300 g (10½ oz) cauliflower, broken into bite-sized pieces
100 g (3½ oz) butter
4 bacon rashers, thinly sliced
3 tablespoons plain (all-purpose) flour
¼ teaspoon ground nutmeg
500 ml (17 fl oz/2 cups) milk
150 g (5½ oz) gorgonzola cheese
60 g (2⁄ oz/1 cup) fresh breadcrumbs
Preheat the oven to 180°C (350°F). Bring a large saucepan of cold water to the boil and add a generous pinch of salt. When the water returns to the boil, add the pasta and cook for 7 minutes.
Add the cauliflower to the pan and cook for a further 5 minutes, or until both the pasta and cauliflower are tender. Drain well and then tip the pasta and cauliflower back into the pan. Set aside.
Heat the butter in a saucepan over high heat. Add the bacon and cook for 4 to 5 minutes, until golden. Add the flour and nutmeg and stir to combine. Gradually add the milk to the pan and cook until the milk thickens. Remove from the heat. Break the cheese into smaller pieces directly into the hot sauce and stir until just combined.
Stir the cheese sauce into the pasta until combined. Transfer to a large baking dish, sprinkle the breadcrumbs over the top, then bake in the oven for 15 to 20 minutes, until the breadcrumbs are golden and crisp.
Recipe and images from: Tuck In, by Ross Dobson. Published by Murdoch Books.
This story originally appeared in PS News online.