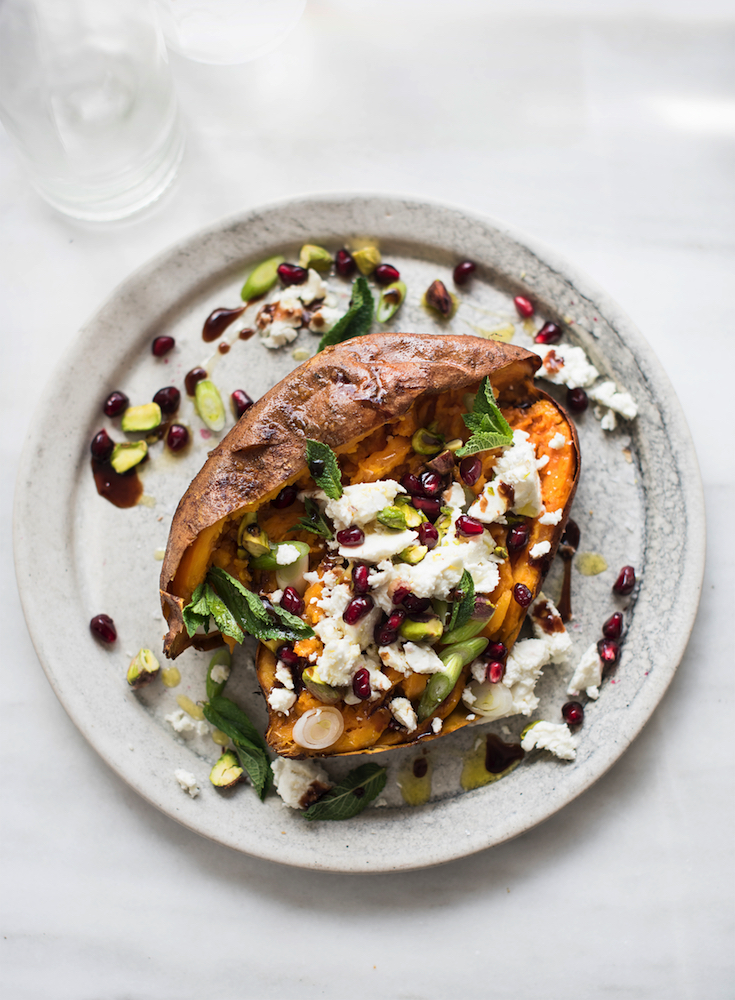 There's no doubt that there's an increasing trend towards eating a plant-based diet – it's good for the environment, good for the body and can even be less expensive than eating meat. But some people on a plant-based diet still want to occasionally (or perhaps even regularly) include fish and shellfish, cutting out only the meat. These are pescatarians, says cookbook author Jo Pratt, not "vegetarians who eat fish".
Pratt's latest book, The Flexible Pescatarian, published by Quarto, is filled with recipes that work well with or without fish, as the fancy takes you. The Slow-roasted Sweet Potato here, for example, works just fine as it is, or you could substitute smoked mackerel or hot smoked salmon for the feta. The recipe has the classic combination of sweet and salty, with a bit of tang from the pomegranate molasses and crunch from the pistachios. It's very more-ish.
Pratt says a pescatarian diet is a great nutritional choice because fish and shellfish provide excellent sources of lean protein, vitamins, minerals and omega-3 fatty acids, "all of which keeps our hearts, joints, skin and eyes wonderfully healthy".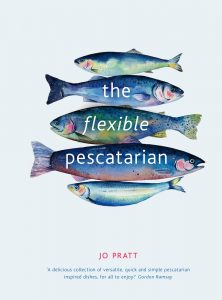 The author of seven cookbooks, including The Flexible Vegetarian, Pratt is executive chef of The Gorgeous Kitchen located, interestingly, in one of the terminals in London's Heathrow. Known for her practical, delicious recipes, she says fish and shellfish are among the most convenient and easiest ingredients to cook, some taking just minutes to prepare.
Pratt has divided the book into four chapters – Snacks and small plates; Broths, soups and curries; Mains and sharing; Salads and sides. They're followed by a section with tips on buying, choosing and preparing fish, practical advice that will have you filleting fish and handling whole fish with ease.
From Spicy coconut prawns to Aromatic gin and cucumber cured salmon, homemade Fish Fingers, and South Indian fish curry, there's much to persuade you to embrace the joy of being pescatarian.
---
Buy your copy of The Flexible Pescatarian from Book Depository now, with free delivery worldwide
---
Slow-roasted sweet potato with feta, pomegranate and pistachios
Serves 2
2 medium sweet potatoes, scrubbed
1 tbsp sunflower oil
½ tsp smoked or sweet paprika
1 tsp flaked sea salt
50g/1¾ oz pistachios
2 tbsp pomegranate seeds
4 spring onions, finely sliced
100g/3½ oz feta cheese, crumbled
extra virgin olive oil
1 tbsp pomegranate molasses
few mint leaves
Preheat the oven to 200°C/400°F/gas 6. Prick the sweet potatoes all over with a fork. Put into a bowl along with the oil, paprika and salt. Rub or toss to coat the potatoes in the
spicy oil. Put the potatoes in the oven and bake for 45 to 55 minutes, or until tender and the skin is crisp.
To serve, cut open the sweet potatoes and scatter each half with the pistachios, pomegranate seeds, spring onions and crumbled feta. Drizzle with extra virgin olive oil and some pomegranate molasses. Finish with some mint and enjoy while the potatoes are still hot.
Recipe and images from The Flexible Pescatarian by Jo Pratt, photography by Susan Bell, published by Quarto and reproduced with the permission of Murdoch Books.
This story originally appeared in PS News online.